Nothing happens by chance. How many times have we heard those words? And how many times have we used this sentence so prophetic and suggestive to give a meaning to the world around us?
Actually, it is more than a simple sentence. Behind it there is hidden a real philosophy of the existence that has had an incredible influence upon us, helping us to greet everyday life events, even the most ordinary ones, and to give them a meaning, turning events into a fruitful flux of coincidences.
Everything started with the "Prophecy of Celestino", a luminous book written by James Redfield, a book that literally changed our lives.
Our themes are always deeply inspired. But Celestino has had the prerogative of being "self-imposed" and to fall on our path as an important, meaningful and prophetic sign of change.
Celestino is a responsive theme (built on Bootstrap grid); it is clean, easy to use but even powerful and versatile. Celestino is the winning choice for corporate and portfolio websites.
Let's see its details:
GENERAL SPECIFICATIONS
Really clean, luminous and wide, Celestino is a responsive theme built on Bootstrap grid for corporate/portfolio websites, but it can be employed and configured even for other purposes. It indeed offers really flexible and professional tools to easily organize your contents or to move the single sections from one side to the other of the page.
Some Celestino specs are:
Controlled or Broaden Layout
Possibility of charge several different background images (or colors) for each page and post
8 different types of slider (included 2 premium slider 110$ worth)
Possibility of personalize the header of each page
8 different types of portfolio
Unlimited gallery and videogallery
Shortcode manager with more than 100 shortcodes.
SEO panel to improve your SEO
Post Format
More than 500 Google Fonts
… and many more features.
But now let's see how the theme works, starting from the free version of the theme.
LOGO… AND NOT ONLY
In the screenshot below you can start to understand how the Celestino panel is made.
Even if, thanks to our experience, we know that you'll have the official logo only once the website will be officially launched, the logo is (at least in terms of configuration) the first thing to handle. You can enable the custom logo and upload your picture. And not only…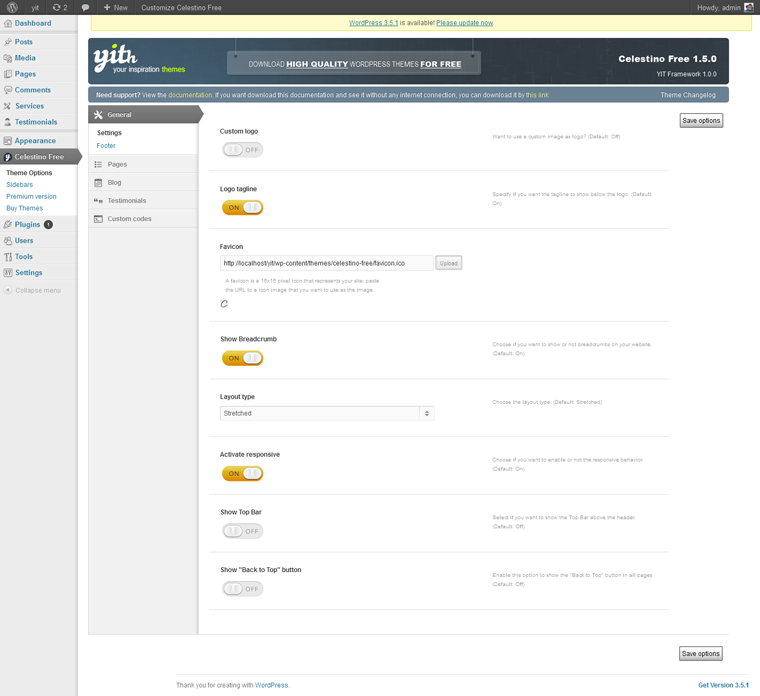 THE CONFIGURATION OF THE FIRST SECTION OF THE PANEL
As you can see from the screenshot above, the configuration options of the first section of  the panel (accessible from Celestino Free > Theme Options) have been designed to make you get with a couple of clicks very advanced functions.
You can control:
logo customization;
tag-line;
favicon:
breadcrumb;
layout of the website (this is great)
responsive behavior
top bar
button to go back on the top of the page
FOOTER
Always in the general settings, after "settings", you can find the section dedicated to the footer. Here, besides personalizing the text and the links shown by default by  Celestino, you can choose from 4 different types of footers:
Two Columns Footer
Centered Footer
Big Footer + Two Columns
Big Footer + Centered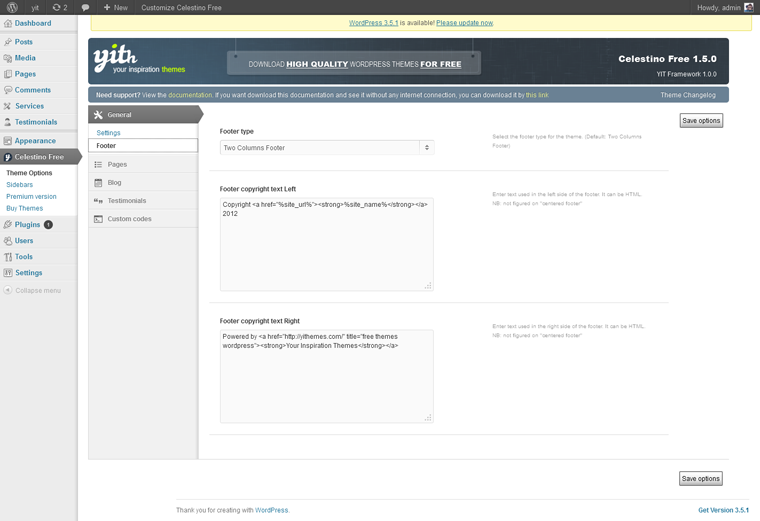 ARCHIVE, CATEGORY AND SEARCH PAGE
In the following section – called "Pages" –  you can configure some preferences regarding:
For the three of them you can choose whether to show or not the title of the page, to assign a title and to choose how to display the contents, entirely or only an excerpt (summary).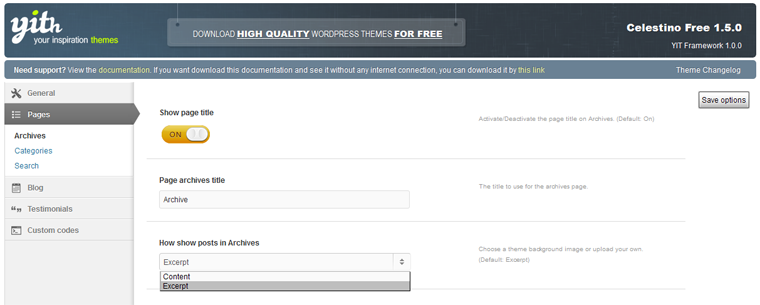 BLOG
For those who decide to promote their own business through the Internet network, the blog section and the tools useful for its configuration cannot be missing. Our themes always offer more than one choice related to blog. In the premium version of Celestino there are 4 different types of solutions which will be discussed later.
Instead for the free version (which you can download and immediately use) you can find available the impressive big image, as you can see in the image below: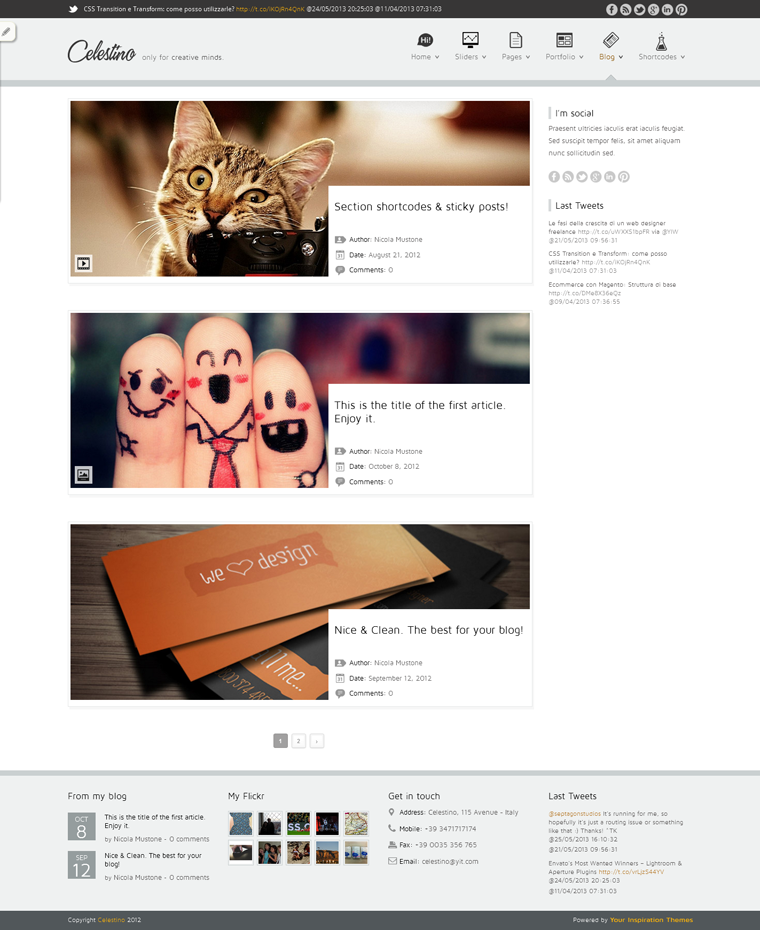 As for the configuration, the panel allows you to personalize your blog choosing to:
exclude certain categories from the lists on your blog, if you think that some must stay more hidden
show or not, the featured image
show or not the details of the featured image
show or not the date
Use one of the calendar icons (more than 200) or upload it from your computer
show or not, the author
Use one of the author icons or upload it from your computer
show or not the comments
choose from a bigger list the icon of  your favorite comments, or decide to upload it directly from your computer
show or not "read more" or "continue" or another text in the footer of the preview of the posts on the blog page
show or not the related posts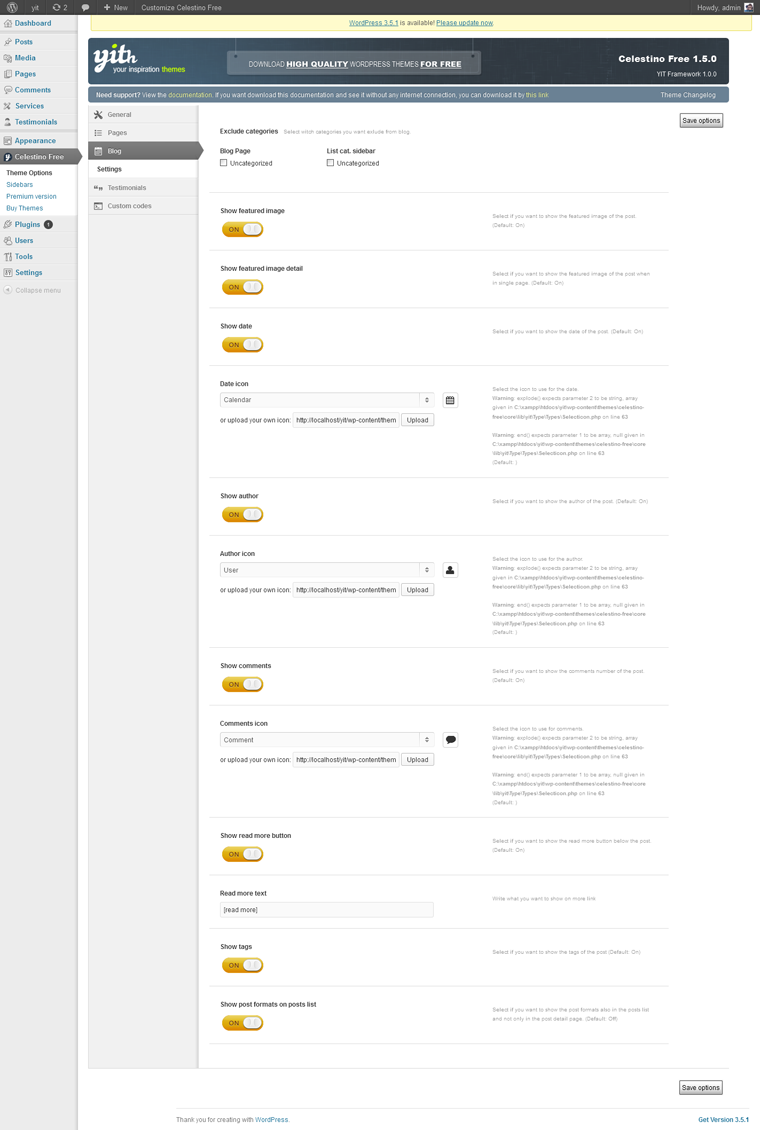 TESTIMONIALS
Credibility iso ne of the key factors to have a good and profitable online business. But how can you build it? Surely, showing to the public what readers/clients think is a good way to build up credibility and authority. Even better if the testimonials are structured in a clear and professional way.
The free version of Celestino offers a really clean and readable layout for feedback section: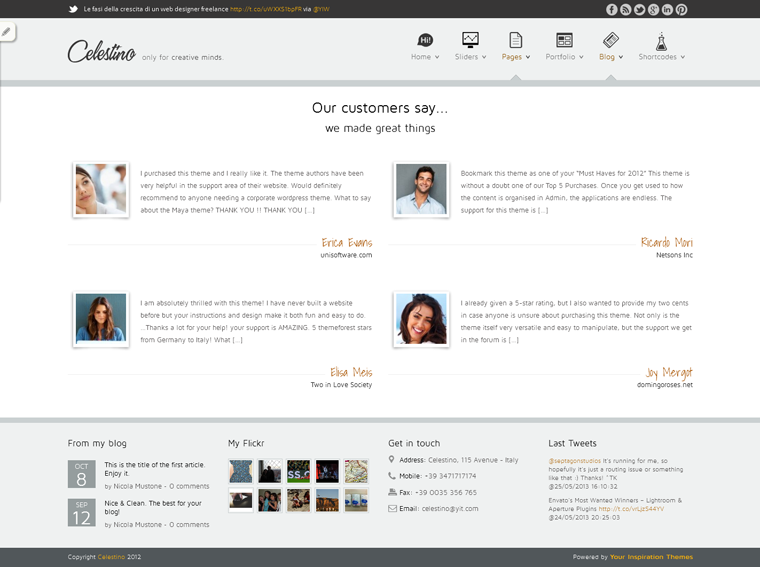 From the dashboard, the user has the possibility to set up several choices:
Show Thumbnail: you can decide whether to show or not the photo of the testimonial. It's easy as drinking a glass of water.
Link to testimonial detail page: you can decide whether to link or not the website of the testimonial.
Testimonial text type: to show all the feedbacks or only part of them.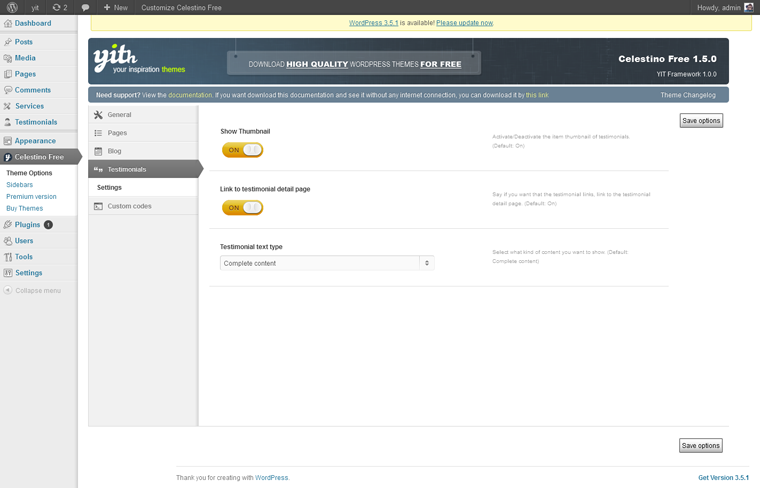 CUSTOM CODES
We already said that our panel has been designed to simplify the phases of the configuration process of the theme. This is why it gets frequently updated and improved. However we also considered the needs of expert users, those who have experience with codes and want to further customize the elements of the theme.
Indeed, in the last section of the Celestino panel you'll find custom fields where you can modify the CSS style.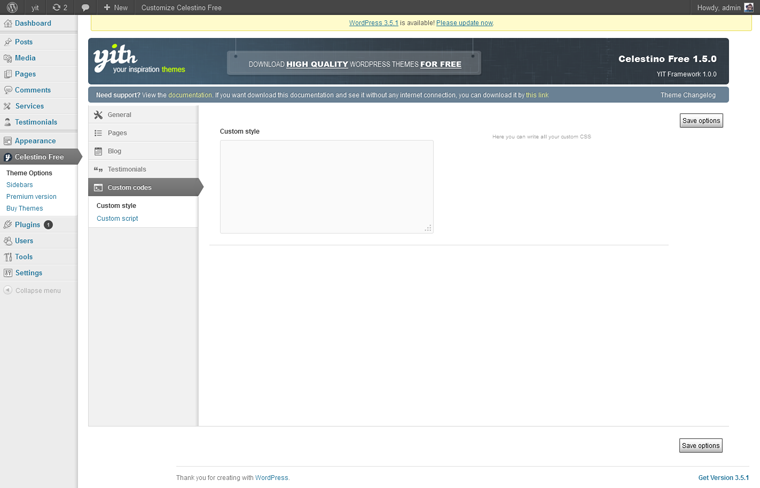 THE SIDEBAR
The sidebar is a very useful tool to manage strategic information and to improve the user's navigation experience. But it's not always true if you can't completely control it. Many themes, for example have a fixed position for the sidebar. And this is a limit for a website.
Sometimes it cannot be useful, some other times, instead, it could be useful on the right side of the website or on the left side. It depends on the websites purposes.
Starting from the fact that with the premium version of Celestino you can have all the sidebars you need, with the Celestiono Free Version you can:
Decide where to put it
Choose the right kind of sidebar, depending on the page where it has to show its widgets.

SERVICES
One of the most important features of a corporate/portfolio theme is the possibility to show the service page. With Celestino this feature is already included in the free version.
That's why the theme, starting from the free version, allows you to use special custom post type for services.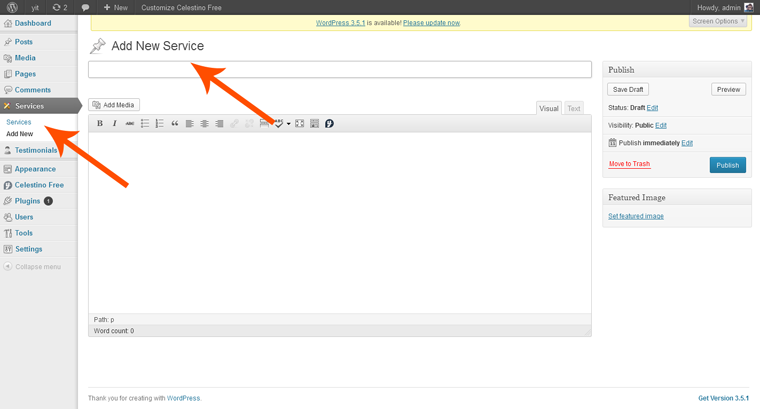 The service page can be configured and implemented thanks to a shortcode manager available on the toolbar of the editor's page. Without writing a line of code, you can configure buttons, icons or show services in the mode you like. It is really simple and intuitive.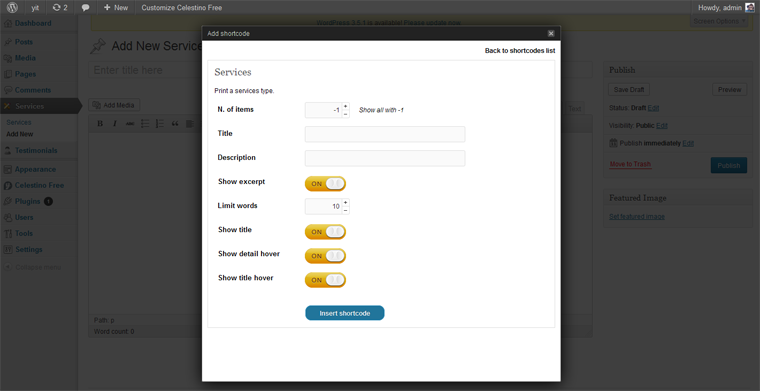 DRAG & DROP MENU
The Celestino menus are compatible with the Drag & Drop system introduced in the  version 3.0 of WordPress. To create a main navigation menu you must drag the elements to the specific area.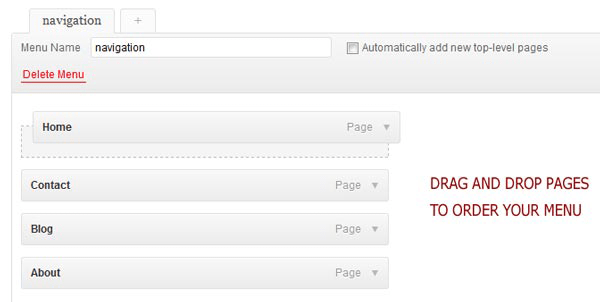 LOCALIZATION
The theme is localized in English. Using the translation file released with the theme, you can easily translate it in any other language.
SUPPORT FILE
Together with the theme we're releasing a support file that will help you through the entire configuration process of the theme.
For obvious reasons, we can't offer support for every user that downloads and starts up Celestino, as it would impossible for us to keep up with all the requests without overlooking something and without penalizing our work, considering also the number of users that follow us today and the possibility that this theme (free version) could also be included in the official directory of WordPress.
THE PREMIUM VERSION OF CELESTINO
We've talked about the free version of the theme. And you can see that it is rich of features and easy to configure. And for all those who want more? We've set a wonderful premium version of Celestino.
You can see the advanced features below:
Free Support and Video Tutorials
9 types of sliders
Extension of the theme options
SEO Panel
Unlimited colors
Over 600 fonts of the Google library
Background Uploader + 50 backgrounds
Unlimited contact forms with Javascript validator
About Page
11 different styles of portfolio
Shortcode manger with over 300 Shortcodes
Backup/Sample data
Custom Widget (google map, icon text, last post, popular post, recent comments, recent post, audio player, text quote, toggle menu)
Unlimited Sidebars
4 styles of testimonials (big image, small thumbnail, elegant, pinterest)
Pop Up
FREE SUPPORT AND VIDEO TUTORIALS
With the premium version you have unlimited access to our support forum and to all our tutorials, video tutorials and step-by-step guide that is frequently updated to help you manage our theme and resolve any technical problems.
9 TYPES OF SLIDERS
News, personal photos or illustrations of products… there are many reasons why at a certain point (things start getting serious) you need to present contents in a more effective way to leave the mark in the user's mind.
On the home page, this need is easily synthesized in a code technology called slider. In the premium version of Celestino there are 9 different kinds of sliders:
Revolution
Layer Slider
Images Grid
Thumbnails
Elastic
Flexslider Classic
Flexslider Elegant
Cycle
Slider Flash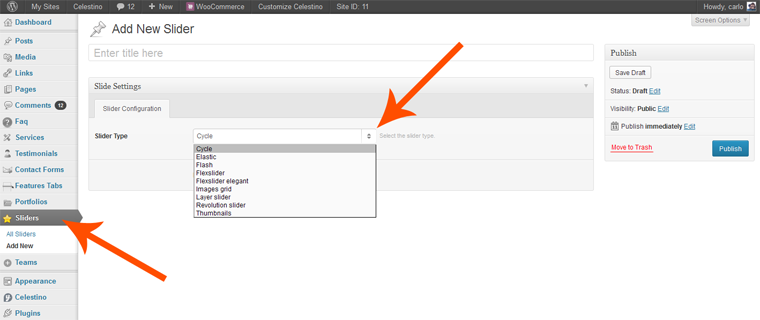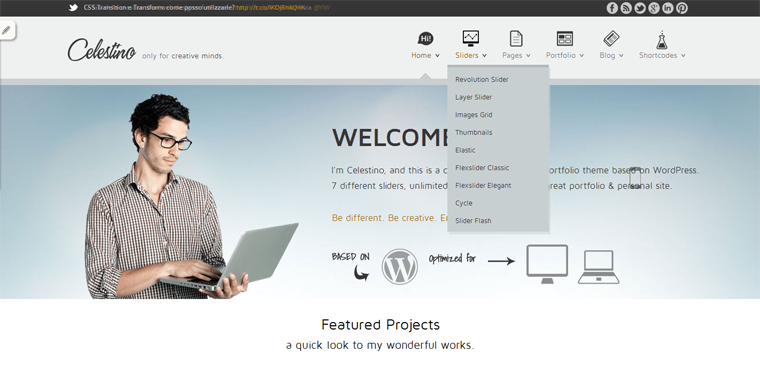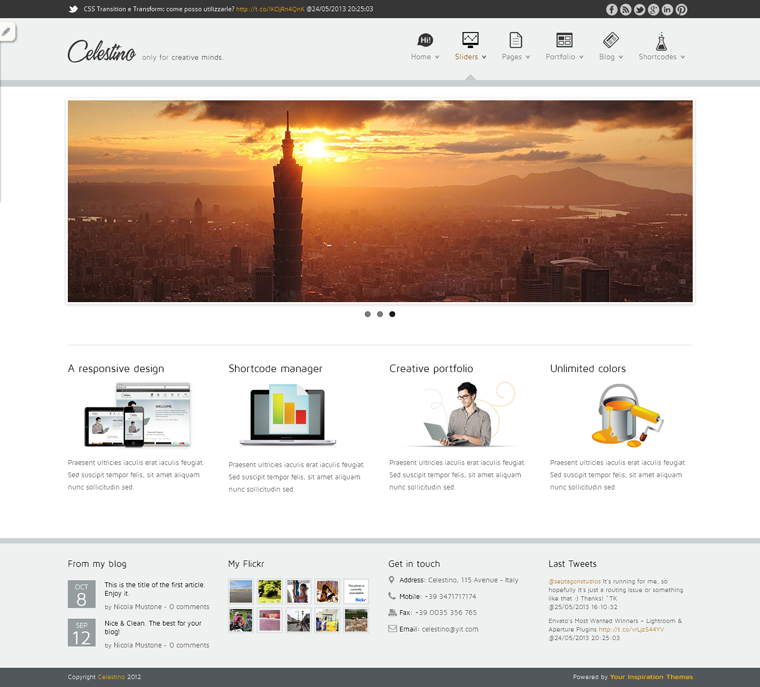 EXTENSION OF THE THEME OPTIONS
With the premium version you can control every single element of management, administration, creation and even promotion and indexing of your website.
SEO
Titles, Keywords, Descriptions… in the past this job was done by hand working on the code. Then plugins were developed to edit titles, descriptions and SEO friendly keywords. But we did more: we unburdened the system, integrating the theme with these features. Now, everything is more easier than a plugin.
Celestino allows you to optimize your website and your contents thanks to:
a panel created specifically for the website, pages, posts e custom post type;
SEO metabox present on every page or post.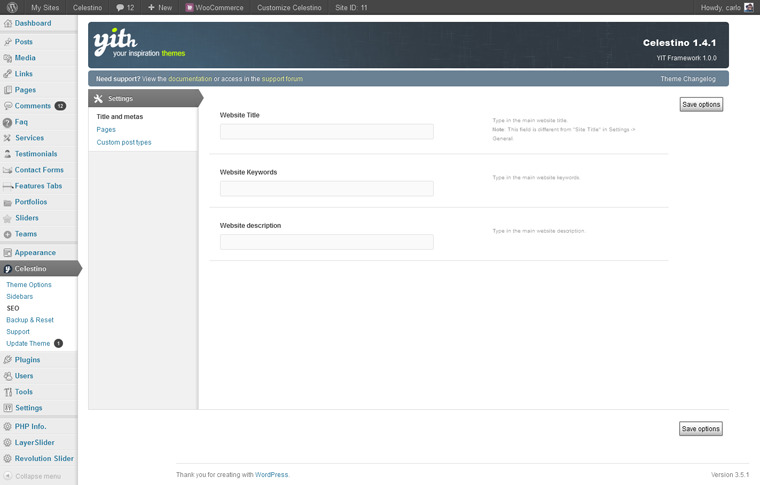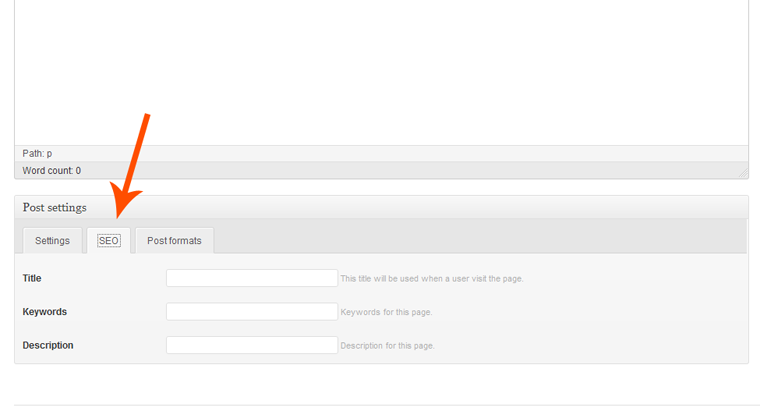 UNLIMITED COLORS
Colors are important, as it's important to be able to test, configure, modify, etc them without losing sleep.
With the Celestino panel, you can easily edit the colors of every section or element, from the text to the link, slogans, buttons, etc.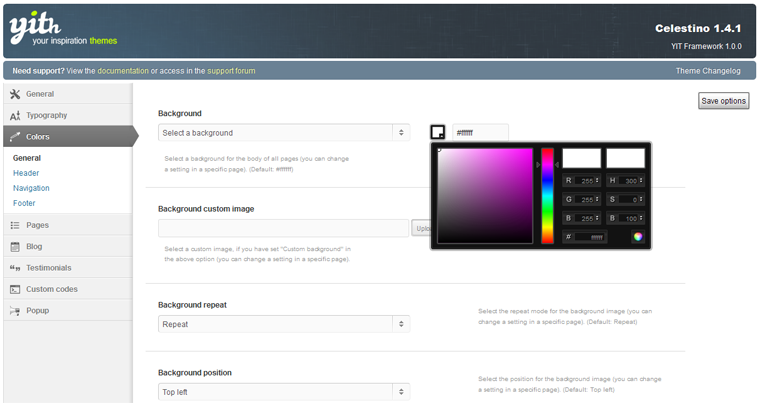 OVER 600 FONTS FROM THE GOOGLE LIBRARY
The main target for a website and therefore for a WordPress theme is to communicate. Communicate with users, readers, community, clients, etc.
Typography is the fundamental element of communication – essence of branding and a crucial element of web design –that, however, up to few years ago, wasn't fully exploited (or as the same way in the traditional typography) because the safe lists included in users' main operative systems were limited.
Today this problem no longer exists. Technique and technology allow us to use fonts not installed on our computer. And this gives to typography its original dignity as a higher art.
Now you can do whatever you like, also because Celestino enables you to use over 600 fonts directly from Google's font directory. You can even intervene on a lots of aspects, as:
general font
breadcrumb font
Headings 1, 2, 3, 4, 5, 6
Slogan font
Sub slogan font
Special font
It is wonderful!
But be careful: typography can be very addictive. You could find yourself observing the menu of a restaurant for half an hour before you order just to figure out which fonts were used to print it.
Once you start, it will be hard to stop… loving typography.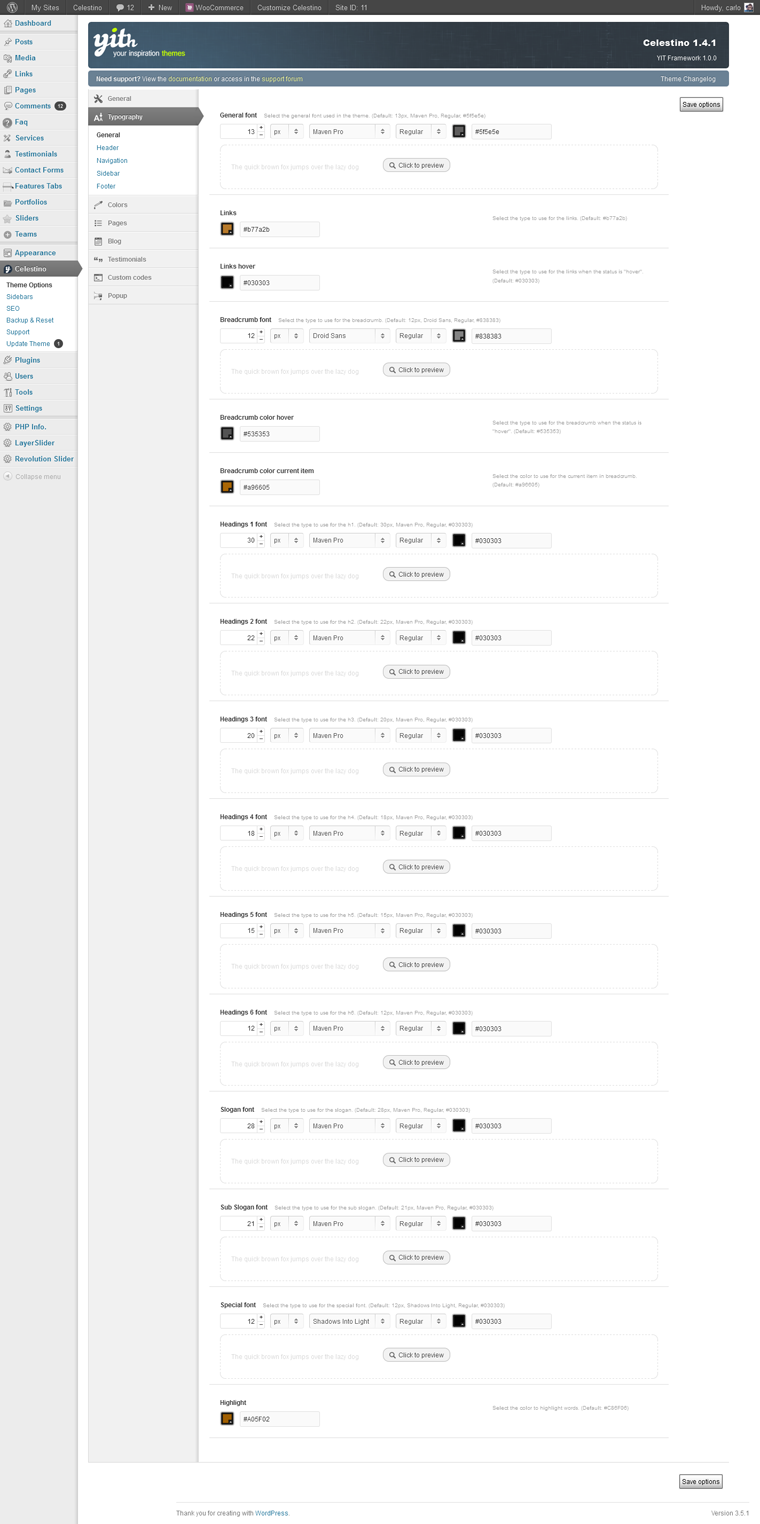 BACKGROUND UPLOADER + 50 BACKGROUNDS
There are many details that can improve the user's navigation experience, making it more sensory, concrete, closer to reality of people. The background of a website, with its pattern and textures and with its capacity to transfer real sensations, is part of this fantastic family of improving details.
With Celestino, besides a huge range of colors that you can mount thanks to the color picker, you can easily upload a pattern or a picture to personalize the background of your pages with no need to write a single line of code.
You can even have 50 backgrounds, available on the theme forum once you purchase the premium version of Celestino.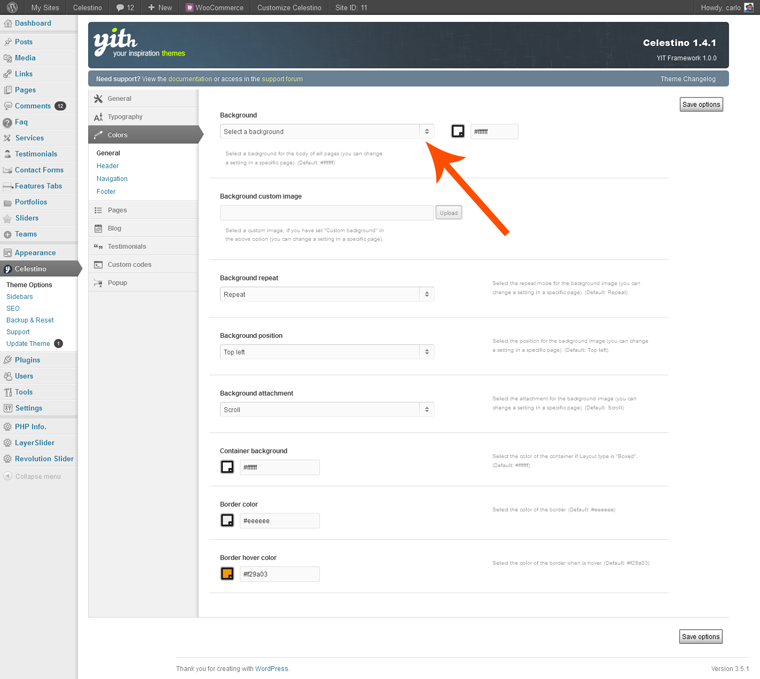 UNLIMITED CONTACT FORMS WITH JAVASCRIPT VALIDATION
You don't have limits with the contact forms. You can create it according to your needs, simply, directly through Celestino's custom post type.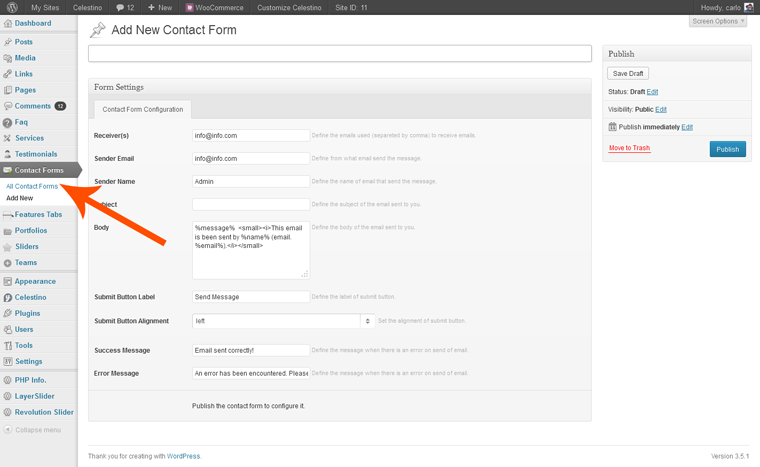 ABOUT PAGE
One of the most important pages of a website, which reveals the credibility and the heart of the project is the about page. Here there are people, roles, their story. You'll find faces and eyes of those who worked at the website.
More time you dedicate to this page, better will be the readers impact. It's a matter of  first good impressions, but also of human empathy.
The about page of Celestino has a really clean layout, but it is still full of elements. Indeed, the team members, even if they're a lot, thanks to the accordion, can be listed without occupy a lot of space on the page and to offer a complete and homogeneous vision of the information to the guests.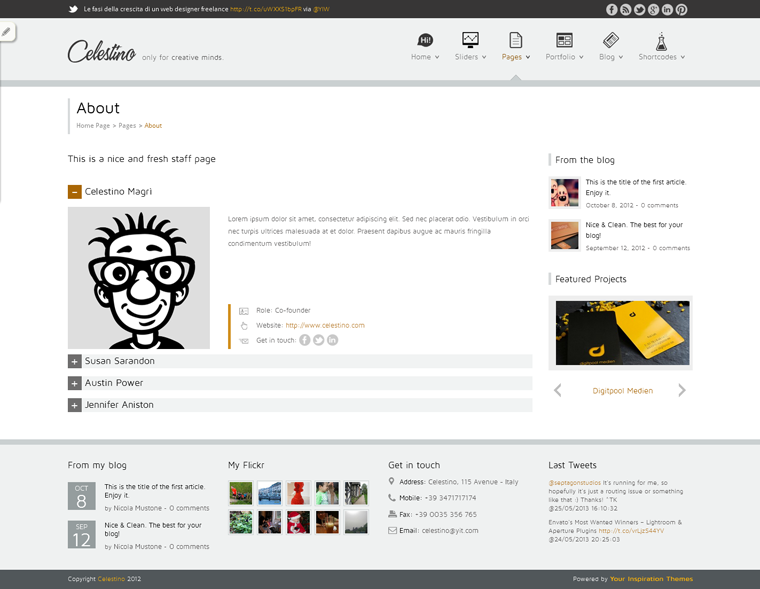 9 DIFFERENT PORTFOLIO STYLES
The strength of a portfolio theme is given by the way works/projects are displayed. Celestino allows you to choose between 9 different portfolio styles :
Pinterest Style
Slide Detail
Filterable
2 columns
3 columns
4 columns
Big Image
Slider
Full Description
Let's see them.
Pinterest Style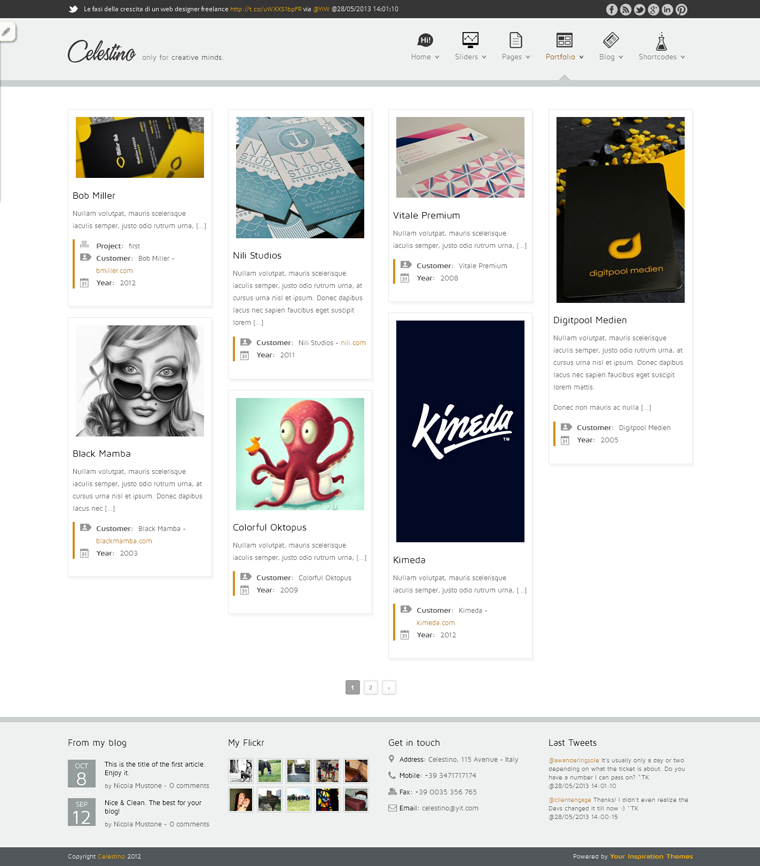 Slide detail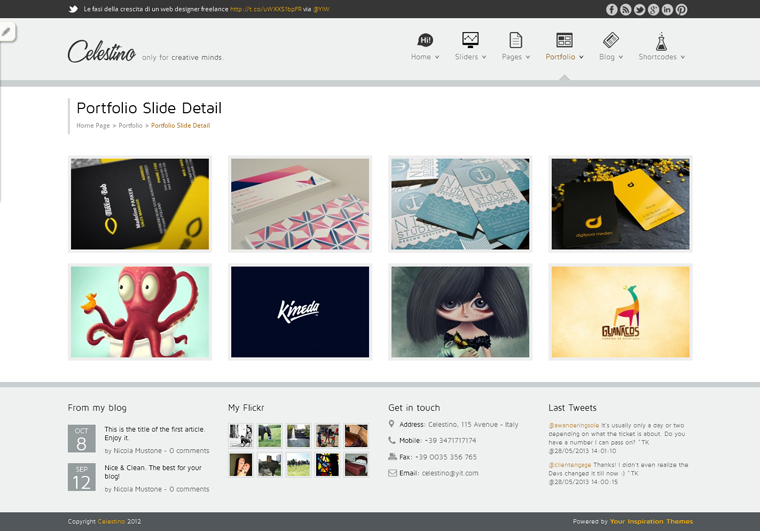 Filterable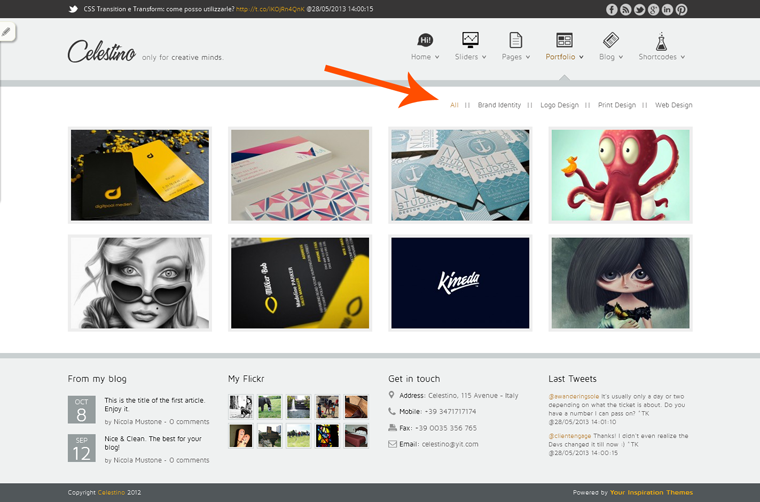 2 columns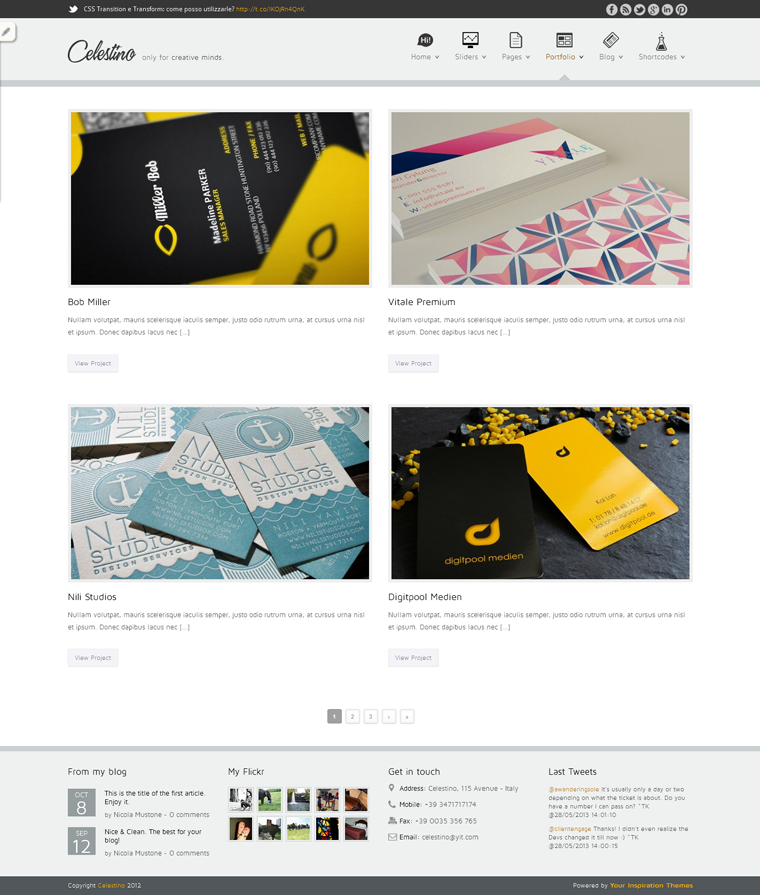 3 columns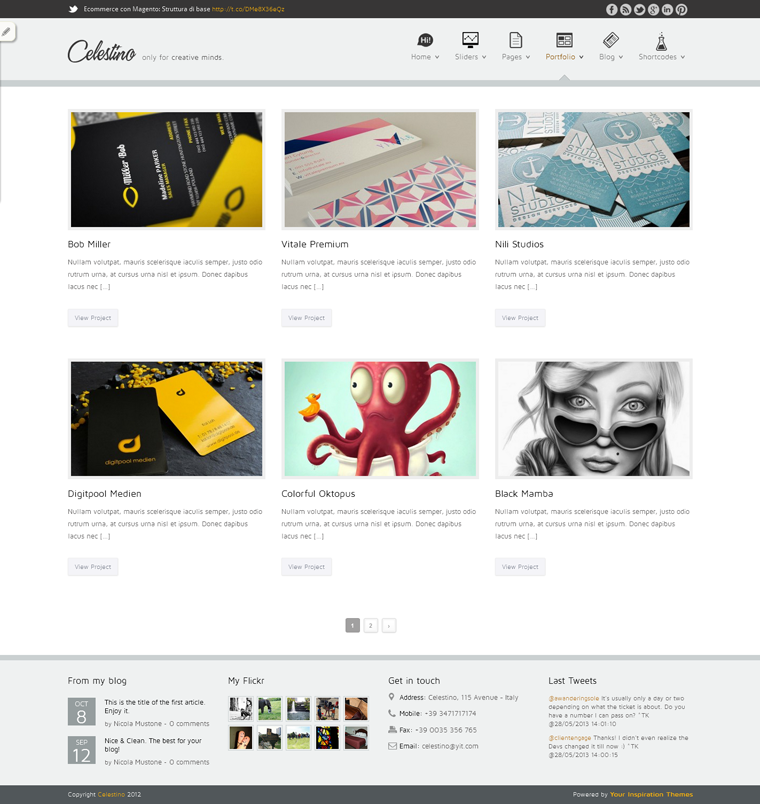 4 columns
Big Image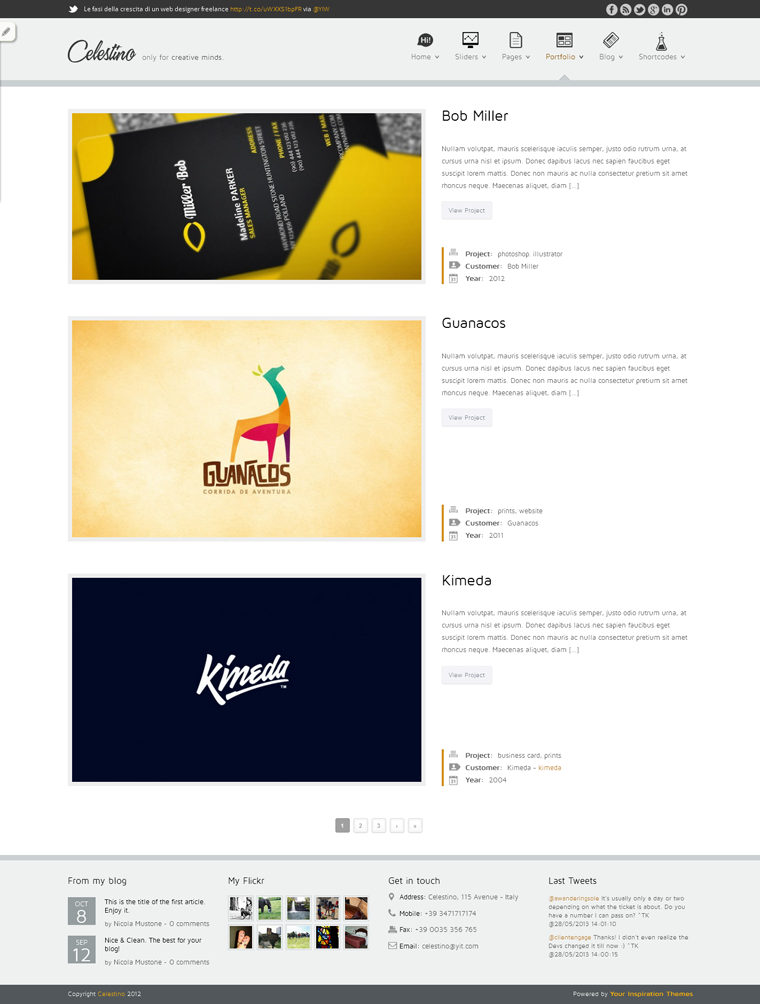 Slider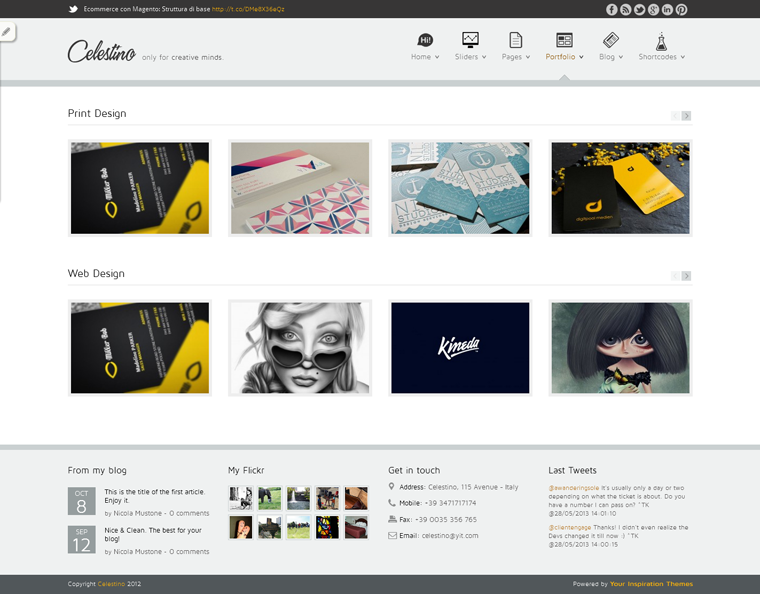 Full Description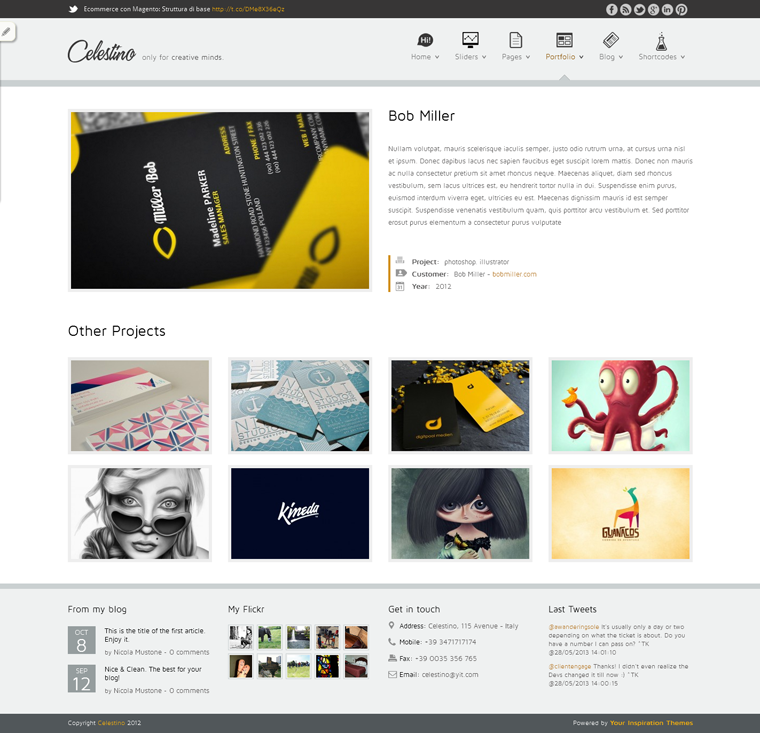 SHORTCODE MANAGER WITH OVER 300 SHORTCODES
With just one click you can add elements of aesthetics, usability or contents to your web pages (video, sliders, buttons, tab, etc) without writing a single code line.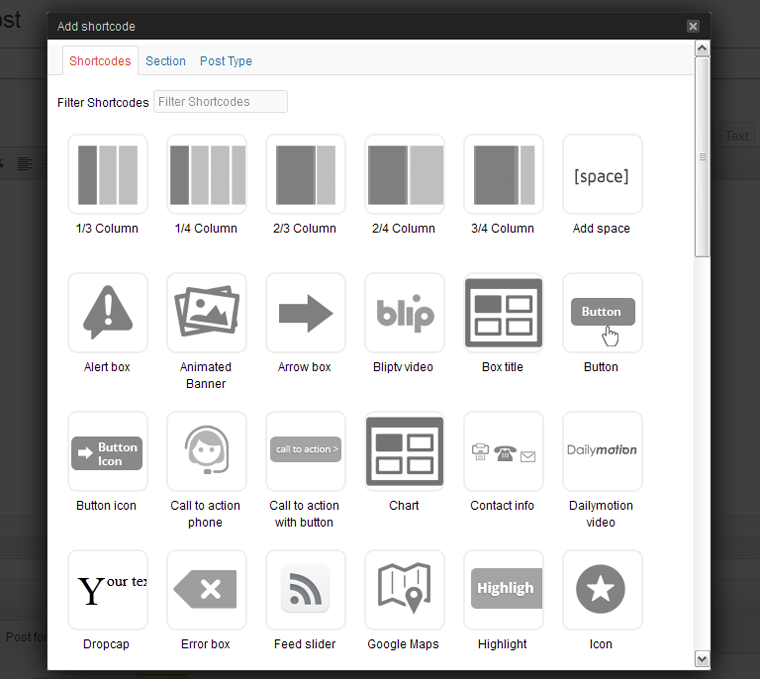 SAMPLE DATA
So easy!! With a simple click you can import our demo file and have in a second your website identical with our preview (to then modify the contents according your needs).
CUSTOM WIDGET
With the installation of Celestino, you can also install a set of widget (google map, icon text, last post, popular post, recent comments, recent post, audio player, text quote, toggle menu) not included in your basic WordPress.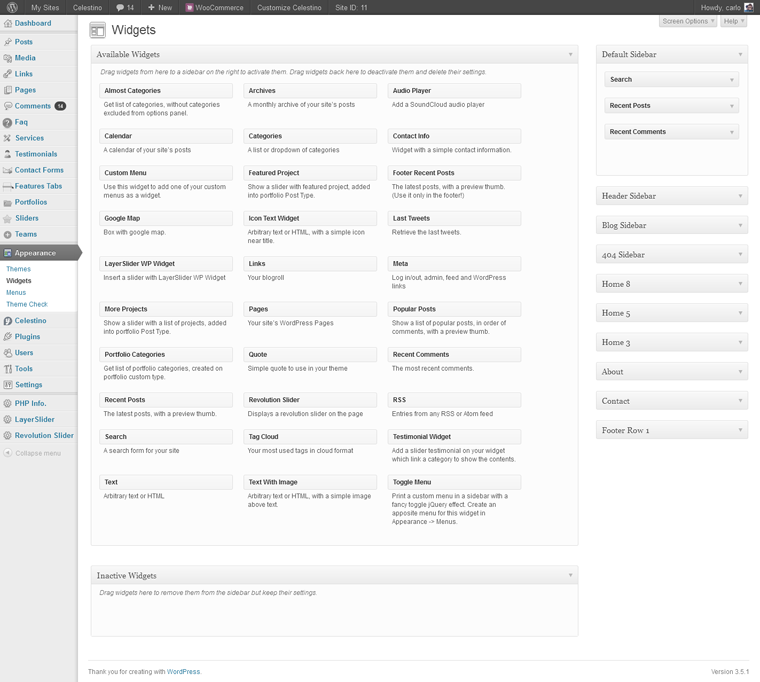 UNLIMITED SIDEBARS
We already talked about the fact that the free version of Celestino gives you an unlimited number of sidebars. This is amazing. Just think about how many ways you have to personalize the communication of your pages with several different widgets, banners, call to action etc.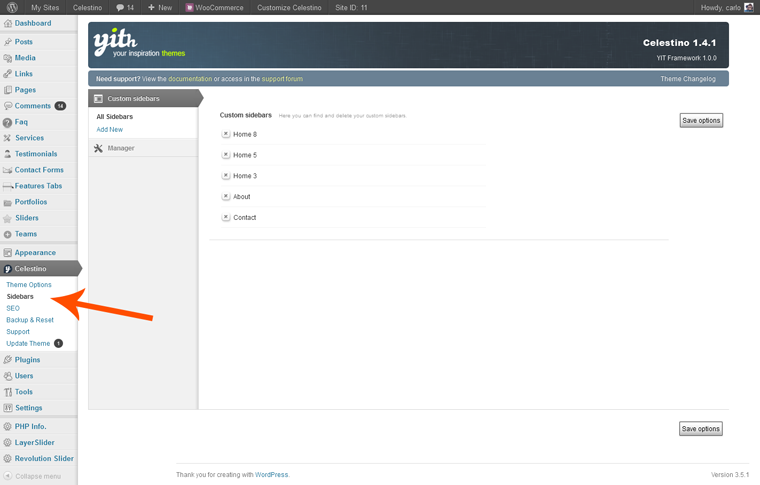 6 TEMPLATES OF BLOG PAGE
We have already talked about the blog. And again the premium version offers extensions which is important to underline. In particular, we're talking about the templates of the blog pages, which with Celestino Premium are:
Big image
Small image
Elegant
Pinterest Style
Big image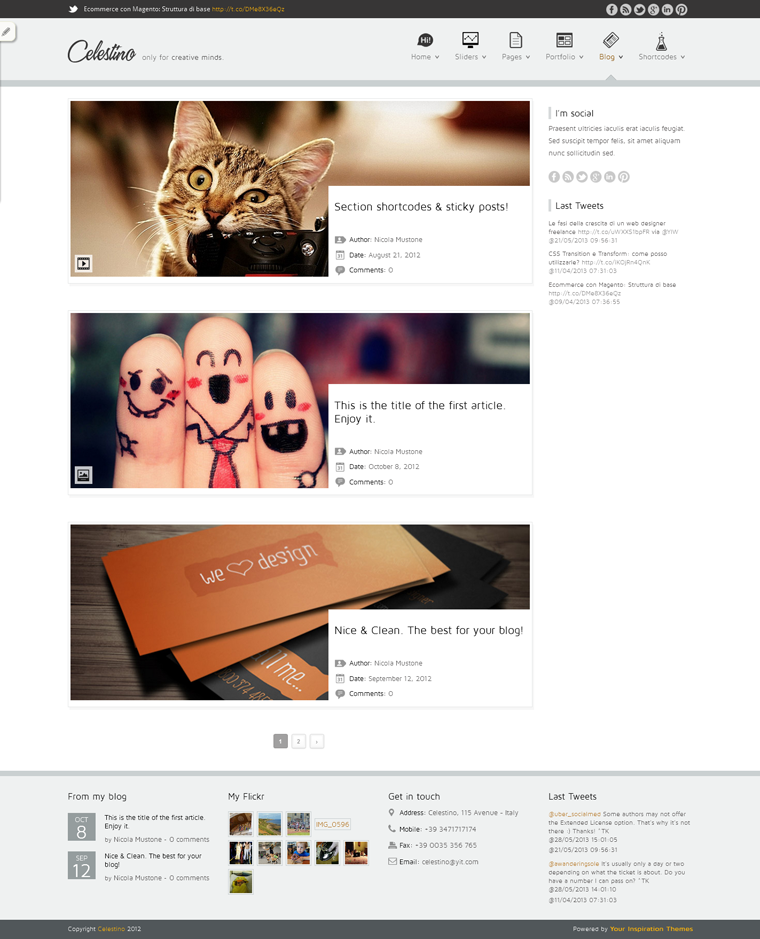 Small image
Elegant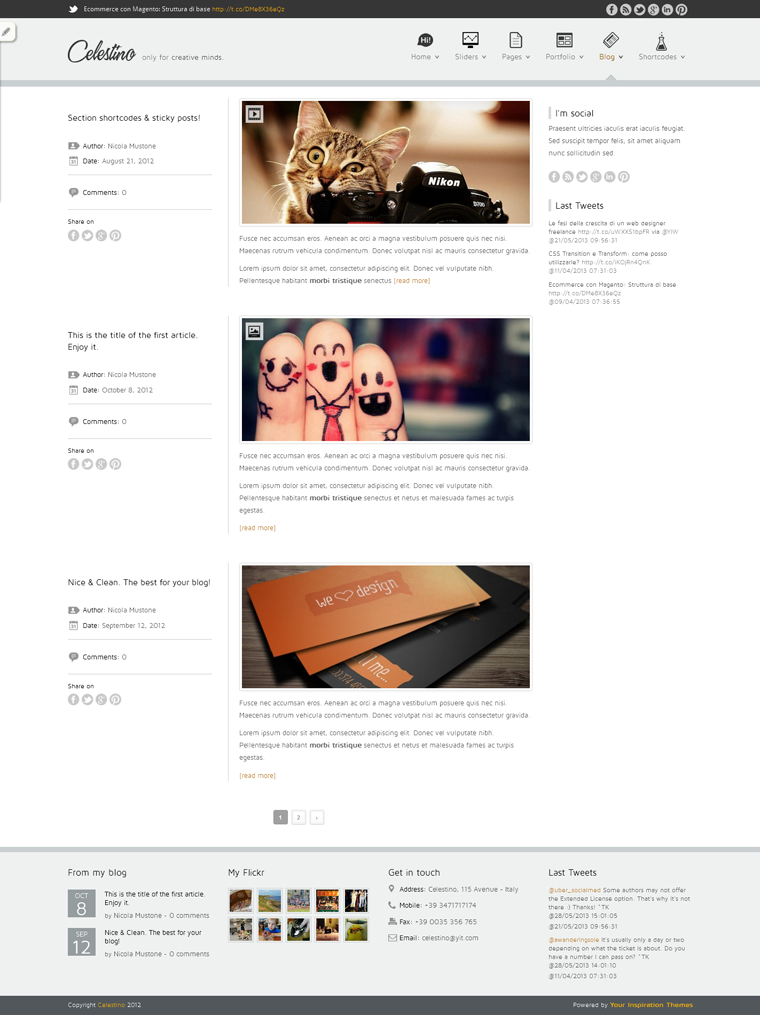 Pinterest Style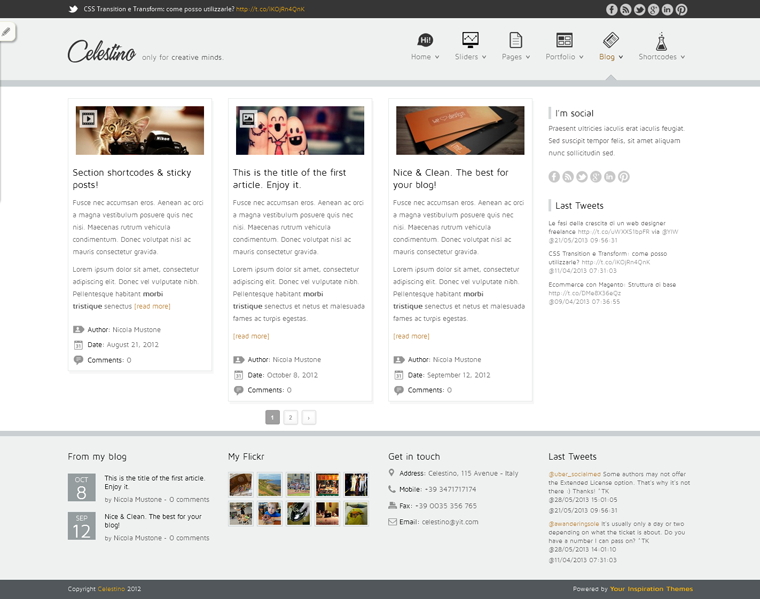 CONCLUSIONS
We said that nothing happens by chance. And Celestino, considering what inspired it and how it is done, surely deserves the prophetic recognition of what happens to let things change in a better way.
It is a powerful theme, well projected and rich of functions and features, easy to use and ready to turn your standard website into a fascinating place of big conquests.
Now it is up to you to go on and meet the prophecy of change