The free version of this theme is no longer available
What is Boemia? It is a theme which is simple and beautiful as a lovely Bohemian Crystal, pure but with multiple facetings which reflect the light each time in a different way. Unique and irreplaceable but customizable, Boemia is the new shop theme which is able to fulfill your desires.
Boemia is a brandable theme designed with a minimal and responsive design. It is a shop theme which employes Woo Commerce plugin, thanks to whom you can create an amazing ecommerce on your Wordpress platform. The theme has a lots of different layout options and it can be completely personalized to adjust it on your style, brand and projects.
GENERAL SPECIFICATIONS
Boemia's power is within its features: lots of different ones to be able to customize and use the theme at its best possibility. It has a 1170 pixel layout based on the Bootstrap Grid and it is a Corporate theme with 3 portfolio layouts among which you can choose your favourite one: columns, filterable e full description.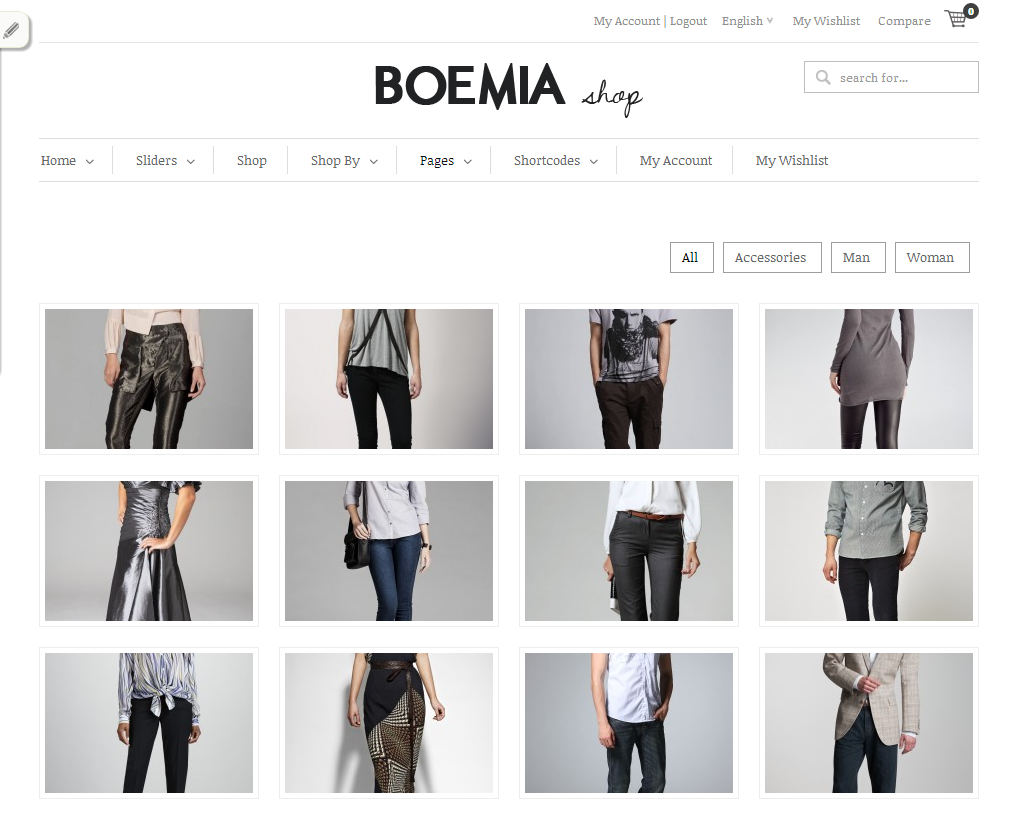 In the homepage you can set the Megamenu features, selecting the 'Shopping by Price, Categories and Brand' function (a very useful feature used in every e-commerce website!) which supports even images. This means you can set an image to be shown in the menu when users starts a search.

The theme can even be used as a Catalogue thanks to the "Catalogue Mode" without using the cart option (to do so, you can turn off the cart bar and add the button to the cart).
With Boemia you can set a landing page to show your products with a nice and clean layout, you can use several post formats as video, audio, quote and gallery, 2 custom checkout pages (a nice tabbed checkout page), and you can even use a SEO panel to optimize the SEO of your pages and products.
PRODUCT'S PAGE
In the detail page of the product you can:
- Set the List view or the Grid view in the products page,
- Set the multiple images for your product with slider and Zoom Effect
- Show the related products, ratings and description tab.
- Add an "ask info" tab with a contact form: user can contact you to ask information about your products
- Add Custom tabs: add custom content in the product page.
- Set the thumbnails styles (with or without border, with or without shadow, with add to cart and details button; with add to cart/detail javascript ribbon; turn on/off product's name; turn on/off the price etc.)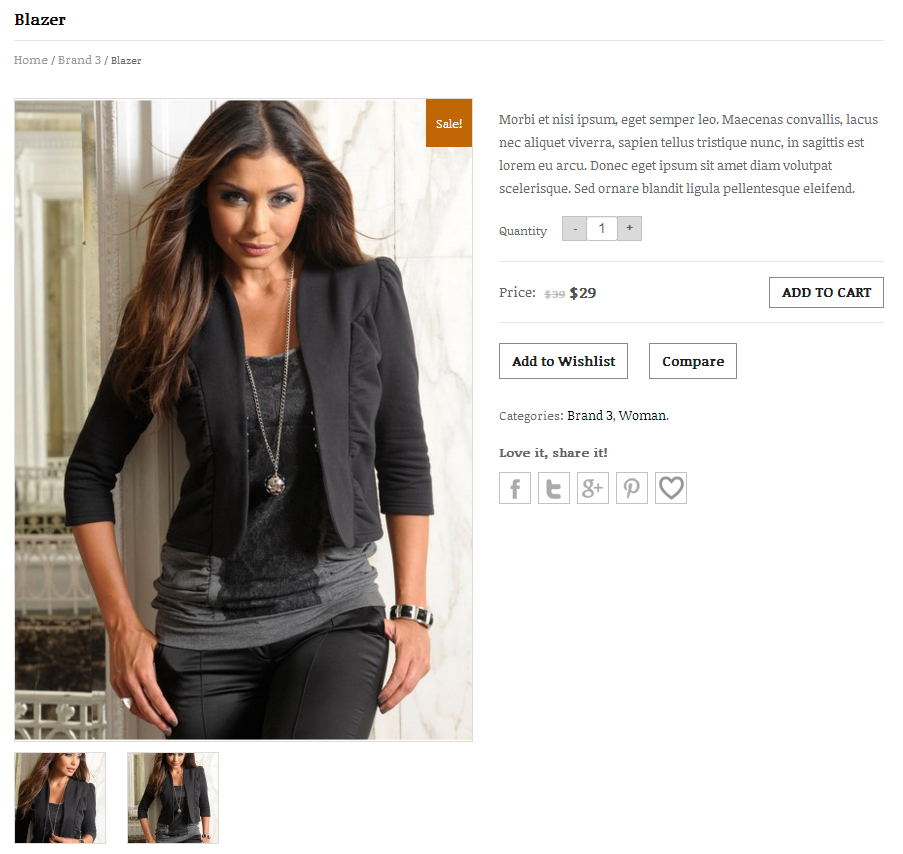 STYLE
You can choose Your Fonts & Colors to completely customize your website:
Over 500 Google fonts – the google fonts list will be automatically updated;
Set font and size for titles, slogan, body text and more;
Unlimited combinations of colors;
50+ custom backgrounds + bg images uploader: set a different background for all pages and posts;
Header upload: upload a different header image for each page.
BLOG, TESTIMONIALS&SERVICES
Boemia has a Blog Layout available, you can use an extensive admin panel and promote your business through the testimonials page.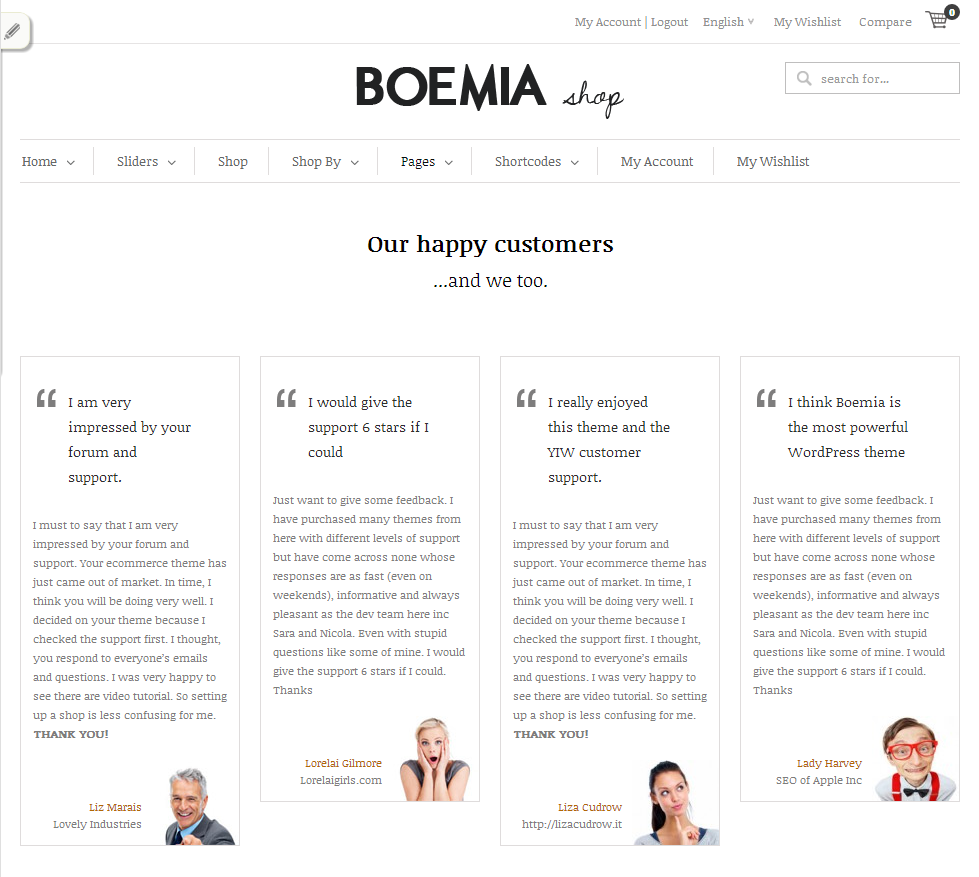 SLIDERS&PORTFOLIO
With Boemia you can have unlimited product and categories sliders and shortcodes to display latest products, best sellers, featured and on sales items, product categories. You can set a different slider for each page and choose from different slider types:
1) Revolution slider (a premium plugin available on CodeCanyon for $15, included in Boemia)
2) Elastic slider: original responsive slider;
3) Rotating slider: a nice faded slider where you can set how many panel to display
4) Flash slider
5) Flexi slider (basic layout): a simple and responsive slideshow to display images;
6) Grid slider (xml gallery plugin included): a original slider where you can set how many rows to have to create unlimited sliders
7) Thumbnails slider.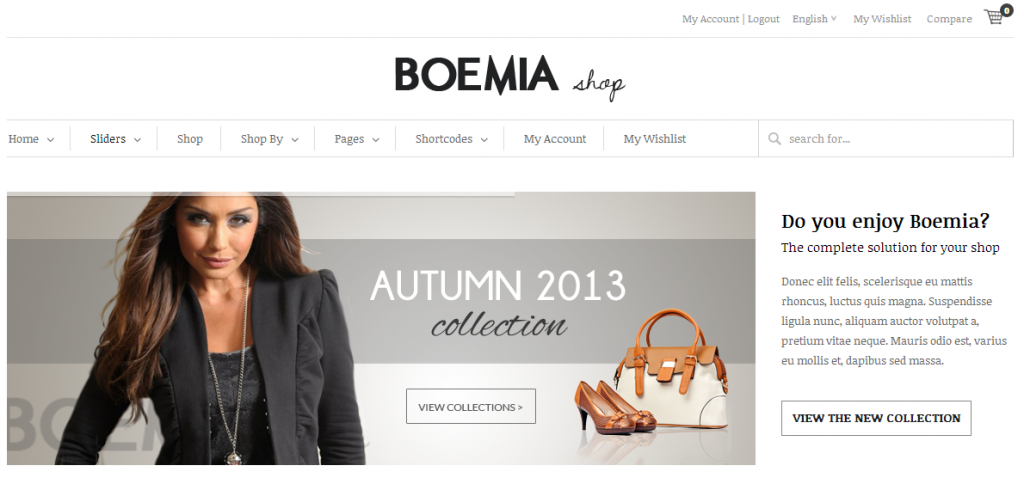 SHORTCODE MANAGER WITH OVER 200 SHORTCODES
Shortcode manager with 200+ shordcodes ready to use: add elements on each page with just one click, without copy and paste html/css code.
Typography: quote, columns, list styles, dropcap & more
Elements: alert boxes, buttons, tables, toggles, tabs, price tables & more
Media: sliders, galleries, videos, images styles, lightbox
Shop: product sliders, credit card icons and so on
& more
SAMPLE DATA
So easy!! With a simple click you can import our demo file and have in a second your website identical with our preview (to then modify the contents according your needs).
CONCLUSIONS
Your online shop should be clean, simple and charming as a Bohemian crystal. Your users should be attracted and fascinated by your style, by your products and by the quality of your work. And how can you create a similar shop? Boemia is the answer.
Download it and start creating your charming ecommerce website!
The free version of this theme is no longer available