YITH WooCommerce Brands Add-on
When we make the inventory of our shop and choose the products to sell in there, we all tend to choose those by well-known brands. Or also if we have got a shop with products that we produce on our own, our intent is to make them become a brand, a well-known brand, that stands out from the crowd of competitors. Why do we all do that? Because well-known brands have an established image of quality and trust in consumers' mind and therefore, when they reach your shop they trust such products and are more likely to buy them. Many times, moreover, they act as a lure, for those customers who google for, say, a brand T-shirt or a brand watch and find your own website: these new customers have reached your store thanks to a the branded product that you sell in it. So, then, once we have branded products in our site, the most important thing is to make them easy to search for potential customers.
How many of us have tried to organise their own products in brands using categories? It is a common habit, the most intuitive way to order and sort them, but are you sure this is the best way? When you, then, have to show all your categories? We would find both product categories and brands all mixed together. Put you want to show only sunglasses by Ray-Ban… you can't combine two categories and what a mess! And, then, if your shop is a mess users will probably search somewhere else and you will have lost them. So, then, what's the solution, renouncing to sort by brand?
No! Wait a moment. Not if you handle your brands with a tool specifically conceived to make exactly what you are trying to: YITH WooCommerce Brands Add-on. Our brand new plugin allows you to manage your brands and filter products without creating mess, a tool to boost the exceptional sales power of well-known brands in your own shop. Let's begin describing the main features of this plugin and you'll see yourself how powerful it can become!
You can create your brands and customise them by giving them a name, assign them a logo and a description, but you can also set a banner image and a specific link to each brand. If you use the taxonomy "Brands" provided in the plugin, you will be able to click on the brand name and see a page with all products of the brand in your shop. Then, if you want, you can also set a specific link to an external page available when users click on brand name from brand page: this allows you to link the brand in your shop to the official brand site or to any other site you like.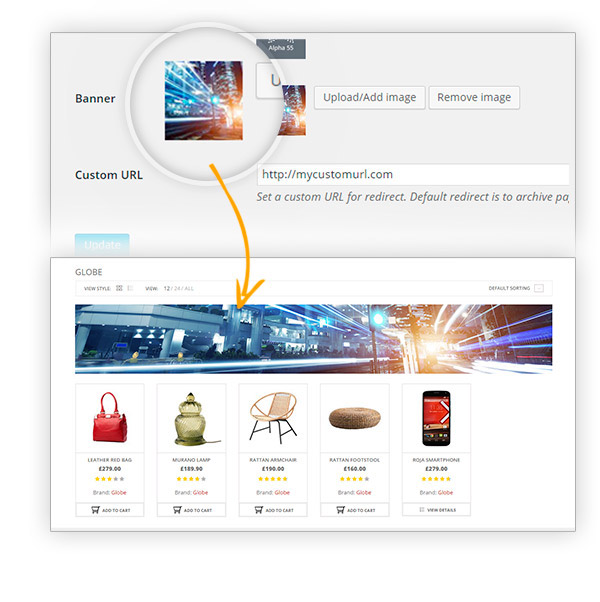 You can show the brand to which the product belongs both in single product page and in loop page, so that your customers will see brands in a glance without having to open product page. Think of how important this is. Put they select the category "Watches" in your shop, all watches will be shown and they will see in a glance the brand of each of them. Then, if they are interested in a brand in particular, they can click on the brand name and the page with all products of that brand will be shown. Also if you are running a multi vendor shop, this is possible with this brand plugin.
But this is not all. To make your shop even more usable, YITH WooCommerce Brands Add-on puts a lot of sidebar widgets and shortcodes for you to show your brands in a filterable way. Let's make it clearer.
Put your shop has many products and that a user comes to your shop because interested in a specific model of watches by brand "123": if you put a filterable list with all brands in your sidebar, your customers will be able to select first "watches", then the brand "123" and then analyse, compare and see each single product: do you know how much time you made them save? And all this plays in your hands, because they do not get stressed by useless searches and they find immediately what they were searching, they can devote more time to compare the few products of the same type and they are much more likely to purchase. This is the exceptional power of a shop with filterable products by brands and categories.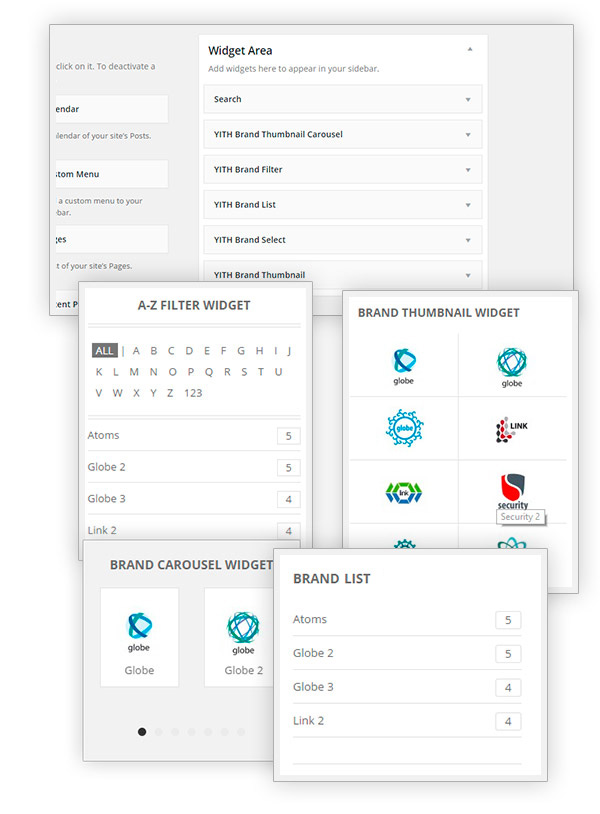 Then, for those who are looking, instead, for a specific product, if you are using YITH WooCommerce Ajax Search plugin, this search becomes really instantaneous. YITH WooCommerce Brands Add-on is fully compatible with Ajax Search, which implements also search by brand. A combined work to make your customers feel comfortable in your shop, make it as usable as possible and increase the conversions of your shop.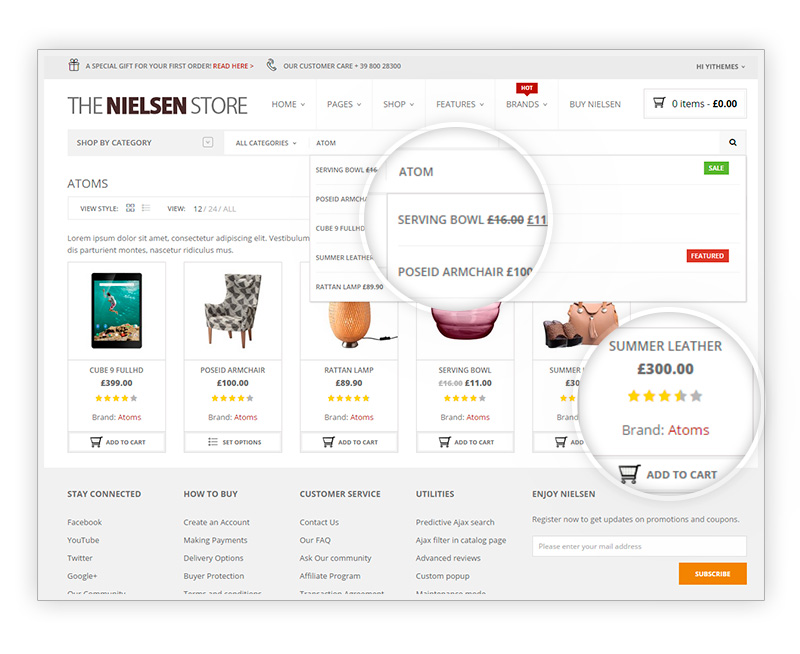 Then, to make all this easy for you to setup, not only have we provided you with 5 different widgets (filterable and not), but also with 8 different shortcodes to organise your brands and many different styles for each of them, to adapt to your shop design but especially to your needs.
Many features, too many to be explained here (but you can find details in the plugin documentation), and above all features that must be seen to understand their real value. What are you waiting for? Discover YITH WooCommerce Brands Add-on now!