A tool no shop can do without
Today's plugin needs almost no introduction. It is one of the most sought-after tools in the web world from the part of shop owners and one of the most appreciated from the part of users.
We are talking about the real-time search of YITH WooCommerce AJAX Search. Today, no one can do without it in the web, but YIThemes has not stopped to the simple, basic and essential tool of AJAX live search, YIThemes want to offer you much more, a plugin full of features and possibilities to customise your search.
Put yourself in your users' shoes. If you come into an online shop, the first thing you do is to give a look to things that most attract you, and you are fascinated by all those colourful and eccentric images. But then, if you have come there to look for something peculiar, you might also risk getting lost among the countless products shown throughout the whole shop. It is in that specific moment that a search tool is the most appreciated thing for a user who wants to get something specific or just wants to see things in a tidy way determined by their own search. And if a search becomes a strenuous task they are likely to leave the shop without even thinking twice.
With YITH WooCommerce AJAX Search you do not run the risk of such a mass, especially if it shows immediate and real-time results. Yet, YITH WooCommerce AJAX Search offers you many more possibilities to help you put your potential customers immediately at ease.
Imagine one of your customers is looking for a bag: for a woman, in particular, assortment is so deep that a thumbnail image could definitely improve her search. I think you have already guessed what I'm going to tell you, YITH WooCommerce AJAX Search allows you to customise searching results because it allows showing a thumbnail image on one side.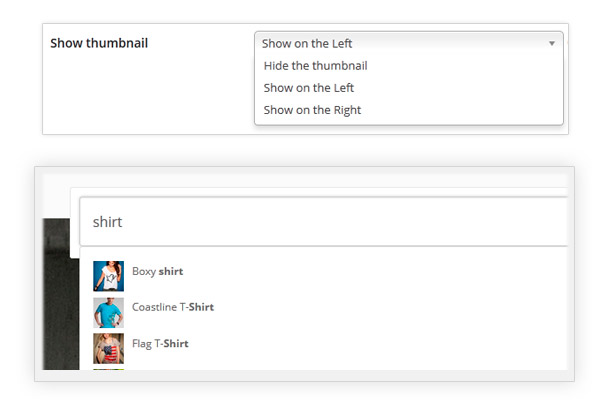 Can you imagine how important first impression for a woman is? If she likes an accessory from the first time she sees it, the first obstacle in the long process for purchase has already been overcome.
But what goes for thumbnail images goes also for the price of the products shown and for "Sale" and "Featured" labels. Suppose that some items in your shop are on sale with a special offer, a special discount available just in a limited lapse of time: well, what is more effective than making this visible also during a search? Maybe in the chaos of a home page it becomes difficult to spot temporary offers, but in searching results you cannot miss it. If a shop item is in promotion, showing the initial price and the discounted price could encourage users to buying, just because they know they are sparing some money in buying a discounted article: it sounds like a paradox, but we all know that this is how things work…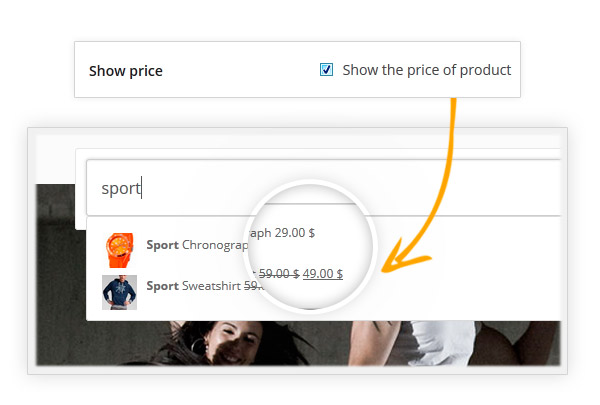 YITH WooCommerce AJAX Search makes this possible with a few clicks of the mouse, it takes nothing, it's simple and your users' loyalty will get improved. Then, add to all this the possibility to customise the label and it's done: things have never been so easy!
Or just to leverage on the same mechanism, you might find it very useful to add custom badges to your products.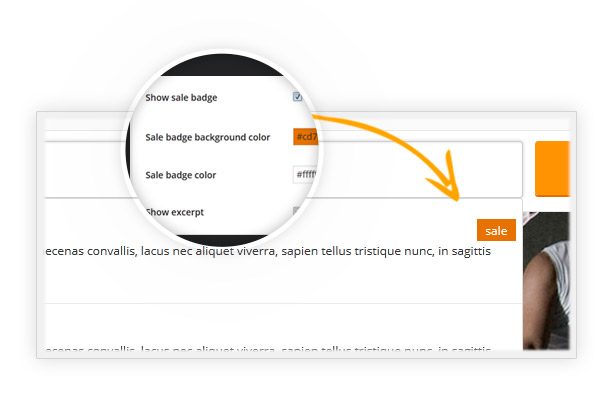 So, I think my words could never be enough to describe the exceptional possibilities offered by such a simple but unique and irresistible tool for your shop. After all, how many of you have come to this page through the tool we have just described? Just think of how such a handy tool is able to make your web life easier… not only yours but your customers as well!
Read more about possible settings for this plugin in the plugin documentation. Installing and configuring it will be a child's play!