Anyone who buys from online stores knows it: free shipping is one of the critical strengths of the most popular e-commerce stores, to the point that the world's leading platform for online sales Amazon made of free shipping its own very flagship.
The reason is simple: most of the people who choose to buy from an online store rather then a physical one do so in order to save money.
We all know we can get cheaper deals on the internet, and that's what drives us to search the web for the items we need.
On one condition, though: if you get a good deal but the expedition fees exceed the amount of money you would save on that deal, then it won't be a convenient deal anymore.
The benefits of free shipping
It's easy to understand that free shipping is a great advantage for your customers, but to what degree exactly?
It's very popular – 58% of online sales made in 2014 had free shipping deals.
Everybone loves it – This survey shows that 93% of the respondents declared free shipping represents a great incentive for them, two customers out of three also stated they would have made larger orders if they were free of expedition fees.
Satisfied Customers – Free shipping greatly improves customer satisfaction, making them more likely to shop on your store again.
Free shipping generally implies extra costs for the seller, however, this tutorial will show you how to allow free shipping only for those that are willing to pay a little extra to make larger orders: customers are going to be willing to make bigger purchases in order to meet the required free shipping threshold, which will increase the value of the average transaction on your store.
Required Plugin
How it works
Once the plugin is installed and activated, it has a simple and direct use: you will be able to customize preset messages that will inform the customer about your free shipping policies such as setting a minimum expense or item number threshold.
Your message might be displayed in several different moments and places, according to your settings.
Products in cart – The message will be displayed once an item is added to the cart.
Categories in cart – The message will be displayed once a certain kind of item is added to the cart.
Simple message – The message will be displayed at all times and it won't be connected to any specific item or category.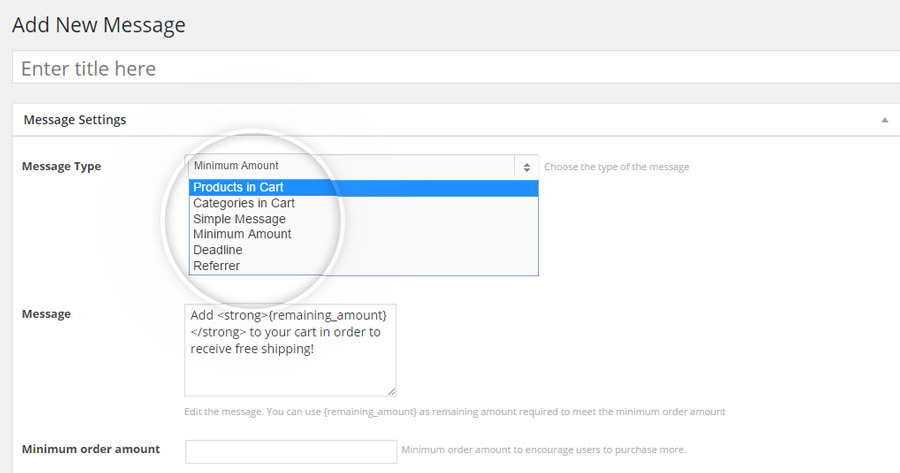 Right underneath the Message Type section, you have the message form where you can customize your text with HTML tags in order to add a whole range of details to it, such as the kind and the number of required items.
Required Quantity is an essential part of your message, since it will display the difference between the amount of items in the customer's cart and the minimum amount of item needed to meet the free shipping requirement.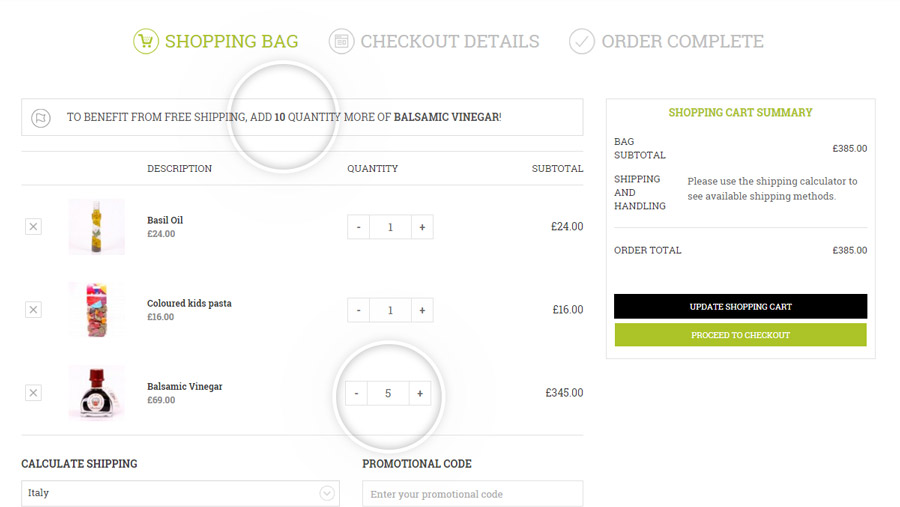 Example: If you set the Required Quantity to 15 items and you have 5 in our cart, the displayed message will inform you that you need 10 more items to meet the free shipping requirement.
Threshold Amount specifies the minimum amount of items customers need to add to their cart before your message is displayed.
With Selected Products and Selected Categories you can respectively chose which products or categories of items your message will be displayed for, once they are added to the cart.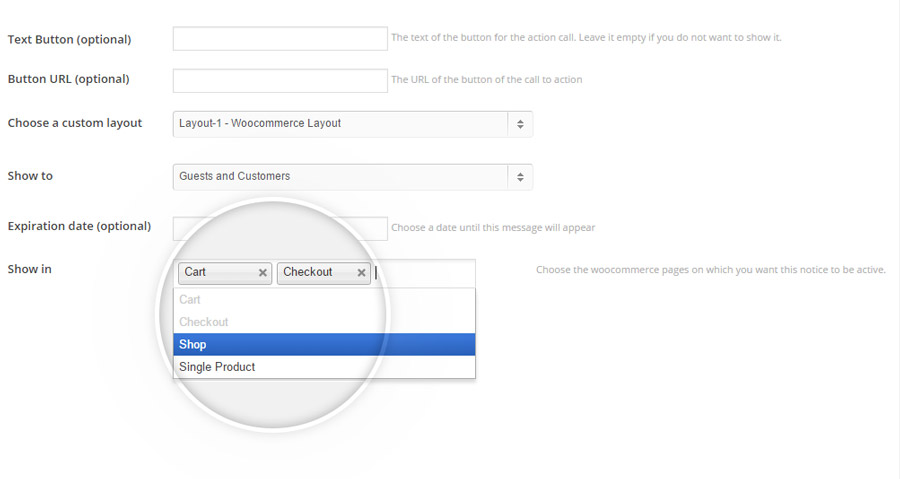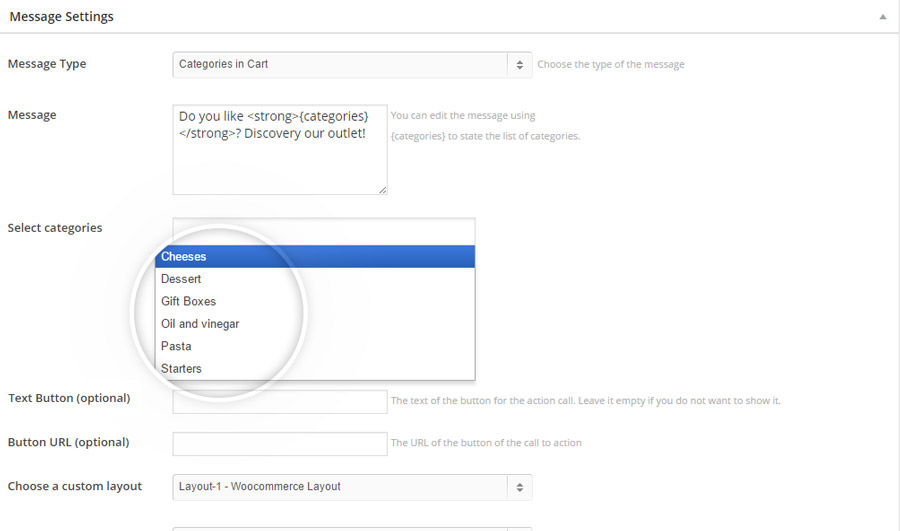 Further down the settings list, we have an option that allows you to add a button that will catch the customer's attention and encourage them to click and discover the offered deal.
In order to do so, proceed to customize the Text Button.
If you want your offer to be time limited, you may also include an expiration date in order to drive the customer towards an immediate purchase. To do so, set a date in the Expiration Date section.
Finally, you are free to choose whether your message is going to be displayed in the cart itself and/or during the checkout.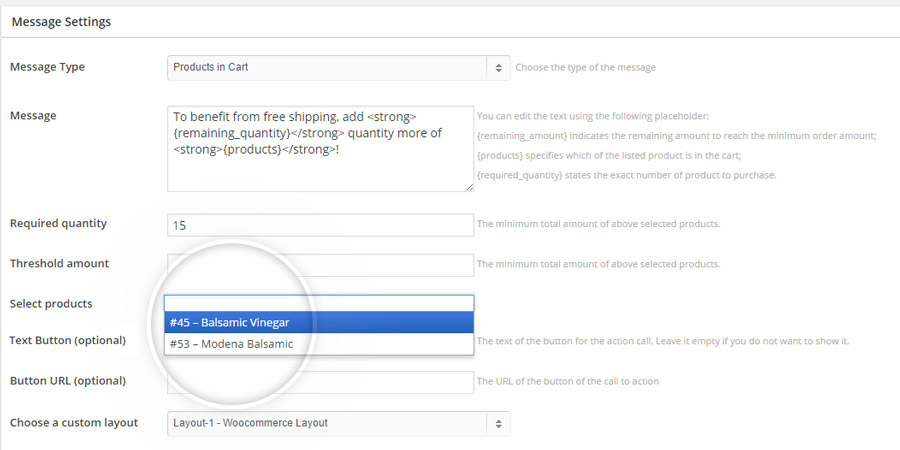 You can customize this plugin to a high degree: you also have the option to customize the message layout, thus making it more visible while the customer is surfing your website, in order to further highlight your offer.
And you're set! You can add a free shipping offer to your e-commerce store right now!