Use YITH WooCommerce Dynamic Pricing and Discounts to create your own discount rules, schedule discounts and special pricing
This is a topic that concerns the majority of (if not even all) owners of online shops. How many times did you find yourself creating a coupon for a customer who intends to buy a lot of products? How long does it take? And maybe he/she is waiting behind the screen, impatient to receive the coupon code to have a discount.
Create the coupon, add the products, choose the discount, set coupon restrictions, then check if everything has been set correctly. Even if the action of creating it is a simple gesture, it takes longer than it appears at first sight. Isn't that true?
Imagine, then, that at the same time you have to create dedicated coupons and discounts for a dozen customers, all of them waiting for your discount to purchase. Making a mess is just around the corner!
And I'm sure that you could list many more examples than I did, such as an advantageous offer for Black Friday or for Christmas.
So, you need a very flexible tool that allows you to manage more discounts at a time, automatically and dynamically, or better yet, a tool that gives you also the possibility to schedule discounts and special pricing for a limited time span.
It must be a flexible one and give you many customisation options. We have a very interesting suggestion for you today: a really reach plugin that will make your promotional strategies really easy to be applied. I'm talking about a solid plugin, YITH WooCommerce Dynamic Pricing and Discounts: you just have to take some time to configure it and then it will do the rest in your place.
Let's discover together its enormous potential!
First of all, I have to say that the plugin allows you to set pricing strategies and discounts by means of rules that you, admin, set from your WordPress dashboard.
You can set discount rules for any product in your shop, for all or for multiple items. For example, you might wish to set a specific discount only for some products that your users require most frequently: so you have to create a list with the most popular ones in your shop and add them manually. Yet, if you had previously created a category called "Popular", you don't have to add them manually, but you can just apply the rule to the category, or to more categories, as you wish. And this is the first step towards saving a lot of time when applying marketing strategies in your shop, together with showing categories in a clear and hierarchical way.
So, practically, you can choose to limit discounts to some products only or to limit discounts to some specific users. I'll explain that better: users in your site might have been assigned different roles, for instance, "administrators", "shop managers" and "customers". If you want to allow a 30% discount on all products in the store to your shop managers, you can set a specific rule for them. But this is just an example, because you can set for each rule in your shop the role(s) to which it has to be applied as well as the product(s) (as explained above) and much more.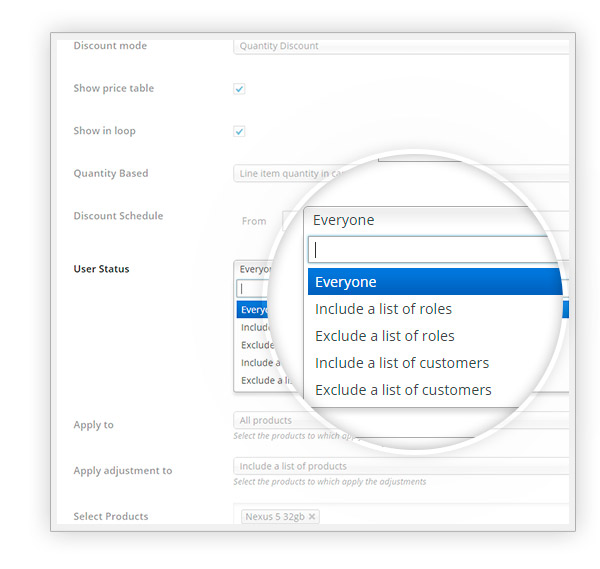 Then, we can also select the type of discount for each rule we set. We can choose between quantity discount or special offer or we can set a rule to exclude only some items or some categories from applying of all rules in the store. And according to the type of discount selected for the rule, you can set many other options.
One of them is the possibility to set a condition for the rule to be applied: that is, a minimum quantity of a specific product or generally of products in cart. Then, you can also choose to show a price table to make your customers immediately understand how the discount changes in relation to the quantity of one or more products they add to the cart.
This is very useful for some offers, for example, you will be able to configure a rule as the following. The rule you have set applies only if you add at least three tablet covers to the cart (each of them costs 20£), so, If you add just two, you will get no discounts on them and you'll have to pay 40£ for them. If you add three you can get a 30% discount and pay 42£ instead of 60. In addition to that, the rule includes only that if you add 7 or more tablet covers to the cart, you can get a 50% discount and pay 70£ instead of 140 (for 7 covers), 80£ instead of 160 (for 8 covers) and so on.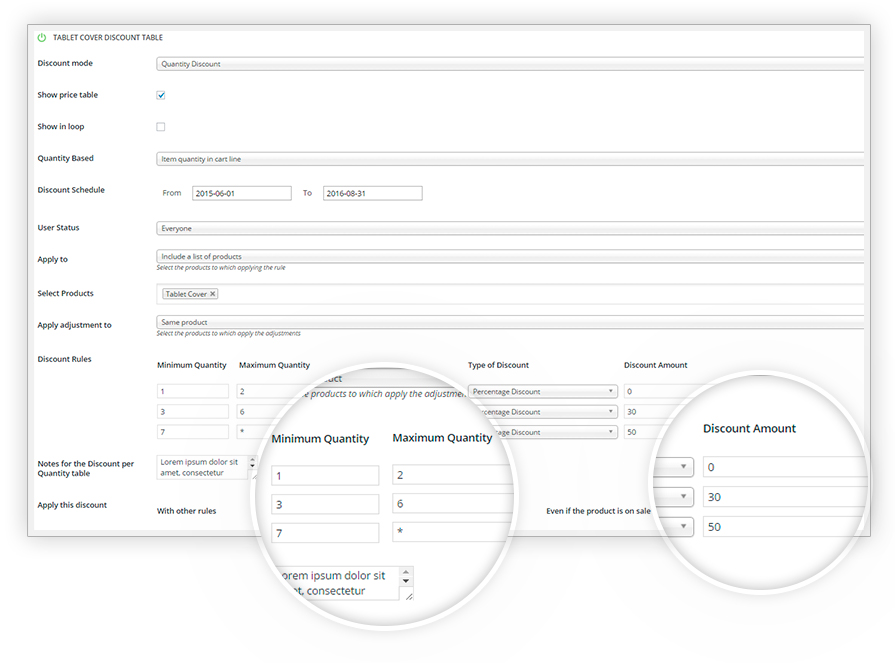 Then, if you do no longer need the rules you have set, but you want to apply them later, you don't have to delete them and set them again, you can simply activate and deactivate them from your plugin option panel; a simple action with one click, it's easy!
And that's not all: you can also set the rule now and schedule it for a later time. Let's imagine that you want to make a special offer for Christmas, that lasts only three days, but you are already on holiday and do not have time to work on it because you are busy with family business (that often overwhelms us in these times of the year). You can select a start and end date for your rule and the limited offer for Christmas will be automatically available in the days you have set. Great, isn't it?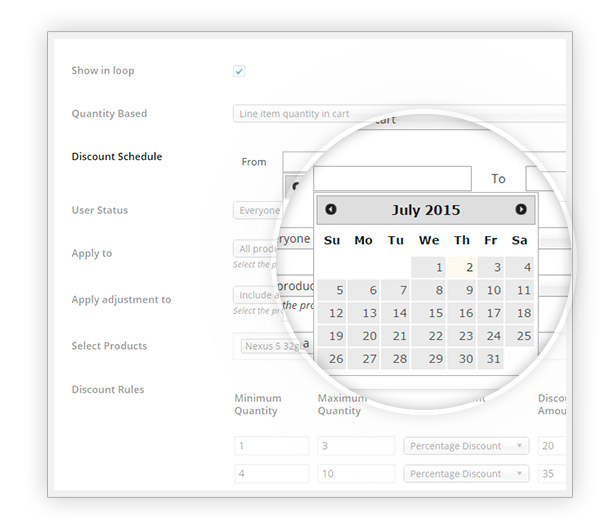 Moreover, you can combine discount rules on your products to make your marketing strategies apply exactly as you want.
Yet, an important detail that we haven't mentioned yet is the type of discount. You can choose among percentage discount, amount or fixed price. Each of these options turns useful depending on what you are planning. In fact, you might want to apply a generic percentage discount that the system will calculate on your behalf or a discount of a specific amount, as well as you can do with simple coupons thanks to WooCommerce plugin, with the difference that with YITH WooCommerce Dynamic Pricing and Discounts you can set specific and really accurate conditions. Yet, sometimes, you might wish to specify the final price that overrides the actual one.
In few words, there are so many possibility to set your own rules, that you just need a bit of creativity to make your discount ideas concrete. YITH WooCommerce Dynamic Pricing and Discounts is just your most reliable ally and your best friend for promotions in your shop!
I wholeheartedly suggest you try the free version or test our live demo to understand its full functionalities and the enormous power it gives you in your shop! Or think about combining it with bundles of products: your customers will love you!