Imagine being in a store when you see an item you like: before you buy it you'd like to get some extra information about it (do they have other similar models? Does it come in different size or color?), so you look around trying to find a clerk to talk to. Ten minutes later, you're still staring at that pair of shoes and nobody has come to help you, nobody has answered any of your questions.
Wouldn't that be upsetting?
It surely would be, and you would probably leave the store without buying anything.
Luckily, when it comes to online stores, you can rely on FAQ!
In this tutorial, we're going to see why it's important to add a FAQ section to your online store and how to do it in a quick and easy way.
Why they matter
Many people look for new marketing strategies in order to increase sales on their online store, but they underestimate the importance of a simple FAQ section.
It reduces waiting times – Your customers won't have to wait for you to reply to their mail, thus riducing the dropout rate on your website.
It reduces the amount of work for you to do– It may seem obvious but not having to personally answer every single question will indeed lighten your workload, especially if you have to deal with a high number of customers… and that's what you're aiming for, right?
55% of the people visiting your website spends less then 15 seconds on it, it's best to use this time wisely
The average user is lazy – Not all potential buyers have the required time – and will – to write an email asking for more information about a product while FAQ are just a click away.
As safe as Amazon! – In a time in which each and every link on a website is potentially dangerous, with computer viruses and scams lurking everywhere, your customers need to be reassured. That's why you need to look into customer reviews and their replies in the FAQ section.
Let's see how to create an FAQ section in a few steps:
Required Plugin
How it works
Once the plugin is installed and activated, you may customize it and create your FAQ section.
Both the questions and answers of users and those of the seller are collected in the Questions & Answers section in your WordPress screen, where you can customize them, delete them or add new ones.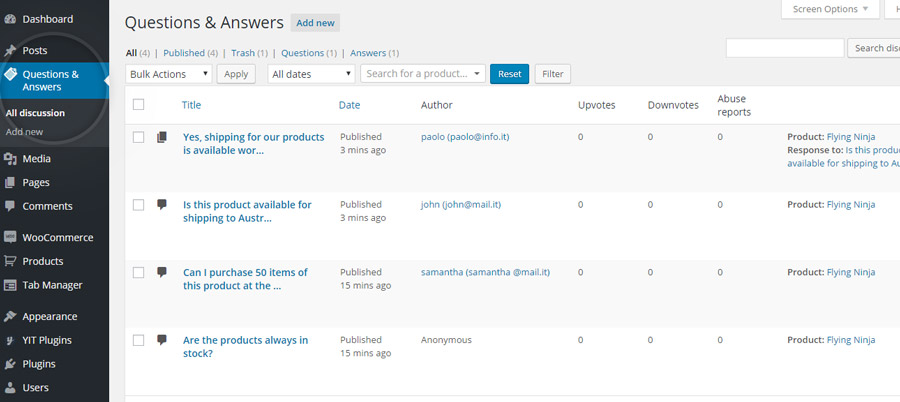 Let's now add a question and watch the process closely.
To do so, click on Add new.
You will now see a screen that allows you to enter your question. Click on Enter title here, then select the product you are interested in from the drop down menu underneath.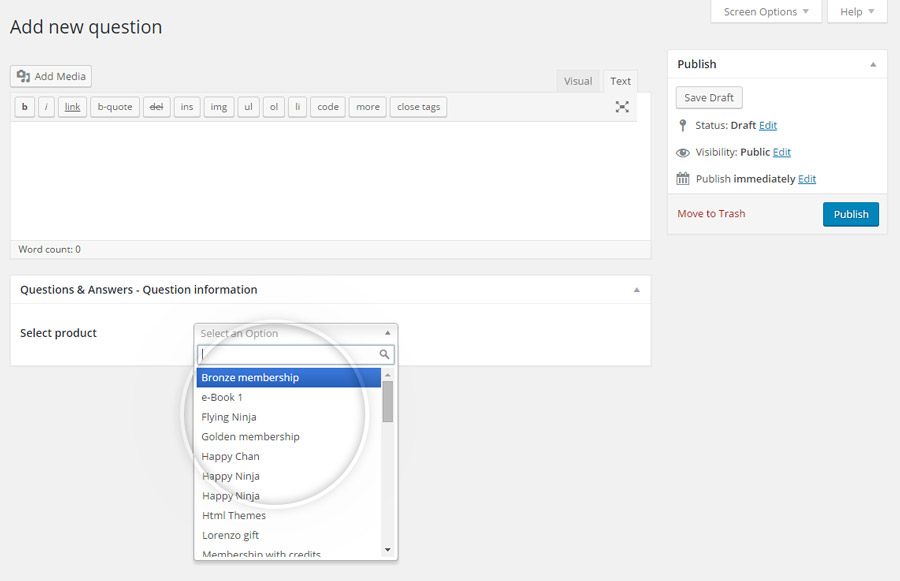 In order to answer a question, you simply have to click on it and write your replies.
In case you are the one replying, your answer will be highlighted as shown in the picture below, so that customers can spot it.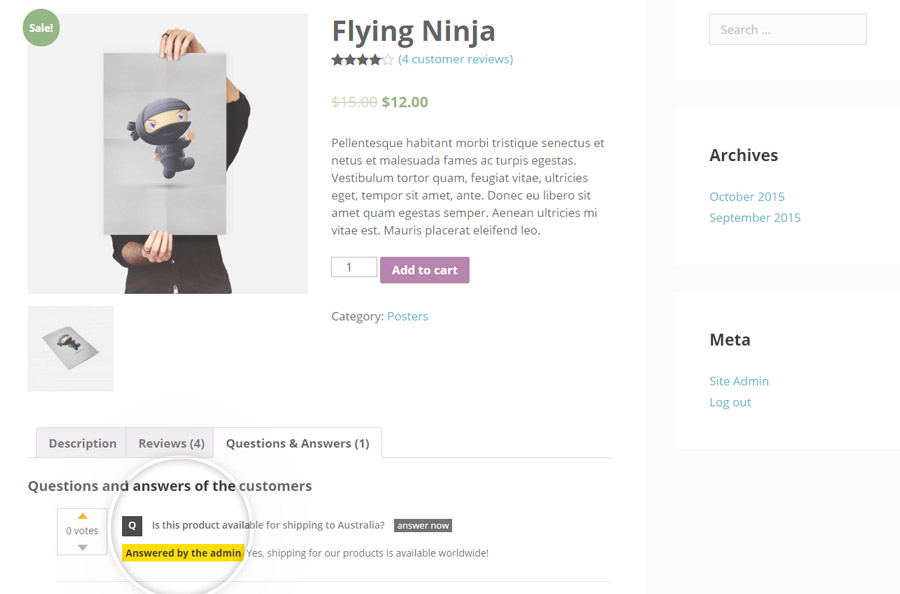 Extra Features:
Evaluation System – Users are free to evaluate the answers they read so that you can start off with a good control system and offer a constantly excellent service.
Email Notification – You can set up notification so that you will receive an email each time you get a new question or receive a new answer.
Best Questions – The Evaluation system also affects questions, this will make the most important and recurring questions more visible.
And you are set! Now you too have a small community of customers exchanging questions and answers.
The aforementioned store is no longer bare and empty, it now contains signs and other customers to talk to!