Use YITH WooCommerce Sequential Order Number to customise numbering of your WooCommerce orders
Whoever has dealt at least once with WooCommerce orders can confirm that they have not a reference number which helps you understand how orders follow each other and apparently they are almost randomly given. On the contrary, this behaviour is logic if you follow the same 'reasoning' that rules your WordPress site; which one? Any new post, any new page, any new order is something new added to your site and each of them has a identifying number, that, yes, is sequential. But, in your WordPress section "Orders" you will not see all posts of the site, but just some of them, which are named as orders. And this is the reason why they have apparently random numbers.
If you have a very dynamic site, you publish new pages, new posts and articles and receive orders every day, these might not look arranged and it could be much more difficult for you to realize at first sight how your orders are proceeding. What you need, then, is the possibility to see them sequentially sorted, but if you have already tried to find out how to do that, you must have realized that it is not possible, in no way.
Do not worry, though, because this is why we have developed the plugin YITH WooCommerce Sequential Order Number, which will help you give a sequential and customised numeration to your orders. Let's see together how you can customise them.
First of all, you can set the starting number for your orders. Imagine you have already listed all orders collected so far and you need to start from order No. 50: no problem, you can do that, it's easy to set up.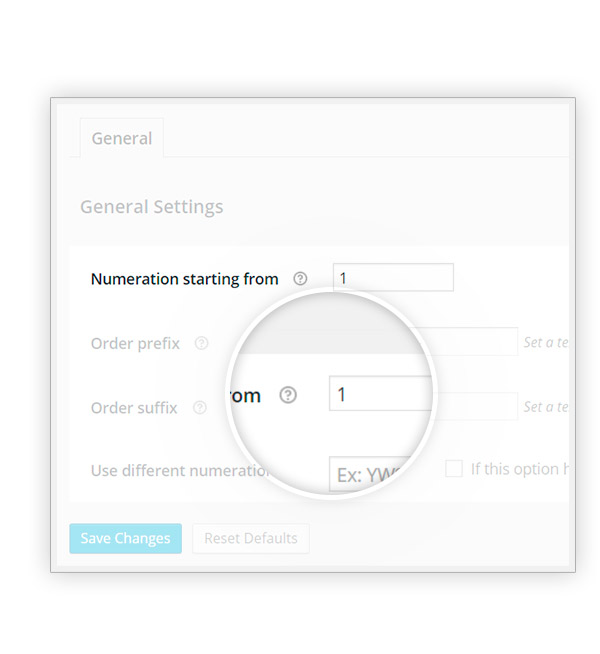 Moreover, you can customise them with a prefix and a suffix that you can add to each order. So, for instance, you can use a prefix with an abbreviation of your shop name and current year as suffix, so that you can see at a glance when this order has been placed without having to open it.
This new ordered numbers will be both shown in your WordPress section "Orders" and in your order receipts, which will make also recovering of one of them easy for you and for your customers too, because they will see immediately what store the order receipt is from when they have more than one order confirmations at the same time. So, you can also provide a good and clear service to your customers, which will make a good impression onto their mind too.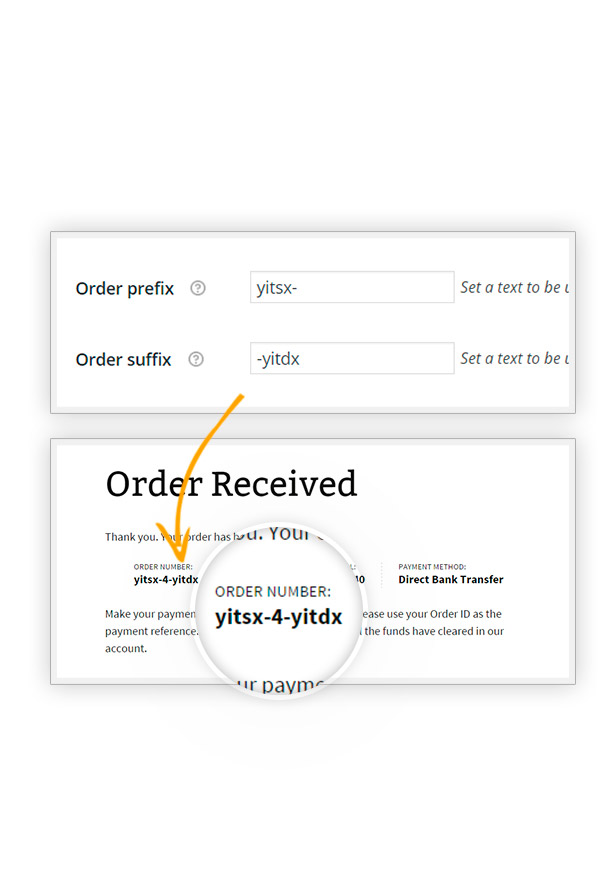 And a very useful functionality is particularly interesting for those who have also free products available for download in their site. You know well that orders for free products would be calculated as well as paid orders, so they will be included in order count and numbers will be incremented as well. But if you want to have a different numeration only for paid orders, filtering them will be difficult, while YITH WooCommerce Sequential Order Number will let you give a different name to free orders and manage a separate numeration, so that you can spot free and premium orders all at a glance.
So, I think you should try the plugin to really understand its value and the determining improving effect it will have on your store management. So, what are you waiting for? Download the free version or purchase the premium version and you'll see with your own eyes!