There was a time when if you wanted to improve yourself and learn new skills, you had to walk to your closest notice board and browse for a learning course or teacher.
Luckily things have changed today, now we have access to all the information we want, thanks to the internet.
YouTube videos are slowly replacing most of the entertainment and educational classes, to the point that even the number one video sharing platform in the world now offers the option to make customers pay for video tutorials and learning courses.
It might sound a little excessive, but it's true that the internet represents the ultimate demonstration of the American Dream: anybody is free to become what they want.
Clearly, this also applies to online sellers: there are endless online learning courses, both in video and text format which constitute an amount of resources the world has never seen before these times.
Whether your competence is about writing, yoga, IT, history, art, drawing or anything else, you are free to sell your knowledge to paying customers.
I've attended online classes myself and was able to isolate its positive aspects both from a customer and from a seller perspective.
From a customer's point of view:
It's easy – Attending an online class with need to follow specific timetables means you are free to attend when you want, thus doing so with a clear and focused mind. Experience also shows that an online learning course has a much lower dropout rate then a physical one.
It's cheaper – An online learning course is often much cheaper than private lessons
From a seller's point of view:
A lasting relationship – Offering an online course on your store allows you to have a lasting relationship with your customers keeping them faithful to your store and products.
Spread your brand name – An online course, especially a good one, is a powerful promotional tool. Let your own students spread the word.
Learning courses with monthly fees are a huge resource for sellers, but how can you sell them on your WooCommerce based online store?
In this tutorial, I'm going to briefly show you how to sell an online learning course on your e-store.
To further illustrate this process, I'm going to use an example involving a writing course that includes the following bullet points:
3 months time span.
Cost: 39$ per month.
New learning material released monthly.
Monthly expenses to be covered at the end of each month, until the course ends.
Let me give you a step by step explanation on how to offer such a learning course.
Requested plugins
Pay a monthly fee – Subscription
First things first, you need to create your monthly subscription. To do so, you need the Subscription plugin.
Once the plugin is installed and activated you can create the course just like you would with any other item for sale on your store, browsing through WooCommerce > Products.
In this case, I'm going to name it Writing Course.

Lower down in the product creation section you will find the Subscription options.
You might want to check the Virtual box in this section (Implying this is a virtual product that doesn't require shipping) and Subscription.
In the lower section you will find the subscription options. Following our previous example, I have set them as follows:
Regular price – 39£ (The price of each singular subscription renewal).
Price is per – 1 month (The amount of time before said subscription needs renewal, I'm going for one month in this case, since we're making a monthly subscription course, it could also be weekly, two-monthly, yearly…).
Max Lenght – 3 (Displays the number of times your subscription will automatically renew, leave it at 0 for unlimited times).
Once your subscription is created, you need to create a membership you can link it to, which will work as a container for your lessons.
Offering premium content – Membership
Once your membership is created we are going to need content to link it to, it could be blog articles, web pages, products, whole item categories or blog/item tags.
Despite the fact this can all be manually accomplished on each item page, we can simplify this process by creating a category that will include all the content related to our course.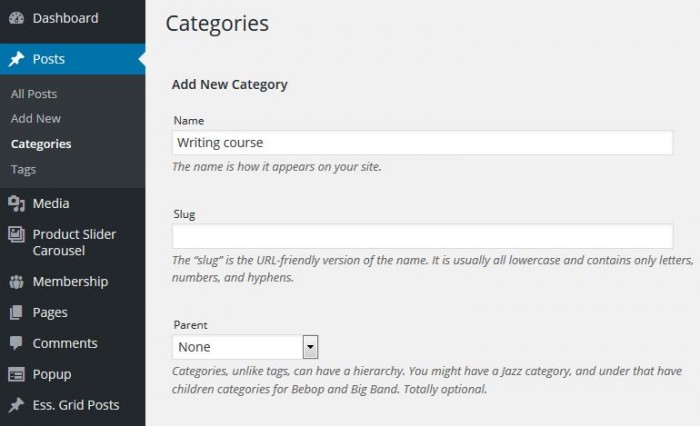 Now you need to add content to your course. I've divided it into three articles, one for each month, each one comprised of five lessons.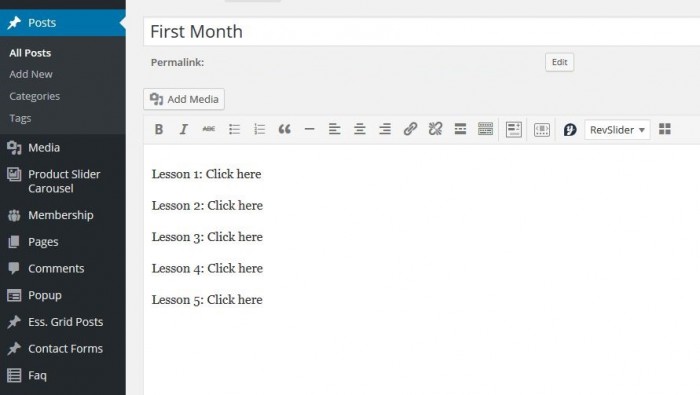 Each article is linked to a category you have previously created.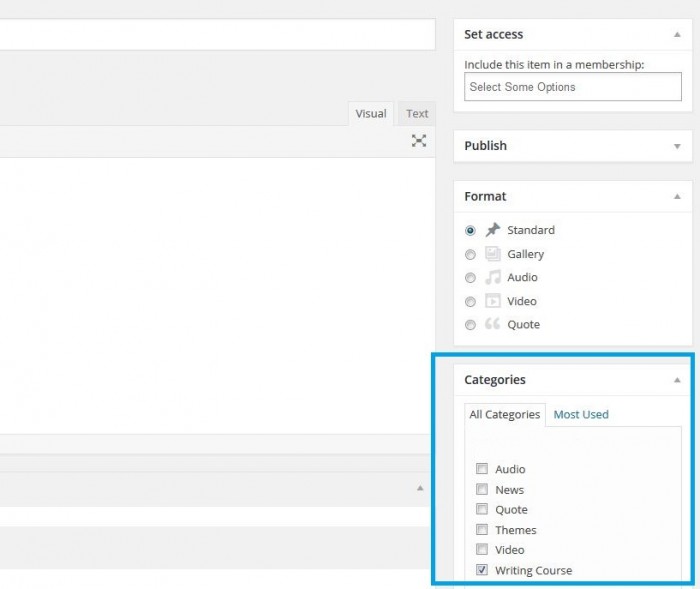 Now that we have our subscription and our three-months partition including monthly lessons, we can create the membership plan you wish to link it to.
In order to do so, hit Membership > Add Plan and assign a name to your plan. As I did before, I've named mine Writing Course.

Lower down you will find the Items in Plan* and Settings tabs,
The first one of these two tabs allows you to decide which articles are going to be part of your membership plan. The Settings option allows you to customize the single item or the category they belong into.
Let's add the Writing Course category we've created earlier which includes our articles.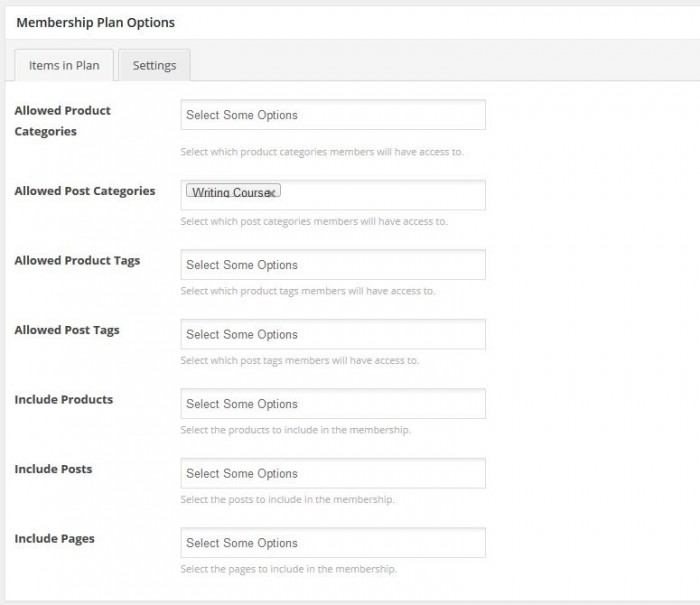 Once this category is added, go through the Plan Item Order function, which allows you to drag and drop items in your list and decide the order in which they are going to appear.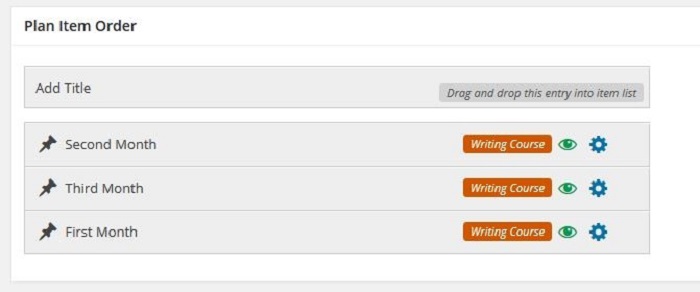 Let's explore the Settings tab now and select the product used to sell the membership.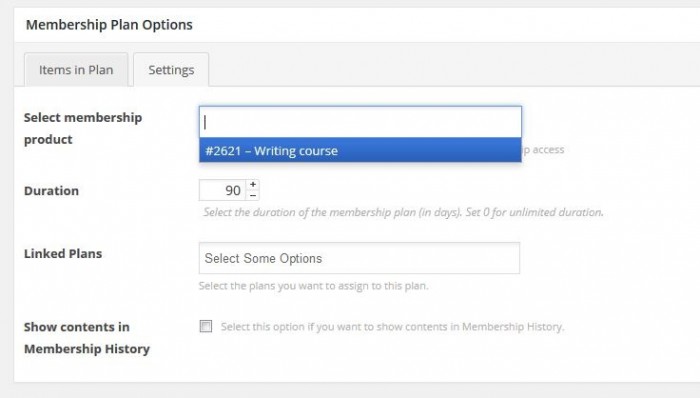 Let's set up the very same duration of the Subscription (3 months – 90 days) and we are set, our course is ready to be distributed.
One last detail to take care of: if we want our 3 articles to be released gradually – the first one right away, the second one the next month and the third one after two months – we need to go back to our specific post (Second Month, in this case).
In the upper right corner you see the Set Access function which allows to include your article into a specific membership (which we have already done earlier by including its whole category) and we can set the days of delay it will have.
Since the Second Month article is meant to be displayed one month after the initial subscription, let's set the delay to 30 days.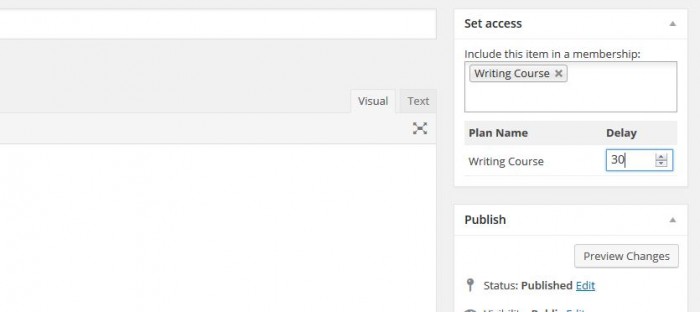 The same goes for Third Month, in which case we have to set a 60 days delay in order to have it available after two months.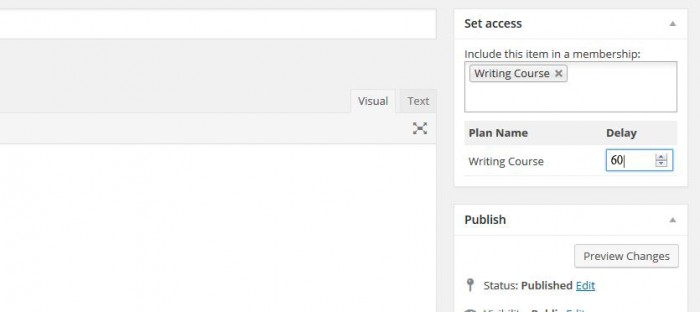 Your course should now look like this: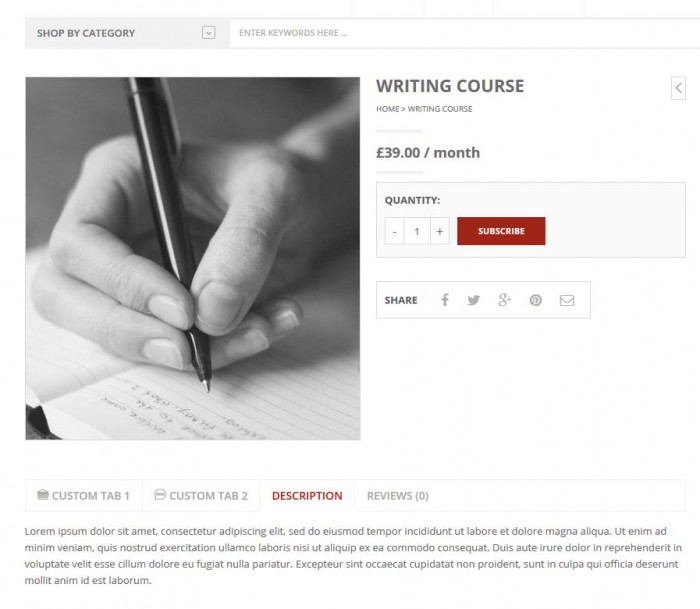 And here is how the content delay will appear, once the item is purchased.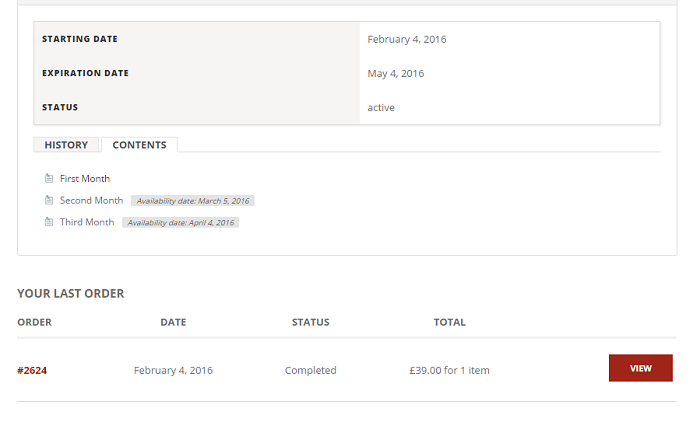 Before ending this tutorial, I suggest you implement a credit card payment system in your website, to enable your customer to pay by card in order to access your course.
This might seem like a small detail, but given only 14% of online buyers uses PayPal as their payment system, it's wise to offer viable alternatives in order not to lose customers.
I recommend you use the Stripe plugin to do this in a quick and easy way.