Remind customers of reviewing: the more reviews the more reliable your products
When you look for something you need on the Internet, you generally see huge amounts of products, similar to one another, but you can never be totally sure about their quality. What helps a lot in such cases are reviews made by users who have already bought and used the item on sale. While a description shows the best features of a product and is aimed at selling it, reviews by users who have used them are the casting out nines: what other users have already experienced will help you understand if the product is good for you, besides proving it not to be a trickery.
We all understand that one of the guarantees of online products is the satisfaction degree of users. And they express it through reviews. So, if you have an online shop, and you know the quality of your products, you are probably interested in having reviews from your customers, and what could be more real and convincing than reviews by real and satisfied customers?
Well, now the problem: how many customers will leave a review of their own free will? Too few, isn't it? The only way to see the number of reviews increase is to remind them about it, but how many emails should you send? If your sales are high – and this is what I hope for you – you might end up passing half of your day dispatching emails to have some reviews more. It is not worth the hassle.
YIThemes has taken care of it! It has developed a plugin that helps you send scheduled emails reminding customers of writing reviews: YITH WooCommerce Review Reminder is its name and it makes this for you!
Now, let's say you sell non-expensive products online, but you sell a lot of them every day: sending an email to each customer for each purchase is not possible, is too stressing and not much productive. YITH WooCommerce Review Reminder helps you with that, because it sends an email automatically to each buyer after some days from purchase.
All this is immediately available in the free version that you can find on our website, ready for download. A useful tool for your website at no cost. What are you waiting for? Try it immediately!
And if you want to access the premium version, many more features will be available for you, that will make your work much simpler and automatic.
So, why not talking about the possibility to schedule sending for remind emails? Do you want to send it after a few days from purchase, after a week, after a month? You can customise it as you prefer. And you have the possibility to customise your email by using placeholders for customer name, product ID, order date and so on.
Then, when you come to emails, you can choose also among different templates, from the standard one by WooCommerce to other responsive templates made available by YITH. You can even configure your own templates using it in combination with another of YITH plugins, YITH WooCommerce email Templates. To give that special touch to your request.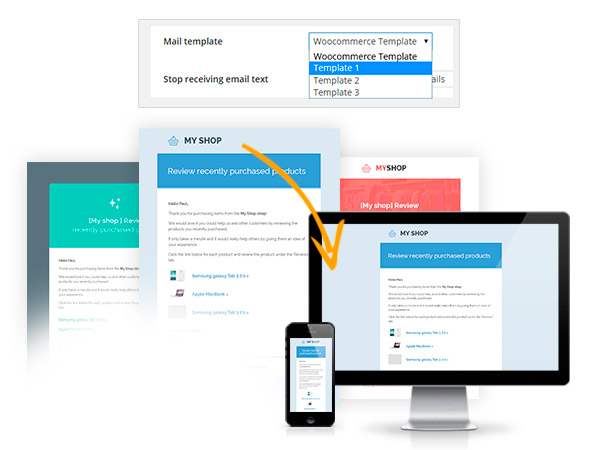 Now, imagine you have on your store some products with many reviews: they make items much more appealing for potential customers because it is as if they were "guaranteed" by other customers. And then some others have just a few reviews, maybe because they have just been put on sale and no customer has bought it yet. Well, what you need is to increase the number of reviews for that product, but you do not want to stress all your customers asking them for reviews? YITH WooCommerce Review Reminder allows you to make a selection when asking for reviews and, for instance, ask just for less reviewed products. Isn't it great?
Yet, this is not the only parameter available you can choose among many different ones, such as products with highest or lowest price, most or less purchased and so on. You will have many possibilities to customise your email dispatching and with just a few clicks from the tab "Request settings".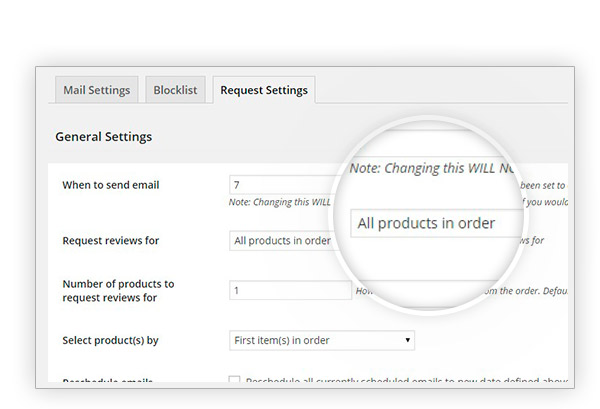 It is also true that sending emails to remind buyers of reviewing your products might also make you appear annoying to them. They must be certainly offered the possibility not to receive emails if they do not want to, and YITH WooCommerce Review Reminder makes a blocklist available for adding all customers who ask for that. But, there's more, blocklist in the premium version can be updated automatically, whenever a user makes a request, and without you to have to lift a finger. You will find them automatically added to the list of users who do not want to receive remind emails and that's it!
And if you wanted to reschedule or force dispatching of an email because you are interested in sending it on a specific date or for a specific item? Are you thinking you will be constrained to automatic schedules? No, YITH WooCommerce Review Reminder grants you all the freedom you want by making manual dispatching available for you and the automation you need to make your job easier.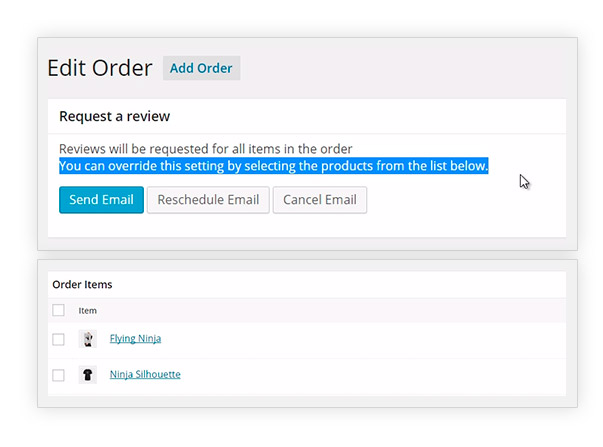 If I were you, I would have already downloaded the free version to start testing this incredible tool. It could dramatically improve the perception of reliability of your products to the eyes of new customers and definitely increase purchases. Why are you still here? Try YITH WooCommerce Review Reminder, you won't regret it!
If you want to learn more about how to configure this extremely useful took, I suggest you read the official documentation.
Moreover you might be also interested in an advanced WooCommerce extension that gives you and your users more freedom in managing reviews on your site. Learn more about managing your reviews in a dynamic way.