One of the main differences between a real life purchase and an on-line one is the payment.
Think of your real life purchases from stores: you get in, pick up the object, reach for your wallet and pay.
Whether you are using cash or credit card, the time required for this operation is very brief and you are followed by the clerk in front of you during the entire process, and you can even read their name.
This is all very important since a quick implementation reduces the cart abandonment rate and increases customer's trust towards the vendor, which are both missing "features" of online sales.
Slow purchase times, anonymous stores and browsing difficulties are only some of the issues that might affect your sales and each one of them has its own solutions.
But even in the best case scenario digital payments, as they are right now, are flawed, because they are more time consuming than physical payments.
Let's consider the two of the most commonly used payment methods: PayPal and Credit Card.
In the first case, despite the fact it is very commonly used, it's still not 100% reliable since many customers don't use it or accept it and it's not available in a few countries.
Besides, we are often required to leave the e-commerce store in order to pay (unless they don't use specifically designed plugins, which may further increase the costs of this payment method) directly on PayPal, which further lengthens the time required.
In the second case, the purchase process can be even more complex and troublesome: fore each purchase customers need to add information such as their name, card number, secret code, expiration date, etc…
And the same process repeats for each purchase, reducing their number and seriously affecting sales and the average value of each customer… So how can we fix this issue?
There are several alternatives, one of the most interesting ones is the creation of an online wallet.
How to create a digital wallet using WooCommerce
What is a digital wallet?
It's a common function of several stores and online platforms (such as Steam, leader of the worldwide gaming market and owed by Valve) which allows you to use a virtual wallet to make purchases on the website.
The first question that comes to mind is: why load a virtual wallet?
What changes between this method and direct purchases using Credit Card or PayPal?
A digital wallet is one of those marketing tools that brings advantages both for customers and for vendors, thus making it easier to use.
For customers:
An individual payment with no time lost using Credit card or PayPal: a single charge for multiple purchases.
A clear and updated view of the funds available.
The chance (many websites offer this function) to use dedicated discounts when paying using the digital wallet.
And for vendors::
They will be able to confirm future purchases immediately since the money is already in the website.
Their purchases are going to be easier and quicker, increasing the chance of sales.
It increases the chance of multiple purchases and second purchases, since customers are going to want to spend the money they charged their digital wallets with, increasing the average value of each customer.
But how do we introduce this function on our WooCommerce based store?
Well, using the YITH WooCommerce Account Funds plugin.
This plugin allows customers to deposit, handle and use funds in your store: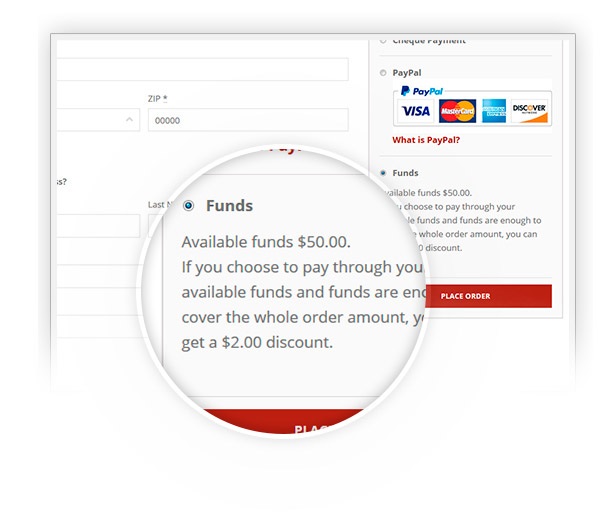 And this is how you handled this common issue of online sales in one single solution!