We are used to consider online sales as an extension of our physical store, but these two ways of trading are indeed very different.
One of the main differences is the amount of time in between the payment and the moment customers receive their item of choice.
After having bought items "offline" most of our lives, by personally going to real life stores, we got used to having whatever we bought in our hands right after the payment.
"I want it now!"
Speaking about items that need to be shipped, this naturally cannot be done with online sales, due to the packing and shipping times.
This is all pretty obvious and logic dictates that it takes time before we receive our item, and this creates a certain feeling of concern in customers, that grows stronger as the days go by.
That's the reason why the world's leading online sales platform Amazon made of quick shipping its own crowning achievement.
Sellers often receive worried emails from customers, containing questions such as "Why isn't my order arrived yet?" or "How long will it take?" even when shipping times where clearly stated beforehand.
These insecurities are clearly not only due to habits alone, but also to common web security issues.
Scams, identity and personal data theft happen on a daily basis and whenever we buy from a certain website for the first time, we are always concerned that something might go wrong.
WooCommerce Order Tracking
This is why it's always important to specify and respect shipping times, no matter what courier your store uses (UPS, Fedex, etc…) and that might still not be enough to reassure our customers.
I recommend you allow customers to track their orders, giving them a tracking code, in order to:
Reduce your workload and the one of your live chat and customer service, since they won't have to answer any more shipping related question.
Defend yourself against delays or courier mistakes, since users can see who is handling their item and when.
Increase your sales, since knowing you can track your product is a very persuasive tool, especially for new customers.
Be more professional, since offering a tracking code is proof that you have nothing to hide, that you sent the item when you had to, using the appropriate services.
And you are not alone: Consider that many of your competitors offer this service. The first purchase is often the hardest and most important to make, since customers who like and trust your store will hardly shop elsewhere anyway and, as we have seen, offering an order tracking service will work as an incentive for new customers.
Offering an order tracking service is also important for you as a seller: customers will have the chance to check the shipping status and you won't run the risk of losing track of your products and having unsatisfied customers spreading bad opinions about your store.
In case you are using WooCommerce for your store, sending your customers an order tracking shortcode is easier then you might think: all you need to do is use the plugin that offers this function, the Order Tracking plugin.
This way WooCommerce offers a customer order tracking service, allowing them to keep their eyes on their items.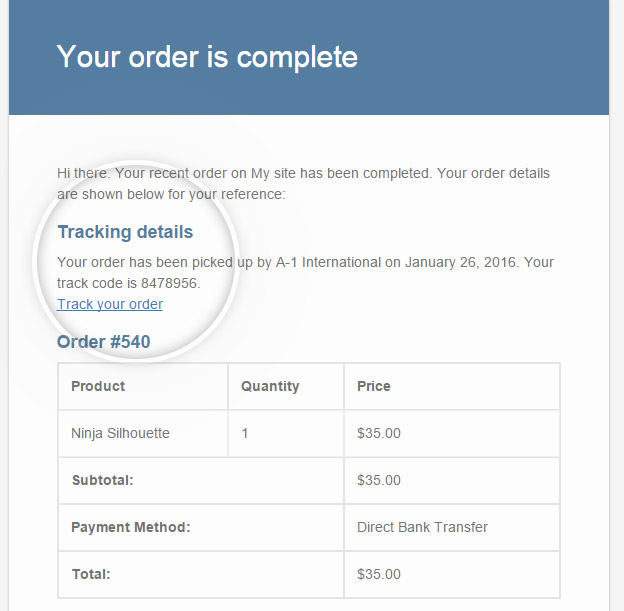 As you can see in the example above, this WooCommerce plugin allows you to add the order tracking shortcode directly into the purchase data form, giving you the chance to send a tracking number to your customers by email.