A points system is a popular marketing strategy used globally to increase customer engagement. It has been used in different commercial settings, such as supermarkets and gas stations, even before it was introduced into the eCommerce industry.
The process is very intuitive: customers earn points based on their actions (usually money spent) and can redeem them for benefits like physical rewards or discounts on future purchases.
It's always a good idea to learn from the best. Look for strategies that have a solid history of success and have been tried and tested over time.
As per the research conducted by Accenture, the United States alone has over 3 billion subscriptions to loyalty programs. Moreover, a study by Bond reveals that the younger generation is eager to pay for premium benefits in a loyalty program — this increases the chances of implementing it in your business, doesn't it? These statistics emphasize the meaning of loyalty programs in today's market and their potential to attract and retain customers.
It's important to understand the benefits of this tool and how easily it can be applied to your eCommerce site built with WooCommerce. Let's explore these advantages together and see how you can get them with just a few clicks.

Why implement a system of points and rewards
As previously stated, loyalty programs are widely known as a valuable marketing tool that many businesses use.
What are the advantages of a points collection system and why should it be integrated into your eCommerce?
When it comes to marketing plans, you usually look for a tool that fits at least one of these standards:
Allows you to get an advantage over the competition.
Allows you to increase sales.
Allows you to increase the average value of each order.
Allows you to increase customer loyalty.
This tool works on multiple levels but mainly allows you to:
Increase the loyalty of customers – In the following section, we will thoroughly discuss this important point.
Increase conversions and the average order value – A system that collects and redeems points can influence customers to make larger purchases by setting a goal and offering rewards. Studies reveal that nearly half of the customers (47%) are likely to achieve the set goal and get the reward, even if it means exceeding their planned budget.
This outcome has many causes, some of which align with Robert Cialdini's theories.
The scarcity principle is a marketing technique used in time-based promotions where a changing prize is offered alongside a limited collection of items. This creates a sense of urgency in customers, which can lead to more purchases or larger ones.
Giving a reward to customers not only triggers the principle of reciprocity but also creates a sense of gratitude. This feeling of gratitude can encourage them to make future purchases, "repaying the debt."
It's crucial to create a pricing, points, and rewards system that doesn't hurt your profits. A well-executed loyalty program can be a game-changer for your WordPress/WooCommerce business.
Moreover, this tool can be easily integrated into your store as customers perceive it as a valuable resource. A recent Yotpo analysis of the United States suggests that over 50% of American consumers are interested in enrolling in a loyalty program for the stores they frequently visit.

Increase customer loyalty
Loyalty programs are a great way to keep your customers coming back, mainly for online businesses. If you offer perks and benefits to them, they'll have even more reasons to keep shopping in your store.
Customer returns are vital to business success, especially for sales experts. This is because returns make up a significant portion of a salesperson's income.
How can using a points collection program in your eCommerce store help you build loyalty?
Let's see some cases.
Increase repeated purchases on the online store
Improving your relationship with customers in your store involves several key aspects, aside from the obvious factors like product quality and ease of navigation. Expressing gratitude and ensuring a positive shopping experience are particularly important factors you should also take into account.
Later on in this article, we'll discuss gamification. For now, let's concentrate on the direct impact that points have on sales.
Usually, the connection between the store and the customer is over once the product is delivered, leaving no obligation on the user's side to choose the service again above others.
We have mentioned a few principles that are relevant to the usage of this tool. However, there is an additional aspect that must be taken into account.
The points earned from the previous purchase can be used to offer rewards or discounts to the user. This puts them in a situation where they have to decide between two options:
Leaving your store and not redeeming the points earned which can trigger a feeling of loss among customers. As humans, we tend to capitalize on opportunities, and losing something, even intangible assets like loyalty points, can cause frustration.
Making another purchase to maximize the benefits, increase the chances of winning the reward, or redeem the points earned.
It seems like none of these situations would harm the seller. But, to understand it better, let's check out a quick example.
A new customer in your store, John, has made an online purchase. Your loyalty system is set up to increase the value of the shopping cart by encouraging him to spend more and earn a higher number of points.
Once John completes his purchase, points are added to his profile. Following this, there are two possible scenarios:
John does not use the points he earned, but you still got a sale out of it and no drawbacks.
John is motivated to make another purchase. By doing so, he becomes an even more valuable customer than he originally was with just his first purchase.
Loyalty programs can be customized to fit your store's unique needs and product value. This is just one example, but the possibilities are endless.
Rewards for certain actions
The points system is not limited to product sales. Customers can take different actions in your store that can boost your sales. You could award signup points and more! For example:
Points for registering and completing the profile – Encouraging users to register on your site is beneficial for retention, future purchases, and gaining insights into your audience's preferences. This is why motivating registration over guest checkout on WooCommerce is a widely accepted practice.
Points for daily access – This is a widely used technique on different online platforms. By offering benefits related to the customer's presence on the website, the likelihood of them choosing competitors or forgetting about your store decreases. This also provides an opportunity to showcase new products and temporary promotions.
Points for product reviews – Reviews play a crucial role in boosting your website's conversion rates. Potential customers tend to refer to other users' reviews before making a purchase as they perceive them to be impartial.
Extra points for reaching spending thresholds – To increase the Average Order Value (AOV) on your website, consider displaying extra points in the shopping cart for reaching a specific purchase amount.
Simply take into account what actions you'd like your customers to take when browsing your store, and then give them a little something extra as a reward.


Gamification in eCommerce
Gamification is a trendy practice nowadays that involves using video game features like levels, reward points, and perks in non-gaming situations.
This practice is widely used in marketing and education for three main purposes: boosting engagement, gathering data, and increasing sales.
Some of the elements we have seen previously, such as the rewards for certain actions, fully fall within the world of gamification. However, using a points collection system in your eCommerce can take it up a notch.
Let's see how!
Increased sales thanks to gamification
Points are an important aspect of gamification, but to improve their impact, we recommend adding some healthy competition among your customers.
It's in our nature as humans to be competitive. When we have a goal in mind, especially if someone else could take it from us, we tend to work harder to achieve it.
A lot of loyalty programs use this strategy by giving their customers a reward and a leaderboard, usually on a weekly or monthly basis.
The leaderboard can be a fun part of your website where users who earn the most points and compete for prizes are featured. It's a great way to encourage customers to keep spending more in your store.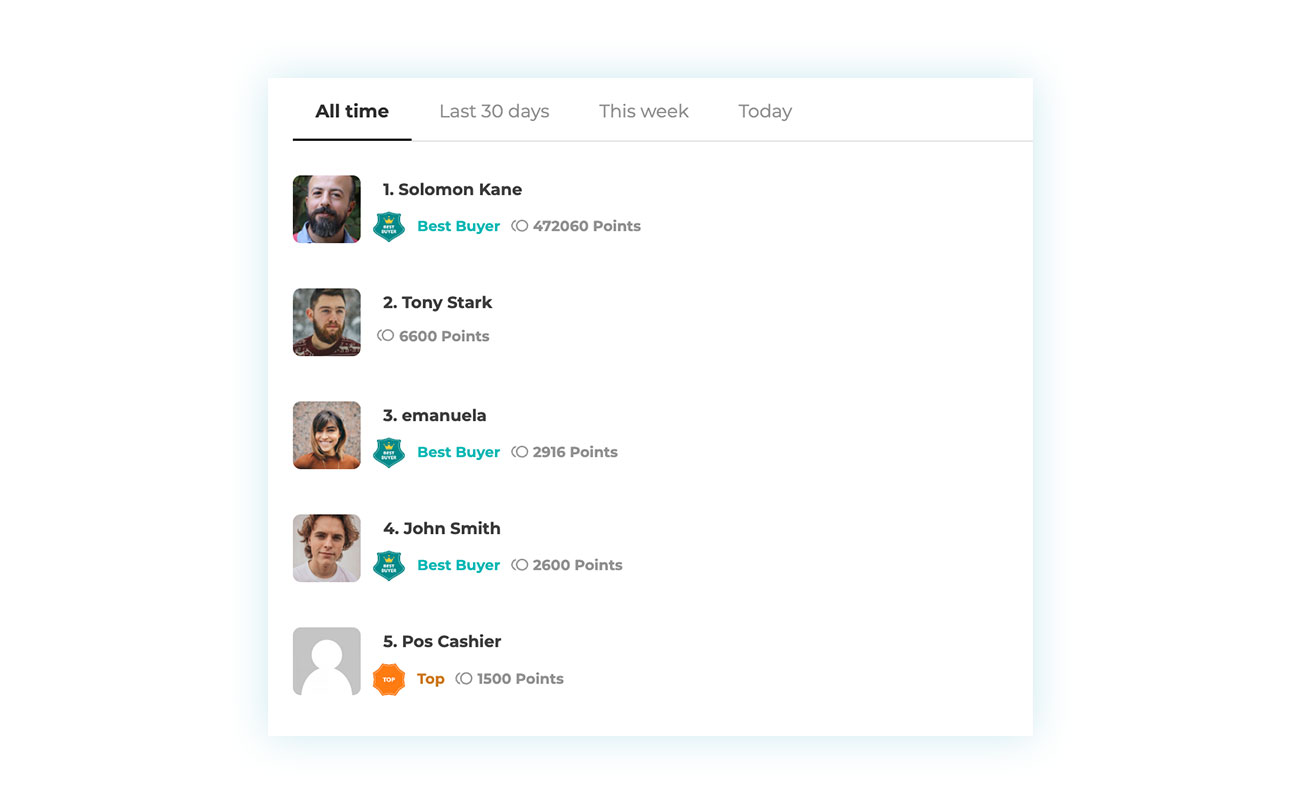 If you want to motivate a group of customers, consider giving out prizes based on different point levels. This will help you recognize not just the high rollers, but also those who are more conservative with their spending.
It's important to make sure that the prizes you offer match the amount your customers spend. This will help you avoid spending money on a strategy that doesn't pay off.
We suggest creating a tier system that gives customers a sense of progress with their purchases and rewards their loyalty to your online store.
Word-of-mouth marketing
By now, we've gone through some good things that come with using a points and rewards system and how you can use it in your store.
Your store's image matters a lot and customer reviews can be a great way to improve it. Plus, showcasing those reviews on your website can attract new customers too.
Certain loyalty programs (like the one recommended in this article) let you set up a referral system on your site. This means that instead of giving a commission on sales, you can reward affiliates with extra points.
Encourage your customers to involve their loved ones in achieving their goals. This will help you expand your customer base and improve your store's reputation.
Never underestimate the power of customer referrals. Marketing strategies that involve users as promoters can be much more effective than paid advertising.
How to set up a points and rewards system in WooCommerce
We've covered the advantages of having a loyalty program for your eCommerce in detail so far. Now, let's get to the point — how can you create a WooCommerce points and rewards system?
Luckily, using WordPress and WooCommerce is a breeze. And with the right plugin, you can set up an awesome loyalty program within minutes.
To create a points and rewards system for your store, follow these general steps. It's a simple process, although it may take a bit of time.
For a thorough and step-by-step guide, we suggest watching this detailed video.
Choose the right points and rewards plugin
To establish a loyalty program for your eCommerce store, you must have a WordPress website with WooCommerce. Once you have that, you simply need to get and install the WooCommerce Points and Rewards plugin.
After the installation process, you'll notice how user-friendly and easy to navigate the plugin is. To access its features, simply head over to YITH > Points and Rewards and start setting up your preferred options in the "Points Options" tab.
Let's see some of the features available for your loyalty program.
To make things easier, you can choose how you want to assign points. If you don't have a specific system in mind, we suggest automatic assignment so you don't have to manually assign points to each customer.
Also, you can choose to restrict the benefits to a specific set of users, like a loyalty club, by using the WooCommerce Membership plugin.
When it comes to rewards programs, you'll need to figure out how much money your customers need to spend to earn points. For instance, in the sample image, customers receive one point for every $10 spent in the store.
This section has some beneficial options you might like. You can deduct points for canceled or refunded orders, and even round points up or down.
When setting up a loyalty program for your online store, you can choose when to start collecting points based on the type of program you want to offer.
Promote the points and rewards system
It's important for your loyalty program to be recognized by your customers. If they don't know about it, having a points-based system won't do much good.
Once you've got the plugin up and running, how can you spread the word about it?
It is recommended to pursue multiple paths simultaneously to increase your chances of success.
To get started, create a page that clearly explains how the loyalty program works. Make sure to answer any questions your customers may have. Encourage your employees to update the page with any useful information to reduce the need for customer support.
With this plugin, you can display it in different spots on your website. It can be on your customers' My Account page or even in the shop. This way you can show customers how many points they can earn by buying a particular product.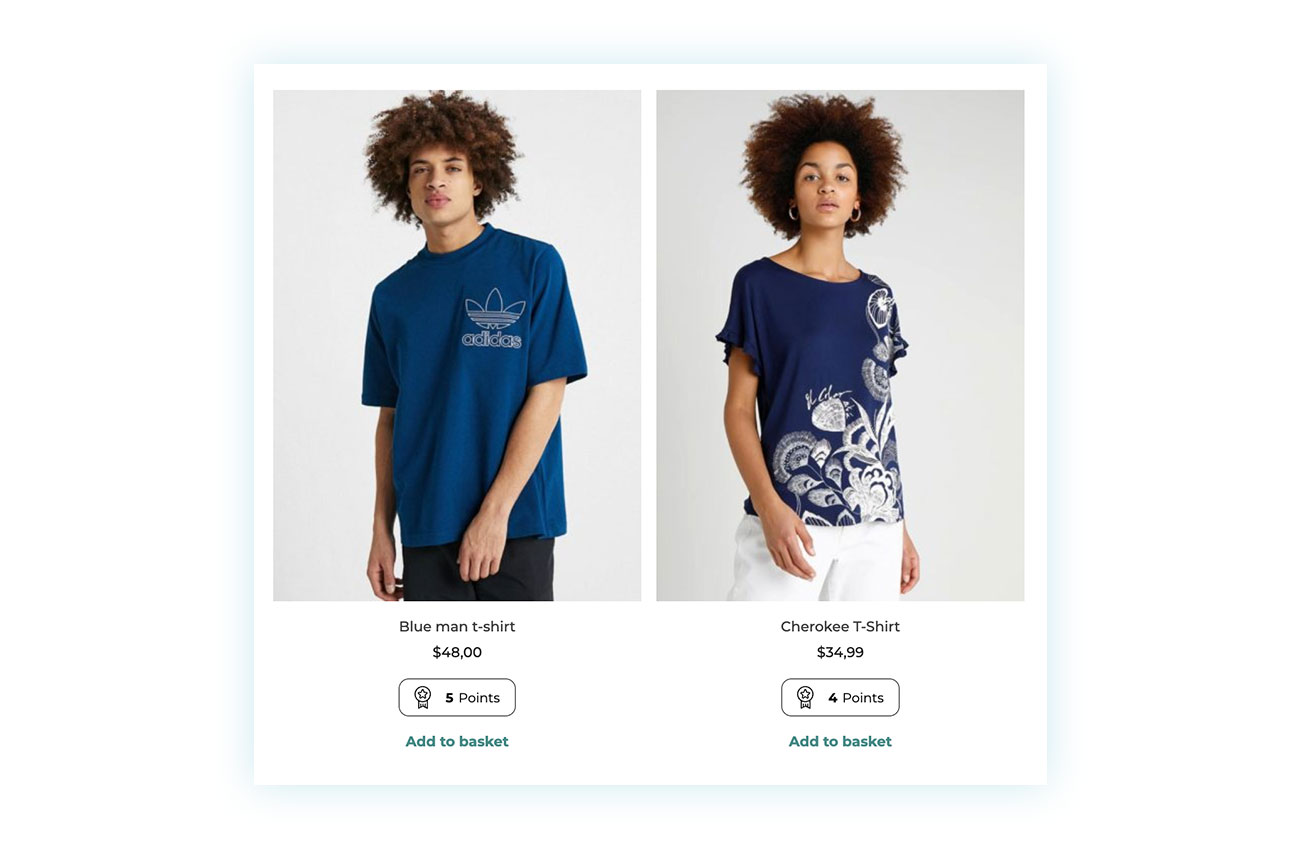 When your customers are about to complete their purchase, you can let them know how many points they'll earn, which can motivate them to confirm their purchase. If you offer discounts through points on your site, you can also give them the option to use their points for a discount. Another idea is to display a banner that encourages them to make a higher purchase.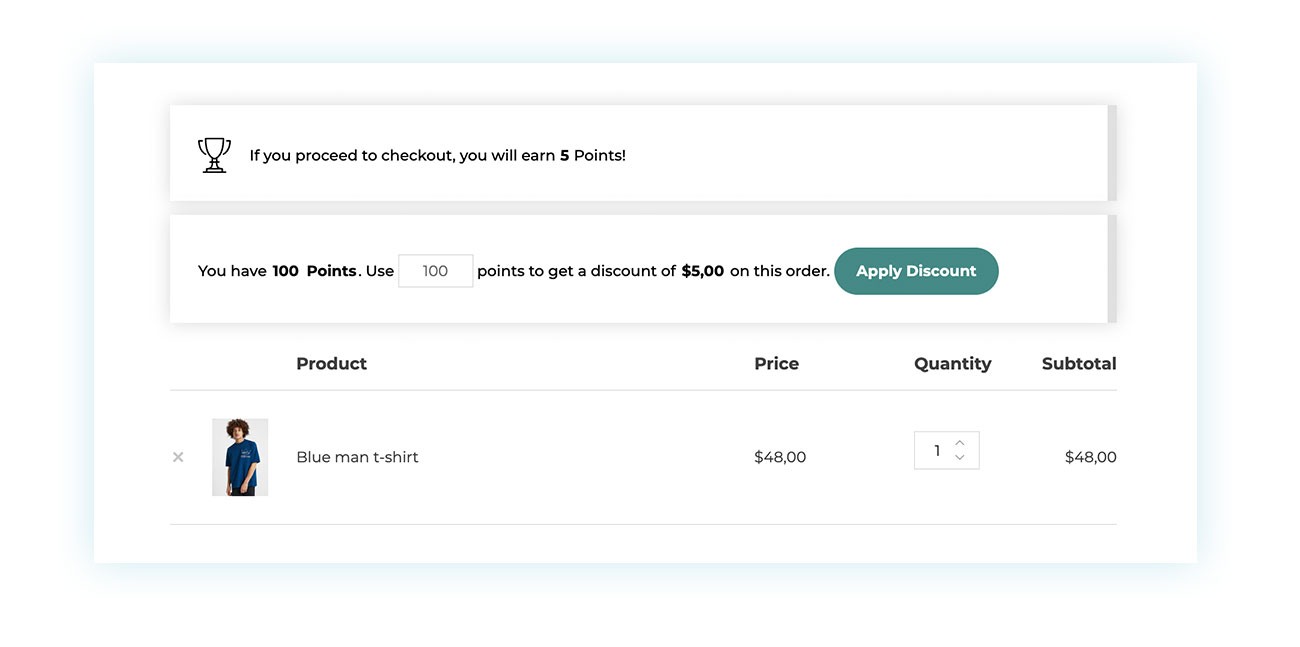 Don't forget to create an affiliate program and get your customers involved. This way, they can share the opportunity with new customers.
Engage existing customers with points and rewards
Remember we talked about engaging your users earlier? Well, there are actually tons of ways to do it besides just asking them to buy something. One way is by rewarding them for certain actions through an e-reward system.
To do this, just head over to the "Extra Points" subtab and choose the actions you want to reward, along with the number of points to give: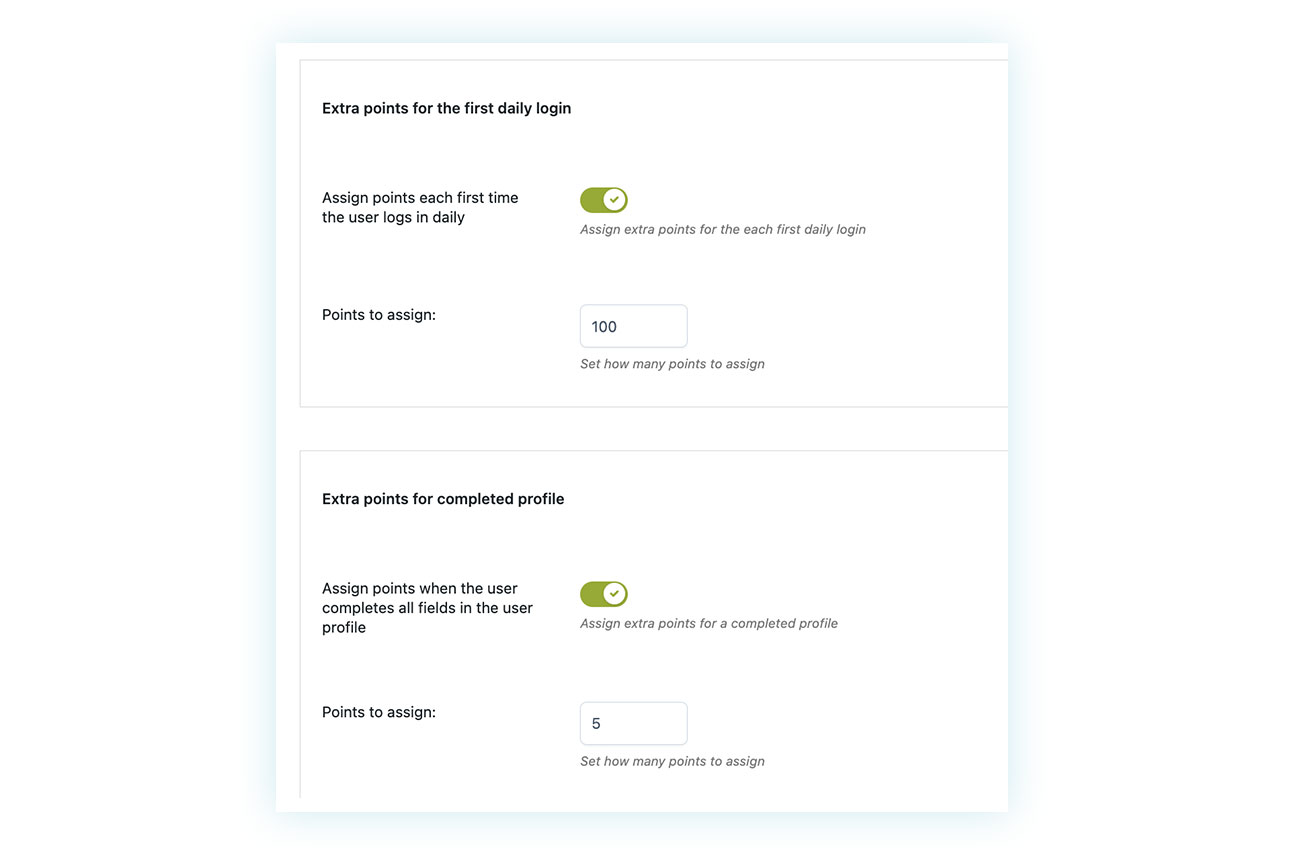 The store encourages customers to log in daily and complete their profiles, as you can see in the given example.
In the "Levels & Badges" subtab, you can use gamification to motivate your customers to make purchases.
You can choose the name, badge, and points limits, and activate or deactivate a level according to your preference: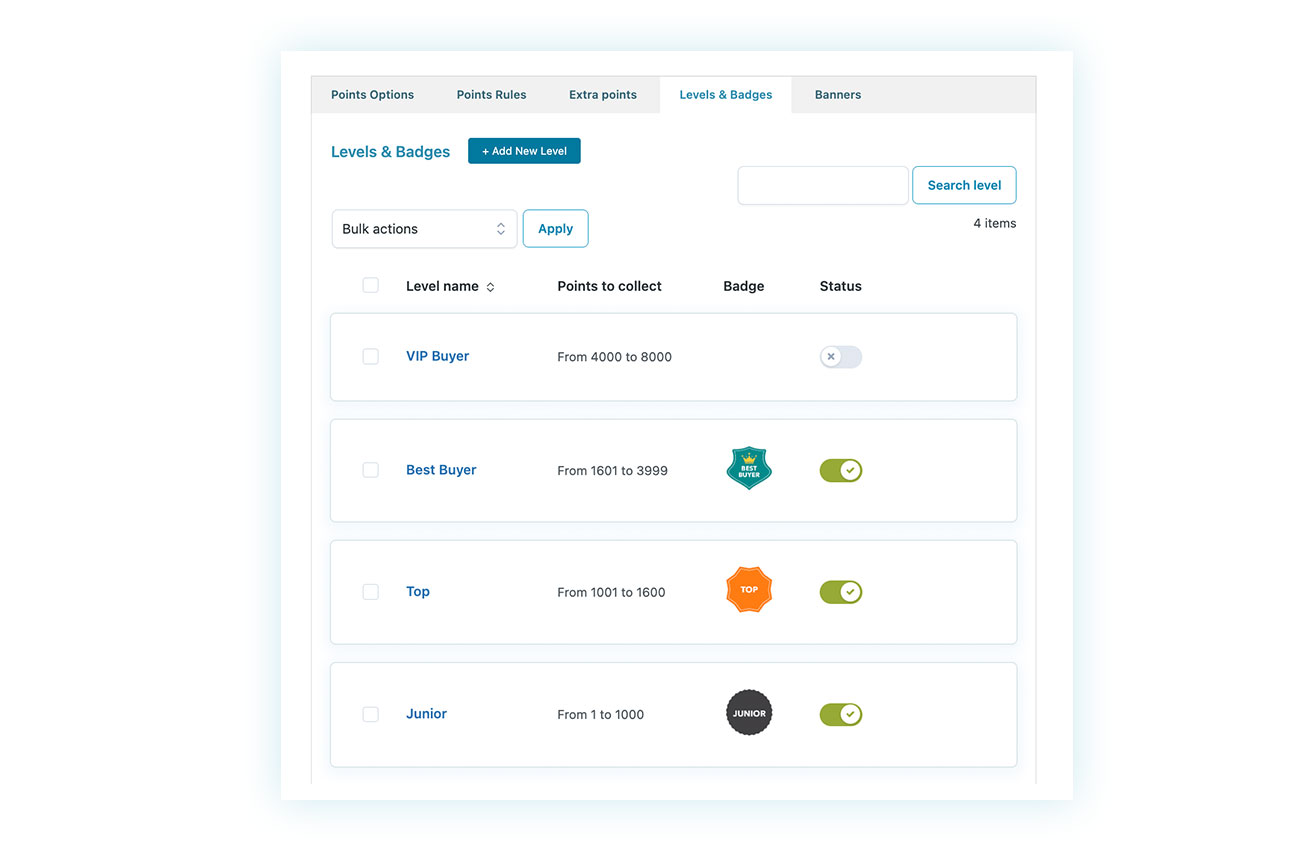 Levels play a crucial role in engaging your users, regardless of the rewards offered by different stores. They offer a simple way of engagement without providing any actual monetary benefits.
Conclusions
Although loyalty programs are an old marketing technique, they are still gaining popularity. This is evident from the increasing enrollment and participation in such programs. PDI's analysis shows that 15% of loyalty program members are active on a daily basis, which is a net increase since 2015.
The points and rewards system is a powerful and adaptable marketing tool that you can easily use online. As shown in this article, you can implement different strategies for your store, so you can choose the one that best suits your sales model.
You should definitely check out the WooCommerce Points and Rewards plugin. It has a fantastic loyalty program that can really make a difference. Keep in mind that all roads lead to Rome — in this case, to the same starting point. Give it a shot!