YITH WooCommerce Terms and Conditions Popup, a plugin to safeguard yourself and your customers and not lose them.
Each of us knows that Terms and Conditions is neglected by customers most of the times, and no one reads them. Yet, it is essential that they accept the Terms and Conditions to buy a product. So the concern of many shoppers is where to place them. Inevitably in checkout page. But as they are generally long texts, they need to be opened in another page: this simple gesture is almost devastating, because many of them leave checkout page and do not come back. And your sale goes up in smoke! This has been proved to happen with many users when they are directed out of checkout page. A huge number of customers lost, it's a pity!
Then, a solution for showing such an important document in checkout without running the risk of a huge loss would be to put it into a popup window or a lightbox that opens when clicked upon and does not take your customers out of where they are. A reading, a scroll, a click and that's done, they haven't left the page, they recover their action where they had left.
But, how to do that? How to show Terms and Conditions in Checkout page in a popup window? YIThemes has developed a simple but almost indispensable tool to do that in a simple, non-invasive way: YITH WooCommerce Terms and Conditions Popup. You will not see your customers leave their order because of Terms and Conditions page.
YITH plugin allows you to show the document in a modal window that appears in checkout page. But not just that, it puts other options at your disposal. Let's see them together.
First of all, you can set style option of the popup window where showing Terms and adapt it to your taste. Choose the size of the window, overlay, colour and customise style for the "I Agree" button. You can choose where to pose it in the window. Its position is very important because you can decide to force your customers to scroll the whole document before letting them agree the terms. This forces them at least to see the document and not to neglect it as it happens too often, unfortunately. How many times does it happen that customers accept documents without realising what they are doing? Forcing them to scroll the whole document before accepting is a further way to take care of them.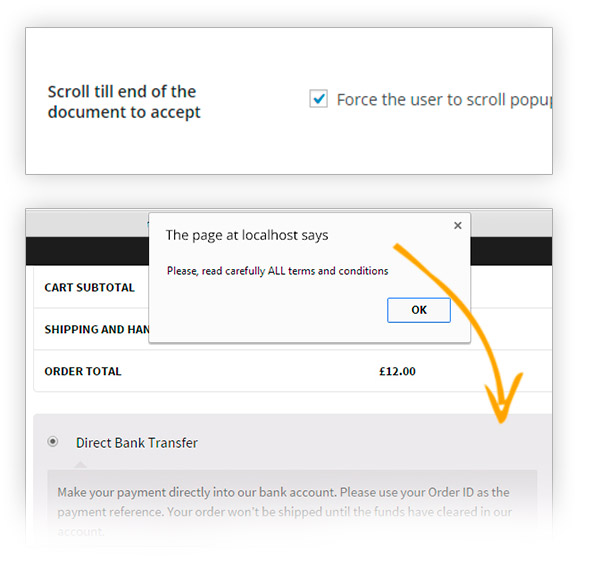 Yet, it happens too many times that they click on "I Agree" button to accept, but something prevents them to go further, and they do not understand why. We all as users have experienced it and then we might have reacted as a bit annoyed when discovering that it was just the checkbox near the text "I have read and accept Terms and Conditions" that had to be checked. Well, in order to avoid that, YITH WooCommerce Terms and Conditions Popup allows you to display that checkbox as already checked, so that the only action your users have to make is to scroll the document (and possibly read it!) and accept it by clicking on "I Agree" button. Easy and in respect of them.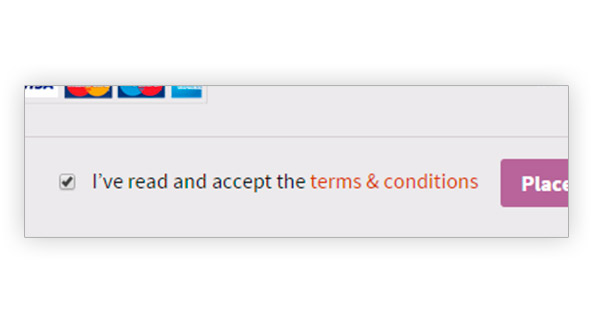 Of course you can also show another important document that is generally displayed with Terms and Conditions, that is Privacy Policy, a likewise important and inevitable document, because it is there to protect users' interests. YITH WooCommerce Terms and Conditions Popup allows you to show not only Terms but also Privacy Policy and you can decide also to show Privacy Policy either in the same document as Terms and Conditions or in a different document. Above all, you can let customers agree them in one click only or consider them as two separate sections. Although they are part of the same document and they are both binding for suppliers and customers, they are two different parts and for reasons of clarity they are often put in two separate, yet not independent, sections. Well, now it's up to you, whether you prefer one way or the other, you can choose what you prefer.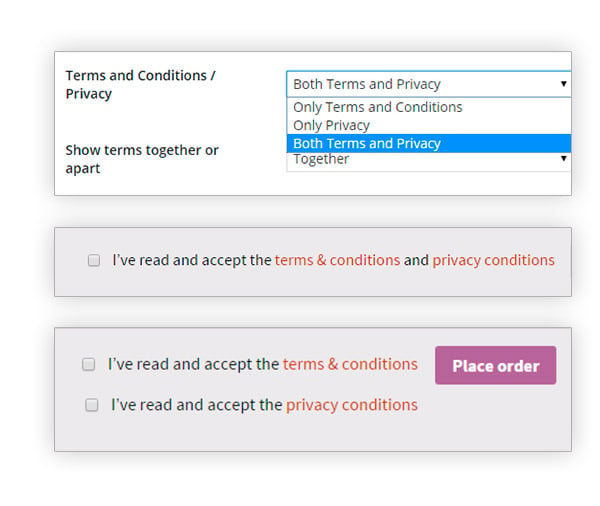 So, an essential plugin to safeguard both yourself and your customers. Show Terms and Privacy in the checkout page, in a way that cannot be overlooked and without risking to lose customers in checkout page.
Read more about how to use and configure your own Terms and Condition lightbox in the plugin documentation
To read about more tricks and tips to improve customer experience in checkout page, you could can read this article about how to simplify checkout pages that require long time to be entirely filled in. Or if your customer, on the contrary, are really impatient, you could allow a one-click checkout for registered users and make them agree Terms and Conditions during the first order only.