YITH has an outstanding customer care and support team, always ready to help. But sometimes, they are overwhelmed with many similar requests, by customers who don't know how to do certain things in a plugin and are just looking for a bit of help.
At YITH, we thought about how to help our customers a little more and also our customer support team—looking for a simple tool to solve some doubts of our customers in a fast and straightforward way. And the light bulb came on: what if we create a YouTube channel?
We started our YITH channel in mid-2019, but it wasn't until early 2020 that we started creating content of the style on the YITH ITALIA channel. Oh right, we didn't say it: we currently have three YouTube channels in three different languages dedicated to video tutorials about functionalities of our plugins, how to use them, overviews, etc. Over time, the effort has been taking shape and has become a tool for the support team and our users.
YITH is on YouTube, not just one, but three channels
Fortunately, you can find our video tutorials in more than just one language. We have three channels that deal with the same type of content but in three different languages: English, Italian, and Spanish.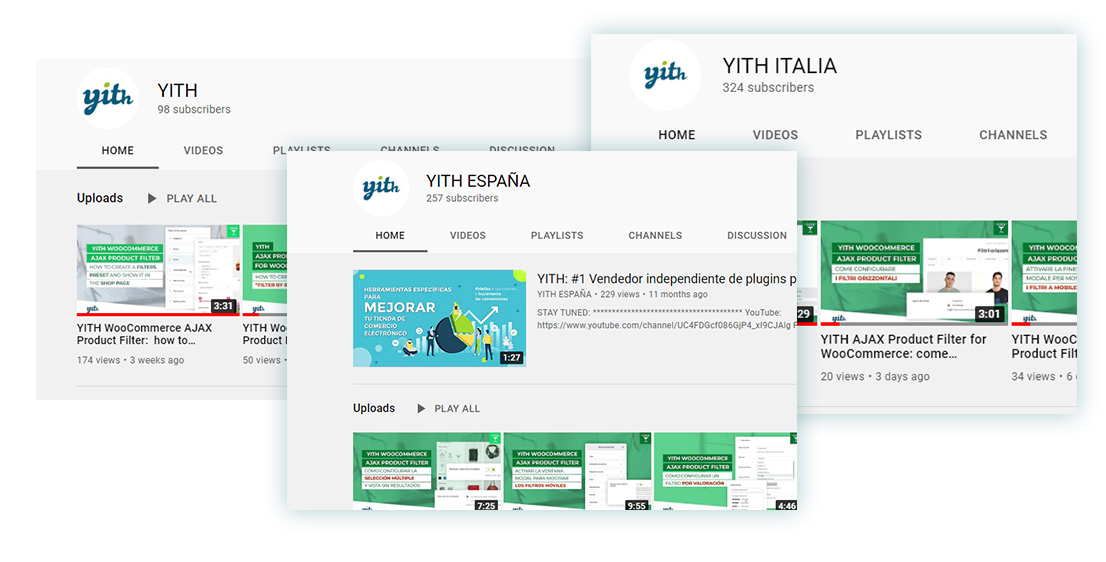 These three channels allow us to reach a wider audience to understand our plugins better. But don't worry, they all have the same type of content: different 'playlists' separated for each plugin. For now, we have generated content about some of our most recognized plugins, such as Ajax Product Filter, Subscription, Wishlist, Gift Cards, Product Add-ons & Extra Options, among others.
Behind these three channels, there are many people, but also a lot of work. The face of YITH ITALIA is Marco Salvo, our Project & Marketing Manager and behind YITH ESPAÑA is our Copywriter, Tania González. For the channel in English, where we've recently started to generate more content, you will find Carla Rodríguez and María Andrea Varela.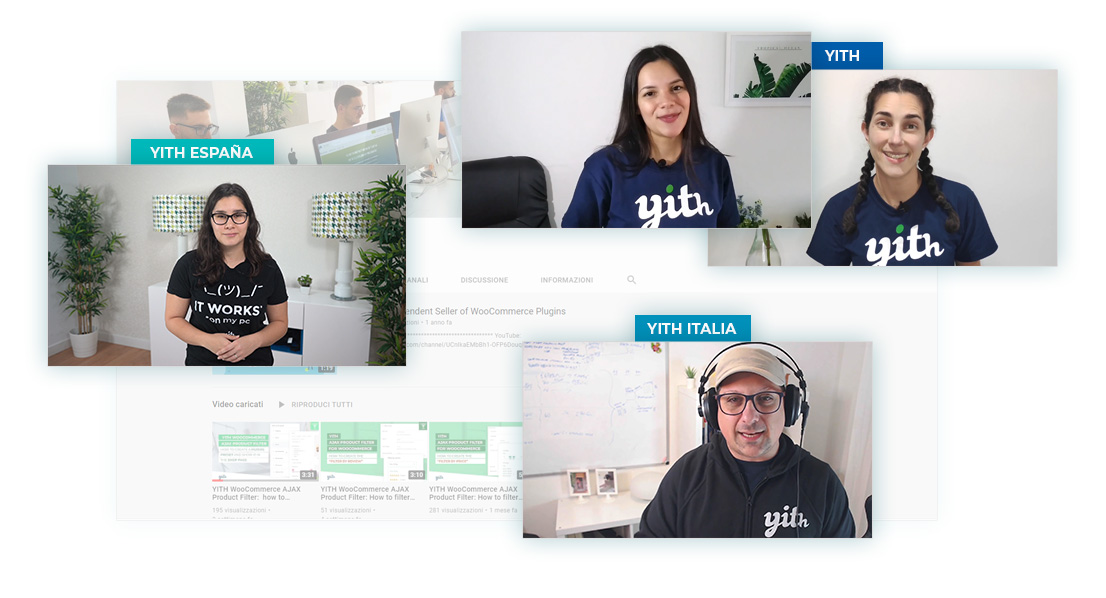 All of these are the face of YITH on YouTube, but there is a lot of work involved. Sara Presenti, our UI/UX designer, is in charge of talking with the developers to understand what content can be helpful for our users and elaborate the content of each video. Thanks to our Video editor, Kevin, we can have the quality in the videos we make, and Sara Michieli, author of the artwork found in the thumbnails of the videos. Finally, the developers who dedicate their time guiding the channel's faces and solving any doubts. It is a great team effort that makes our YouTube channels possible.
Why we create these tutorial videos?
Many people may wonder why we spend time and resources developing these videos. Quite simply: we want to generate valuable content for our users and bring the meaning of our plugins closer to those who don't know them.
With this large project, we want to visually show the functionalities of our products and address the most frequently asked questions of our customers. For example, imagine if you don't know how to create a filter by size with the YITH WooCommerce Ajax Product Filter. You will have to open a ticket and wait for our incredible support team to help you. But, if we have such a helpful tool like this, you won't have to wait for the explanation of our developers, and it will be much easier since we have the process described in the video. Exciting, right?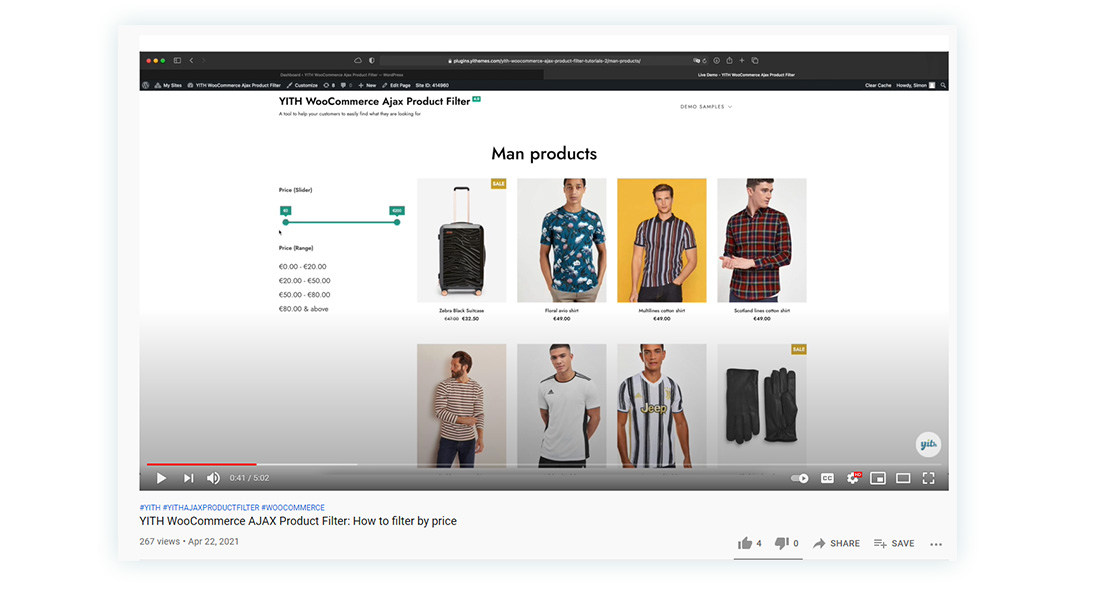 This way, we also help our support team since Marco, Tania, Carla, or María Andrea become one more tool in the support toolbox and better understand the possibilities of the different plugins.
Where to find YITH on YouTube and how to follow
Would you like to know the content of our channels? It's pretty straightforward; If you want content in Italian, visit YITH ITALIA; in Spanish, visit YITH ESPAÑA; or in English, visit YITH.
We recommend you to subscribe to our channels because every time we upload a new video, you will receive a notification. At the top right, you will find a little bell and a button that says "Subscribe." Click on it, and the platform will notify you when we upload a new video.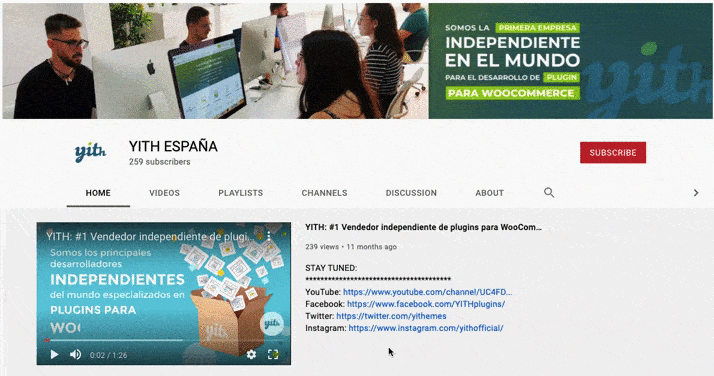 Also, if you go to the video section, you will find all the videos we have published on our channel.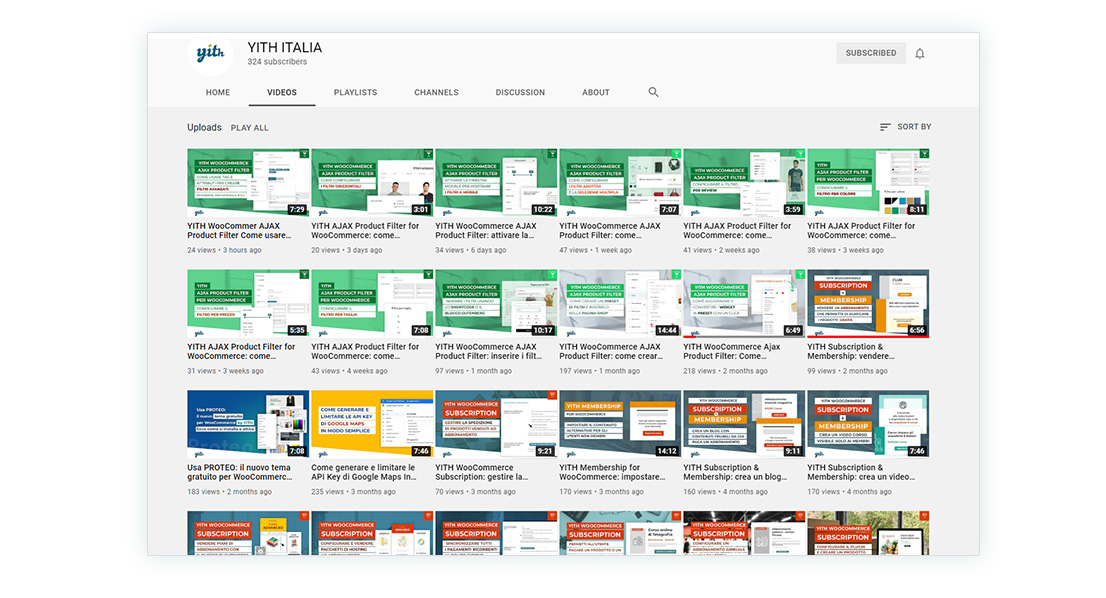 The Playlist section is where you will find the videos of the same plugin.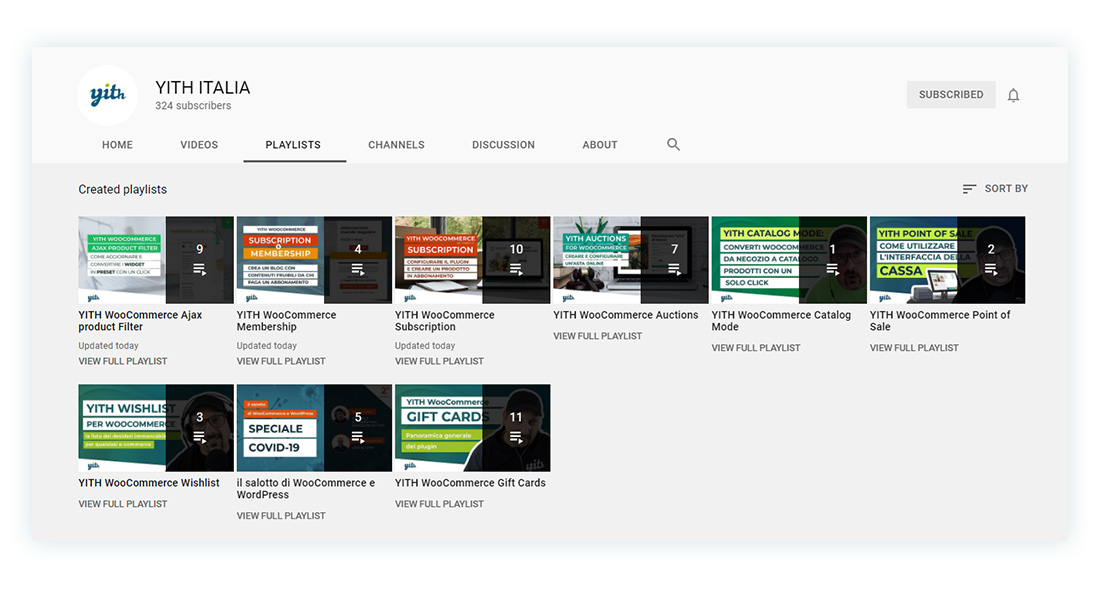 And now that you know what it is and how to access our YouTube channels, what plugin would you like our next video to cover?