Spring is always the perfect time for a good cleaning and organizing your business. Well, what about your online store? Precisely the same, though you can leave your dusters and polishing cloth.
In this part of 'level up your store,' we will show you how you can get products in front of the customer with better sorting and filtering or run a promotion to make them aware of the stock you are clearing out to make way for new products.
Let's start with some essential sorting out with these three checks to see if you have any products gathering dust.
View products, but in reverse order of publishing date. In this way, you will see the first products you've listed. Are any of them still relevant, or were you too ambitious with stock and simply can't shift them? Possibly, the customer can't find them either. Let's take note of these for now.
Next, view your 'categories' and 'tags' and see if any of them only have one or more products. Are the tags still related to the product, and are the products ll related to the tag? This might be a clue for your customer not being able to find them as they click through the shop pages.
View the reports in WooCommerce and apply the 80/20 rule (Google this if you are interested in 80/20 marketing). Pick the top 20% of products that generate 80% of the revenue, and make sure these product-listings are in good order, after all, these are your bestsellers. And what about the remaining 80%, I hear you think? Well, these are items that might be really important to your product-range, but simply are not selling very well. Try to understand why and apply some of the following ideas to present them to the right customer.
It is recommended to also clear out media files, resize images, delete unused plugins and other parts of your site to optimize this. As always, make sure you take a backup or consult an expert if you are not too sure.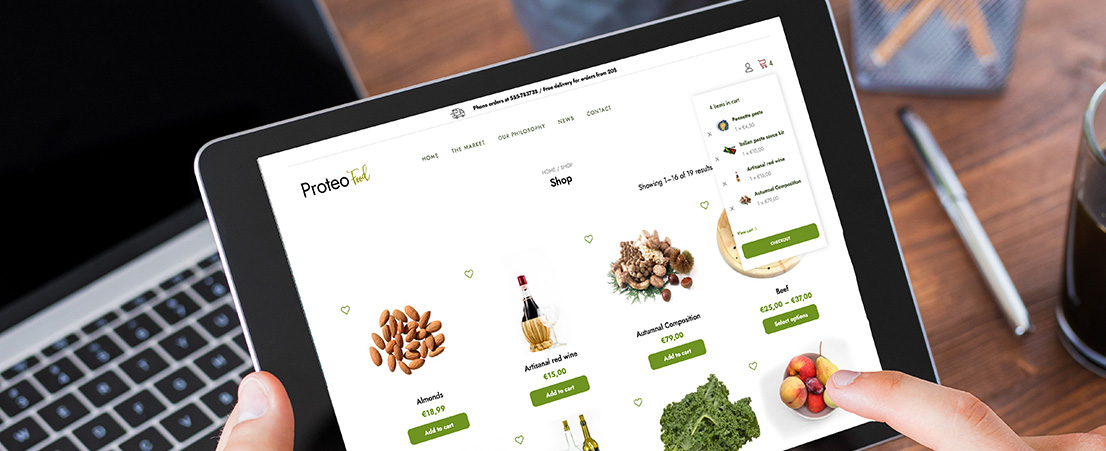 Get your customer to find what they are searching for;
Put yourself in the customer's shoes, or even better, ask a friend to find a range of products on your site. How easy is it? How many clicks? Do you get distracted? When adding it to the cart, is there an opportunity to suggest complementary products?
There are two plugins crucial to help customers find what they are looking for. First is the Ajax Product Search; this allows your customers to type a keyword in the search bar, and it instantly gives various suggestions based on your settings. A great way to reduce the first clicks. But did you know that if you set it up with Google Analytics, it will show any query in Google Analytics that has been searched for. This could turn into a superb research list of popular products or even items that are not listed, which you can decide to stock based on its popularity. Read about setting up search queries on Google Analytics.
The second is filtering functionality to narrow down the product selection. Did you experiment with the filter widgets in WooCommerce to help your customer narrow down the results in a category? This can often result in a worse experience if not set up correctly in a user-friendly experience, especially for mobile users. Let's face it, three-quarters of searches start from mobile these days.
At YITH, we understand what a good Ajax Product Filter experience should look like, so we recently redeveloped our popular plugin. There too many plugin features to list in this blog alone, so we suggest that you experiment using one of the three different demos. You can use icons, sliders, images of fabric, or patterns (rather than just colors) and even choose how to show active or inactive filters, so users can quickly go back one step or start again.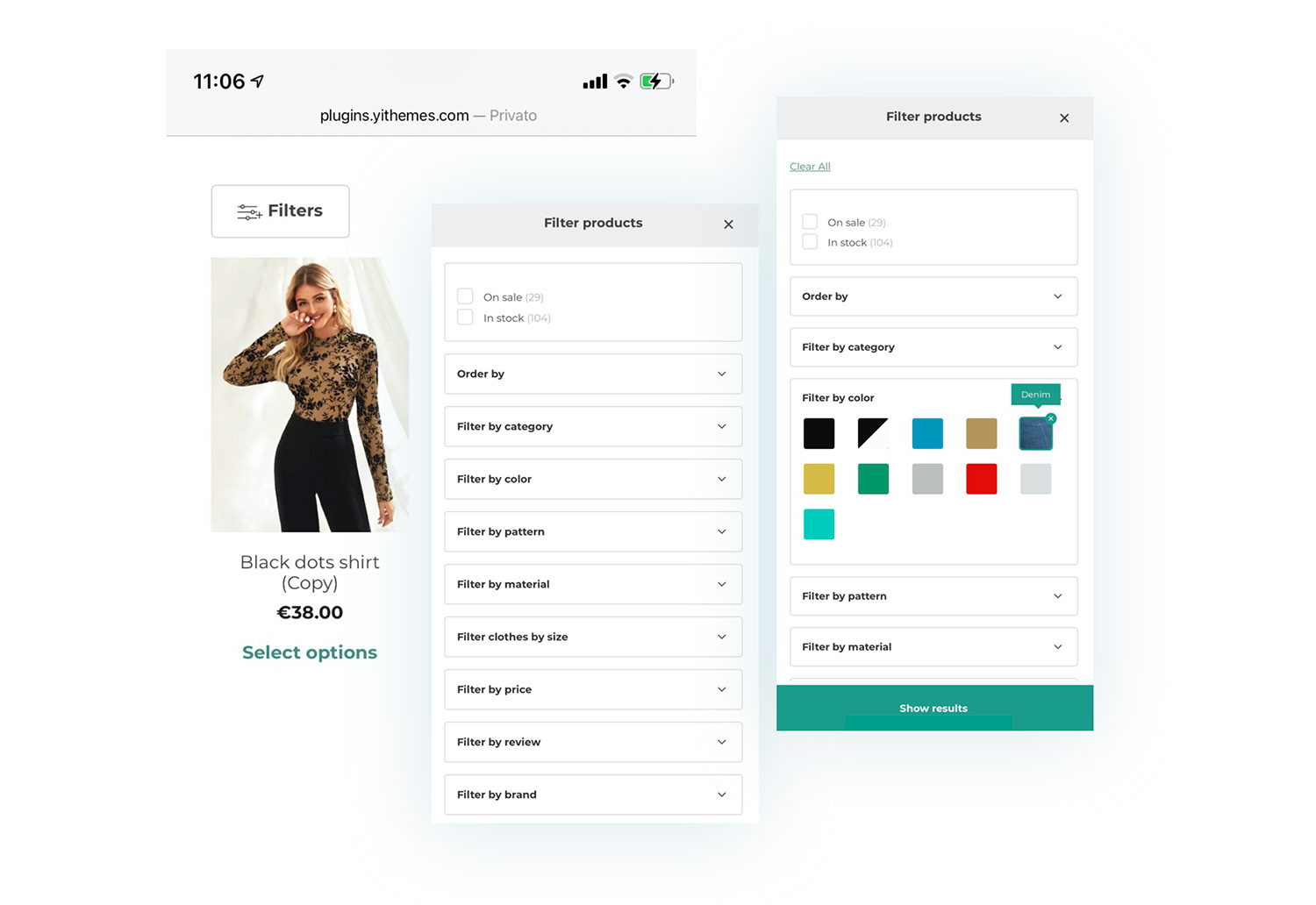 Can't get rid of it? Let's give it away;
Through the research of outdated products, you likely came across a bunch that you simply can't get rid of. Here is a suggestion since a recent update of YITH WooCommerce Dynamic Pricing has added a nifty feature to show a modal when adding a product to the cart with an additional promotional message. So what you could do is to create an offer for a popular product: "buy two and get a free New " You might lose some revenue, but what you are doing is clearing the stock while increasing the Average Order Value.
You can also create a 'cross selling' tactic like 'Frequently Bought Together' or creating a deal to include this. There are many ways to support moving stock, but make sure the product itself is presented well with up-to-date descriptions, images, and reviews.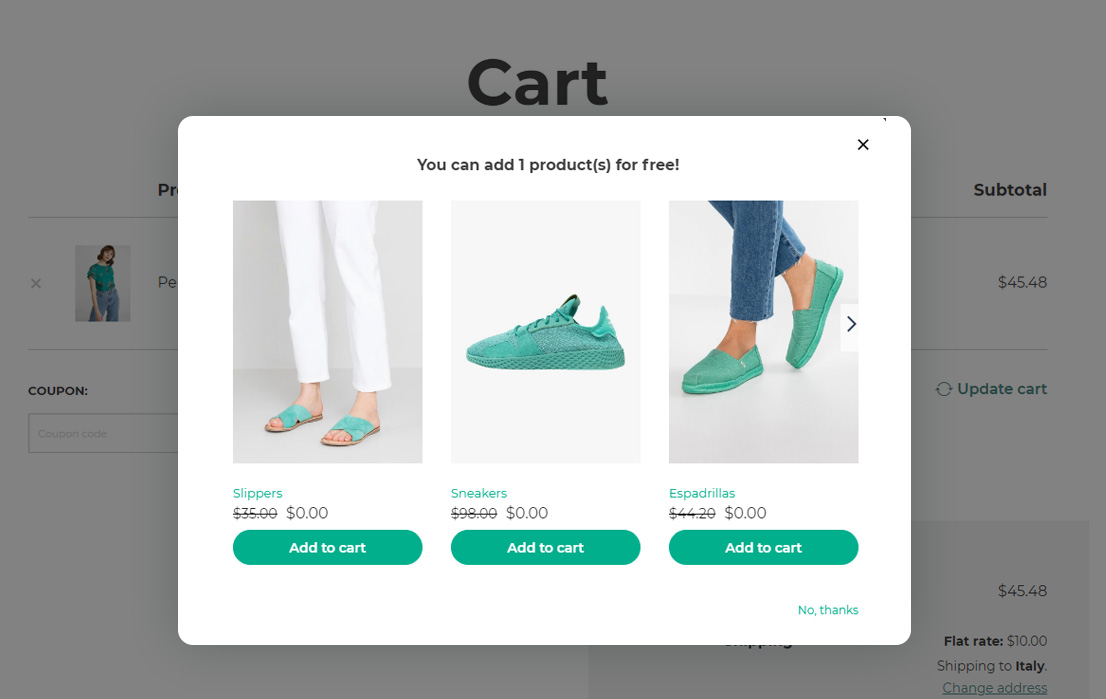 Highlight stock clearance or sales with clear labels
Adding a 'clearance' menu item to your website will certainly get many curious clicks from those who would like to 'save a few bobs.' Highlighting the relevant products with custom labels can help them stand out from your category listings. Consider adding "last few" or "low on stock" or just the classic "sale" or "clearance."
It will encourage the customer to click based on the emotional sense of urgency or the fear of missing out.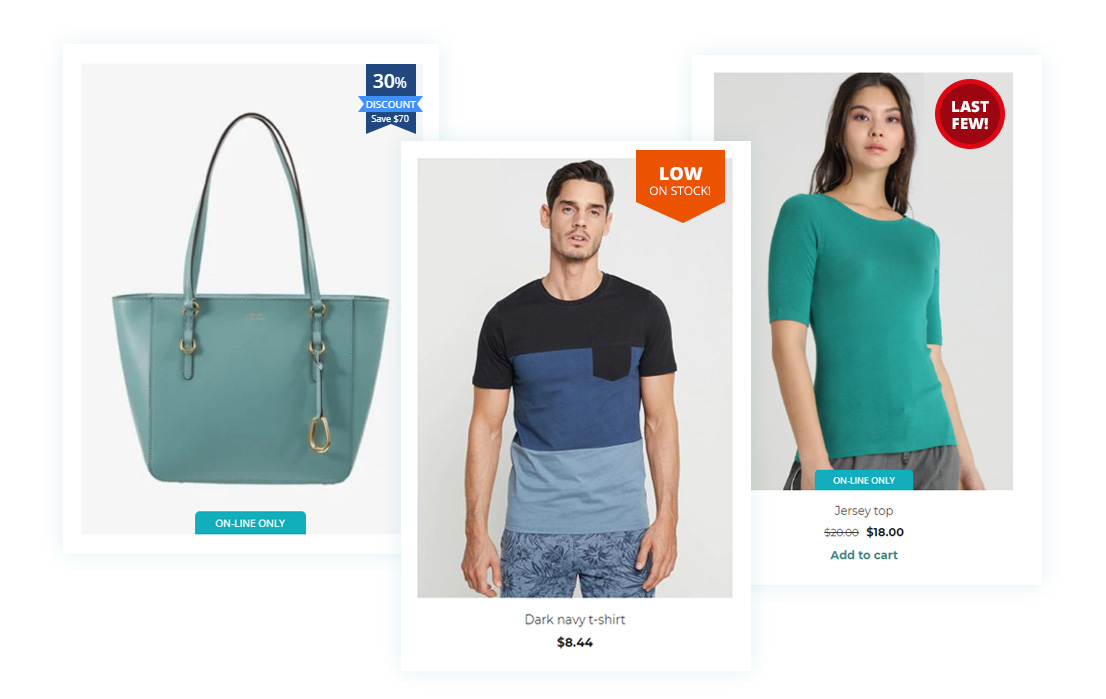 If you try to suggest accessories that compliment a car or bike, you could consider adding a label of "fits Tesla Model 3" to help with the navigation or decision-making.
Now that you have made sure that older products are moving, being noticed, and added to the basket quickly, it is time to continue the customer's journey.
Optimize the checkout process for a clear path to conversion
As you are doing your tests and clearing products, did you pay attention to the checkout process? And not just on your 28" screen with pre-populated fields. Check it out on a mobile device and see how easy it is. Are the forms easy to fill in, or are there fields you wish you could hide?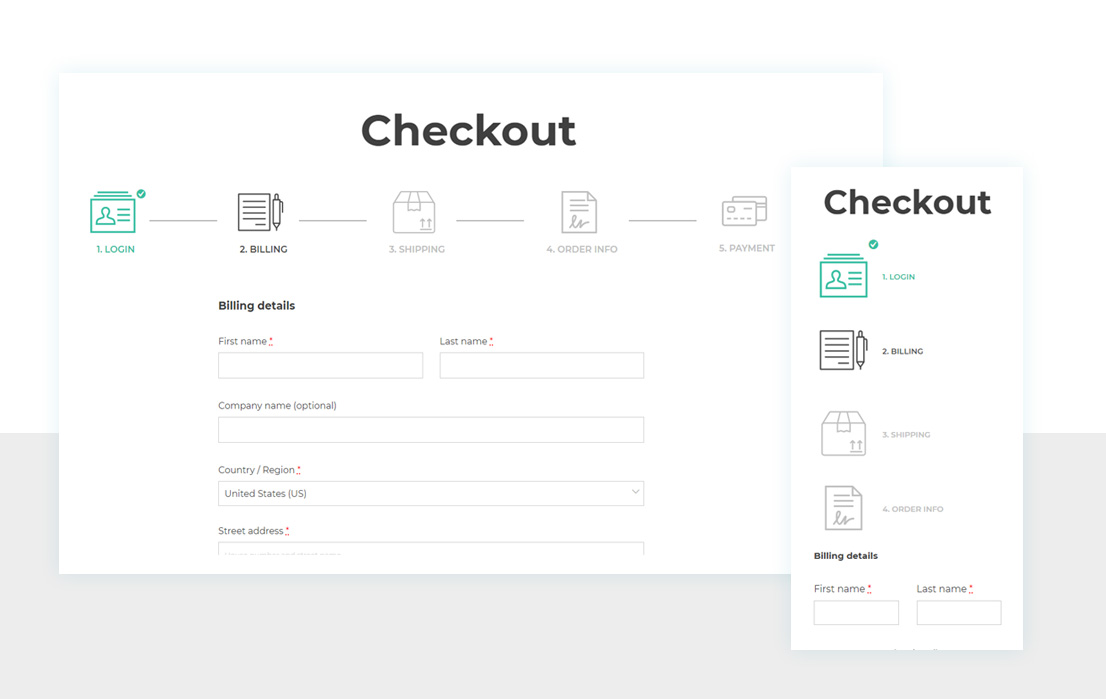 Adding a multi-step checkout can make the process a lot neater for the customer and not be too overwhelmed with scrolling forms. Adding a checkout customizer plugin will help remove unwanted fields or add extra ones that are crucial for you to fulfill an order. Both solutions are super easy to implement.
But that is not quite it… as payment is just that final hurdle for customers to drop out in the last step of conversion. Adding the correct payment methods and making sure they work is just as crucial to a clean and user-friendly experience.
Tip: use a browser developer's tool to review the checkout layout and experience in different screen sizes or mobile formats.
Can the customer find what they are looking for?
Signing in as a returning customer to either return an item, re-order a product or use up a gift card balance can be a very mixed experience, even on the better sites. There are two plugins that every store should have to make sure the customer can log in and find what they are looking for.
YITH WooCommerce Easy login and register plugin is perfect for returning customers and first-time users to create an account quickly. It is as easy as a 1-click action.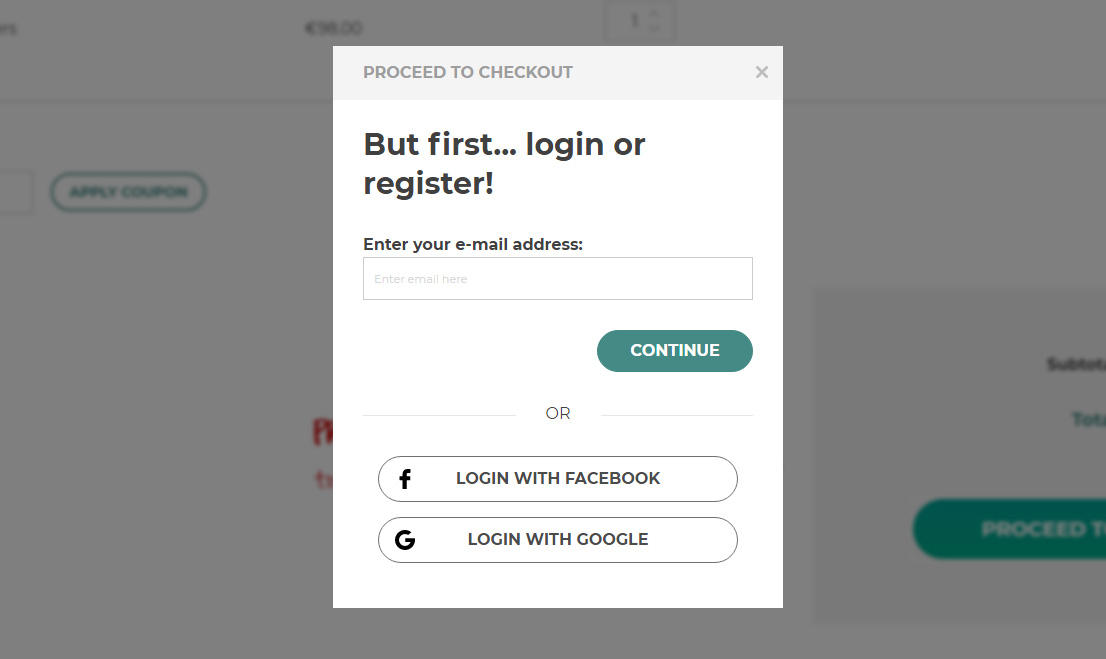 Using your Google or Facebook credentials can save a lot of frustration for returning customers, especially if visiting on a mobile device.
Customize My Account will add a level of straightforward navigation for the returning user you can not underestimate. Create endpoints for downloads, the return policy process, or even somewhere to share any earned rewards or check their received gift cards. When you are serious with eCommerce, there is a lot of functionality for the customer too. Making a straightforward menu and my-account area where every part is visible will undoubtedly bring back many happy customers.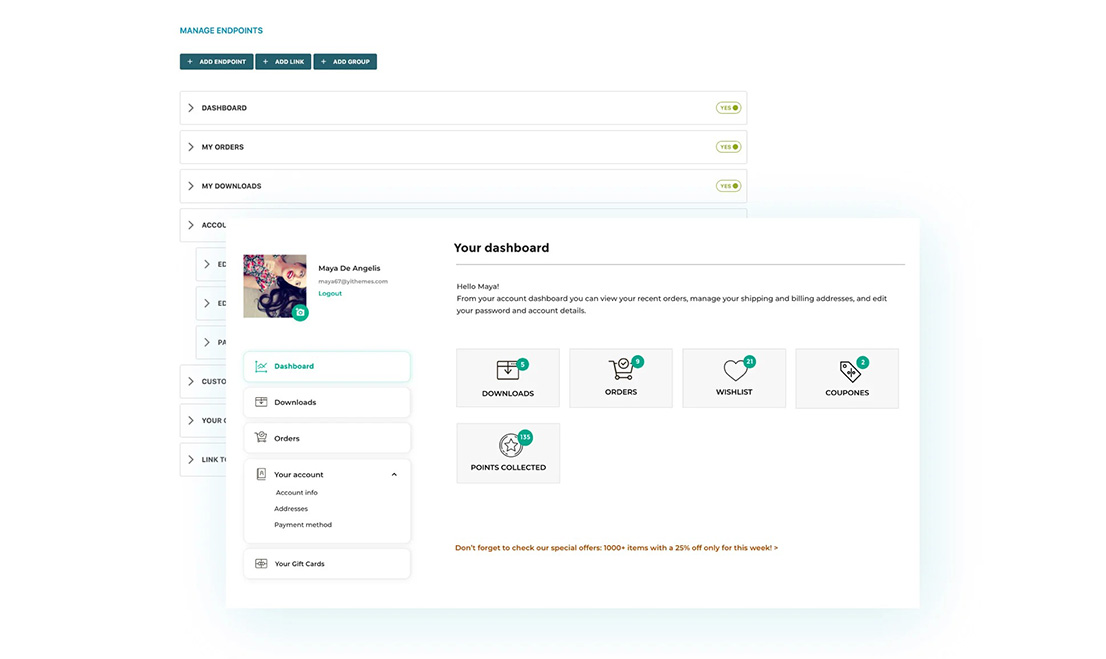 It is never too late to start with your 'spring clean'. It will help your cash flow, better organization of the site and products, but most importantly, a happy customer who will be able to find what they came to your store for, and probably bought more than they bargained for. Happy Cleaning!
Check out these plugins to help your customers and to keep a clean and clear store.