YITH WooCommerce MailChimp: make it easy, make it effective
Question No. 1: are you among those people who use MailChimp? If you do, you know how important it is to manage many contacts at a time and to keep them separate and make them become target for your marketing campaigns. Question No. 2: do you have an online shop, visited by many potential customers? Question No. 3: are you thinking about getting all those people coming to your shop and keep them constantly informed about your offers, discounts, promotions and whatever?
Then, if your answer to these questions has been "yes", "yes", "yes!"… Well, I think I have some good news for you. In fact, I guess you have been moving users coming from your shop manually to your MailChimp list of contacts for all this time. But… if I told you that you can make this process an automatic one and you can perfectly integrate your shop with your MailChimp account?
I assure you it is possible and it is easy with our brand new plugin, YITH WooCommerce MailChimp.
It is a tool that many of us, me included, must have desired lots of times. I might tell you, first of all, that YITH WooCommerce MailChimp has been developed with our customers in mind. They, who use WordPress, WooCommerce and MailChimp, surely need a tool that makes an automatic customer subscription to one of the lists they have created in MailChimp: with YITH plugin, this will be an easy task for you, and in case you want, you can also let your customers allow you before by displaying a checkbox in checkout page.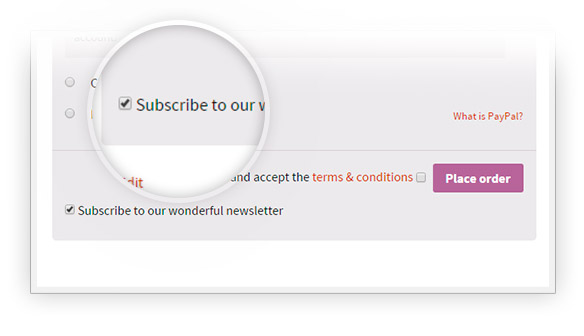 In fact, each time they pose an order or complete it (you will choose which of the two options), they will be added to the MailChimp list you set and will receive a confirmation and welcoming email, if you set it. This is how the plugin works, a simple action, but that puts many different options at your disposal to let you handle contacts and your campaigns in a very simple way and granting you at the same time a high degree of precision. Are you wondering what I mean with "a high degree of precision"? I'll explain that better.
With our plugin, any time customers make an order, they will be added to your MailChimp lists. Right, but which one? And, if your customers have different needs, different interests, if they like different kinds of products available in your shop? Can a campaign for all of them be a right one? Generally, the more targeted campaigns are, the more effective they are. But to do that, you need lots of details, you need to specify information for each of your customers, and you can collect this information during checkout, when customers fill out the usual checkout form. Then, it's but a short step to getting customers sorted according to specific parameters and make specific marketing campaigns. The only obstacle is finding a tool that allows you to do that. But, no worries, because our plugin allows you to do that. In fact, you can put a form in checkout page and customise it as you prefer and, above all, you can add in it fields that you can associate to the ones you have already created in MailChimp.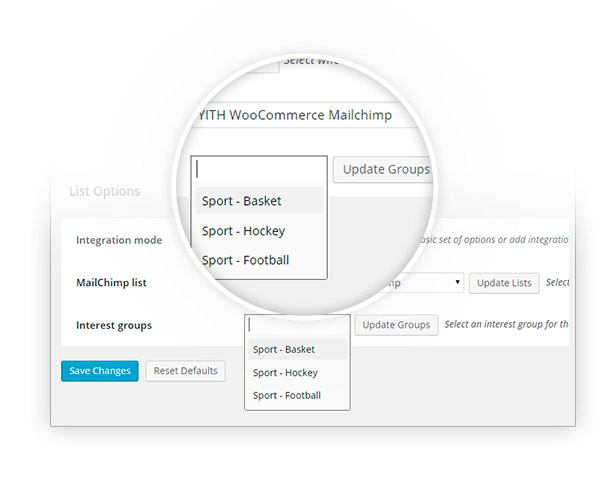 You can select more than one list to which adding new users and let them subscribe also according to the interest groups you have set in MailChimp. What does it mean concretely? It means you create lists and interest groups in you MailChimp account and then import them into your YITH plugin into your theme. Once you have them available in your plugin, and here comes the best, you can set conditions for user subscription. That is, you can specify many different conditions, so that you can filter your new or returning customers according to their interests and then add them to the specific MailChimp list or interest groups they belong to.
This way your customers' profiles have been defined and you can set and start your targeted campaigns. Conditions you can select, in fact, are a lot, and I will not list them all here, I can just tell you one, like adding your customers to a specific list according to the product or the product category they have purchased, or adding them to more interest groups belonging to the same list.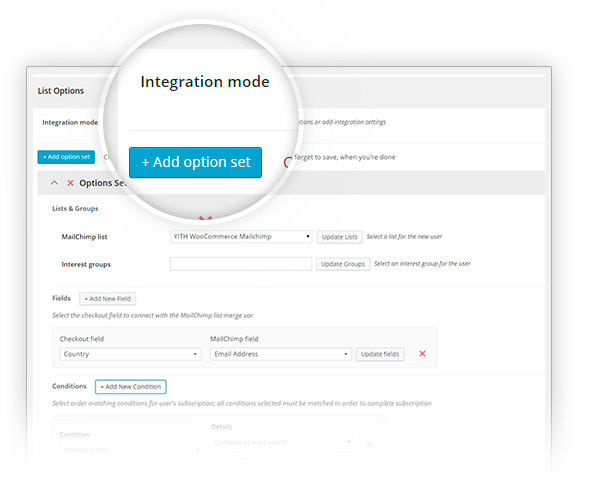 Interest groups, in fact, are very important in campaigns, but when it comes to returning customers that subscribe again, you might be wondering what you should do with data they had previously added and decide how to behave with them, if their interests are different than before. If you think their profile is not out of date, is still reliable and reflects their real interests, you can keep customers in all MailChimp interest groups they are and add them to the new ones; on the contrary, if you think that previous choices might be far from your real customer profiles, then choose to update the profile of your returning customers with the most recent one, let them be only in the list and interest groups relevant to their recent subscription and delete previous profiling.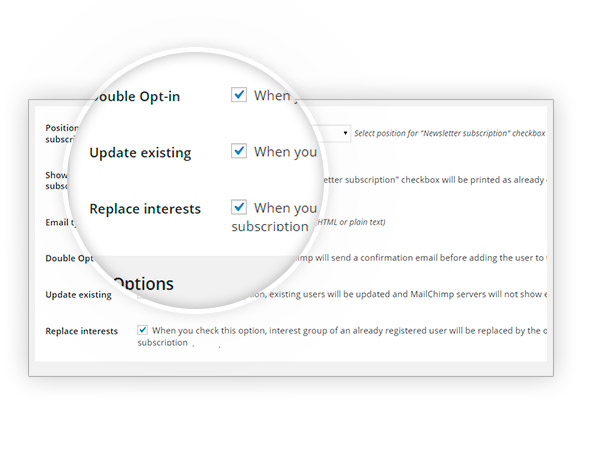 And then, not only can you export users from your shop to MailChimp, but also you can export contacts, as you select them, to a CSV (comma separated values) file so that you can use their data in whatever management software that uses them as database information.
And last but not least, you can easily integrate Ecommerce360 functionality to your shop and your MailChimp so that you can track all purchases deriving from your MailChimp campaigns and improve your campaigns according to the feedback you get from it.
So, what saying more? Try YITH WooCommerce MailChimp and discover all its features. You will not regret a thing!
If you want to read more and find instructions for how to use this plugin, read the plugin official documentation.
If you are looking for a way to make checkout quicker with one click only, you can read more about a one-click checkout plugin in this page or if you are looking for a solution to cart abandonment, why not remind prospect customers about their abandoned cart? You can find many interesting add-ons for your WooCommerce shop among YIThemes plugins for WordPress.