Are you selling gift cards in your WooCommerce store but want to be able to manage and offer them in multiple currencies? Then search no more, for this blog post is just for you!
When exchanging gifts, the desire to satisfy the recipient becomes stronger, even more, when the time is limited, which is why we've created YITH WooCommerce Gift Cards, offering you a powerful ally for the festive season. Whether digital or printable, gift cards can be used and even customized to make a special gift for friends and relatives and increase your sales volume to an impressive extent. Have you ever considered how many gift cards are being bought on the last day before Christmas?
Gift cards have become a valuable tool for businesses of all sizes. Not only for the capture of holiday sales but also a way to promote brand awareness, marketing offers, alternatives to returns or rewards, and so much more if you're a creative entrepreneur!
Conversely, internationalizing your e-commerce store is of vital importance as well since you could easily reach out to a global audience. Specifically, managing your prices in as many localized currencies as you'd like and consequently making your users feel comfortable with the currency they already know is a game-changer for your e-commerce company.
Our Gift Cards plugin has now integrated with YITH Multi-Currency Switcher for WooCommerce, allowing you to create different use-cases according to your specific requirements each time.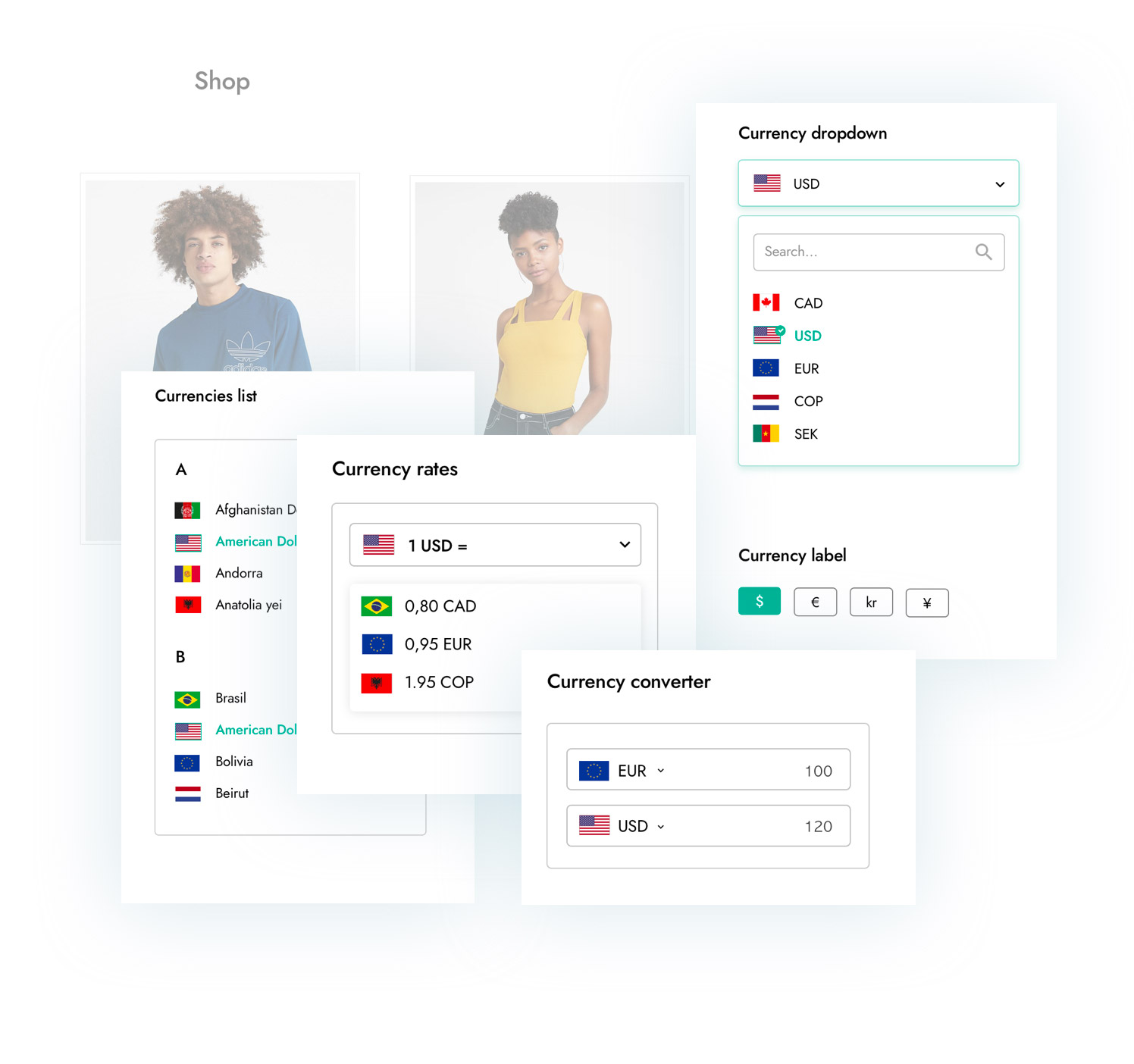 Let's dive into each of these two plugins and examine their features and some possible scenarios. As both plugins can be used separately, you could increase your earnings significantly by the mere use of the Gift Cards plugin alone. During the holiday season or even birthdays, weddings, or special occasions, many consumers opt for predefined gift cards for a specific present or even amount, thus avoiding the stressful process when looking for that perfect gift.
On the other hand, a plugin such as Multi-Currency Switcher will allow you to offer a multi-currency system in your shop so that users can see and pay for products in their local currency. What if you wanted to send a present to your family in another country? E.g you send a 50 dollar gift card, yet they are in Europe, so it is already quite impersonal and unlikely to be redeemed as people worry about additional shipping costs.
Or what if it is for an online course? A €50 online course might be £50 in the UK, but spend €50 and you will have to pay extra to make up the difference due to the exchange rate, not really what the receiver wants to do to redeem a gift. This integration is here to solve such predicaments.
What's more, what if you wanted to show different offers to arouse your customers' attention on a global level? Using this integration, you can add custom prices for different currencies. This way, you could create a gift card with different amounts for different currencies, similar to this example:
EUR 20€ | 30€ | 40€
USD 20$ | 40$ | 60$
GBP 50£ | 75£ | 100$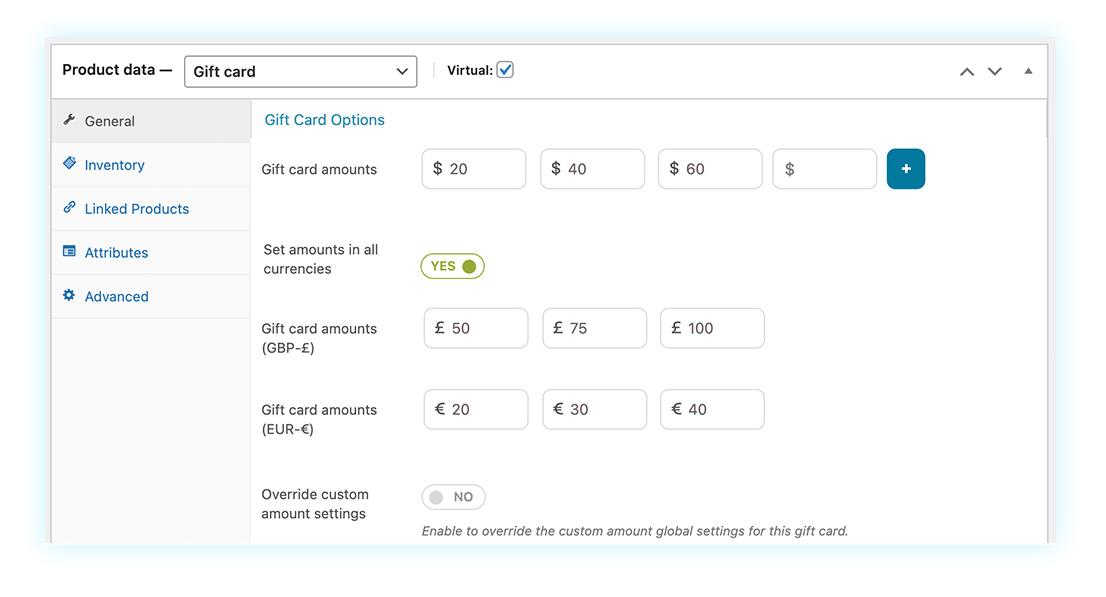 While gift cards improve your cash flow, a multi-currency system helps you reduce transaction costs while managing foreign exchange. This combo will grant you a better customer experience along with valuable data to support your business.
Moreover, as domestic markets tend to limit the increased capabilities of your store, such integration will ultimately render you the freedom you've been longing for, excluding any bank configuration or license. The Multi-Currency Switcher plugin alone lets you set optional exchange fees to cover the bank's or money transfer operator's fees.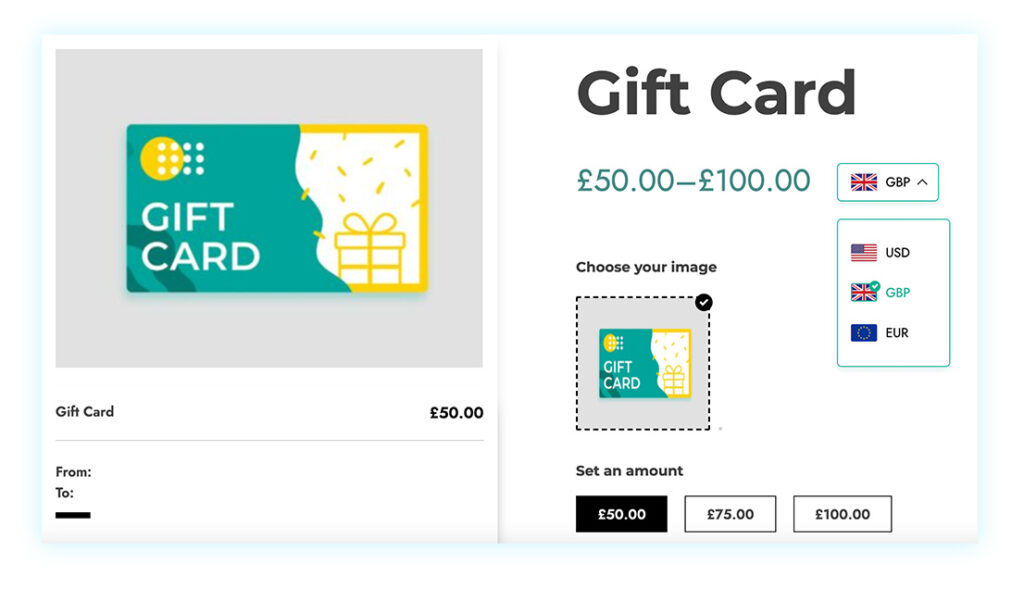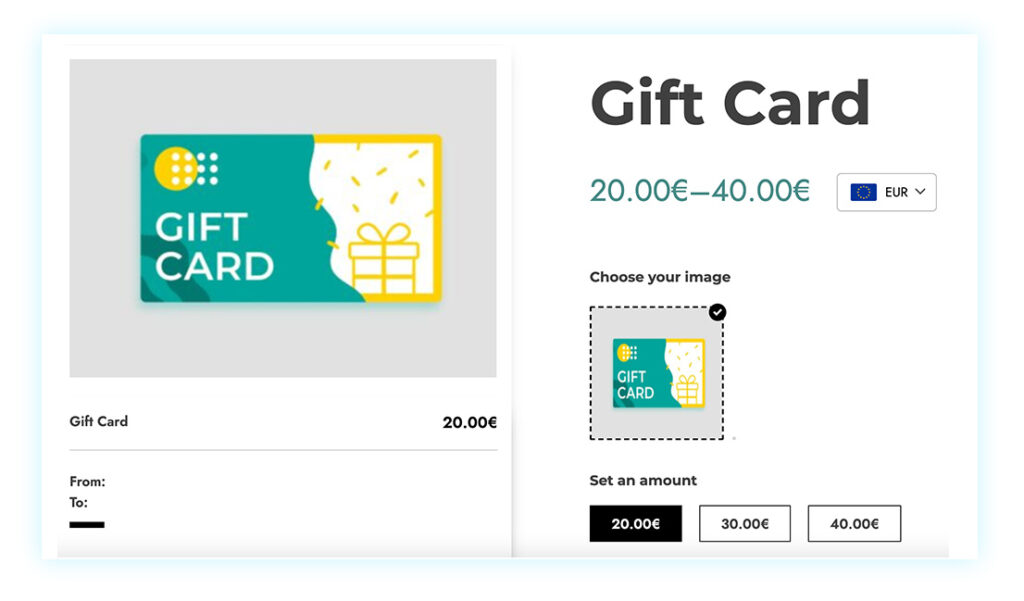 As Christmas is around the corner, imagine being able to offer gift certificates this holiday season internationally without having to worry about currencies and exchange rates. Let's use a simple business example; your store sells cosmetic and make-up products. Why not offer your gift certificates for all that glam contour palettes and professional brush sets to all customers worldwide? Think of the number of additional sales such a possibility could generate. Use cases such as these are limitless, from the beauty industry as previously examined, reaching the coffee market or even cryptocurrency trading!
You can integrate and test both plugins from the Live Demo. Follow this short tutorial below.
Step 1: Click the link to access the demo of the YITH Multi-Currency Switcher. You can then enter your dashboard from the green button on the top of the page, "Launch Admin Demo".
Step 2: From there you will be directed to your admin panel. You need to select the Plugins section, search for YITH WooCommerce Gift Cards Premium and Activate, in order to enable the second plugin.
Step 3: Then go to Products > Add New. From the Product data section, select it to be a Gift card product type instead of a Simple product. You can select it to be virtual or not.
Step 4: You can then set your Gift card amounts for the currency that you have selected to be the default from Multi Currency Switcher's side.
Step 5: The below option "Set amounts in all currencies" will show the conversion rate of your above amounts automatically for the currencies you have enabled through Multi Currency Switcher.
Step 6: If you wish to have custom prices for each or any of your currencies, you can simply click on them and edit them. Don't forget to publish your Gift card product or update it in order for the changes to be saved and shown on the frontend!
Do these reasons interest or tempt you enough? Care to give it a go? If you have any questions or suggestions, leave a comment below, we really appreciate your feedback.