WooCommerce is a platform that offers remarkable flexibility and customization options. Since it is based on WordPress, making changes to your online store is incredibly easy. With just a few clicks, you can add new features or modify the look and feel of your store.
These features in WordPress, come as an overwhelming number of themes and plugins to choose from. It can be difficult to navigate through the sea of options and select the right one for your website. However, with a little guidance, you can find the perfect WordPress/WooCommerce plugin that fits your specific needs. Let's explore the factors you should consider when making your decision and take a look at some of the best plugins currently available.
In this article, we'll walk you through everything you need to know about WordPress and WooCommerce plugins. We'll explain their purpose, and provide recommendations on which ones to install on your website. So, let's get started!
What are plugins and what are their uses?
It's a common question, but an important one nonetheless: how does WordPress customization work? Well, there are three key components to it. To begin with, WordPress is an open-source platform that enables users to modify the code directly to fit their specific requirements. Additionally, themes and plugins play a crucial role in customizing your WordPress website.
Now, let's understand the differences between a theme and a plugin. A theme is responsible for altering the visual design of your website. In fact, even websites with a similar structure can have a unique appearance due to the graphics provided by the theme.
For example, when it comes to news and cookbook websites, the blog feature is commonly utilized. However, the overall look and feel of each site can vary greatly: despite the shared functionality, each portal has its own unique style.
As a WordPress user, you have the ability to modify various aspects of your website, including the copyright message in the footer. However, the possibility of editing multiple elements at once may differ depending on the theme you are using.
On the other hand, plugins are tools that can be added to your site to help with things like language translation (if you have a multilingual site), improving the browsing experience (such as with related post or recent post plugins), aiding in site creation (like with the popular Elementor plugin), and providing valuable insights to site owners (such as with ad placement or traffic monitoring plugins).
If you're looking to set up an online store, the WooCommerce plugin is the perfect solution for you. It's a WordPress plugin that lets you easily convert your existing blog or website into an eCommerce store. With WooCommerce, you'll be able to sell your products or services online and accept credit card payments from customers easily. It's a great tool that's both user-friendly and professional, making it a top choice for businesses of all sizes.
When it comes to WooCommerce, there are several plugins that are popular among users due to their ability to boost sales. Some of these plugins improve the browsing experience and prevent potential customers from getting sidetracked, while others enable the use of marketing techniques that may not be available in the standard version of WooCommerce.
In this article, we will focus on a selection of free WooCommerce plugins.
How to choose a free WooCommerce plugin
As previously discussed, there are many plugins available for WordPress and WooCommerce, with hundreds specifically designed for WooCommerce. These plugins can be categorized into either paid or free options. Some free plugins may come with a paid upgrade option for expanded capabilities.
When it comes to selecting the right plugin, it can be quite overwhelming. While searching for plugins that incorporate the features you require is a good start, it may not always suffice. It's not uncommon to stumble upon multiple plugins that provide the same functionality, which can make the decision-making process even more challenging.
In general, you only need to follow a few steps to achieve the best result, including:
Choose a plugin that's been created by a company with experience in the field. It's important to be cautious of tools with unknown origins, as they may potentially harm your site by carrying malware or spyware.
Choose a plugin that is frequently updated, an outdated plugin is not only prone to errors and not working with new versions of WooCommerce, but can also be a vulnerability to external attacks.
Only use the plugins you need, as each additional plugin you install on your portal can reduce its performance.
By following these steps, you can safely choose the functionalities you want to integrate on your site.
To make your search easier, we'll evaluate the best ten free plugins available on the market that offer essential features for your online shop.
The best 10 plugins
Download the free version of WooCommerce Wishlist
Let's start by talking about one of the most famous and popular plugins on WooCommerce and which, fortunately, has a free version. This amazing plugin is called Wishlist, and as you may have guessed, it lets you add the popular Amazon feature of the same name to your online store.
Basically, by using this plugin on your website, your visitors can make wish lists where they can add the items they desire. This feature enables them not only to track items for future purchases but also to share them with their loved ones and friends, which will help them pick out the ideal gift.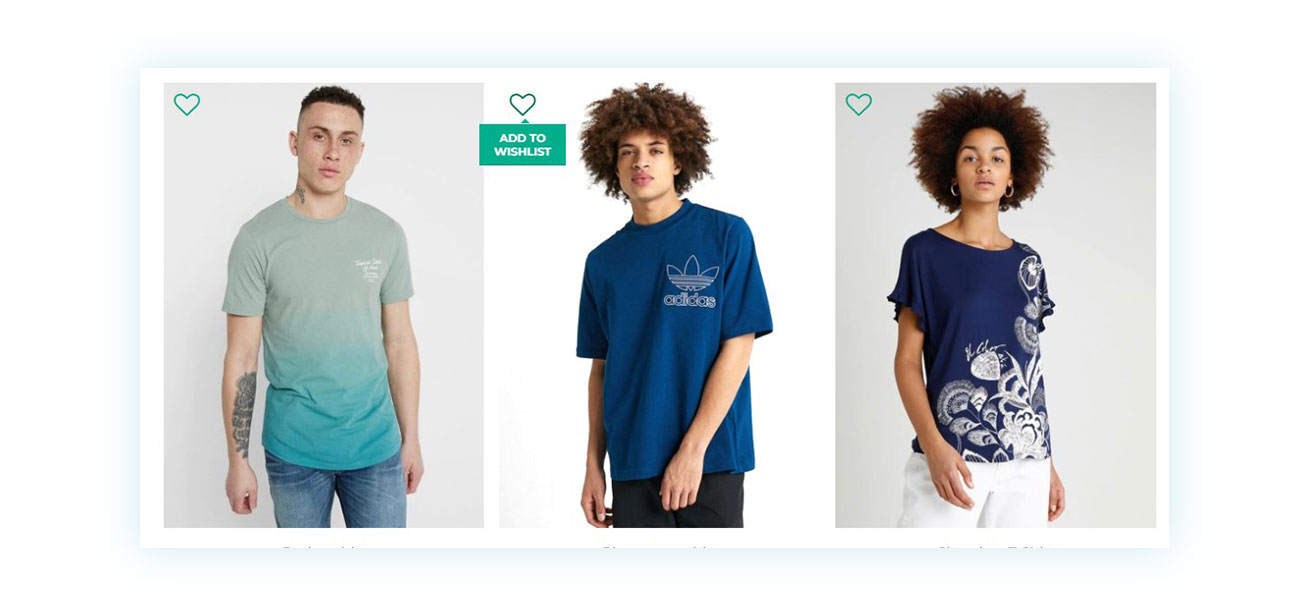 The wishlist feature has become one of the most popular in online stores, particularly for special occasions such as weddings, birthdays, anniversaries, and more.
The WooCommerce Wishlist plugin has free and paid versions available. Luckily, the most important features are included in the free version. We must consider, of course, that even though free versions are often offered with downgrades that make them practically non-functional, the free version of Wishlist comes with dozens of features: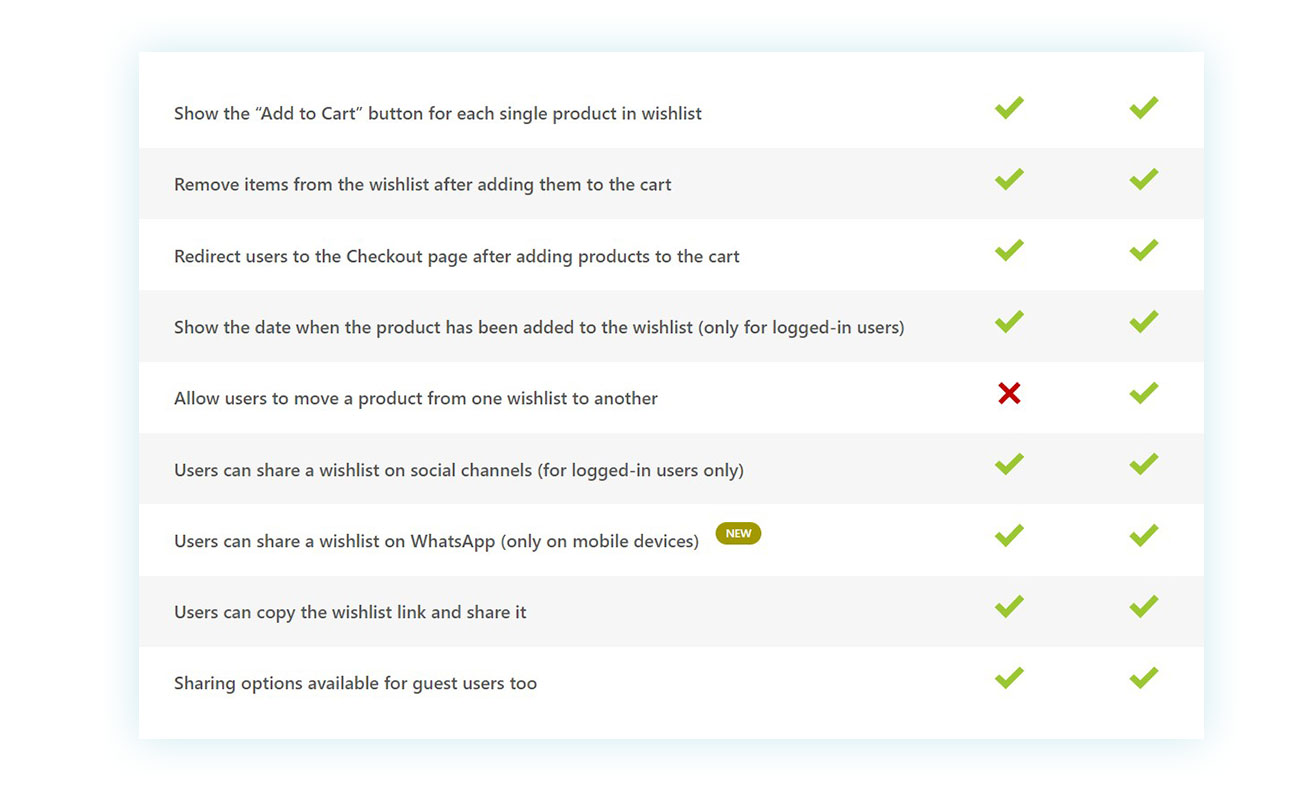 Feel free to try out the free version and decide later whether you also want access to the premium functions, including:
Possibility of creating several wishlists with different names
Request a customised quote for the wishlist content
Greater control and vision by the administrator
Restriction of the wishlist function to registered users only
Add wishlists to your site immediately by installing the WooCommerce Wishlist plugin!
Download the free version of WooCommerce Ajax Search
The ease of navigation on your website can greatly affect your conversions and revenue. Luckily, with WordPress and WooCommerce, your users can search for specific words and receive relevant results. This feature can definitely help improve your website's usability and ultimately boost your sales.
Even though this feature is included in the platform, it can sometimes fall short in its effectiveness. Slow processing, limited results, and usability issues can prevent potential customers from finding the product they want, leading to missed sales opportunities.
For this reason, one of the most popular WooCommerce plugins is WooCommerce Ajax Search.
The plugin significantly improves the functions of the search bar, giving the possibility to customize the text shown in the search field, the text of the button, the minimum number of characters to start showing results, and a maximum number of results (as well as providing a shortcode and a widget to position the search bar in various places in the store).
All these features are included in the free version of Ajax Search. Of course, the premium version allows much more, including showing product thumbnails, product prices, symbols to indicate the presence of offers, and much more.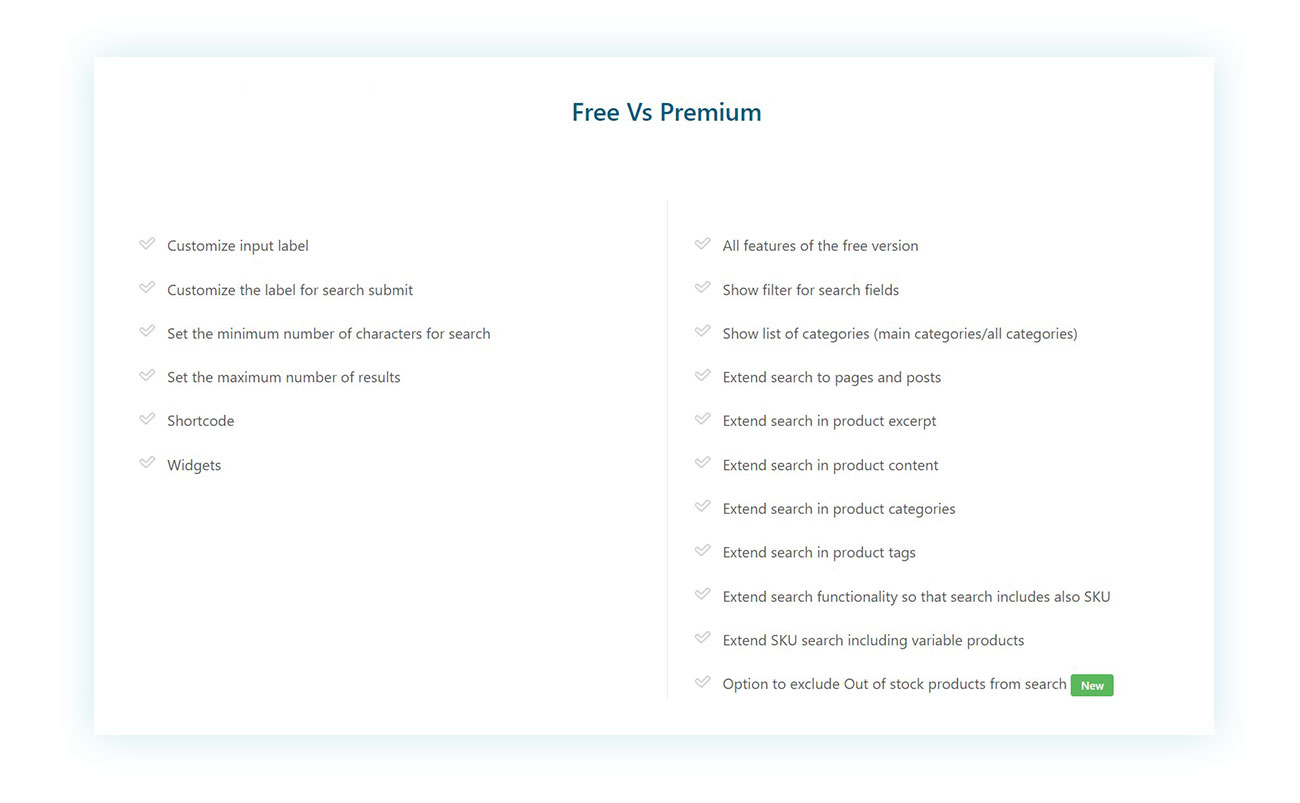 While premium features can definitely enhance the navigation and search experience on your store, many sellers opt for the free version as it still offers a significant improvement compared to the traditional search bar.
You can certainly upgrade it in the future if you consider it necessary and viable. Help your users in their searches with WooCommerce Ajax Search!
Download the free version of WooCommerce Badge Management
Enven though WooCommerce allows you to use different types of promotions within your eCommerce website, these marketing techniques do not reach their full potential due to being poorly visible.
In fact, it has been proven that placing icons on your products in your shop can increase conversions by more than 50%.
For this reason, we recommend the WooCommerce Badge Management plugin.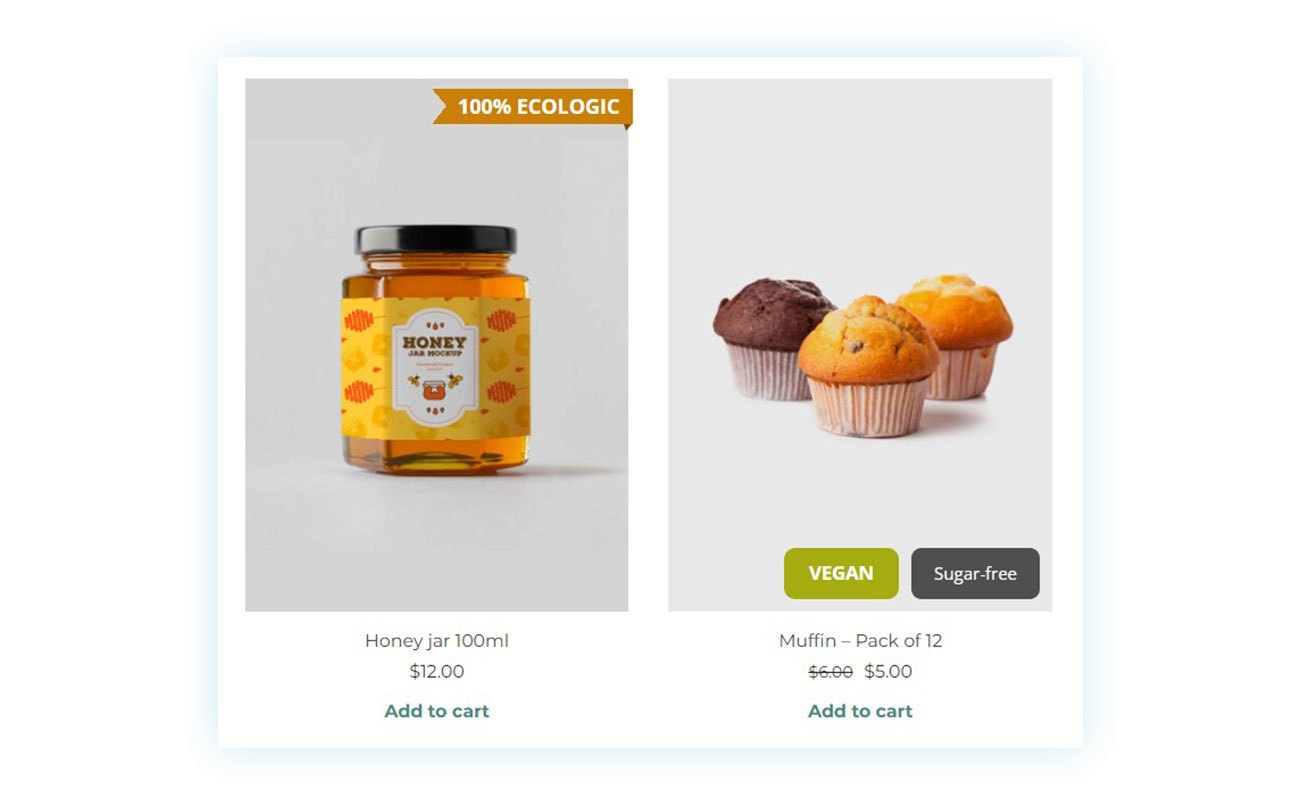 The plugin allows you to create different types of badges to be displayed on your products. In this way, besides showing products on sale, you can highlight aspects of your products that are particularly important to your customers.
Some examples can include information about the absence of palm oil and vegan ingredients in gourmet products, fabric quality and target audience in clothes, icons for specific events such as Christmas offers or Black Friday, and much more.
In this way, you can customise your shop with just a few clicks and significantly increase sales.
As in the previous cases, the plugin comes in both a free and a premium version. With the free tool you can:
Create unlimited badges with the integrated tool (no need to create them externally and upload them later).
Create text badges.
Choose the size of the icon.
Create an image badge with a choice of 9 different types.
Set a fixed position for the badge.
Replace the badge already inserted by WooCommerce for products on offer.
Set a specific badge for each product.
The premium version allows for much more advanced customization and easier management of your product catalog, but already using the free version will change the look of your shop.
Make all your products unique and increase sales using WooCommerce Badge Management.
Download the free version of WooCommerce Catalog Mode
Let us now refer to a very specific plugin that is, however, essential for a large number of online stores. As we know, the standard WooCommerce process is to create products, which are then put up for sale on the shop page. This is followed by the customer who adds products to the shopping cart and complete the purchase in the checkout page. However, there are commercial scenarios where this process is not feasible.
In the example of a car dealership, they cannot be purchased online via PayPal payment, and a visit to the premises is very often required to see the various models.
Or you might want to reserve purchases for registered users only, or not make certain products purchasable but still visible in the shop.
If you are running a business with these requirements, the WooCommerce Catalog Mode plugin is here to help you. This plugin allows you to transform the shop into a catalog for browsing only, hiding the price and/or the add-to-cart button.
In this way, for example, you can create a shop where users can request a quote for the purchase of your products.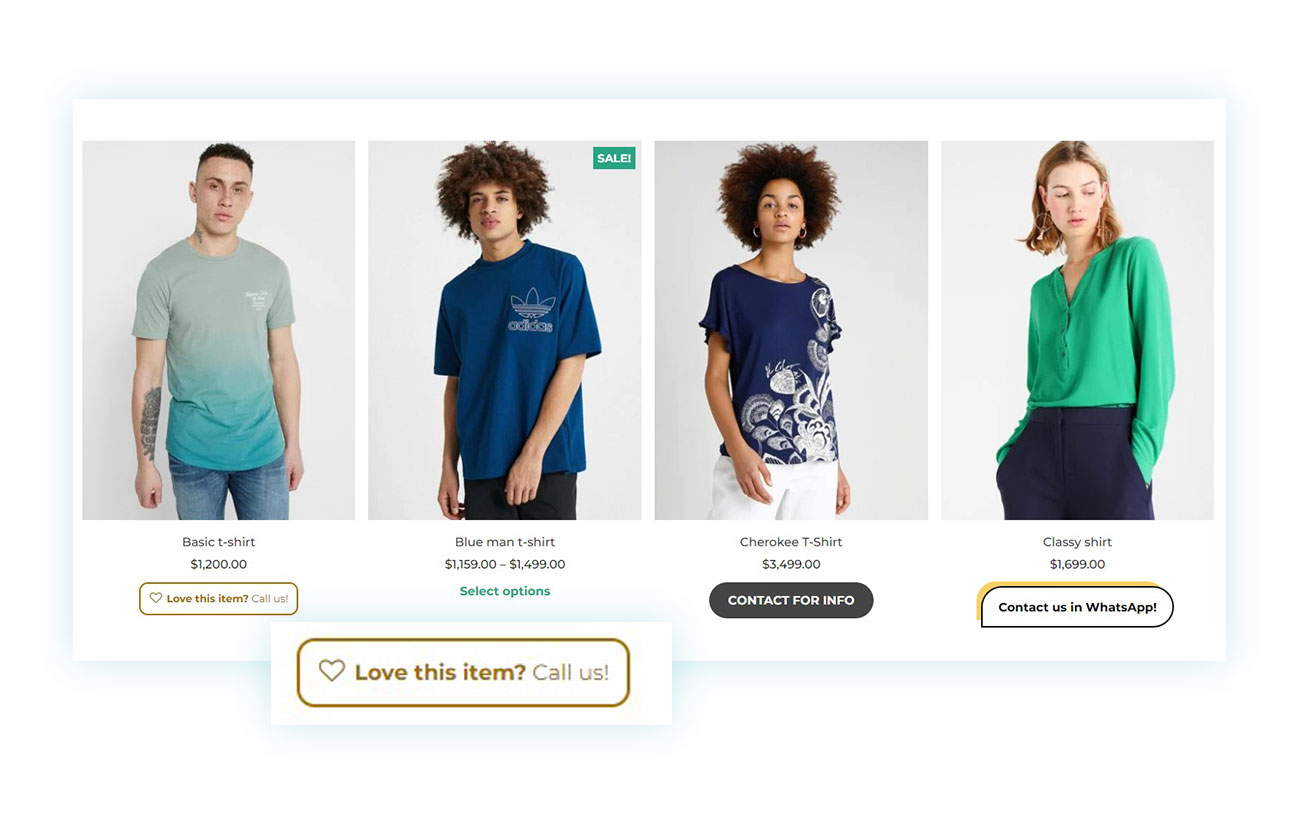 Once again, the plugin is offered in free and premium versions. The free version still allows you to create an excellent catalogue thanks to its functions that include:
Enabling catalogue mode for all users.
Enabling of catalogue mode on all products on the site.
Possibility of hiding the add-to-cart button on all product pages and other places on the site (such as the shop and category pages).
Possibility of hiding the cart and checkout pages as well, to avoid user confusion.
On the other hand, the premium version allows greater customization of what to hide or show on the eCommerce site and the replacement of the add-to-cart buttons with more suitable solutions (as well as the use of information request forms).
Therefore, we suggest using the free version and upgrading to the premium version where necessary. Create a catalog for your customers with WooCommerce Catalog Mode!
Download the free version of WooCommerce Request a Quote
Continuing on the theme of products that cannot be sold traditionally, we offer WooCommerce Request a Quote.
Similarly to WooCommerce Catalog Mode, direct purchase by adding to the shopping cart is disabled, and customers can instead add products to a quote they will send to the shop owner. The price of the various products can be shown or not.
In this way, you can offer tailored quotes to your customers and streamline their purchasing process. By using Request a Quote in conjunction with Catalog Mode, you can handle each product individually and avoid applying the same rule to all products in your catalog.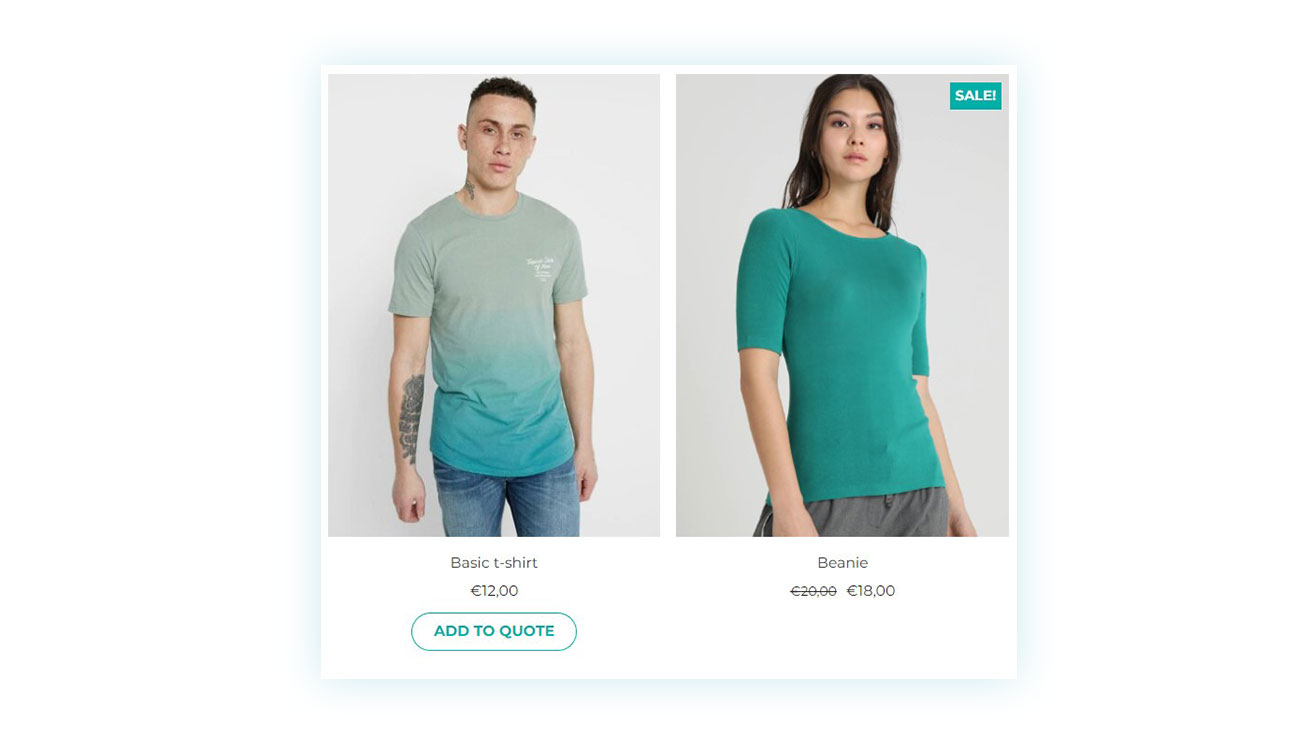 Thanks to the features it includes, the free version of the plugin is used on many shops, some of them are:
Ability to show the add to quote button on product pages.
Ability to show the button to all users.
Support for variable products, so that the customer can add the desired variation to the quote request.
Hiding of the "Add to Cart" button for all products.
Possibility to add the basic request form on any page of the site.
Manual sending of quotes by the seller once the request has been received.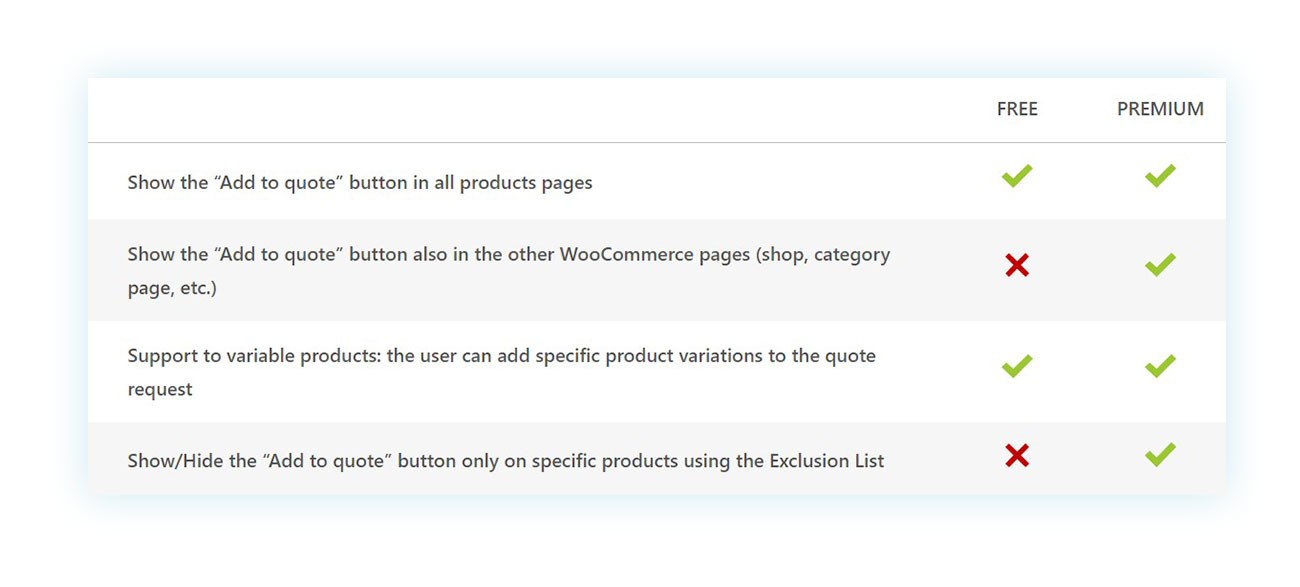 The premium version, on the other hand, allows you to automate the process and customize where and how to display quote buttons and forms, but switching from free to premium is optional and can be done at any time.
Offer quick and easy quotes to your customers by installing WooCommerce Request a Quote!
Download the free version of WooCommerce Affiliates
If you're looking for a powerful marketing tool, you should definitely consider an affiliate program. And the good news is, you can easily use it on WooCommerce too.
So, how exactly does this strategy operate? Basically, store owners offer their customers the option to generate referral links. These links redirect users to your website and track any resulting traffic from a particular user.
In this way you can pay a small commission to the affiliate on each sale he/she generates, a benefit for both parties:
For the affiliates, they can enjoy hassle-free earnings as they won't have to worry about managing sales, shipping, or handling payments. Their earnings will be paid directly by the owner, giving a cost-free source of income.
For the seller it means advertising and an increase in traffic and sales.
So how can you introduce this functionality to your WooCommerce site? You can use WooCommerce Affiliates. The plugin allows you to easily create an affiliate program and provide your re-sellers with an easy and intuitive registration form: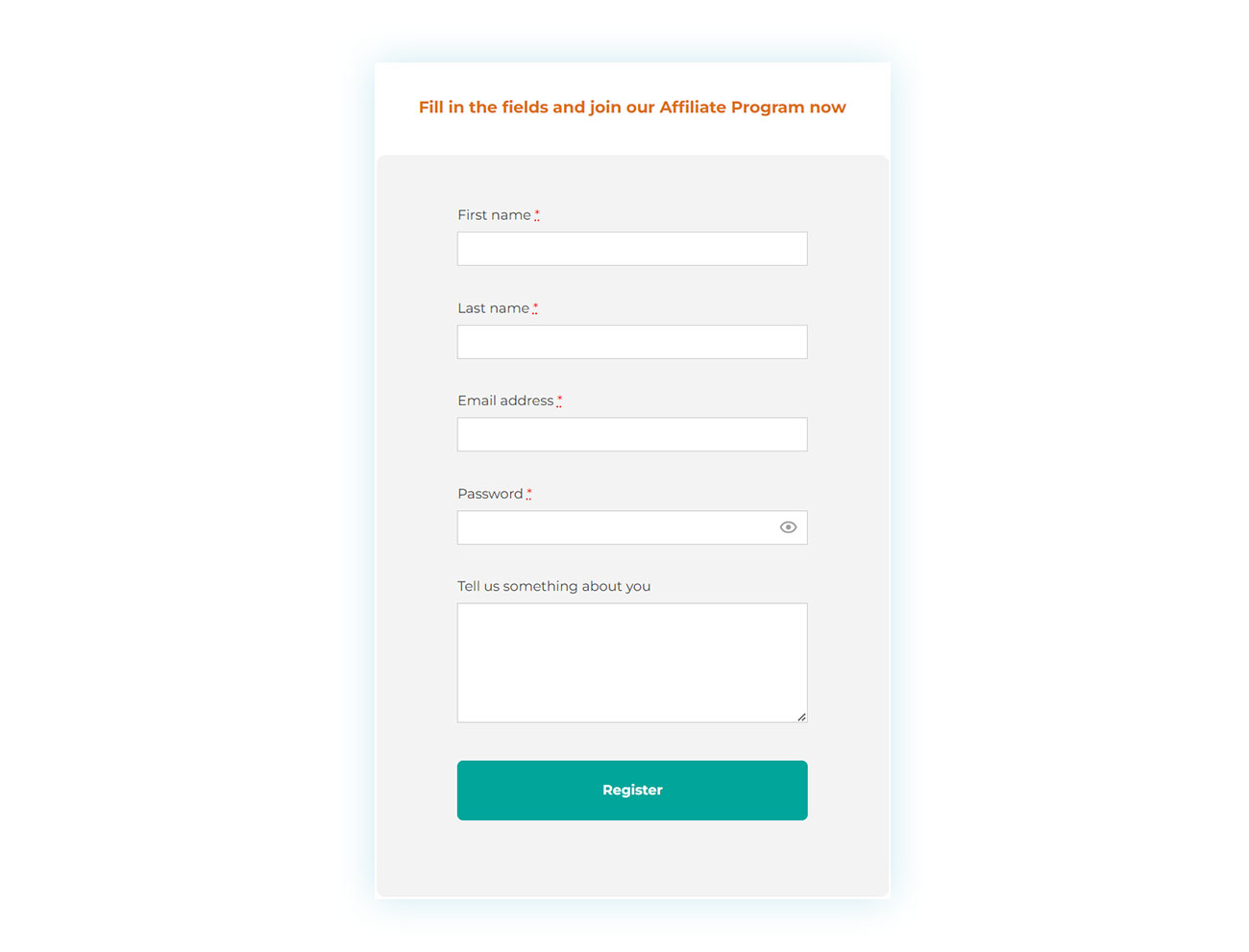 Once again, this is a free WordPress/WooCommerce plugin and its free version includes features such as:
Use of the default form for affiliate registration.
Option for rejecting affiliates.
Option to ban affiliates.
Setting a commission applied to all affiliates.
Control panel for affiliates to monitor their sales.
These five options (which are only a fraction of all those included in the free version) are already perfectly sufficient to create a functioning affiliate system. For those who want to invest more in this plugin, a premium version is available that allows greater customisation of the programme and the setting of different rules for different users.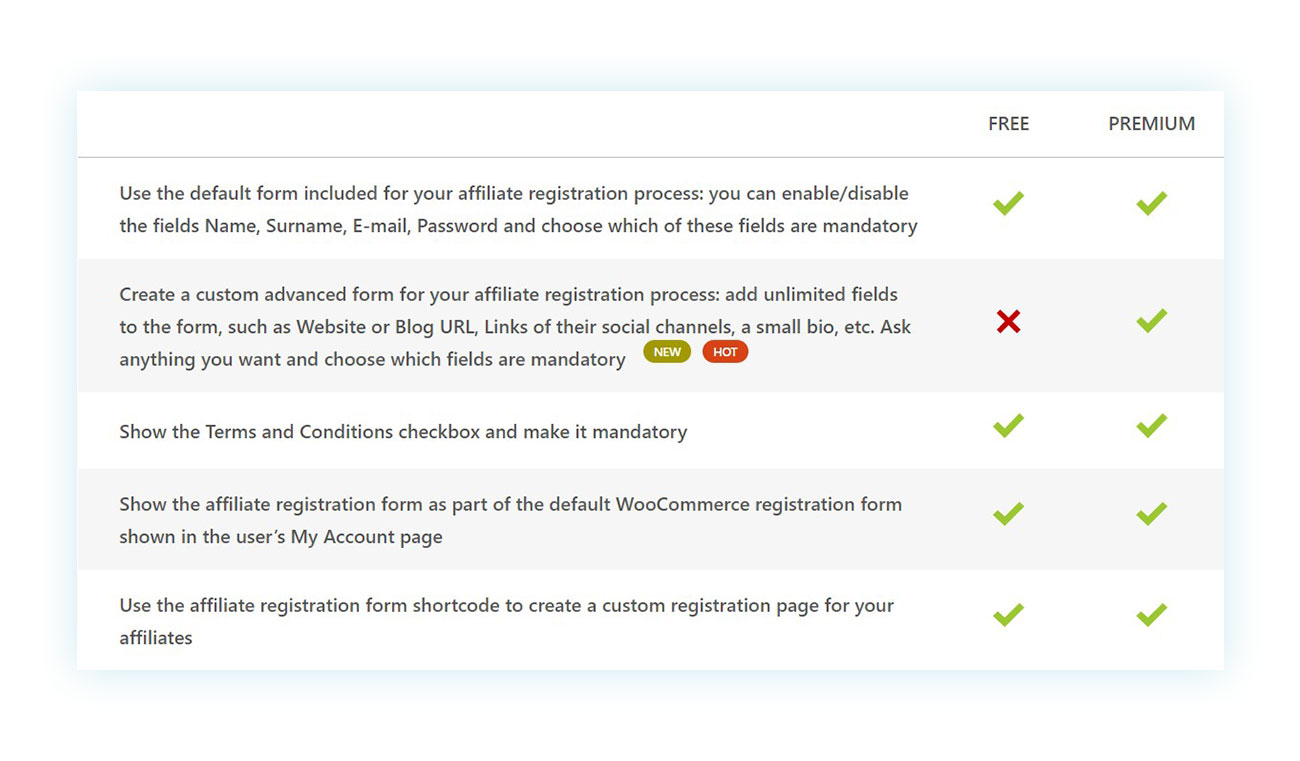 Create your own affiliate programme now for free with WooCommerce Affiliates.
Download the free version of WooCommerce Brands Add-on
As we discussed earlier, the visual element plays a crucial role in boosting your sales. When we consider the emotional connection that numerous brands have with their customers, it becomes evident that a powerful tool like Brands Add-on can prove to be extremely valuable.
In fact, the plugin allows you to display the various brands in different places, as well as to group the products of a particular brand under the same name.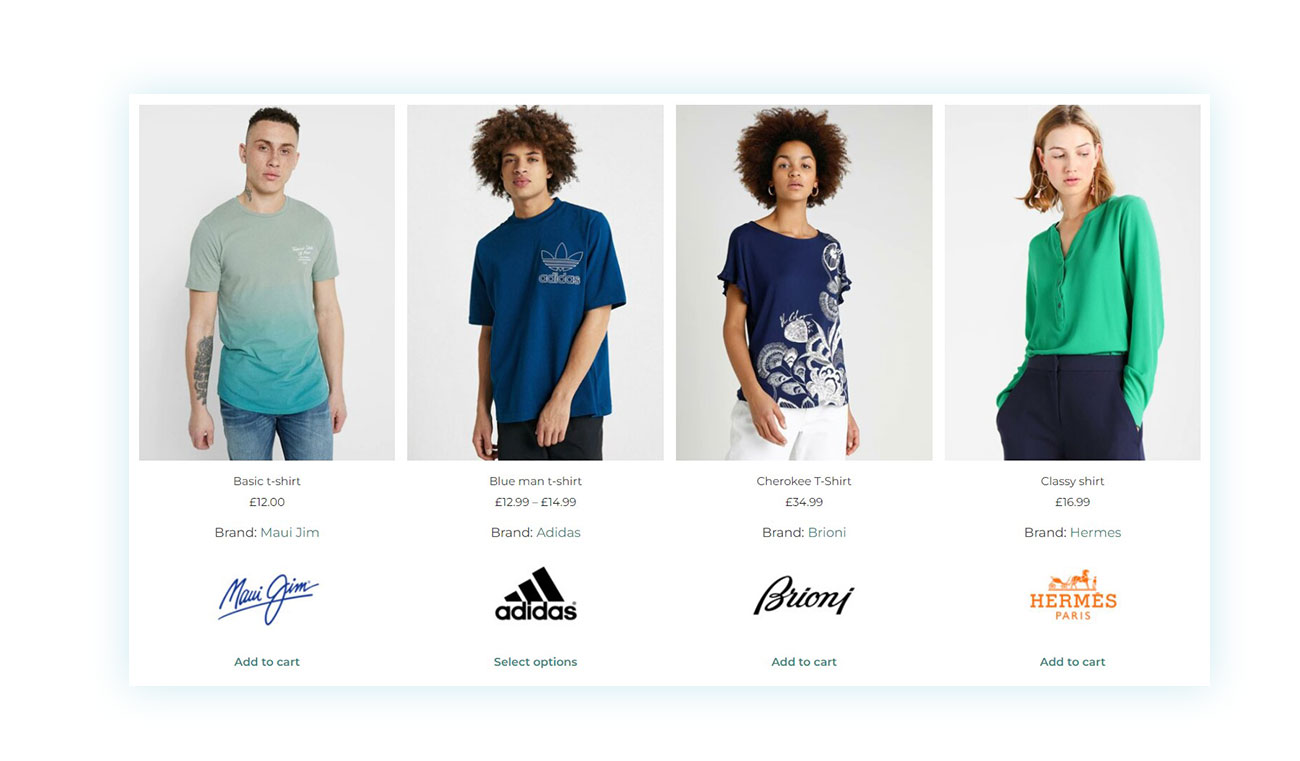 By utilizing this feature, you can enhance both sales and the total value of customers' shopping carts, especially those who prioritize this aspect when purchasing products. This functionality proves beneficial in a variety of cases, especially for industries like clothing, IT, gastronomy, car showcases, and more.
To be part of this list, of course, the plugin must be offered in a free version, which provides access to numerous functions, including:
Possibility of creating infinite brands.
Setting a name, description and image for each brand.
Creation of a hierarchy for the brands.
Assignment of one or more brands to each product.
Possibility of displaying brands on the product page.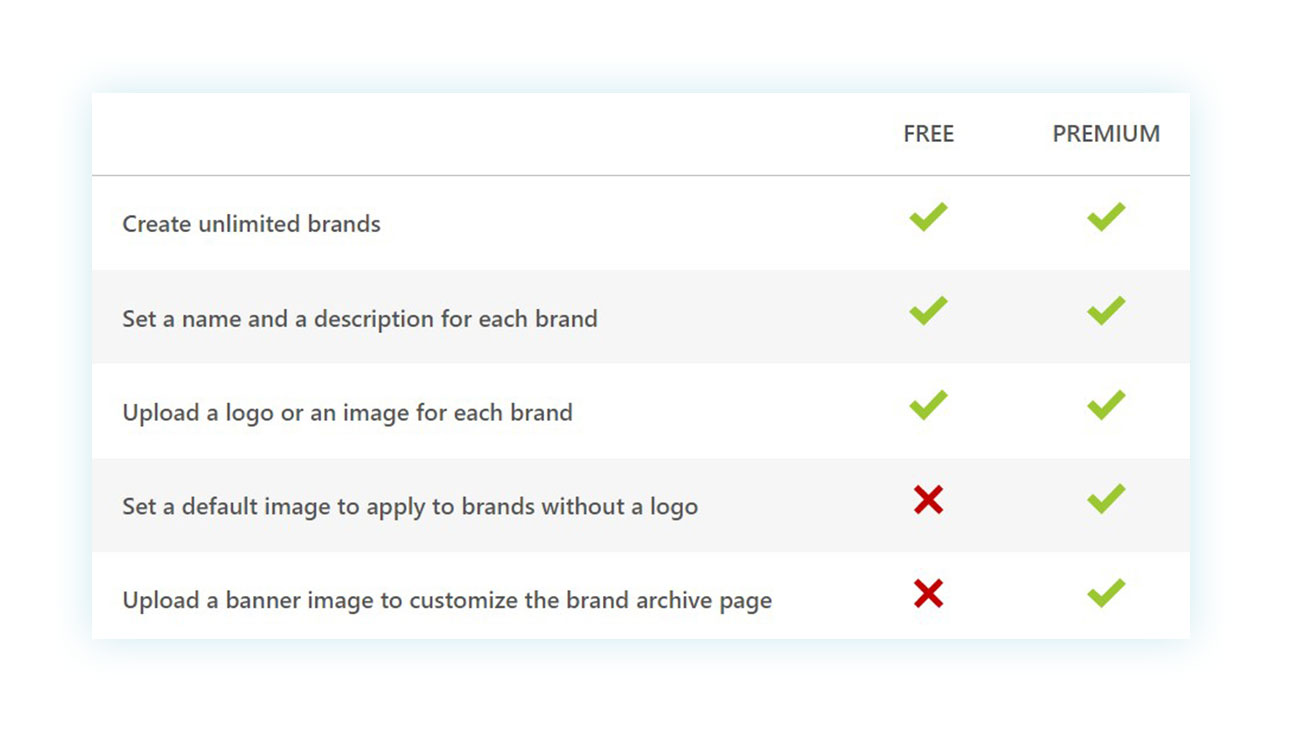 With the premium version, brands can get more exposure by being displayed on other sections of the site, like the store page. Additionally, you can customize their appearance with widgets and shortcodes to make a stronger impact on their audience.
With the possibility of upgrading at any time, start enhancing your products now with WooCommerce Brands Add-on!
Download the free version of WooCommerce Ajax Product Filter
As we continue through this guide, and although it might seem obvious, it is crucial to have a website that's easy to navigate and find what you're looking for.
In fact, it can be quite overwhelming for customers to navigate through a vast catalog of products. It's highly unlikely that they will spend time scrolling through each item to find what they need.
This is why we recommend the WooCommerce Ajax Product Filter. This plugin works great with the Ajax Search and lets you add many filters that your customers might find important. With this tool, you can customize your product catalog and make it easier for your customers to find what they are looking for.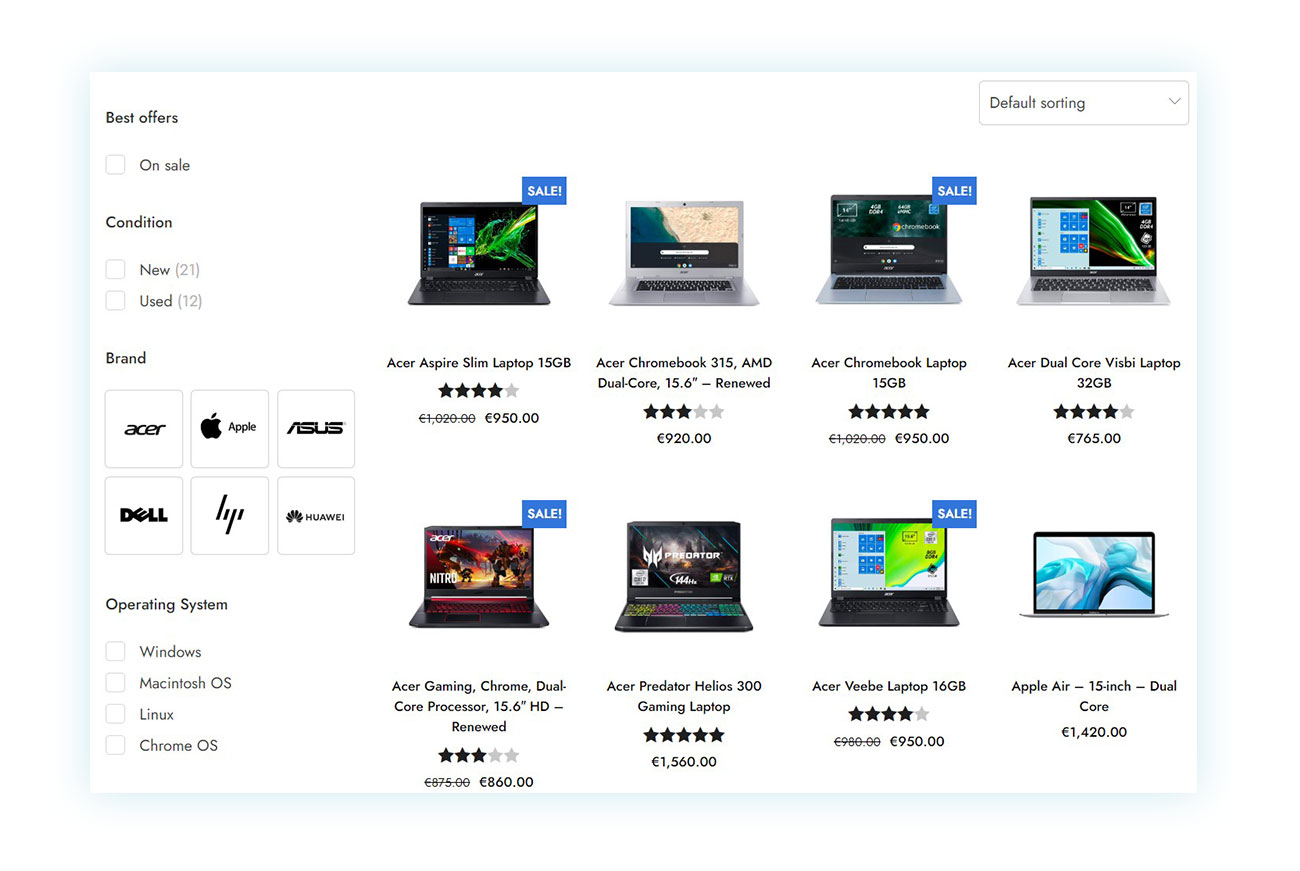 But which of these functions are included in the free version of the plugin? Let's see some of them:
Possibility of adding infinite filters to each preset.
Checkbox, select, test and colour sample options.
Options via labels.
Hiding of unavailable terms.
Possibility of selecting several terms in the same filter.
Filter by categories, tags and product attributes.
Display of filters on the shop page and possibility of displaying them via shortcode and Gutenberg block.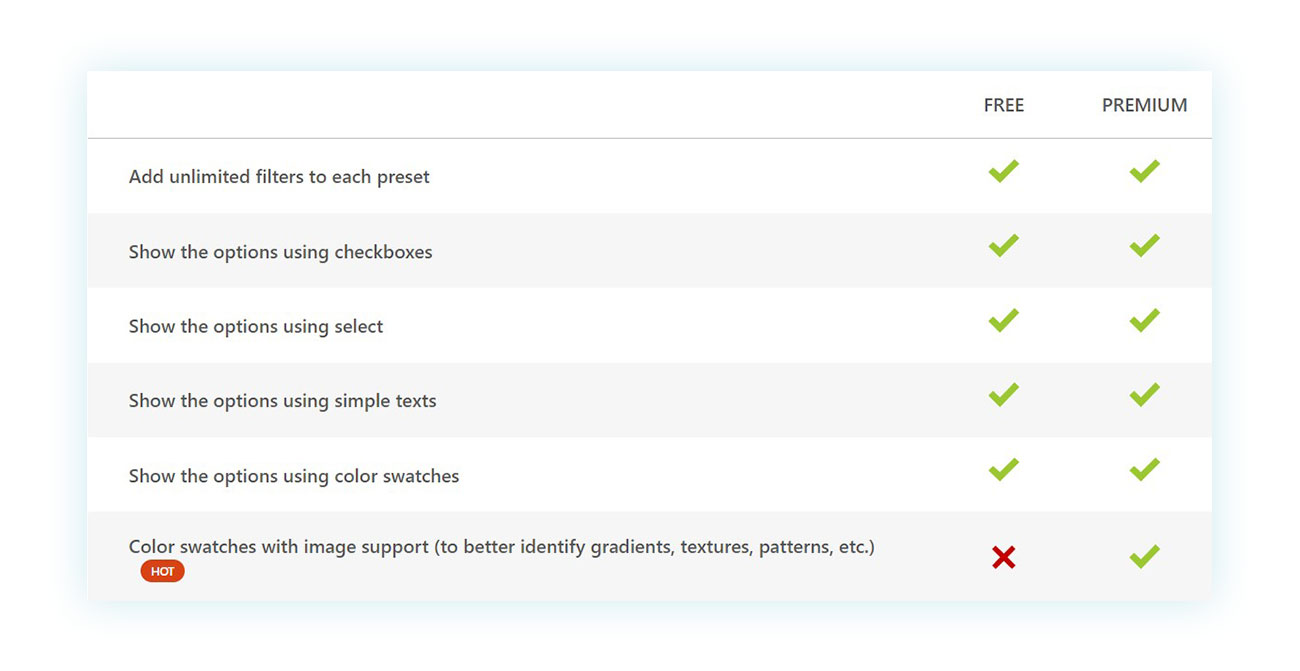 The premium version offers extra filter options, but even the filters that come with the free version can make your customers' browsing experience much easier and reduce the number of abandoned carts.
Help your customers find the products they want with WooCommerce Ajax Product Filter!
Download the free version of WooCommerce Order & Shipment Tracking
For the ninth plugin in our selection, we are going to suggest a function that is now considered mandatory by most customers.
Back in the early days of the internet, online shopping and delivery were a bit of a mystery. But nowadays, customers have come to expect not just speedy and precise delivery, but also the ability to track their purchases every step of the way.
While it's possible to manually send the tracking code to every customer after their order has shipped, it becomes impractical over time, especially for stores with a high volume of orders.
That is why we suggest Order & Shipment Tracking, a plugin that allows your customers to keep track of the shipment process of their products.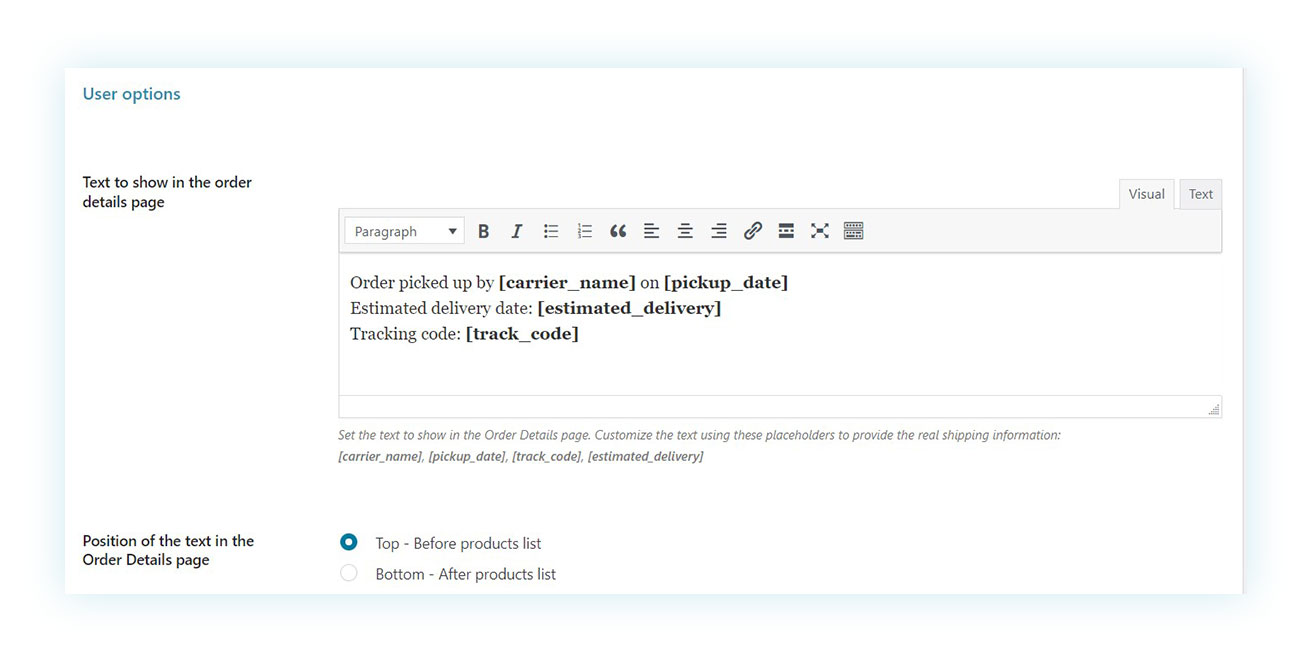 The free plugin solution gives you access to several functions, including:
Setting a default courier for shipments
Entry of tracking number, courier name and shipping date on the order page.
Entering shipping information on the "My Orders" page
Addition of a button to redirect customers to the courier tracking page.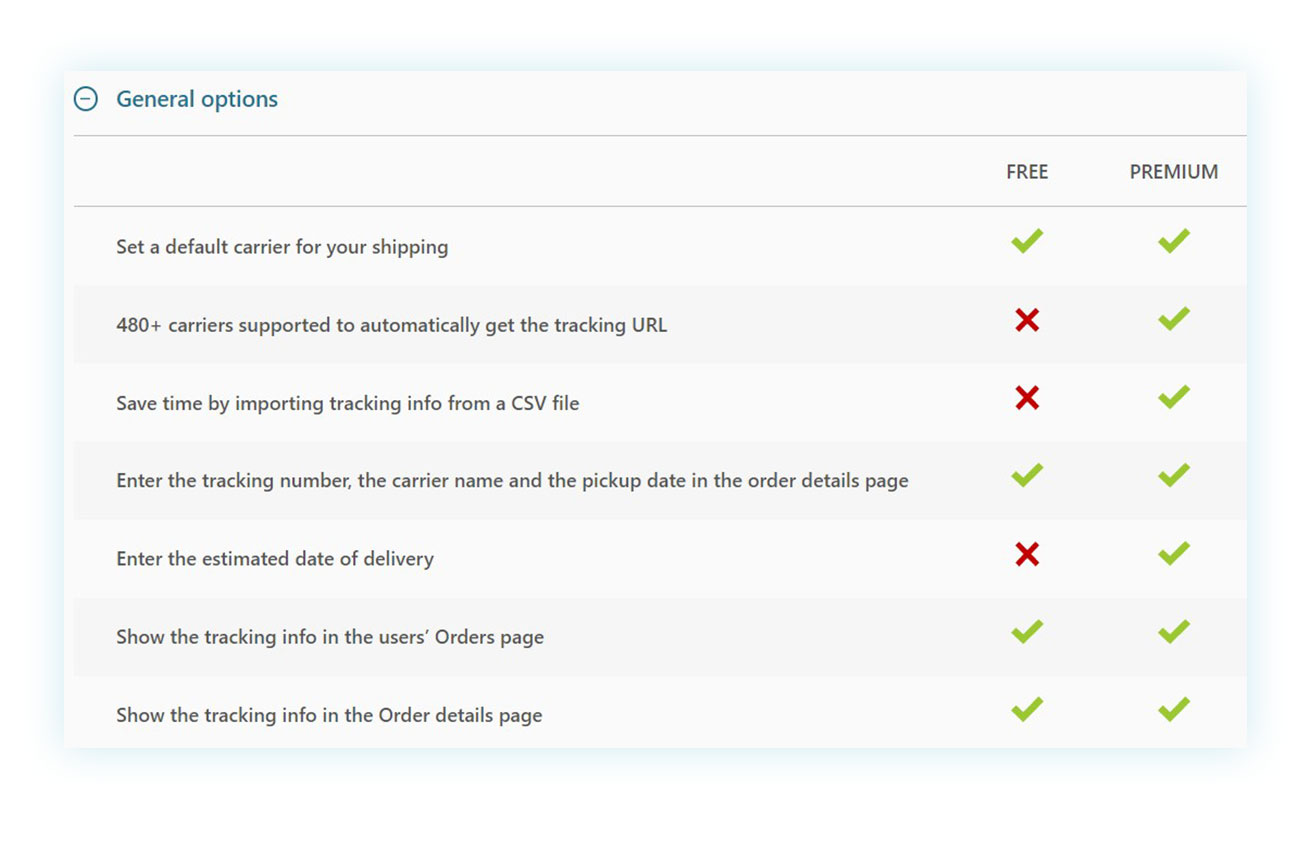 In addition, the premium version of this plugin provides access to a list of 480 couriers, which streamlines and accelerates customer communication.
Want to minimize customer concerns and those endless customer service inquiries? Look no further than the WooCommerce Order & Shipment Tracking plugin!
Download the free version of WooCommerce Gift Cards
Finally, we'll introduce a very intuitive plugin that we consider essential in any eCommerce store.
Gift cards have become a crucial tool for both customers and retailers. Customers can now avoid the dilemma of selecting the perfect gift and shop owners can attract new customers and boost their sales.
Putting this feature on your site is very easy: all you have to do is use the WooCommerce Gift Cards plugin to add them to your shop.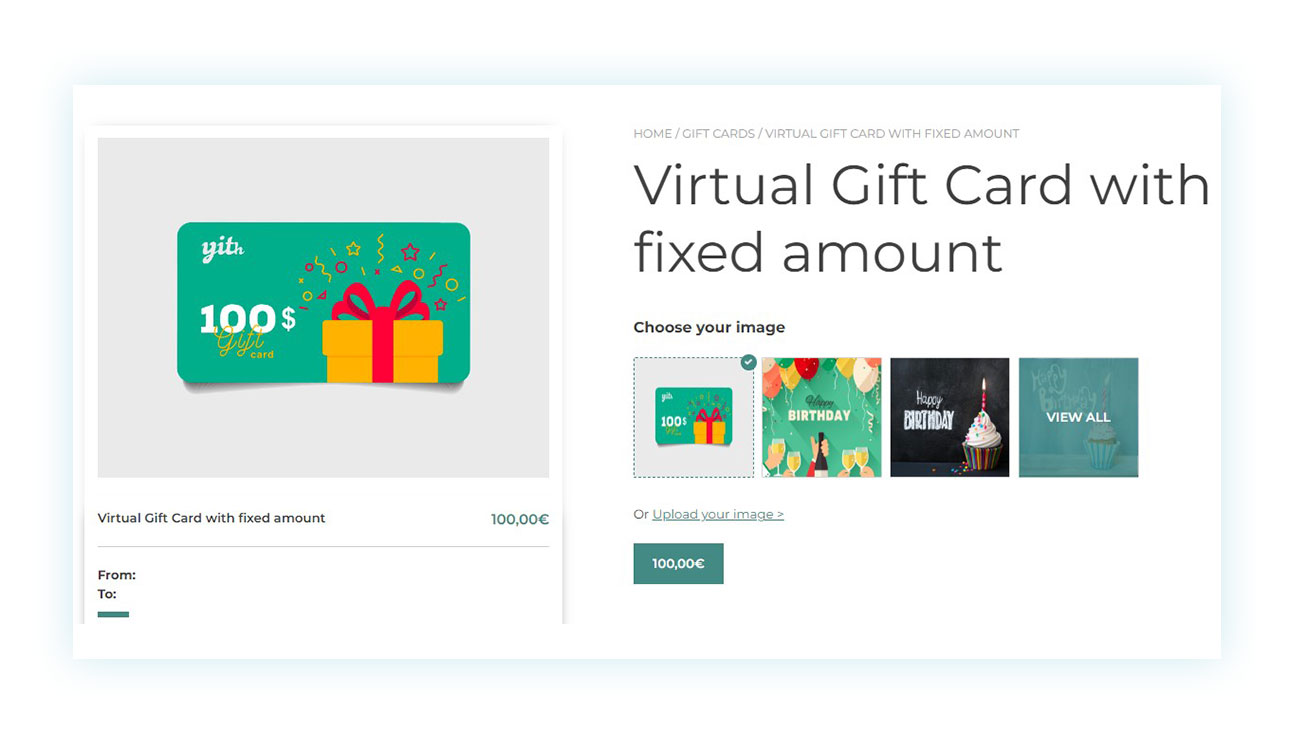 The free version of the plugin allows, among other things:
The creation of infinite physical gift vouchers with one or more predefined amounts, which can be printed and sent to the customer.
The creation of infinite digital gift vouchers sent to the e-mail inbox.
The creation of an image gallery that can be used for certain vouchers or categories of vouchers.
Possibility for the customer to enter a sender name and message inside, as well as to choose the image from the gallery.
Automatic sending of the gift card by email.
Insertion of "Use a gift card" in the shopping cart and checkout page for recipients.
With the premium version, you'll have the privilege of customizing your gift cards to a greater extent, such as uploading your own images. Additionally, you'll have more control over the process, with the possibility of simplifying it through the use of QR codes.
Help your customers with their gifts by installing WooCommerce Gift Cards!
Which is the best free plugin for WooCommerce?
Determining which tool is better than the others can be quite challenging as each of them performs a critical role in an online store.
Nevertheless, we highly recommend using the WooCommerce Wishlist plugin. It's a great tool that provides great advantages for online shops. In fact, we cannot think of any type of online store that wouldn't benefit from using this plugin.
Fortunately, this list exclusively features free plugins, granting you the freedom to experiment with each one on your website and determine which tool meets your needs.
Conclusion
Although WooCommerce can help reduce the initial investment when creating your online store, it's important to rely on free tools and resources in the beginning while you wait to purchase premium versions.
Very often, in fact, the initial sales can be challenging, especially for small businesses with limited budgets. In this article, we have compiled a list of ten plugins that will equip you with the necessary tools to kickstart your online store venture without any hassle.
Choose, download, and install: the results will soon be seen!