If you're reading this, chances are you're either looking to build your own website or need to create one for someone else. And judging by the context, it's safe to assume that it's going to be an eCommerce platform — an online business to sell products or services.
These assumptions are based on the fact that WooCommerce and Magento are top choices to build an eCommerce platform. Currently, WooCommerce is leading the pack with over 6 million websites created on its platform, while Magento has a smaller but still significant number of about 200,000 eCommerce sites built on it.
We've been on a comparative journey for the past few months with a few competitors, including Shopify, PrestaShop, Wix, and now Magento. This article is the latest addition to our series comparing WooCommerce to these alternative platforms.
Throughout this article, we'll examine the pros and cons of each platform to help you decide which one best fits your needs. We'll explore the different solutions available to aspiring online sellers and we'll compare six crucial components of a CMS (content management system) to help you make an informed decision. Let's dive in and find out which option is right for you!
We hope you find this guide useful, and if you have any questions left, we recommend checking out the FAQs section at the end of this article.
Why choose WooCommerce? Pros and cons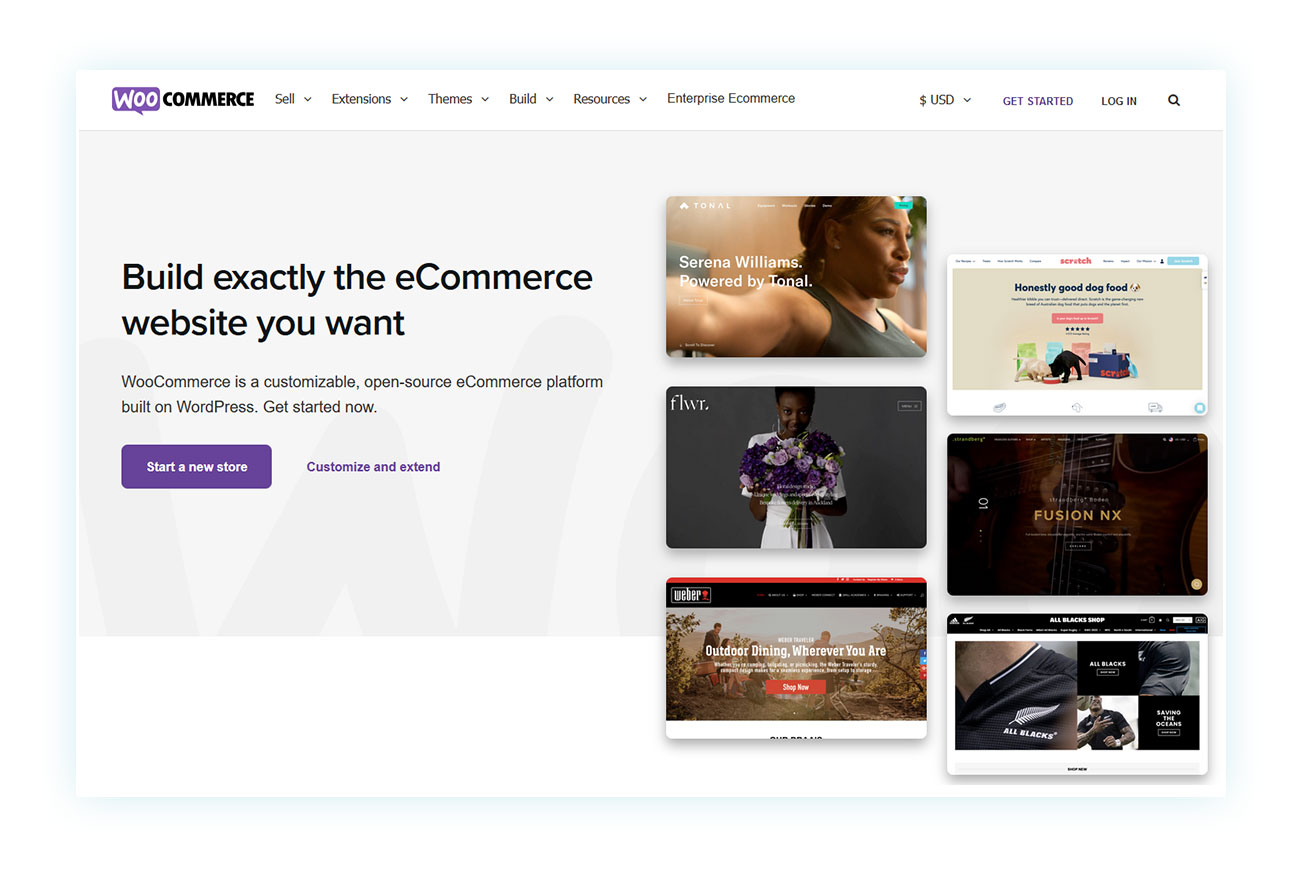 If you've ever ventured into online sales, you've likely heard of WooCommerce. This WordPress plugin makes it easy to transform your regular website into an eCommerce platform with just a few clicks. It's a game-changer for anyone looking to start selling online.
PRO: Setup speed
When compared to other options, setting up an eCommerce store in WooCommerce and getting your products out there is a piece of cake. All you need to do is get the hosting service and within a few minutes, you're good to go! It's that simple!
In addition, WordPress is known for its user-friendly interface that makes it easy to navigate. This content management system uses simple and accessible fields, as well as a drag-and-drop system to streamline the process of creating and editing content.
If you've ever worked with a computer before, you have the potential to create an online store with WooCommerce. However, the platform's advantages go beyond just being user-friendly and easy to manage.
It's important to keep in mind that many hosting services provide a handy pre-installation and optimization service for WordPress/WooCommerce. This means you can simply start by personalizing your site without having to go through the initial setup phase.
PRO: Free tool and plugins
We can say WooCommerce is a popular choice among online businesses due to its ease of use, but the best part is that both WordPress and WooCommerce are free. This means you only need to pay for hosting services and any additional plugins you may require to enhance your website's functionality. It's a cost-effective solution that allows you to focus on what truly matters: building your online presence.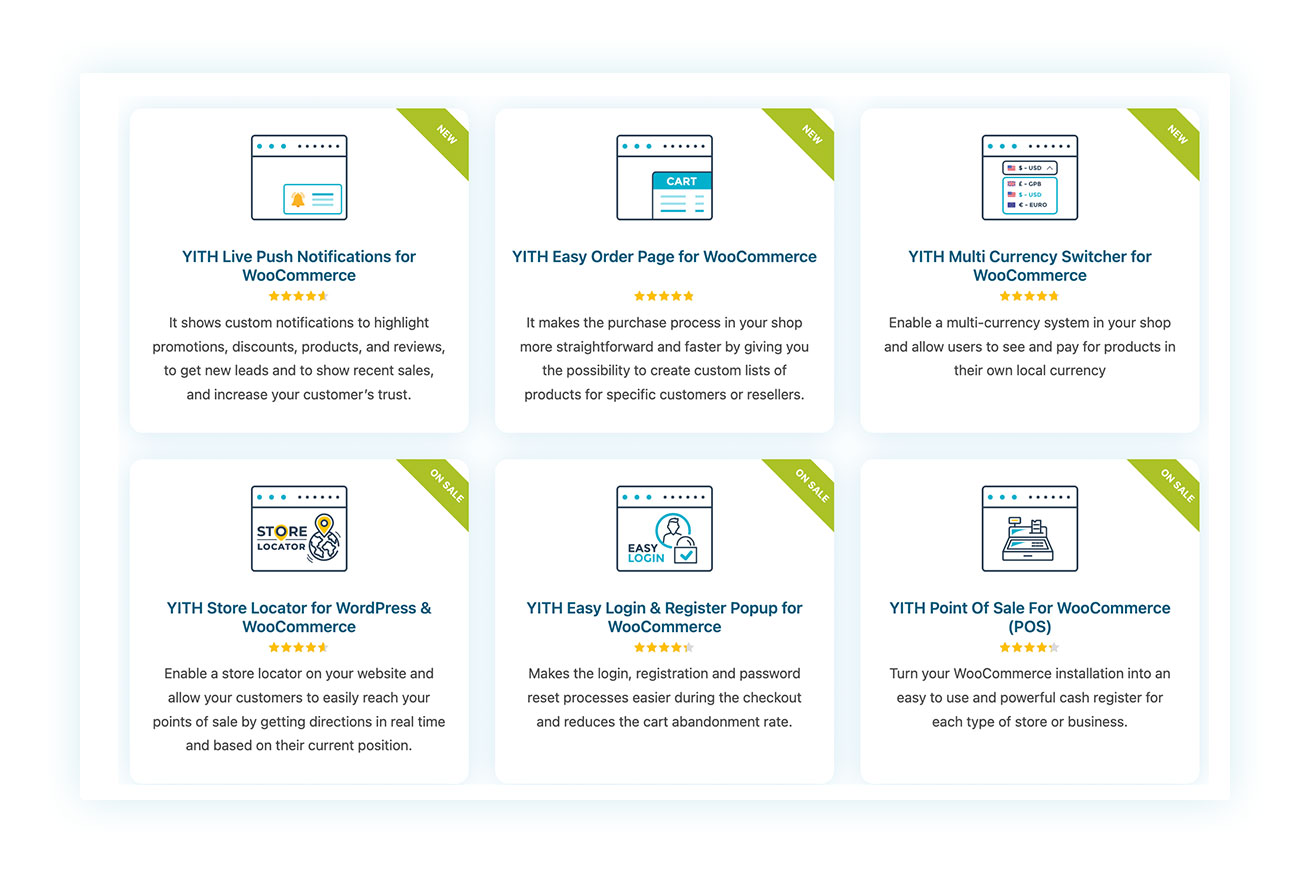 WooCommerce is a cost-free software due to its open-source nature, which means anyone can contribute to its improvement and enhancement. As a result, there are over tens of thousands of plugins available to help you personalize your store according to your preferences.
This particular aspect is closely tied to the following advantage.
PRO: A huge community
Thanks to all the opportunities that can be found in WooCommerce, a massive community has been formed, providing endless resources for store owners. You'll have access to countless articles, videos, tutorials, and other helpful materials to assist you in setting up your store and solving any technical difficulties that may arise.
It's crucial to remember that open-source CMSs don't usually come with direct customer support. As a result, the responsibility of resolving any problems falls solely on the seller — so this large community and resources are definitely not to be underestimated.
It's great to know that millions of people are using the same tool as you because it means you can easily find solutions to most of your problems with just one Google search.
CON: No direct support
As previously mentioned, a potential drawback of this tool is the absence of immediate customer support. This can make the process particularly challenging for those who are new to online sales and need expert guidance. It can leave one feeling a bit lost without having a direct technician to turn to. But don't worry, we're here to help you navigate through any obstacles you may encounter.
There are plenty of online resources available to help you get started with setting up your store (including a guide we created specifically for your initial steps in WooCommerce). Rest assured you won't miss out on any important information with these useful tools at your disposal.
It's important to keep in mind that setting up WooCommerce properly takes some time, but it's definitely worth it in the end. You'll have a tool that's simple to manage and keep up with in the long run.
CON: Attention to human error
Although there may be some drawbacks to using WooCommerce, they can be easily overcome with a little bit of attention. Compared to other CMSs, WooCommerce is a user-friendly and secure tool. However, it is important to note that the level of security may be reduced in certain installations. Let's work together to ensure that your website is as safe and secure as possible!
Many sellers tend to overlook an important aspect of keeping their plugin secure — updating it regularly. By neglecting this aspect, they unintentionally create security vulnerabilities that could potentially hit their users. It's important to stay vigilant and keep your plugins up-to-date to ensure safety and security for your users.
It's only logical for a tool to have its risks tied to its potential, as they both depend on how you use it. Our best suggestion is to make sure to stay on top of updates to have a secure website.
Why choose Magento? Pros and cons
Explaining WooCommerce is relatively simple, but Magento is a bit more complicated. This is because Magento has two versions: an open-source version and a paid version called Adobe Commerce. Magento had a premium version in the past known as Magento Enterprise Edition, but Adobe acquired Magento in 2018 and renamed it.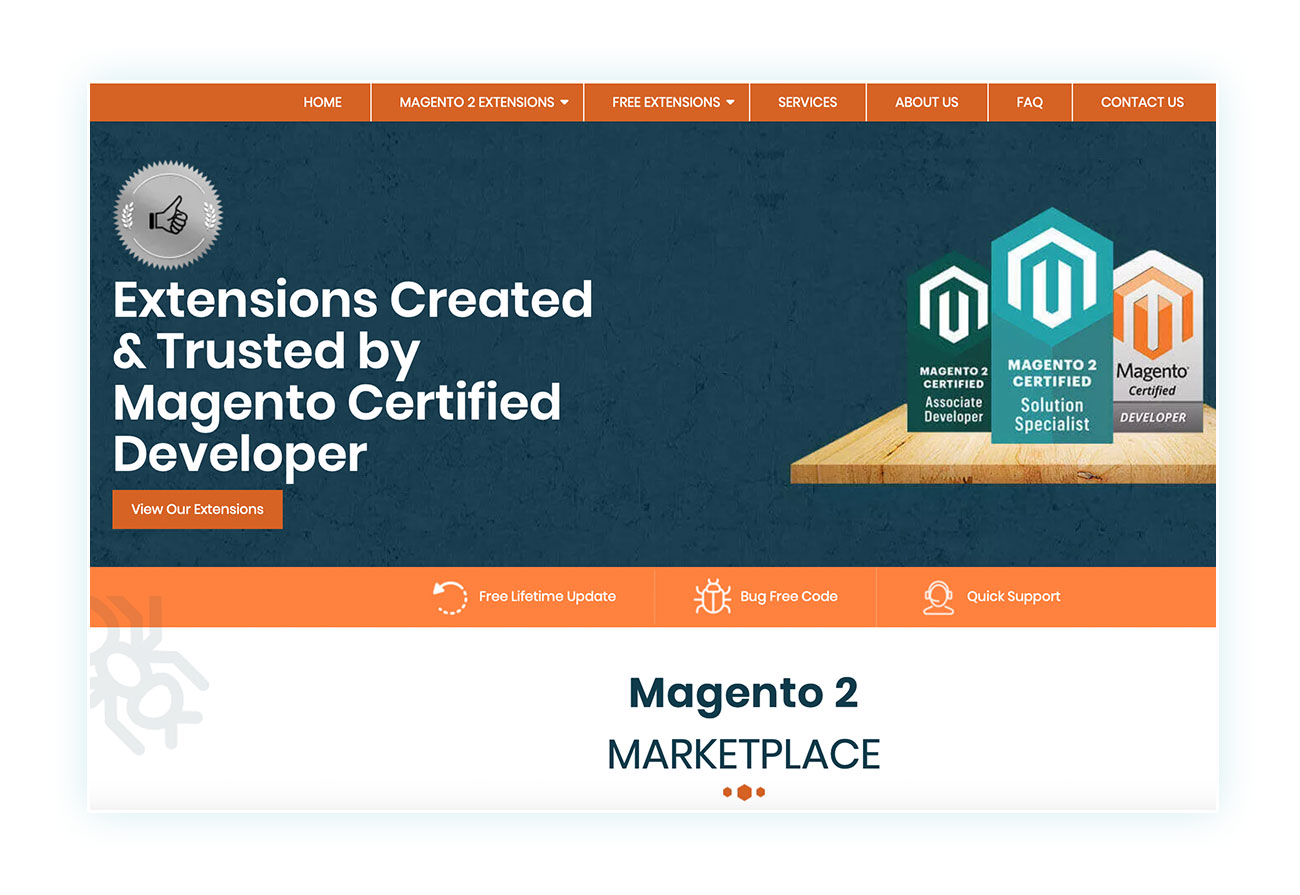 We'll be focusing mainly on the open-source version in our analysis since figuring out the cost of Adobe Commerce can be quite tricky. In fact, the official website does not display the pricing but rather a form you can fill in to request a quote. The minimum estimated cost is around $22,000 per year for businesses with a turnover of up to $1 million.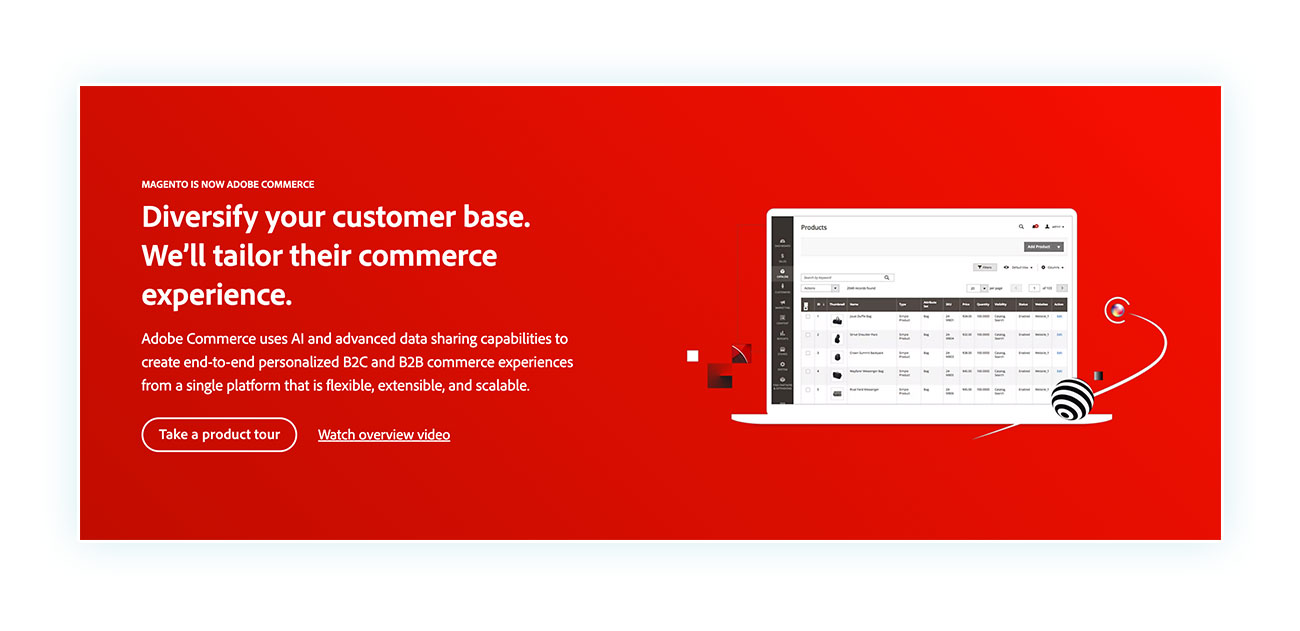 It's pretty obvious that this price is linked to a legit service that has all the key features and functions stores need. However, for the majority of small and medium-sized businesses, this cost can be too high, especially when starting off with online sales.
Because of this, we'll mostly be comparing eCommerce platforms created using both WooCommerce and Magento open source.
PRO: Excellent scalability
When we refer to scalability, we're essentially talking about how well your website handles a lot of visitors. Luckily, Magento is a pro at this and comes equipped with tools that ensure your site runs smoothly no matter how many products you sell.
The server you choose when setting up your website will play a big role in how well Magento can handle high levels of traffic. However, if you opt for a web hosting provider that has at least 32 GB of RAM, you should be good to go for any kind of traffic that comes your way.
PRO: Customization
While Magento may not have as many resources as WooCommerce has, its community is still quite big and offers lots of resources to help you customize your store to your liking.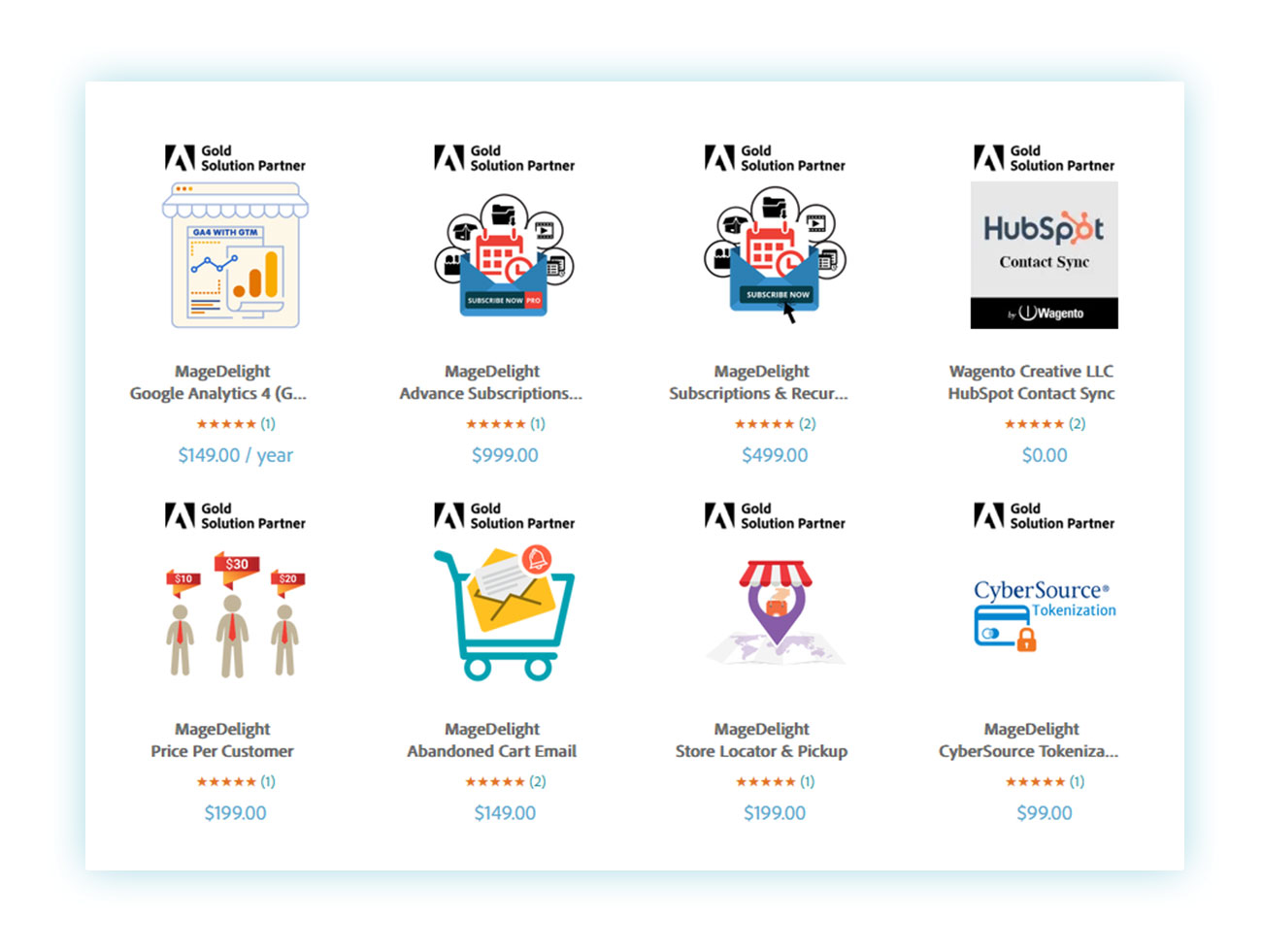 There's a good deal of helpful resources available online to guide you through any doubts or issues you may encounter while setting up your eCommerce store. With a little research, you're sure to find all the information you need to get your shop up and running smoothly.
CON: Higher cost
It's important to note that often, even if you don't opt for the premium Adobe Commerce solution, you may still need to add extra features to your store using paid extensions. Don't worry though, there are plenty of options available to help you achieve your goals.
The same goes for WooCommerce as well, but typically, the cost of Magento extensions is higher than other options. It's important to consider all costs associated with this, as they can add up and have a significant impact on your budget.
CON: No support
In this case, Magento has a greater disadvantage compared to WooCommerce, as it lacks the vast amount of online resources and documentation that WordPress plugins have. This makes it difficult for Magento store owners to achieve their desired results.
If a seller encounters any problems or mistakes while using Magento, it might be harder for them to find help online. This could ultimately affect their income and reputation negatively.
CON: Scarce developers
This is related to the previous point, even though there are plenty of sources advocating for Magento, it's quite common for admins to hire a developer who can design a customized tool for their eCommerce store. It's a fact that locating developers who have worked on Magento is not as easy as finding those with expertise in WooCommerce, especially online.
Although this disadvantage is not always relevant, we thought it was important to include it in our comparison. We understand that different situations may require a different analysis.
Two eCommerce giants, face to face
Although we briefly went through their qualities, we believe that it's more beneficial to evaluate and contrast them to determine which tool is superior. Therefore, we decided to identify six key features that are crucial in a CMS and use them as a basis for comparison between the two eCommerce platforms. Let's dive in and see how they measure up!
Ease of use
When comparing WooCommerce and Magento, the primary factor to keep in mind is how user-friendly each platform is. However, it's worth noting that many people who are weighing the pros and cons of these two options are likely doing so because they haven't had much experience with either one. Creating an online store from scratch may seem like a challenging task — in such a situation, what's the ideal solution?
As we have already mentioned, WooCommerce places a great emphasis on user-friendliness, just like its companion platform WordPress, known for its ease of use. Even individuals with no coding expertise can set up a fully-functional online store within a few days.
Although it's possible to hire experts to set up your store, the usability of a CMS can have an impact on the store's management in the long run. On the other hand, Magento is on the complete opposite side of things. It's typically suggested for top-notch shops, not just because of its potential to grow (which we'll go over in a bit) but also due to how complex it is to manage.
Using Magento doesn't require you to be a genius, but if you're new to online sales, there might be a few bumps in the road when it comes to learning how to use it. No worries though, it's not an impossible task.
We can definitely say that when it comes to user-friendliness, WooCommerce is the winner.
Scalability
Let's take a moment to focus on Magento's main advantage to balance out our previous discussion about WooCommerce's strengths. After all, it's only fair to give Magento its due credit.
WooCommerce doesn't really have any big problems with scalability. It's actually a pretty efficient platform that has tons of external tools and plugins available to help make it perform even better. Naturally, this leads to numerous options for the seller, so it's crucial to know which tools are appropriate for each situation.
When it comes to scalability, Magento is the real deal. It's built to handle an unlimited number of products with top-notch performance. Plus, it even comes with additional tools to make this aspect even better.
It's essential to keep in mind that Adobe Commerce is a game-changer when it comes to handling large-scale operations. If you're dealing with stores having a vast range of products for sale, then investing in the premium version of Magento is a wise decision that will pay off in the long run.
Don't forget that scalability is only really important for stores that have loads of products or marketplaces that involve lots of sellers and items. For most eCommerce businesses with catalogs that have tens to hundreds of products, we haven't seen any major differences between WooCommerce and Magento.
However, in the end, we can say Magento wins with its superior scalability, albeit at a relatively higher cost.
Costs
When selecting a tool to create your online store, it's important to consider the costs involved in setting it up and keeping it running. It wouldn't make sense to invest in an online store if the costs exceeded the profits.
This results in a tie: basically, both CMSs are free and you can create your store without any restrictions. It's important to keep in mind that setting up your store won't come without any costs. To get started, you'll need to invest in a hosting service, purchase a domain, and maybe even consider buying some premium plugins to enhance your store's features or add new ones.
When it comes to both WooCommerce and Magento, they have options for free and paid plugins so there isn't a major contrast between the two. If we had to pinpoint one difference, it could be that the WooCommerce community has more plugins and developers available, which could potentially lead to more negotiating opportunities. However, this isn't a significant enough factor to sway the outcome in favor of one over the other.
Security
Many sellers are rightfully worried about security when it comes to eCommerce. Market analyses show that it is one of the most vulnerable portals to attacks, making up 32.4% of the total. It's important for sellers to prioritize security measures to protect themselves and their customers.
When it comes to this matter, how do WooCommerce and Magento stack up against each other?
First off, let's keep in mind that we have left out Adobe Commerce as it is a pricey and top-tier service, but it's only logical to assume that it has an appropriate security level.
Regarding the security of the free options on both eCommerce platforms, we can say that they have a decent level of security. However, according to a Common Vulnerabilities and Exposures analysis, there may be some potential security vulnerabilities on both sides.
Magento has a bit of a risk factor as it has a total of 221 vulnerabilities.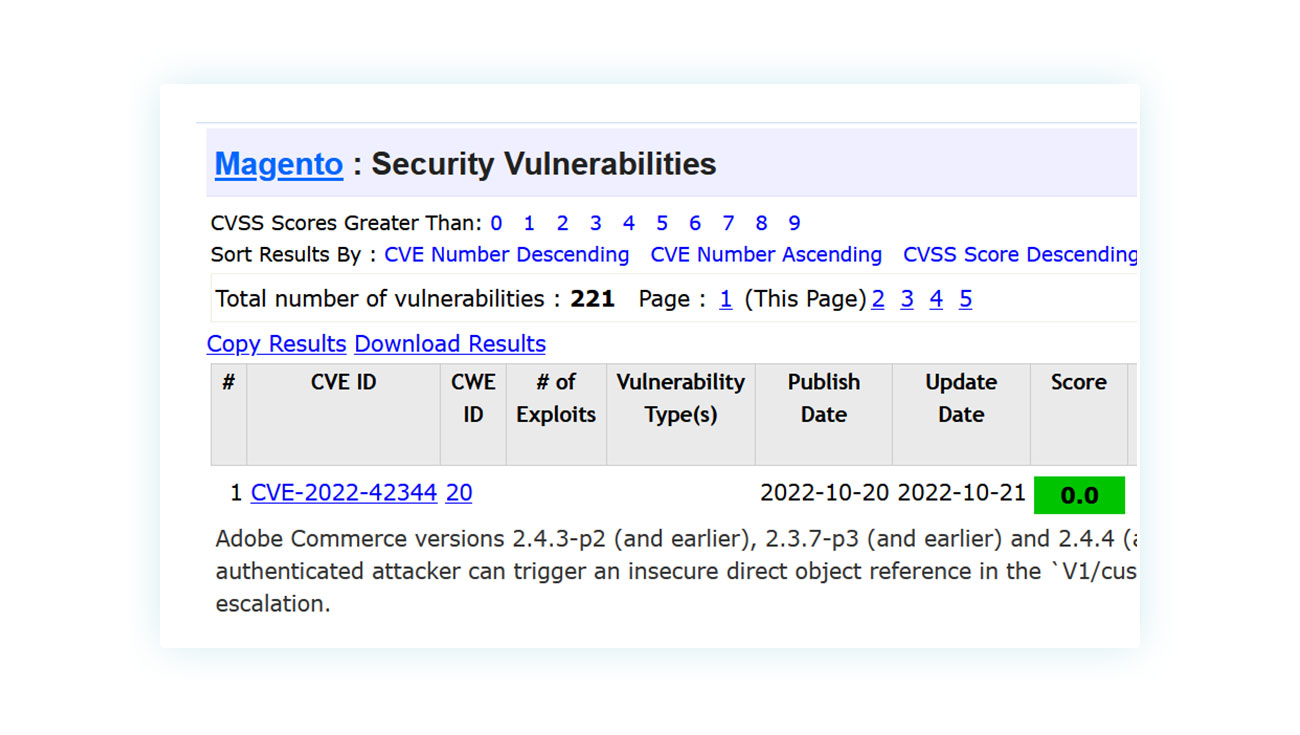 WooCommerce has a lower count of only 20 in the ranking, but it's important to consider the vulnerabilities that come with WordPress which can increase the overall number.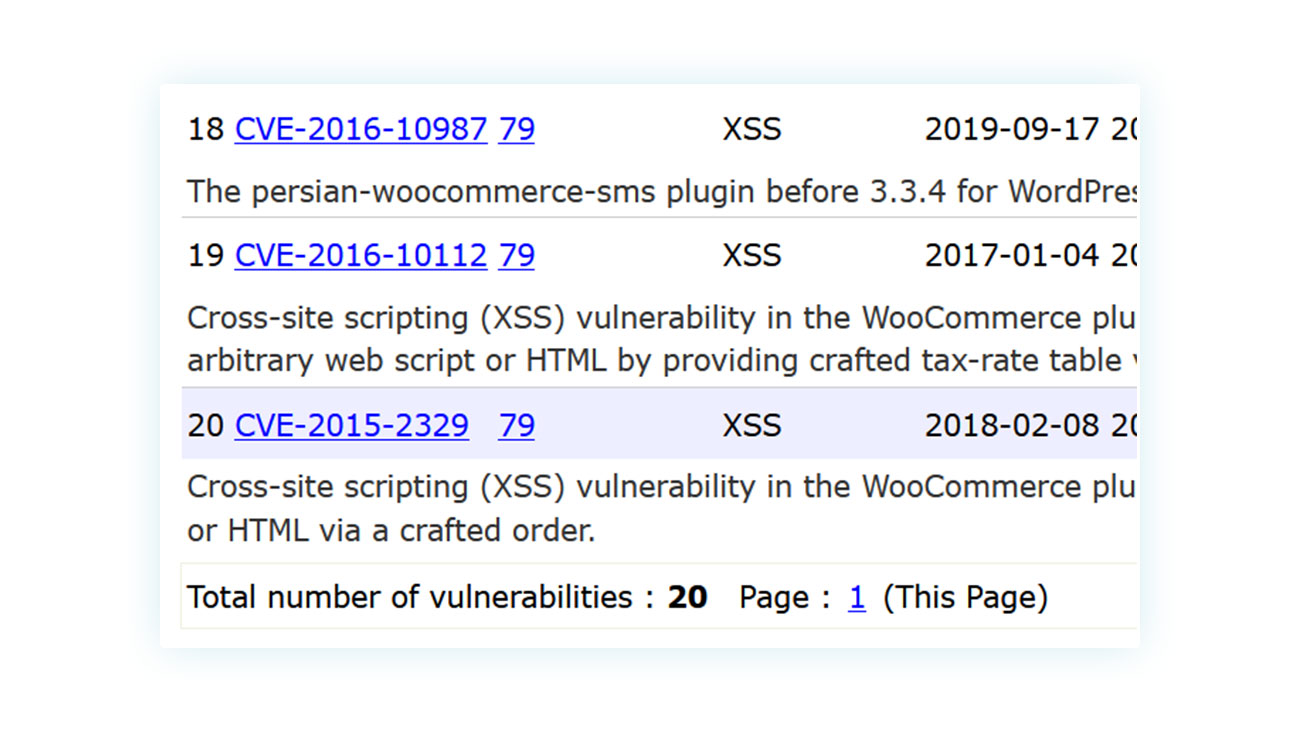 Regardless, it's important to note that these statistics may not hold much significance by themselves. They could simply be a reflection of vulnerabilities in outdated versions of the platforms. That's why we suggest taking the following steps:
Make sure to use quality plugins that come from trusted sources.
Make sure to keep all sections of your website up to date, including themes and plugins.
Go for a reliable hosting service that won't let you down. Don't compromise on quality!
If you follow the necessary measures, you can attain a high level of security on both platforms. Therefore, we consider this part of the comparison to be a tie.
Extensions and plugins
When it comes to setting up your online store, plugins and extensions are your best friends. They give you the freedom to personalize your store in any way you want. You can even create a marketplace where multiple sellers can sell their products on a single platform. So, let your imagination run wild and create a unique online store that stands out from the crowd.
Both WooCommerce and Magento have a lot to offer. At first glance, Magento may seem to have more options, but it's important to keep in mind that WooCommerce is actually a WordPress plugin. This means that it can benefit from almost all of the plugins available on the WordPress platform.
WooCommerce is the perfect platform for your website as it offers a wide range of plugins that can add various features to it, making it more interactive and user-friendly. With these plugins, WooCommerce easily outshines Magento.
Don't forget that not all plugins are reliable, so it's always a good idea to do some research before adding any external applications to your website. Keep this in mind to avoid any potential issues down the line.
Support and community
Because both open-source solutions lack direct support, they can be challenging for businesses. Magento offers this type of support exclusively in the Adobe Commerce package, which may not be suitable for small or medium-sized businesses.
To address this, we want to mention both the Magento and the WooCommerce communities, where everyone using these platforms come together to assist each other online.
The abundance of resources available to sellers is overwhelming, including articles, guides, videos, documentation, and more. If you need help, you can ask other users online and wait for their response. There's always someone willing to lend a hand!
Certainly, the resources available for WooCommerce are directly proportional to the number of users. This implies that WooCommerce has a greater pool of resources compared to other tools.
Conclusions
In this comparison, it's clear that both CMSs have their strengths and weaknesses. Ultimately, there's no universal answer to which one is better than the other one since it all comes down to your specific needs.
When it comes to creating an eCommerce store, WooCommerce is often the go-to choice for most people, especially if you're new to the game. It's a reliable platform that's easy to set up and manage, making it an excellent option for beginners.
If you're working on setting up a store for a huge company that has a ton of products to sell, then the premium version of Magento might be just what you need. It offers more services and can handle bigger loads, but it does come at a higher price and require some technical skills.
FAQ
Q) Is it possible to use WooCommerce or Magento for a big online store?
A) Yes, both platforms perform well even under high loads, but Magento recommends its paid version for top-tier stores with greater scalability requirements.
Q) How to integrate an inventory management system into WooCommerce or Magento?
A) Both platforms already include an inventory management system.
Q) How to manage discounts and promotions in WooCommerce and Magento?
A) Even though CMSs come with built-in promotions systems, there's always room for improvement. Luckily, you can make use of plugins like Dynamic Pricing and Discounts on WooCommerce to take your promotions game to the next level.
Q) How to create a membership site using WooCommerce or Magento?
A) In both cases it is possible to use plugins to get this function. On Magento, you can use Subscriptions & Recurring Payments (with a rating of 3.7/5), while on WooCommerce you can use Subscription (with a rating of 4.4/5).
Q) What are the best marketing strategies for WooCommerce and Magento?
A) As these CMSs offer complete store control, it's important to pay attention to all the details, including the color scheme and additional features. The Wishlist feature, which is wildly popular on Amazon, is the top recommended feature to include.
Q) What are the best practices for site security in WooCommerce and Magento?
A) Use trusted plugins, opt for a top-notch hosting provider, and ensure that all components of your website are regularly updated.
Q) Can I use WooCommerce or Magento for a multivendor eCommerce store?
A) Yes, in both cases it will be necessary to use an external plugin. On Magento, you can use Multi Vendor Marketplace (with a 4.4/5 rating) and on WooCommerce you can use Multi Vendor (with a 4.5/5 rating).
Q) How to migrate an eCommerce site from WooCommerce to Magento or vice versa?
A) If you want to migrate your website from Magento to WooCommerce, it's a piece of cake. You just need to export the data from Magento in CSV format and then head over to WooCommerce > Products to import the file you just downloaded. However, if you want to move in the opposite direction, you'll need to get a WooCommerce export plugin and import it into Magento, which might require importing multiple files. Don't worry, it's not too complicated!