Some of the plugins in our catalog have played an essential role in YITH growth and have been always considered our flagships, as is the case of Wishlist which is about to reach one million active installations on WordPress.org, making it the most-used wishlist plugin in the world. Or our Gift Cards, the only one on the market that allows creating themed image galleries to customize gift cards (just like Amazon does), or also Ajax Product Filter with its advanced product filter system and a feature currently available only in our plugin: a 100% mobile-friendly design.
These plugins have something in common: in the last years, they have been massively redesigned – for a better appearance and usability – and refactored – to optimize code and performance. These updates have been their turning and strong points since the new features and UX/UI made them the best plugins in the WooCommerce ecosystem.
Since September, we have started to work hard on a new version of our plugins Points & Rewards (with new options that will let you take advantage of gamification principles in any e-commerce!), Badge Management and Booking & Appointments.
Of these three work-in-progress plugins, this is the first seeing the light of day: with this article, we launch the official release of version 3.0 of YITH Booking and Appointment for WooCommerce!
One of our catalog's most-popular plugins – thanks to the many (many many!) features and the exceptional versatility to manage any kind of bookable product or service – that, from today, is even more complete and easy to configure.
Improvements in version 3.0
UX/UI
With the new version of our YITH Booking and Appointment for WooCommerce, we took some time to completely improve the user experience, redesigning the settings panel to make the plugin configuration more intuitive.
Moreover, to correct the scattered options placed all over, we have merged all the plugin management panels – as well as the bookings list -right inside the "YITH Booking" menu.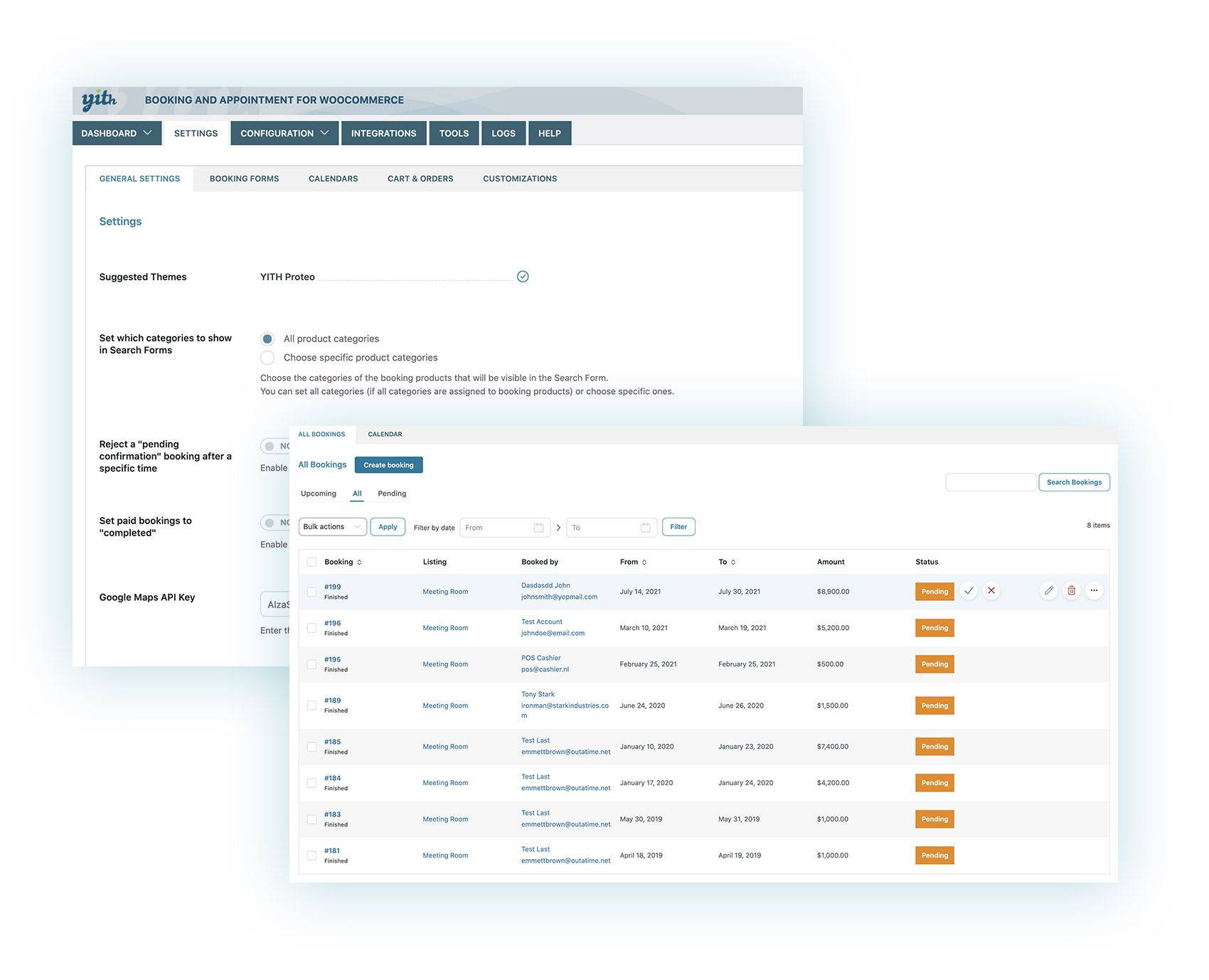 Code optimization
At the same time, about the development, we have extensively worked on code optimization to improve the plugin performance, essential for those shops registering hundreds or thousands of bookings.
Keeping e-commerce sites' speed and loading time intact when our plugin is installed has been an important goal to which we devoted time and attention.
Easier management of product availability
Many of our users were experiencing difficulties with setting the availability of a bookable product or service. So, we took your feedback into account to simplify this configuration by adding, for example, an option to define the default availability of a product with the possibility to easily set specific time slots for hourly and per-minute bookable products.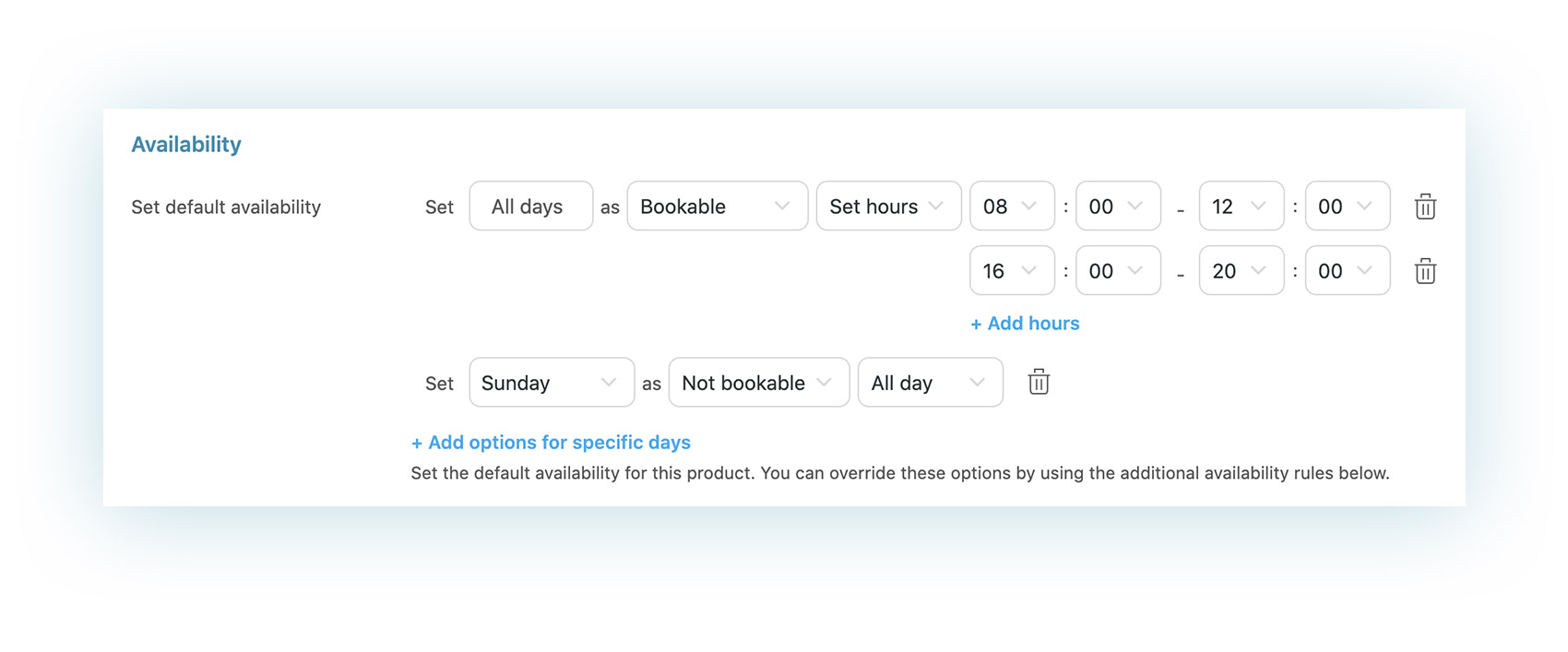 Now, you can easily set days and opening/closing times in the availability advanced rules through options of the same type.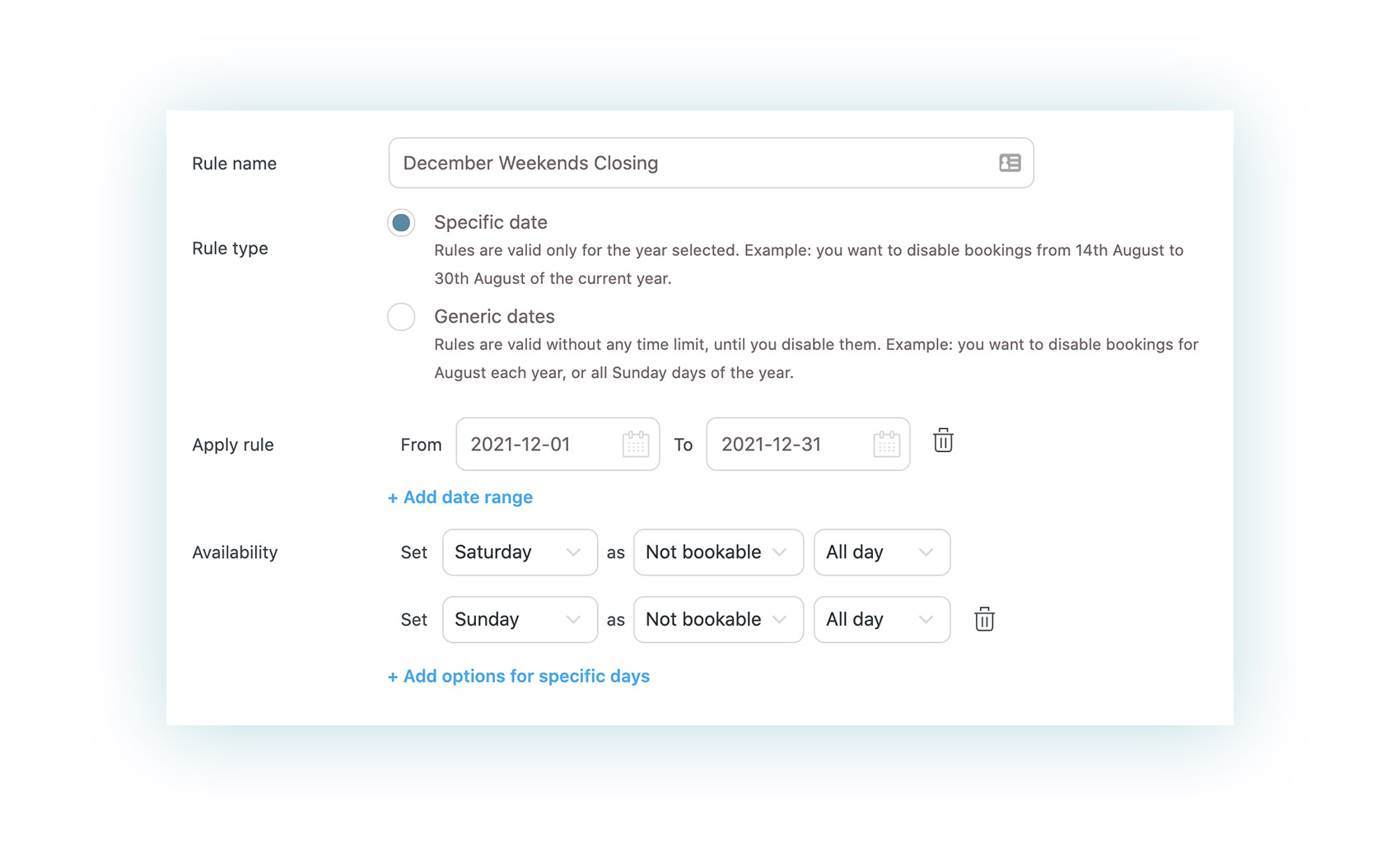 New search forms
Search forms are the "soul" of the plugin since they allow users to search a product or service based on the availability, services, location, and much more.
We have improved the functionality and style of date selectors, people, services and added a new horizontal layout, a must-have of many sites that offer hotel and travel packaging bookings.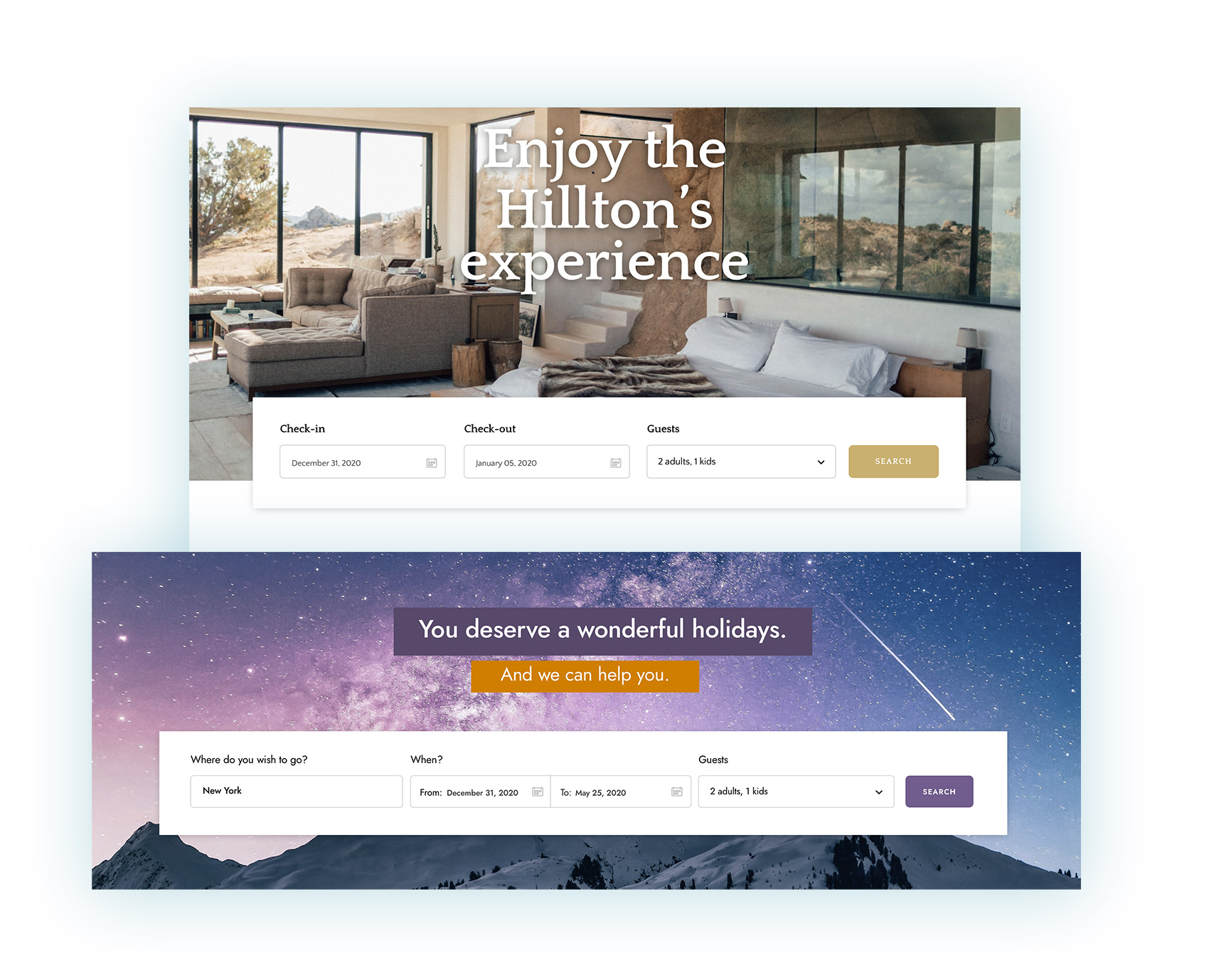 More customization options
There are so many options added to the plugin to customize the shop in an advanced way. For example, there is a new option to redirect customers to the Checkout page when clicking on the "book" button bypassing the standard add-to-cart process, often not suitable for bookings.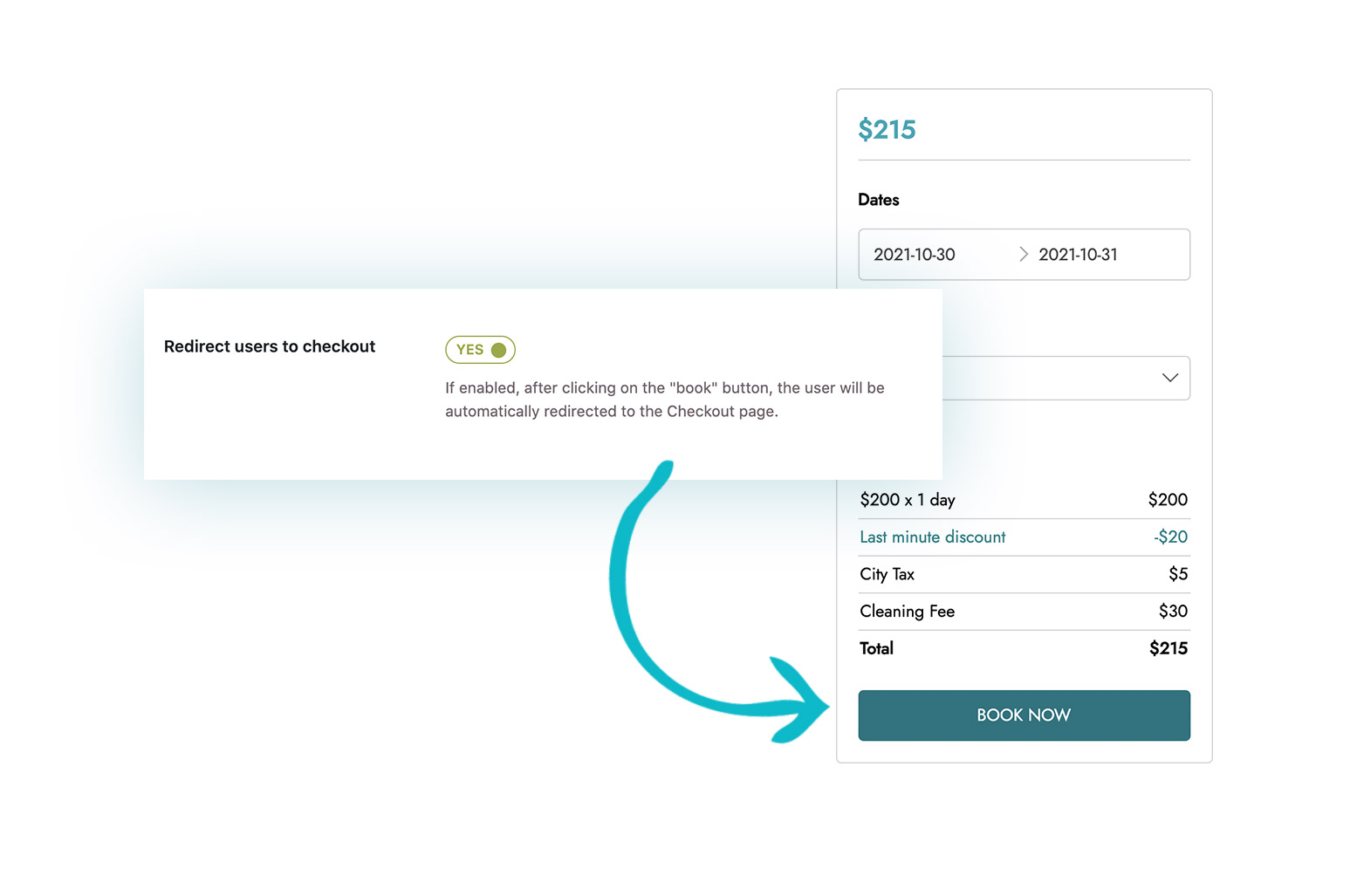 Another interesting addition is the possibility to choose whether to include service prices and extra costs to the product price, and insert the booking unit to the label: the usual, and not so clear, $29, $50 and $300 of the previous version will become €29/week, €50/day, €300/month.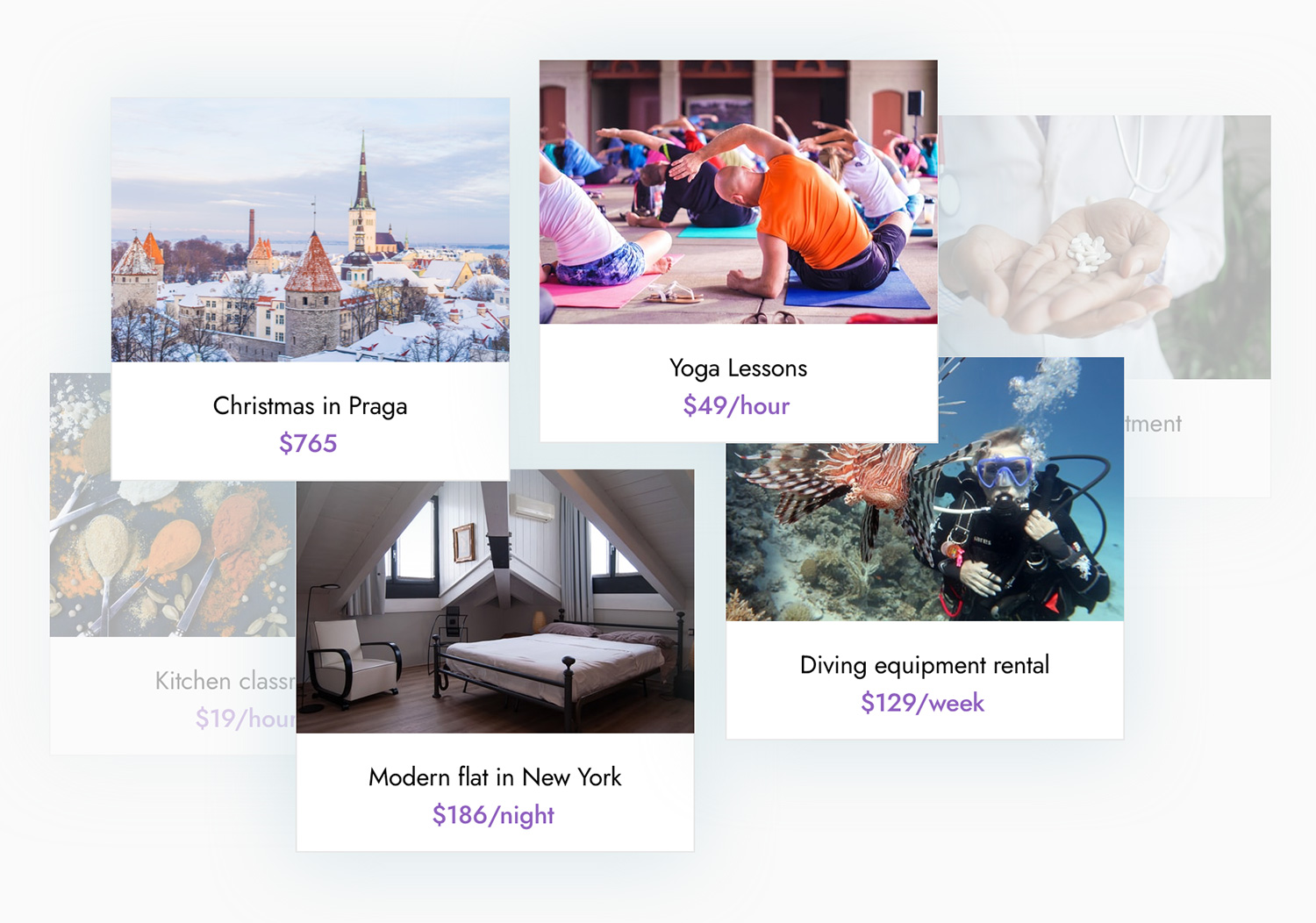 But these are only a few examples of the improvements; listing them all would take too long, therefore, to learn more, we invite you to take a look at the new live demo of YITH Booking and Appointment. 😉
A new style of email notifications
We have also worked on email notifications, those sent to the admin and those sent to customers. The style was a bit outdated and certainly needed some adjustments. We redesigned them all to make them more user-friendly and professional.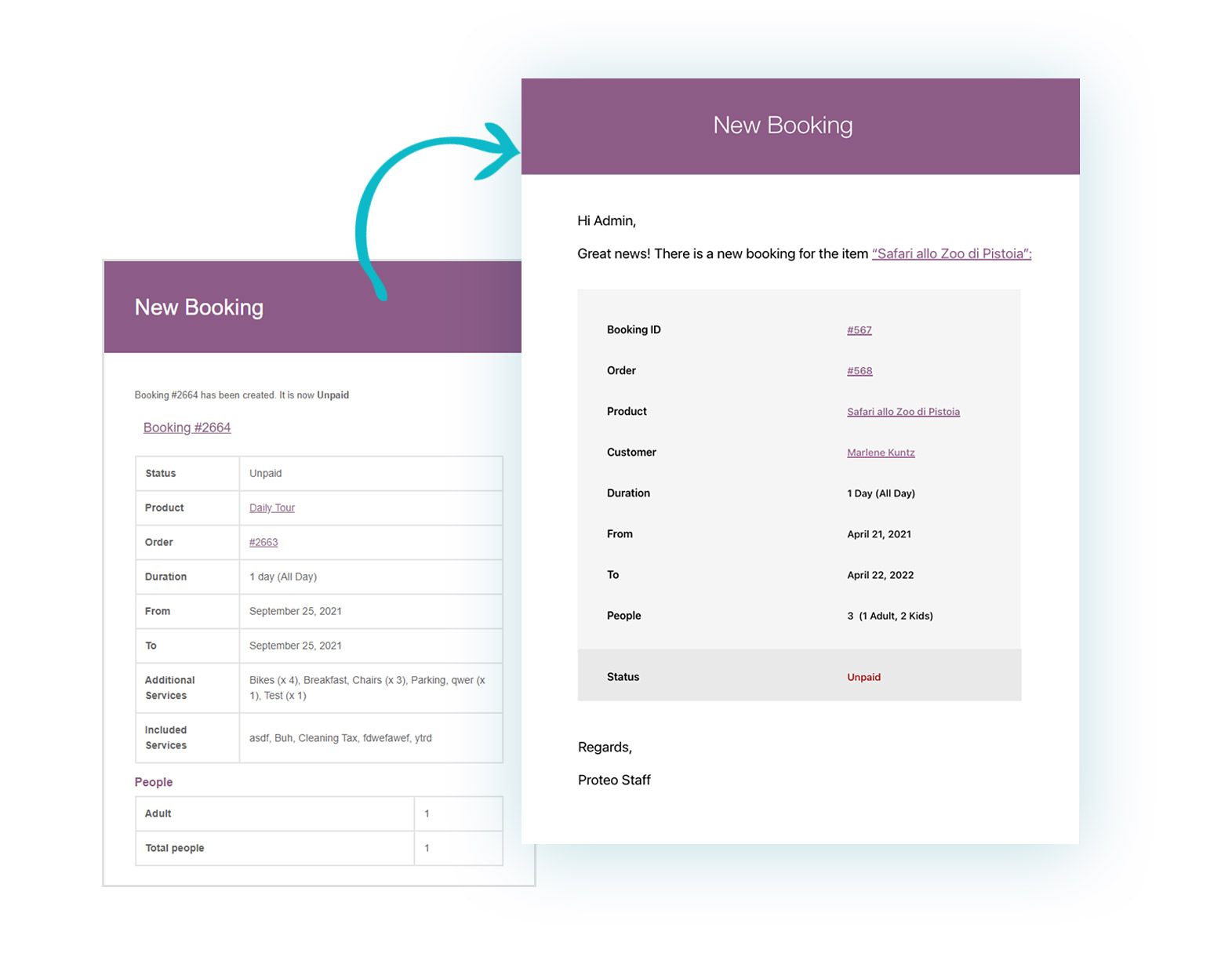 Integration with the free theme Proteo and new "Booking" skins
A big novelty of version 3.0 of YITH Booking and Appointment for WooCommerce is without a doubt the integration with our free theme Proteo, downloadable on this page or WordPress.org.
Proteo is a modern, elegant, and light theme; we use it in all live demos of the redesigned plugins, Booking included.
We have designed and developed three skins: Proteo Booking Apartments, Proteo Booking Hotel, and Proteo Booking Travel.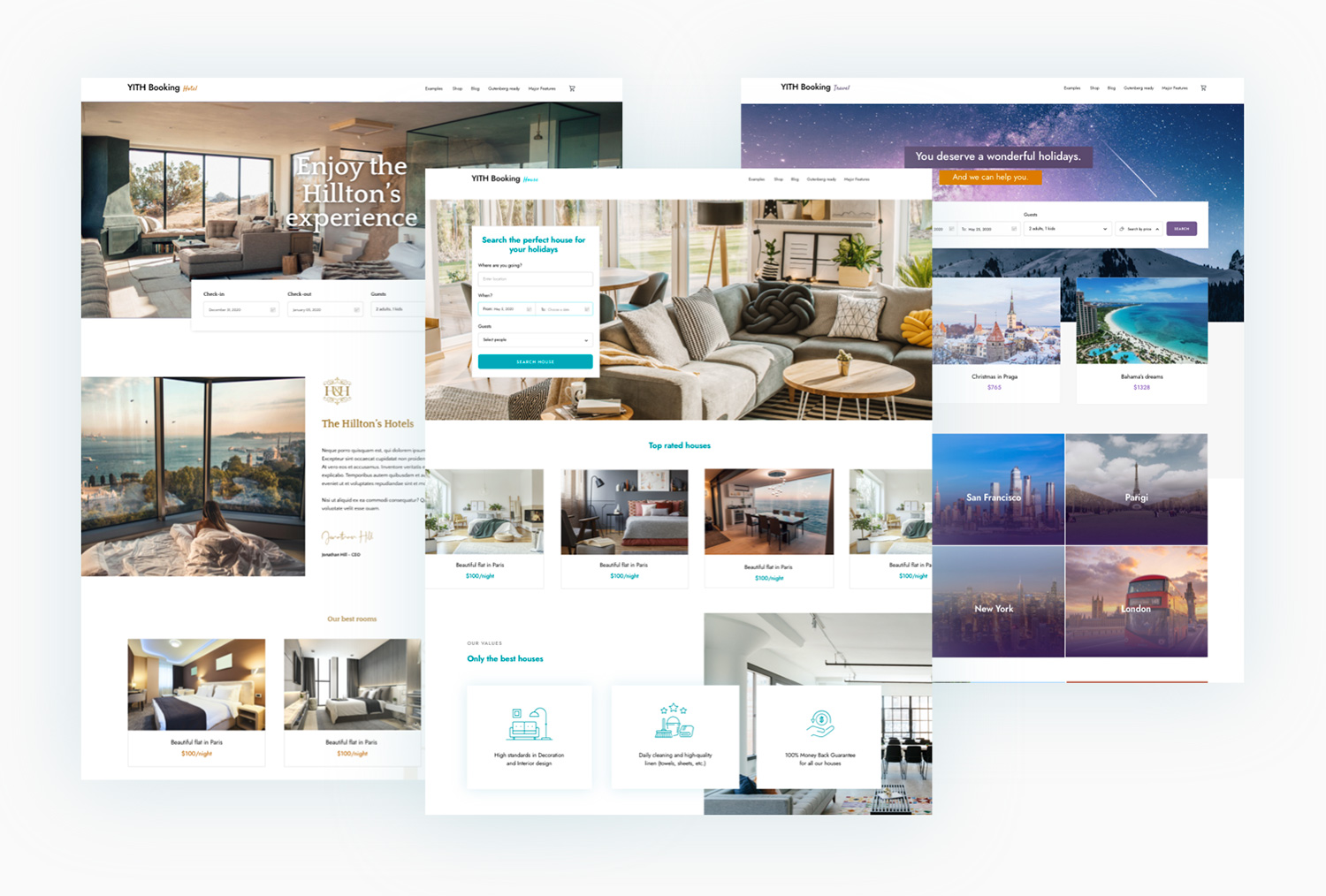 How does it work?
It's very easy; when installing our plugin, you will find an option in the "General Settings" panel that allows you to install the Proteo theme. Once installed and activated, you will be able to import the configuration and demo content from the theme panel choosing the skin more suitable to your needs. In this way, you will create your shop without starting from scratch, sparing time and work.
Integrations with other YITH plugins
Proteo is not the only YITH sibling with a good relationship with YITH Booking and Appointment for WooCommerce. With this update, we have implemented the integration with YITH Multi Currency Switcher for WooCommerce – to automatically converts prices of bookable products and services- and improved the existing integration with YITH WooCommerce Deposits and Down Payments through which users can pay a deposit when booking a product/service.
In conclusion…
We are so enthusiastic but also aware this update is not the arrival point: there are many other options we will start to include (from tomorrow…because we never stop!) and version 3.1 will bring lots of novelties. Yet, this update remains a goal to be celebrated as we are making this plugin, little by little, amazingly powerful and versatile.
Take a look at the new landing page of YITH Booking & Appointment for WooCommerce and the live demos (there are five!) created with Proteo.
Suggestions? Feedback? Doubts or requests? Leave a comment to share your opinion and…we will keep you up-to-date! 🙂