For many people, 2022 marked the return to "normality" after two years of the pandemic. At YITH, we also started traveling again (to attend some WordCamps and meet with colleagues and customers) and organized a team building that allowed us to meet in person and strengthen the team's unity.   
But it was also a year of great changes to which we reacted with enthusiasm and determination. After Newfold's acquisition in March (in case you missed it, you can find the official press release here), our main goal was to improve all aspects of YITH, from the plugins we sell to the customer service (which has always been one of our strengths) and from the usability of our website to the emails we send to our newsletter subscribers.
We have always been ambitious: we wanted to make YITH the leading independent platform in WooCommerce plugin development, and we are proud of the work we have done over the past year. Not only because of the quality of our plugins—our best sellers are and remain the best available ones online in terms of design and functionality—but also because of the relationship of trust and familiarity we have developed with our customers.
Many have told us that thanks to our plugins they were able to start selling online quicker than expected and that their e-commerce allowed them to survive the pandemic crisis. We know that it is a reality shared by many of our customers; we like to think that we have had a small role in the victories of those who, despite everything, have achieved it, and we are proud of it.
What's new in our plugins
2022 was definitely the year of updates. We redesigned and updated 18 plugins in total, making each one the best available in the market in aesthetic terms (for online buyers, the eye is key), usability (making plugins setup simple even for those unfamiliar with WordPress wasn't easy, but we did it!), and functionality.   
Some of our most popular plugins include options that in other markets are scattered among three or four options that need to be purchased separately and also, usually, generate compatibility problems. Instead of focusing on quantity (and developing fewer plugins with fewer options and forcing our customers to buy them all), we focused on quality, adding new features and constantly monitoring performance.
The sales of two plugins we redesigned, Ajax Product Filter and Product Add-ons, have increased to the point of placing them in second and third place in the ranking of best-selling plugins. Hard work always pays off 😉.
As for the free plugins, for the third consecutive year our Wishlist remains on the podium. With almost a million active installations, it is in fact the most used wishlist plugin in WooCommerce. To think that it's being used in many famous VIP e-commerce sites… but we can not give names for discretion!

Today, nearly two and a half million people use our plugins. It's an accomplishment we'll never stop celebrating. Thank you for your trust!
News about the company and the future of YITH
In many aspects, 2022 was the year of records. For example, thanks to our Black Friday offer, we had our absolute daily sales record and 10% more sales than last year's Black Friday.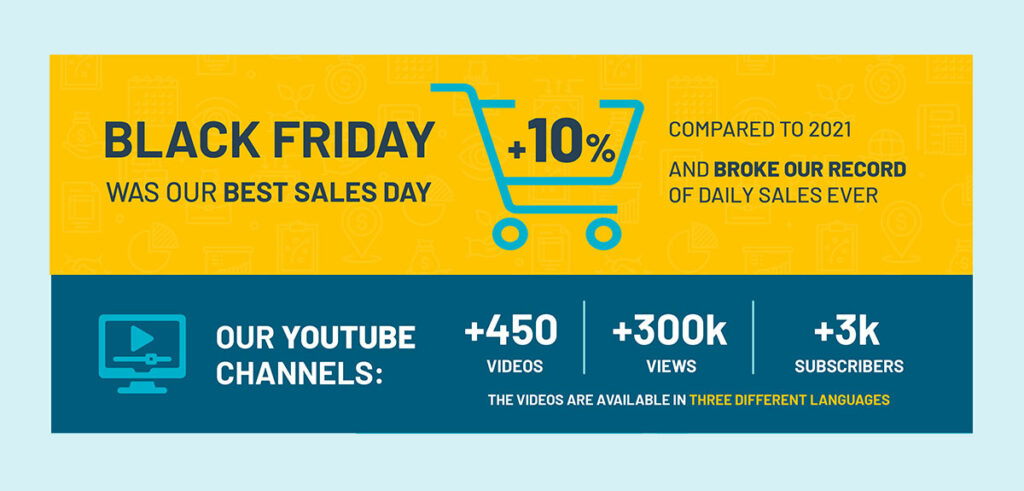 We also continued to expand our YouTube channels, available in three languages, where we publish videos that show how to set up our plugins step by step. The videos have improved the support service we offer to our customers: 45% of those who buy our plugins prefer to see our video tutorials and understand real use cases rather than read the documentation. A trend we imagine will grow over time.

As mentioned in the introduction, the return to normality has allowed us to be more present in the community and sponsor 7 WordCamps (and, in many cases, participate in person as well). The biggest adventure of this year was undoubtedly our trip to California (United States), to attend the WordCamp US in San Diego. If you missed the review about this event, check out this article 😉
The YITH team: a growing family
The YITH team is the heart of the company and it's what has allowed us to grow over the years. Each person who joins the team is carefully evaluated, not so much from the technical or professional point of view (there is always time to train and learn), but rather from the human point of view, from the attitude they show. We hire empathetic people with something to contribute, proactive, and willing to immediately feel part of the "family".
We do not like ambition by itself, competition, non-constructive criticism, the inability to question oneself, or those who work focused only on themselves and their objectives if this endangers the serenity or calm of others.
We have people located in different parts of the world: Italy, Spain, Argentina, Colombia, Venezuela, and Greece. Physical distance does not matter when minds are open and we all share the same values.
We share the successes, the sorrows, the struggles of those who work with us, as well as the joys. The year 2022 has been difficult for us, but we want to focus on the positive news, those that fill our hearts: the birth of three children (welcome Fabio, Aurora, and Rita!); and those that make you smile, as the victory of the YITH Italian team in the Halloween contest for best costume organized by Newfold 😊.
The laughs we had over this photo (and the preparations for the session) perfectly sum up the spirit of the club and the team that we are happy to represent.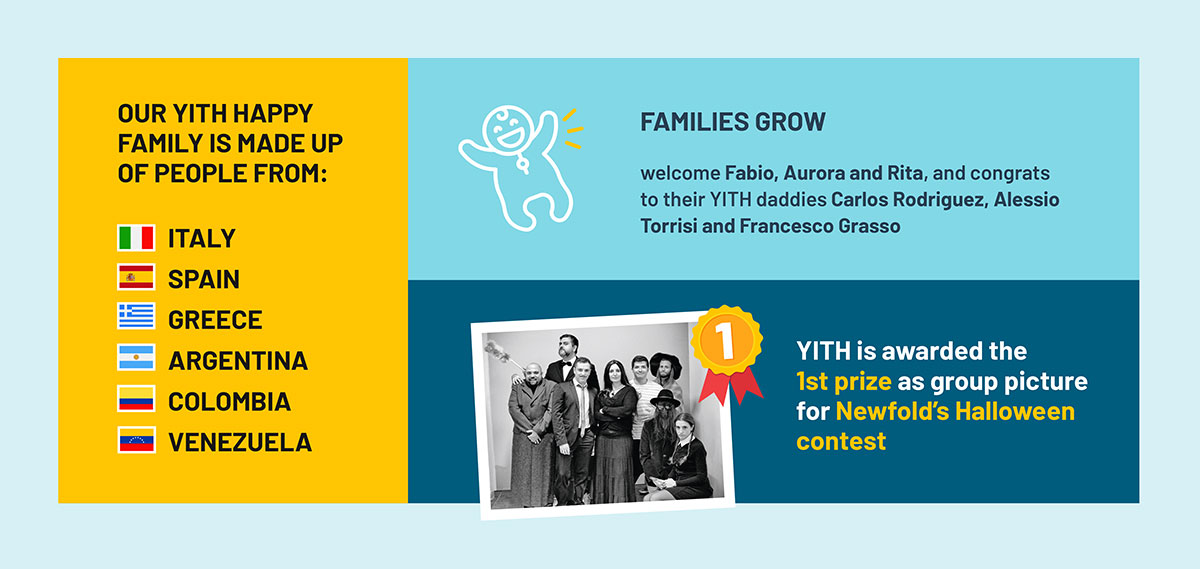 About Nando, an atypical CEO
As every year, we'd like to dedicate a short paragraph to Nando, the person who made YITH the reality that it is today. An avid reader (19 books read again this year, although there is never enough time for reading), passionate about running and healthy habits, and with an incurable desire to change the world. Precisely for this reason, he is carrying out an ambitious project of vegan and eco-sustainable gastronomy that will see the light in the coming months. We are all curious to see what's being cooked!

Some figures on the wonderful customers of YITH
YITH customers continue to grow and come from all over the world. In 2022, our website registered visits from 244 countries and 270,000 people tested our plugins on our live demos.
In the top 3 countries with the most sales, we find the United States in first place, Italy in second, and the United Kingdom in third. But sales in Spain, our adopted country, are also growing!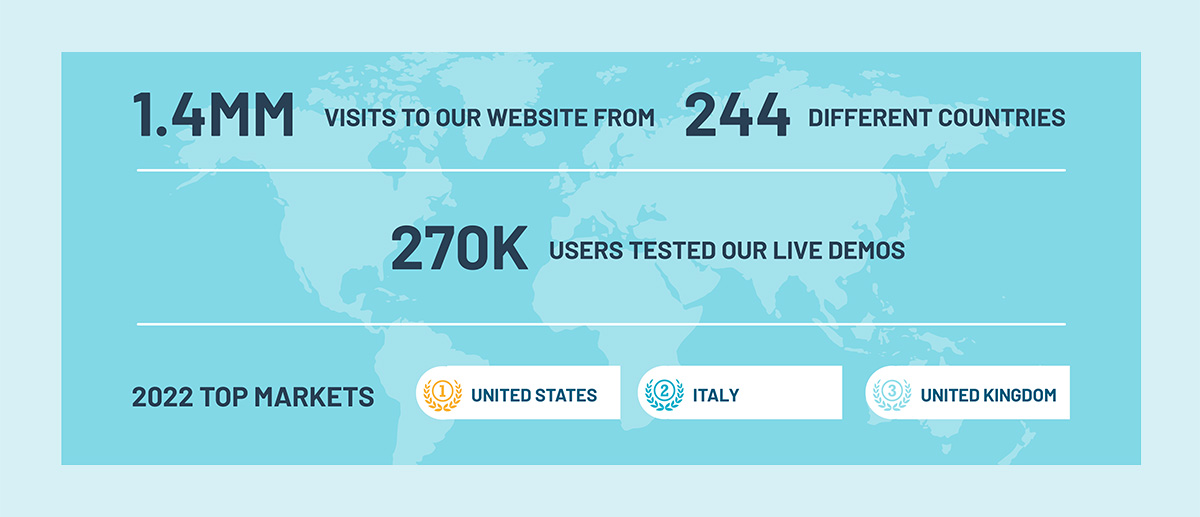 Our strength: customer care and technical support
We cannot praise our customer care and technical support teams enough. They are what makes YITH special.
In 2022, we solved almost 28,000 tickets, responded to almost 20,000 chats and 18,000 emails. These numbers speak for themselves. For our customers, we are always there, and we will always be.
The results of our "satisfied customers" policy are evident: our satisfaction rate is again 98%, and in Trustpilot we can boast a rating of 4.8/5 among more than 400 positive reviews.
Thanks to customers who trust us and motivate us with their comments and thanks, as always, to our fabulous team, without which this result would have not been possible.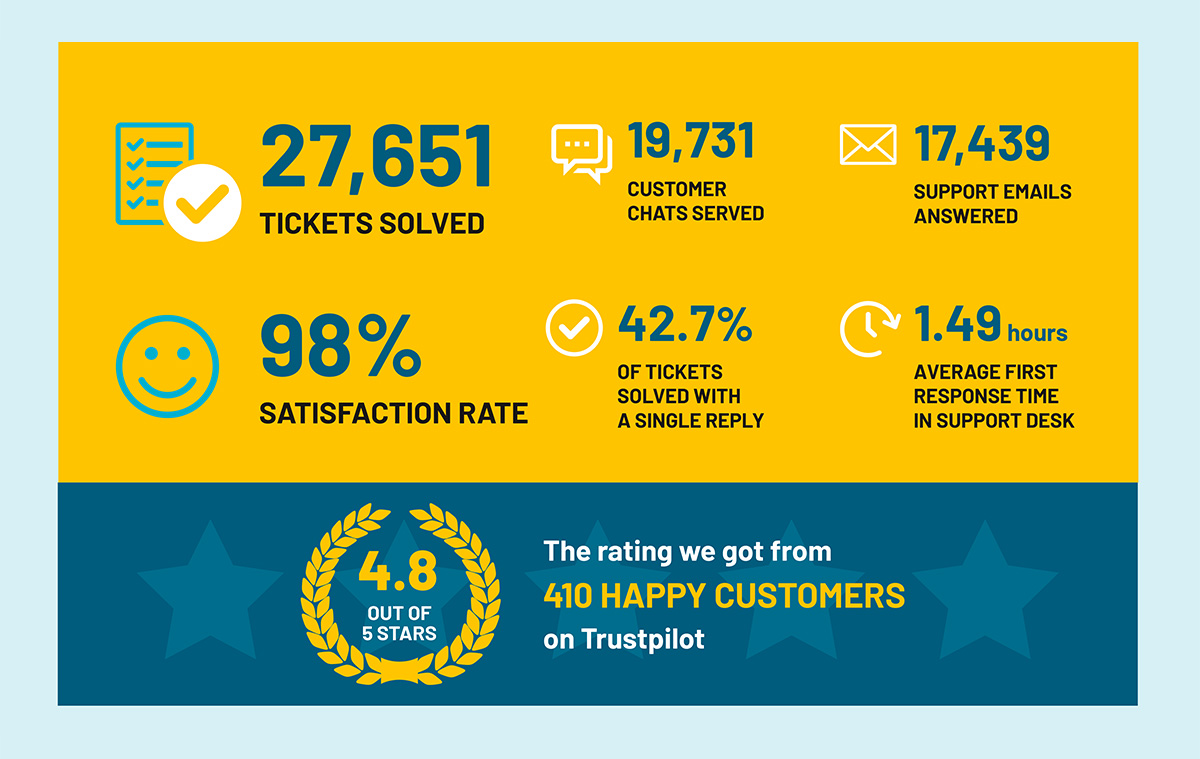 2022 timeline: what happened and when
We close this summary article with a chronology of the highlights of the year just ended.
The year 2023 will bring us new challenges, but we trust that by giving the best of ourselves, as we always do, a year from now we will be here celebrating more victories.
We can feel it: this will be a great year for those who sell online and for those who choose YITH to do so.