Nowadays, selling products and services online has become an essential part of almost every business, rather than just an additional element.
That's why many vendors are getting ready to set up their own online stores. Although creating an eCommerce website has become simpler and quicker, some of them are still unsure about where to begin.
There are plenty of options available for selling online, and one of them is using Content Management Systems (CMSs) to easily create and manage online stores. However, the challenge is figuring out what is the best eCommerce platform that perfectly fits your business.
Throughout this guide, we will explore multiple business models and evaluate different eCommerce platforms to help you in making the right decision. It's important to consider the pros and cons of each solution to decide which sales channels to use and which ones to avoid. By understanding both sides, you can make the best choice possible. Let's dive in!
Types of online stores based on business models
If you're still unsure which tool to use, a good approach is to consider the unique qualities of your business. After that, it's worth studying the variety of sales channels that are currently available online. This will help you narrow down the three main categories of CMSs.
Who sells online?
Just like in real life, the digital world also has different groups of people selling their products online. These groups are categorized as:
C2C – From one person to another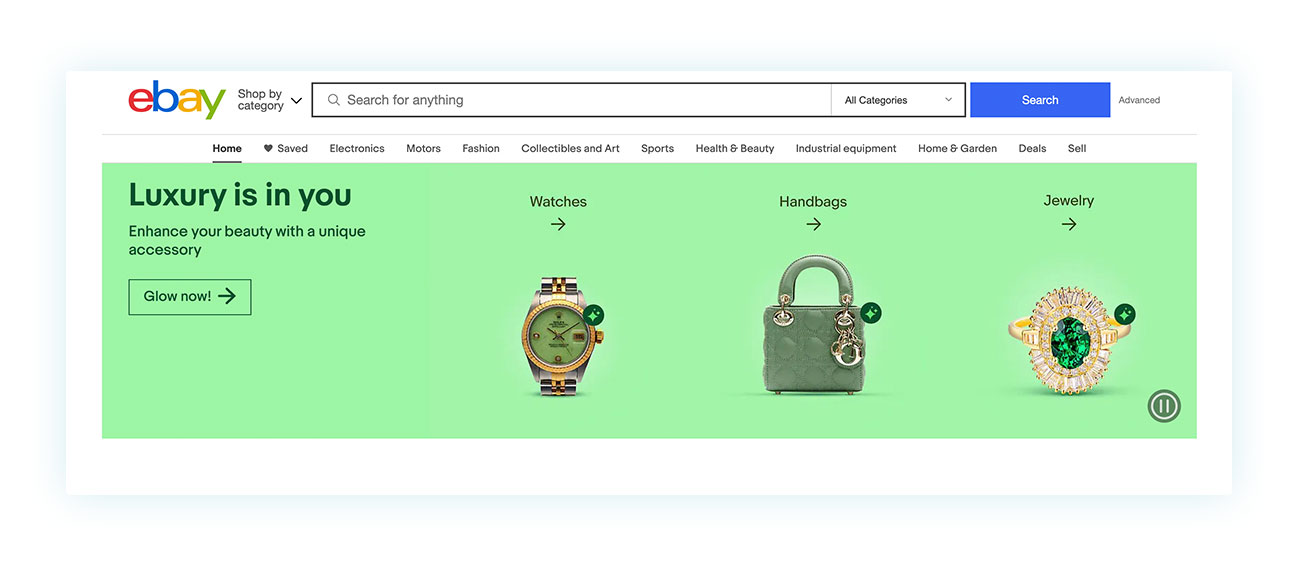 This particular model has gained great popularity on the internet. The acronym used for it is Consumer2Consumer, which essentially means transactions taking place between two users.
When companies sell their products, these items often have a value beyond their initial sale and are frequently re-sold between different users. Typically, this refers to the sale of second-hand goods, and there are many websites and platforms dedicated to facilitating these transactions.
As an example, some popular online marketplaces include eBay, Craiglist, Subito, Etsy, and even social media platforms like Facebook. It's worth noting that eBay also features businesses that sell directly to consumers, but with certain restrictions that we'll review at a later point.
What are the pros and cons of this particular sales method? Some of the advantages include the following:
It is not required to look for customers when there is already an existing audience in the marketplace.
There's no need to spend resources on creating an ecommerce platform, which can be a great advantage for occasional sales.
On the other hand, the disadvantages are:
When it comes to online sales, a certain percentage is held back by the platform. This is similar to the way eBay works.
In case the seller doesn't offer online payment options, they will have to shift the sale to another extra platform without any assurance.
For businesses, it's not ideal to use unprofessional tools or platforms that have clear functional limitations.
If you're looking for a way to sell a few products online without any long-term commitment, this could be a great option. However, if you're a store owner or representative, you should pursue a different approach.
B2B – From business to business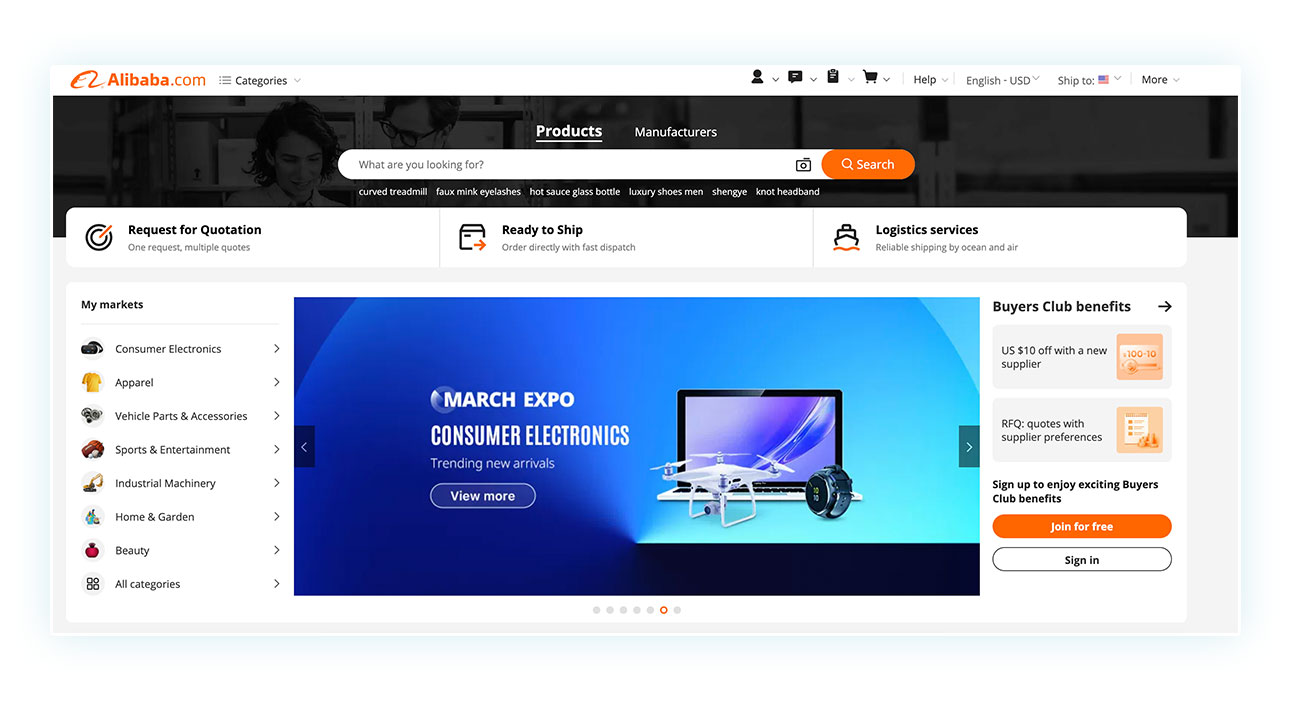 These sales are not as popular as C2C or B2C solutions, which we will cover later. They exclusively involve businesses selling to other businesses.
In the case of wholesaling or targeting businesses as customers, it is important to ensure all information is included. This will help in providing the best possible service.
Let's take Alibaba as an example. While Aliexpress is a hybrid of C2C and B2C sales model, similar to Amazon, Alibaba is not meant for regular customers. It specializes in selling products in bulk at wholesale prices.
You have the option to use existing platforms or build an online store based on your target audience and the nature of your business.
B2C – From business to customer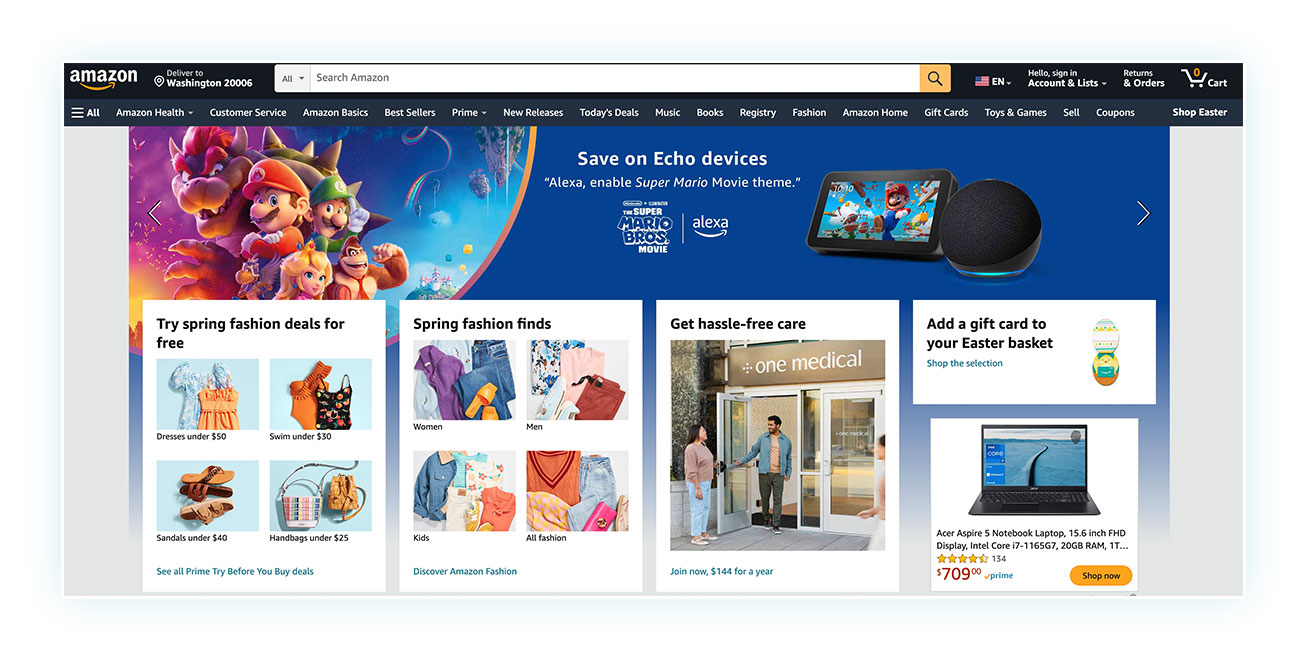 The most widely used sales model covers a business selling products or services to end customers. While Amazon and AliexPress also allows C2C sales, they mainly handle businesses that want to sell directly to customers.
It is a fact that the most common type of online business includes setting up an eCommerce shop. This type of store is a customized ecommerce platform that allows the seller to manage it entirely, and directly sell to customers without any third-party involvement.
Using this particular sales approach offers several benefits when compared to relying on a platform like Amazon. These advantages include:
No commission on the sale, which in the case of a company ends up having an impact on the profits.
More professionalism and customization of the site.
You have full independence and authority over your sales, giving you the freedom to make all the decisions.
It's no secret that having your own online store is very important for online sellers, but many newcomers are discouraged by the potential costs and challenges of creating and managing one. However, this is a common and totally normal concern.
After exploring different online business models and realizing the meaning of having your own eCommerce platform, we'll team up to guide you through the process of launching your online store. We'll also evaluate and compare the different e Commerce platforms to help you choose the one that best suits your requirements.
An additional business model, known as C2B, involves users selling their products or services to companies. This model is commonly used by social influencers who can sell their advertising space to big corporations. However, due to the unique nature of this online sales method, we won't be discussing it in detail.
How to start an eCommerce?
If you want to start a successful ecommerce store, there are certain steps you need to take, even before you build your website.
While we won't dig into a lengthy explanation of what makes a business successful, it's important to note that certain factors will influence which eCommerce platform is the best fit. We don't want to bore you with an economics lesson, but it's worth considering these elements when making your choice.
The things to keep in mind are:
The type of product or service you are going to sell – When it comes to marketing research and developing commercial websites, it's important to consider your target audience and market. This includes understanding the average cart value and necessary website functionality based on your specific product. Leaving out any of these details can negatively impact your success.
Payment type – In eCommerce, it's common to have the option to pay online using PayPal or credit cards. It's vital to offer these payment methods, but also consider any special payments that may be needed, like pre-orders, subscriptions or discounts.
Budget and time available – When it comes to building a website, and especially an eCommerce site, budget is crucial. You'll need to consider not just the initial costs, but also ongoing expenses like hosting, domain fees, platform costs, and plugins. Depending on your budget, you may need to choose between a cheaper platform that requires more hands-on work, or a pricier one that's more automated. It's all about finding the right balance for your needs.
After establishing these three components, we'll have a clearer view of which eCommerce platforms to explore. Rest assured, we'll find the one that's perfect for your requirements.
When it comes to eCommerce solutions, there's no universal answer that fits everyone. The best choice varies depending on the seller's perspective, but some options are more popular among sellers than others.
The best eCommerce platforms
Earlier, we talked about the different options available for your online store. However, you might be wondering which eCommerce platforms are the best. In this guide, we will explore some of the most well-known platforms and compare them to assist you in making an informed decision.
Before we proceed, let's begin by knowing each of these options.
WooCommerce: the most popular open source platform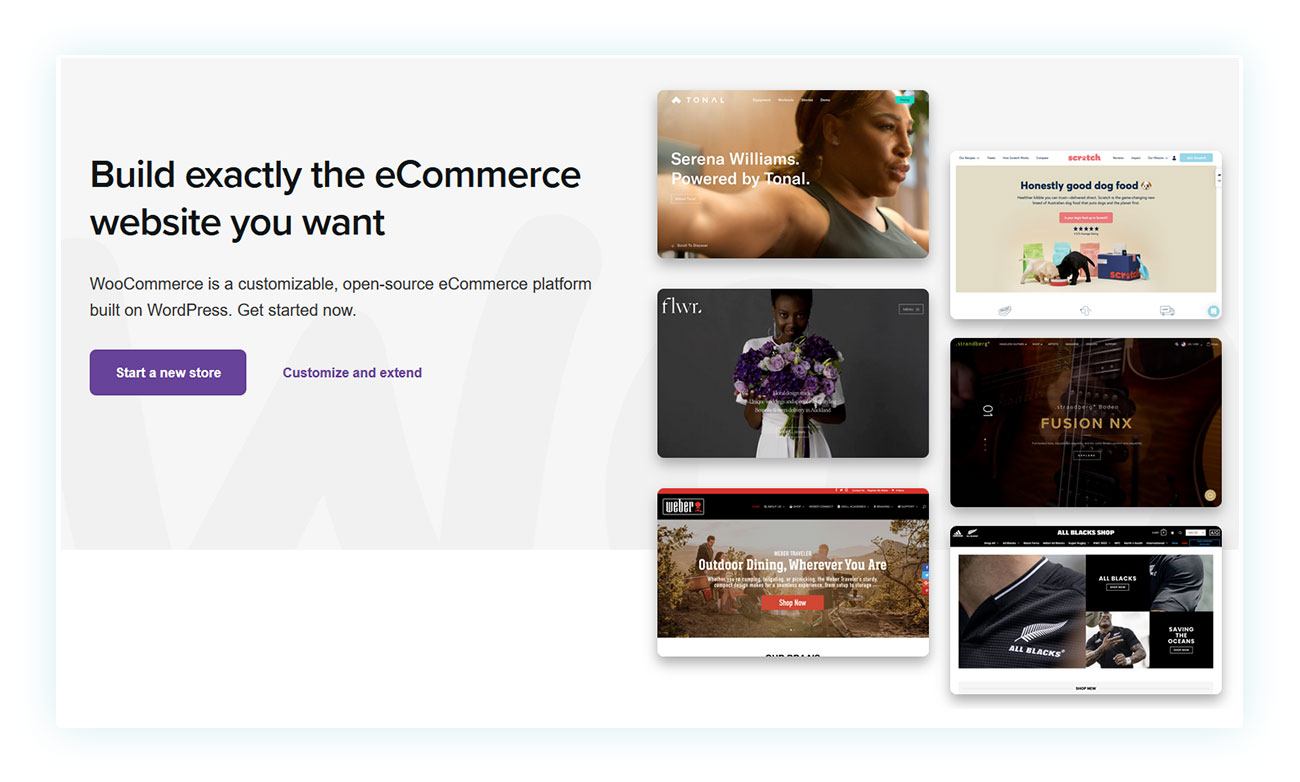 To begin with, let's discuss WooCommerce, which is widely recognized as one of the top and commonly used platforms on the internet. WooCommerce is actually a WordPress plugin, a Content Management System (CMS) that enables individuals with no coding knowledge to conveniently design and handle their own websites.
WooCommerce goes above and beyond by transforming an ordinary store into a customized and user-friendly eCommerce platform.
By being an open-source platform, WooCommerce is continuously evolving and improving with several plugins developed globally to include more desirable features. This makes it a great solution for businesses seeking to improve their eCommerce store.
Furthermore, this tool is completely free, which is highly valued by sellers who need to monitor their online sales in order to calculate their online profits. This feature is highly valued by many clients in the industry.
Shopify: a constantly growing service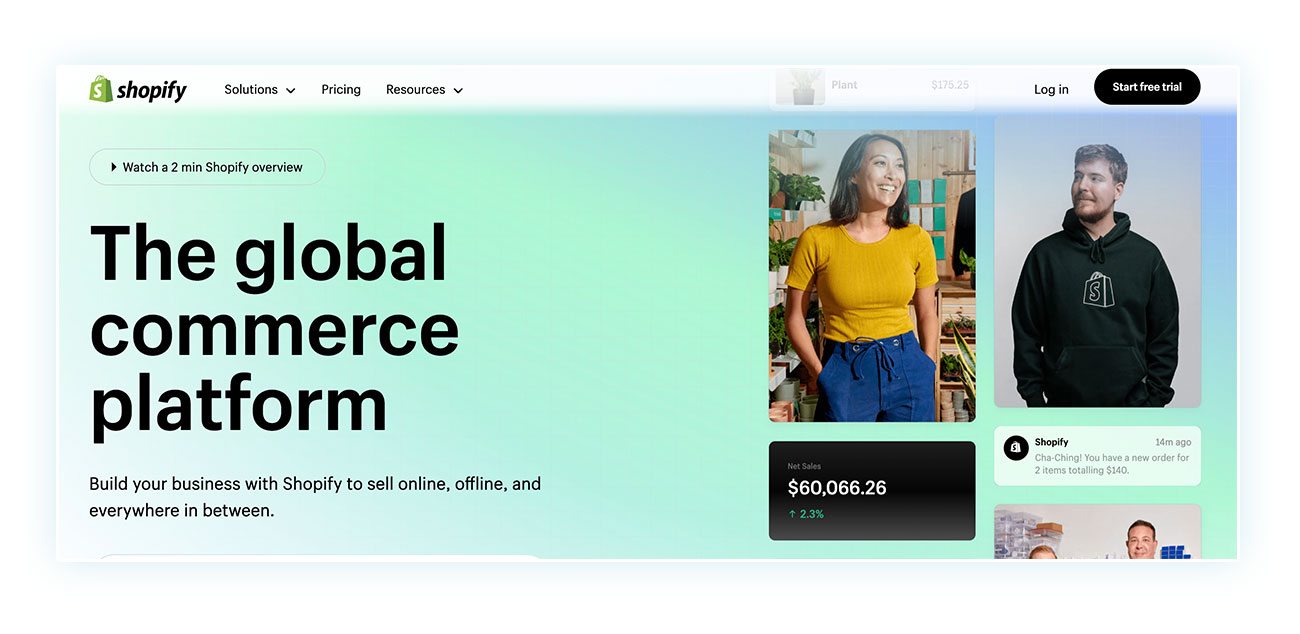 When comparing WooCommerce to Shopify, it's important to note that although both are popular solutions for web-based sales, they have different features. Shopify is also well-liked, but it stands out in its own way.
While WooCommerce is a CMS that is free and open-source, Shopify is a service that vendors can purchase and pay for on a recurring basis. It's important to note that this comes with a significant economic investment as there are different packages available based on your needs. The cheapest package typically starts at €21/month, while the most expensive can go up to €289/month. Additionally, there is a Plus version available for larger brands.
Shopify is a popular platform for store owners despite its higher cost because it provides direct support and help, unlike WooCommerce, which relies on online resources. Due to this popularity, Shopify has captured about half of the market share held by WooCommerce.
Magento: open-source… for a fee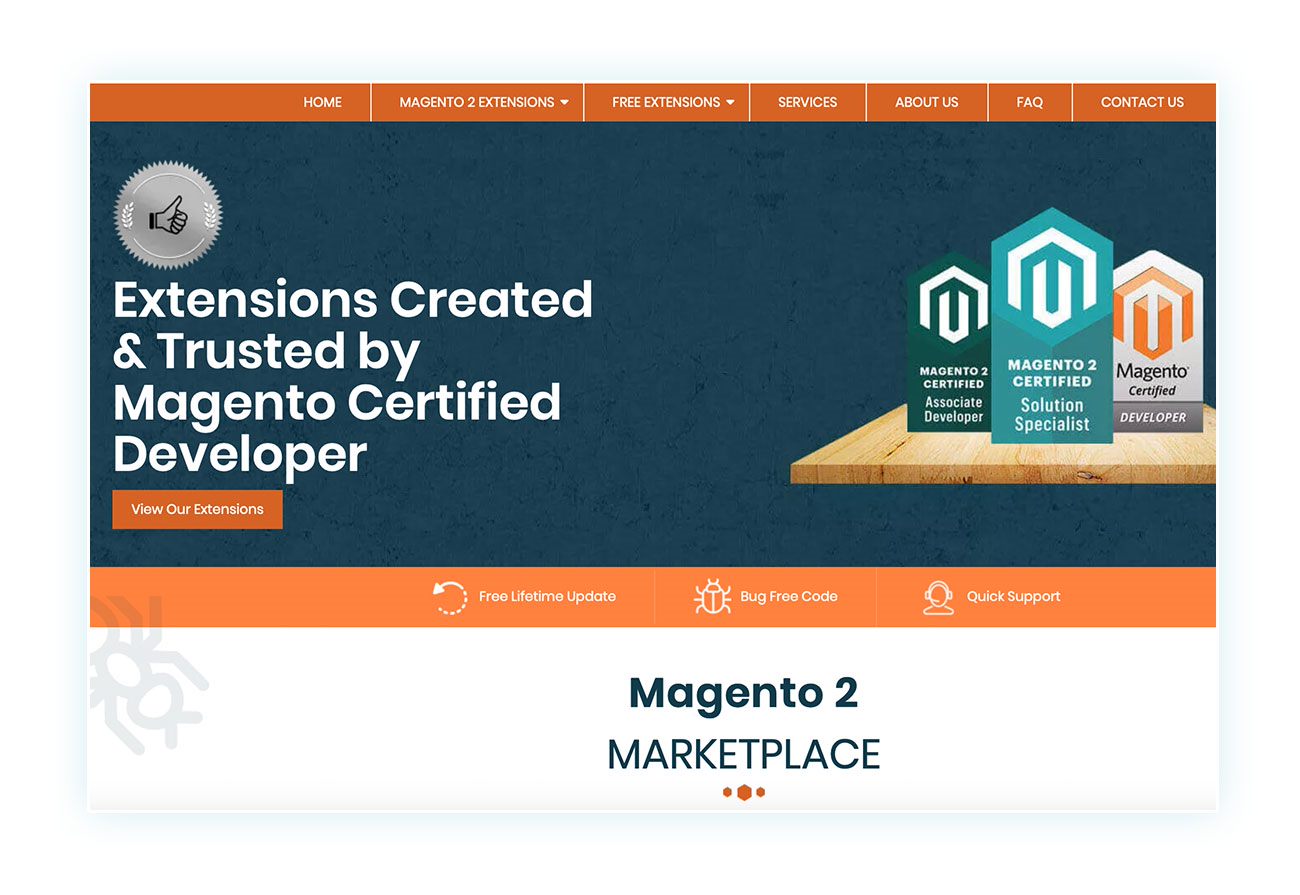 Now that we've covered the first two cases, let's move on to Magento. This platform is a popular choice and falls somewhere in between WooCommerce and Shopify, which is why we've placed it in the middle.
It's worth mentioning that Magento started out as an open-source eCommerce platform and still offers a free version that can be upgraded with plugins, similar to WooCommerce. However, there's also the option to invest in Adobe Commerce, which was previously known as the Enterprise version of Magento after Adobe purchased it.
Adobe Commerce may come with a significant cost, but it's definitely worth the investment due to the many extra features, direct support, and exceptional scalability for bigger stores. It's a paid service, but the benefits are worth every penny.
Because of its versatile functionality, Magento is used by businesses of all sizes, from small boutiques to large online marketplaces. However, it may not be as widely recognized as WooCommerce.
Prestashop: free and easy to use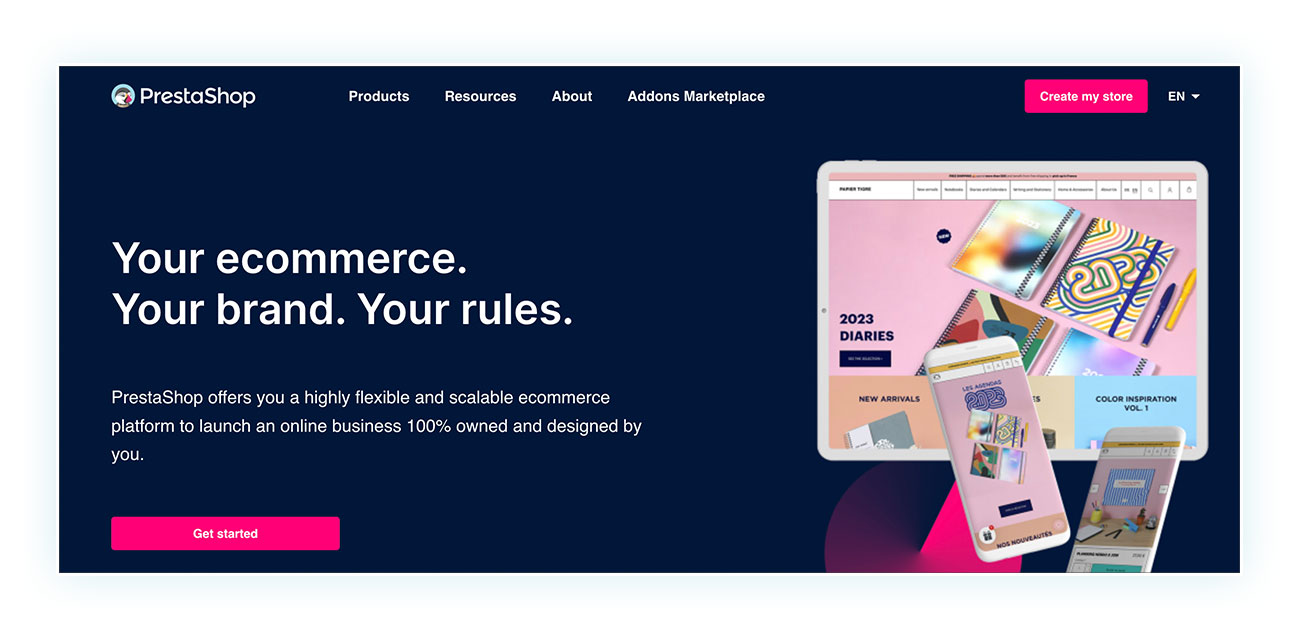 PrestaShop shares a lot of similarities with WooCommerce in terms of being open-source, user-friendly, and offering the option to add more features through modules. All without any cost.
One of the key factors between these two CMSs is their level of popularity. This is evident in the hosting support provided, WordPress/WooCommerce tends to have more specialized packages available compared to PrestaShop. Additionally, the number of resources and community support also reflect this difference.
It's important to note that this solution is actually quite popular, with more than one million users on the official website.
The only disadvantage is the lack of direct assistance which can be solved by the PrestaShop Support Plan, although it might be pricey for many vendors.
Wix: a more accessible service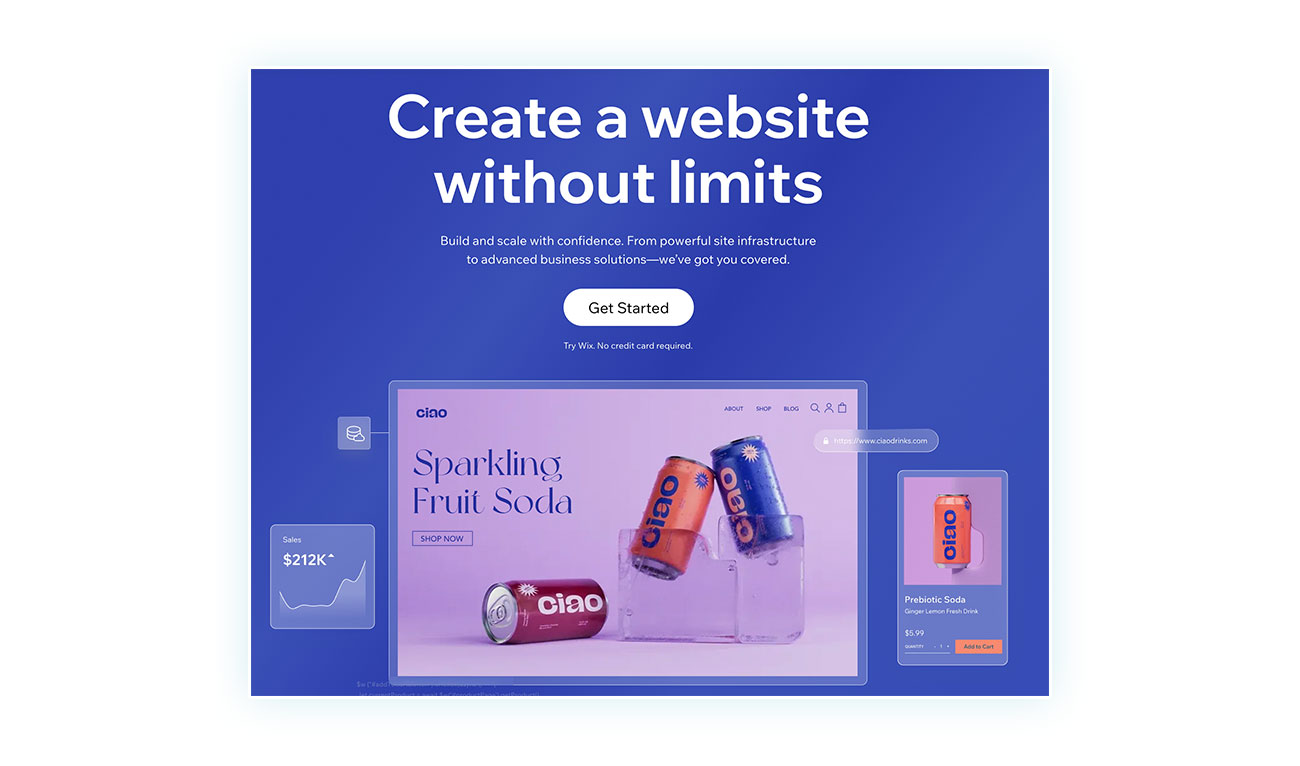 We suggest Wix as a cost-effective option to Shopify. Unlike Shopify, Wix doesn't require purchasing a hosting service or installing an open-source program. It is a self-contained service that hosts users' websites on its own servers.
The platform supplies to several website needs beyond eCommerce and provides packages accordingly. For online sales, the available packages range from €17/month to €35/month, depending on the requirements.
It's evident that the cheaper option comes with fewer resources, but some users actually prefer it because of its great customer support.
Comparison between eCommerce platforms
After briefly exploring the popular online options, let's dive into the main event of our article: the comparison between the top four contenders. Who will come out on top and be the winner?
In the following section, we will provide a brief overview using certain comparison criteria. We have identified cost as a significant factor and will examine it further later on. If you're looking for more detailed and specific analysis, we recommend checking out the articles on our blog:
Having said that, what factors did we take into account? Typically, vendors are especially interested in:
Cost
Technical support
Security
Flexibility
Usability
We've taken into consideration each of these features in our detailed analysis, but to sum it up, here are the top performers in each category (excluding cost):
Technical support: When it comes to dividing CMSs, paid options like Shopify and Wix usually offer better support services. On the other hand, free CMSs like WooCommerce benefit from community support and resources, which can be enough to solve problems or add features. WooCommerce is particularly valued for its large community.
Security: The major cause of security issues is human error and the use of unreliable web hosting services. Therefore, platforms that work as a service are more secure as they reduce these vulnerabilities. You can check the security of different platforms by referring to CVE Details, which keeps track of all online security flaws. According to this, Shopify is the best service with only 2 vulnerabilities. On the other hand, WooCommerce is the most secure free eCommerce platform with 20 vulnerabilities, while PrestaShop has 77, and Magento has 221.
Flexibility: This refers to the ability of modifying your eCommerce business as per your requirements, including advanced features, graphics, and code. While many platforms offer some flexibility through add-ons, WooCommerce stands out due to its open-source nature and the extensive range of themes and plugins available in the market. This aligns with WordPress's focus on site customization, making WooCommerce a natural extension of the platform's strengths.
Usability: Distinguishing between paid services and free platforms is crucial. It's logical to assume that paid services are user-friendly and easier to configure, which is why many vendors prefer Wix and Shopify. However, choosing a free solution doesn't necessarily mean a complicated process. WordPress/WooCommerce prioritize easy-to-use stores, requiring some initial time investment but providing a simple store in the long term. Although Magento is free, it's often considered challenging for beginners.
Evaluate the costs of eCommerce platforms
As previously stated, we made the decision to separate the platform cost as it holds significant importance and is influenced by multiple factors.
To start with, platforms that are sold as services are usually pricier compared to open-source platforms. Even though these services come with hosting fees, cheaper alternatives with better hosting specifications can often be found. In addition to the initial cost, there may be additional expenses for add-ons. This applies to all platforms, including open-source ones. While it's not mandatory to use these tools and there are often free options available, some people choose to purchase them for optimal website functioning.
It's important to keep in mind the commission costs on sales when choosing a platform, like Shopify. They typically keep a percentage of each sale (usually around 2%, with a minimum of 1.5% and maximum of 3.6%) along with a fixed fee of 24 cents. This affects all stores, especially those with a low cart value and selling many lower-priced items.
When it comes to cost, Shopify and Wix are at a disadvantage as they require payment. On the other hand, WooCommerce, Magento, and PrestaShop are free (except for Adobe Commerce). Out of these three, WooCommerce gets an extra point for having a large number of resources available, making it more competitive in the market and leading to cheaper plugin options. Also, there are plenty of web hosting services that offer deals for this open-source eCommerce platform.
We would like to remind you to take a look at our side-by-side comparisons to gain a more comprehensive understanding of each platform. Overall, the evaluation of the different CMSs can be summarized in this table: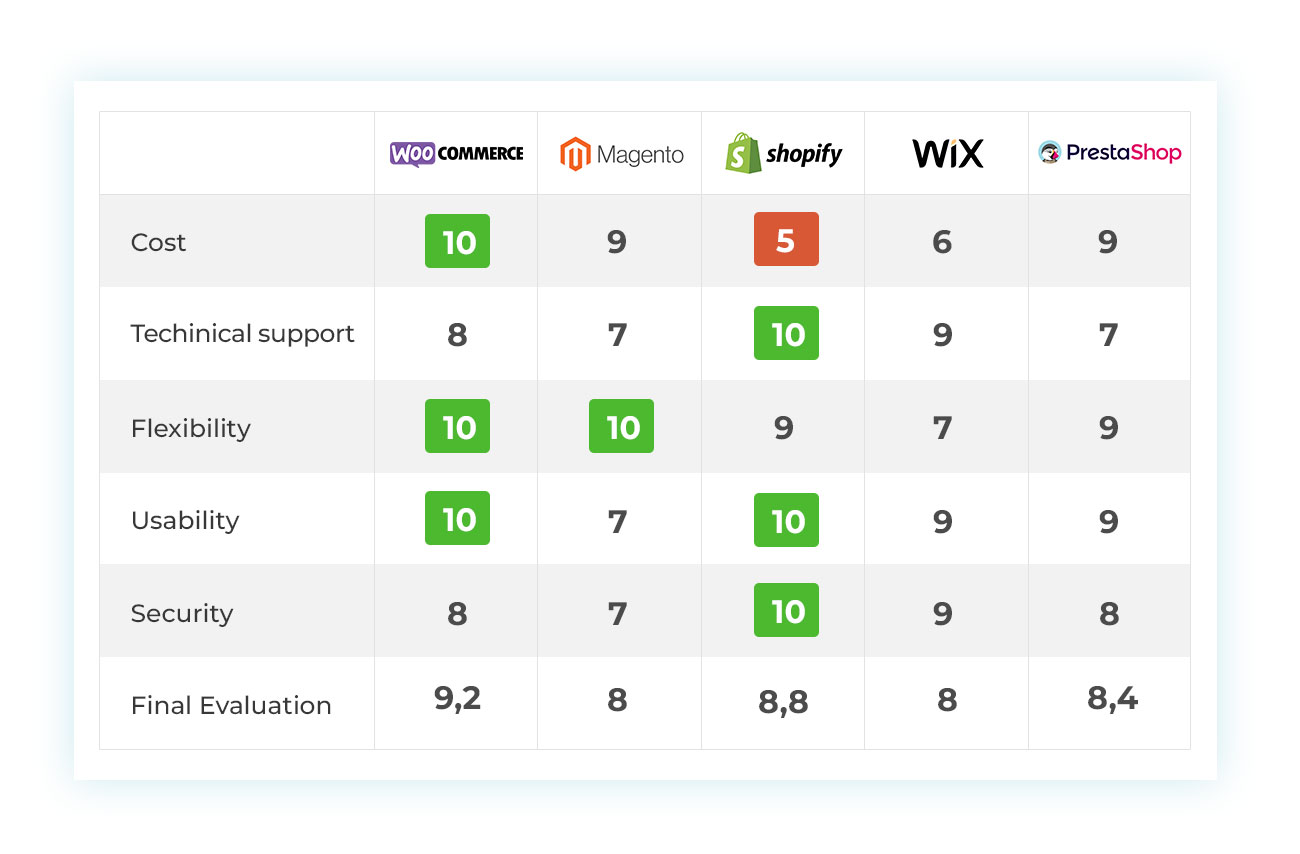 Among the factors that justified a score were:
Cost – The price of tools and extra applications
Technical support – Direct support and the number of resources available online
Flexibility – Ease of introducing additional features and scalability
Usability – Help with initial setup and simplicity of interface
Security – Based on the number of vulnerabilities and human errors
What makes an eCommerce platform "better" for you?
You might have realized by now that it's not easy to decide the top eCommerce platform since it varies based on individual requirements. If you're seeking complete control over your business and a free, versatile, and customizable tool, then WooCommerce is an excellent choice.
If you have a bigger budget for your website, then you might prefer using a platform like Shopify. However, if your budget is lower, there are other options available.
Small and medium-sized businesses usually find the monthly cost and commissions to be too expensive. Hence, they choose to dedicate more time to the initial setup to achieve a customized portal that suits their requirements.
Selling with WooCommerce
If you've made the choice to use WooCommerce for your eCommerce website, we'd like to offer you some helpful tips:
When setting up WordPress/WooCommerce, it's important to select a trustworthy and optimized hosting provider and consider your anticipated traffic levels.
To ensure security, it's important to regularly update WordPress, WooCommerce, and all associated plugins, as outdated software can lead to vulnerabilities.
It is important to only use plugins from trustworthy and certified companies. YITH offers a wide range of plugins that are regularly updated and can add both basic and advanced eCommerce features to your store.
You'll discover that creating a free online store is both feasible and uncomplicated by following these simple steps. You won't need to rely on external agencies since the administration process is straightforward.
FAQ
What are the best eCommerce platforms available on the market?
The most popular, at the moment, are WooCommerce, Shopify, Magento, Prestashop and Wix.
What are the key factors to consider when choosing an eCommerce platform?
There are many important factors, including: the cost of the platform, its security, the presence of accessory tools such as plugins and ease of use.
What are the main differences between the multiple eCommerce platforms?
The biggest difference relies in the very nature of CMS: some of them are paid services while others are free open-source resources.
Which eCommerce platform is best suited for a small business?
If you have a small online business, your revenue may not be very high and you may not need to scale up quickly. To avoid extra expenses, we suggest using a free CMS like WooCommerce.
Which eCommerce platform is best suited for a large online store?
Even though WooCommerce is suitable for all kinds of ecommerce platforms, some people opt for Shopify or Magento as they offer better scalability.
What payment options are available on each eCommerce platform?
We discussed both the existing payment methods like wire transfer and cash on delivery, as well as the ones that can be added through plugins, such as credit card, PayPal and other e-wallets.
What marketing features are available on each eCommerce platform?
Most content management systems (CMSs) offer the option to develop marketing plans with discounts and coupons. However, with the appropriate plugins, any marketing tool and strategy can be implemented effectively.
How much does it cost to use different eCommerce platforms?
WooCommerce, a free platform, covers only the hosting expenses and optional plugins you might need. On the other hand, the paid services can cost hundreds of dollars per month.
How can I integrate different eCommerce platforms with my website?
In order to use WooCommerce, simply install WordPress on your website (which many hosting services offer) and then download the WooCommerce application. Magento and PrestaShop are also available for download and use on your ecommerce site. On the other hand, Wix and Shopify will directly host your website on their servers.
What are the best plugins and tools to improve the management of my online store on each eCommerce platform?
It all depends on what features you want to add to your site. Typically, Wishlist is a must-have plugin for eCommerce stores to incorporate the popular feature of wish lists, similar to those found on Amazon.
Conclusion
Earlier, we mentioned that identifying the best platform in the market can be challenging as they cater to different kinds of stores and sellers. However, we usually suggest WooCommerce as it is free, widely used, and can be easily tailored to suit any store's requirements.
Give it a shot and see how effortless it is to create an online business with just a few clicks.