Use YITH WooCommerce Questions & Answers to offer a more complete and easy-managing customer service.
For owners of ecommerce shops it is very important to provide a good customer service and to provide detailed and exact information about the products sold. Yet, it is not always easy to foresee what customers' questions about a product may be and then the information they need misses in the information page.
How should they ask?
Most of the times, they try to find a way to contact you via email, but as they are really lazy (we all are lazier behind a screen), they might end up with leaving the page or, even worse, using reviews for questions. Hasn't this ever happened to you? It happens continually. And then, what to do?
But, most importantly, it happens that many of them ask the same questions, have the same issues and you are forced to answer to all of them and repeat the same thing over and over again.
Maybe you do not have time to add this information into your product page, maybe you cannot recover the email with the right answer and you have to write again the same answer and waste a lot of time you might have saved. How? There is a simple and versatile tool that I would like to present you: a tool that allows your customers to publish their questions on your products and both you and them to answer publicly, so that this answer will be available for many other customers who have the same doubts. You can save time and your product page will be completed with that details you had not seen to, but that can be determining for new purchases.
The tool that allows you to do this with few simple moves is YITH WooCommerce Questions and Answers, a new plugin that extends functionalities of WooCommerce shops.
Let's see better in detail how it works.
You can customise the section with questions and answers and decide the number of questions to show, so that if you have too many questions on that page, you can show only some and keep it clear and neat. Then, if your users are interested in reading more questions, they will be able to open them and read them.
Another important feature that prevents your customers from posting those that we can call "lazy questions" (questions made just because they are so lazy that they do not read information already provided), is the possibility to enable FAQ Mode, and use the plugin to create a FAQ section with the most interesting questions and answers. This way, you can have more control on what they write, both in questions and in answers. In fact, the plugin has been conceived not only to let the admin answer to all customers' questions, but to let users answer other users' questions. A sort of exchange of knowledge on the product sold. But, in case you do not want them to answer to each other's questions because they have deliberately decided to use it for childish debates, you can turn it to FAQ Mode and, anyway, let new users benefit from previous questions and answers.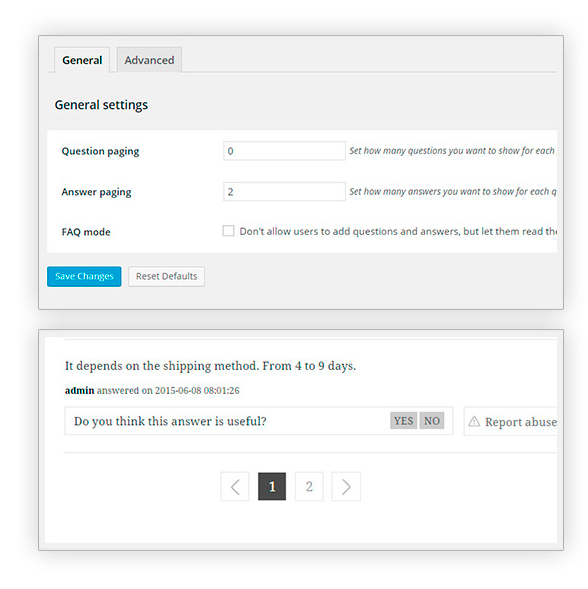 If FAQ mode is the right one to have total control on questions and answers on your products, it is not the only solution against "undisciplined" users: another really important feature allows your users to report inappropriate contents. They can report an abuse by clicking on the specific button. The admin will be notified and will decide if the question or the answer reported is inappropriate and consequently decide either to delete it from the page, or to approve it, if it has been reported as inappropriate by mistake. In the meanwhile, since users have reported the abuse, a truly inappropriate content may damage your image. Do not worry, you can choose to hide it, just to be safe, or set the number of abuse reports it has to collect before it is hidden.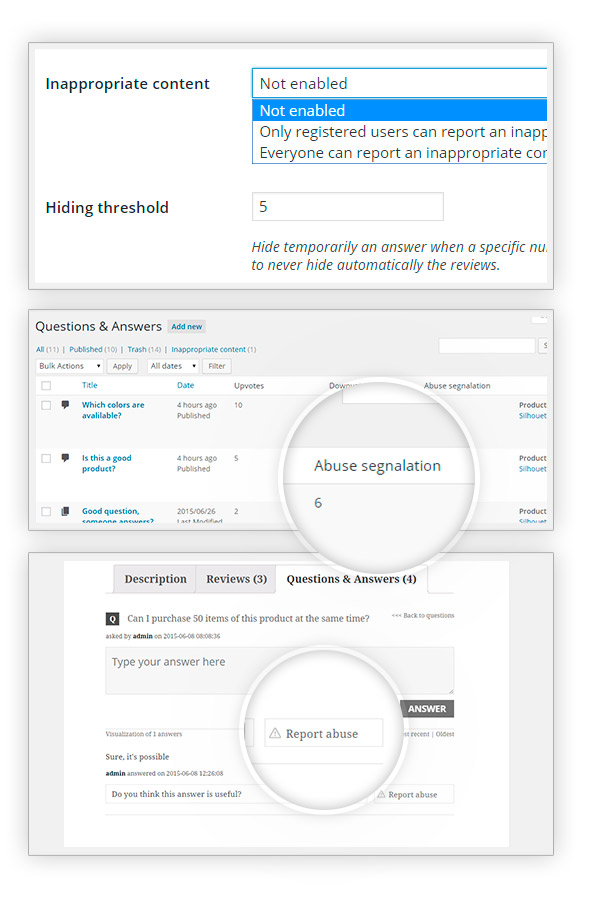 Then, you might think: "Customers post questions on my site, but will they be so constant to check every day if they have received the answer they've been waiting for?". And we all know that, most of the times, we post something in the web, but then we forget about it. Don't worry, they do not have to remember to come back and check: if they want to, they will be automatically notified as soon as their question receives an answer. I think that's great, especially for a person like me who forgets things immediately. To get notified, they will have to tick a checkbox, or if you prefer so, you can choose to load the page with it already checked, to be able to deal with any possible oversight from their side.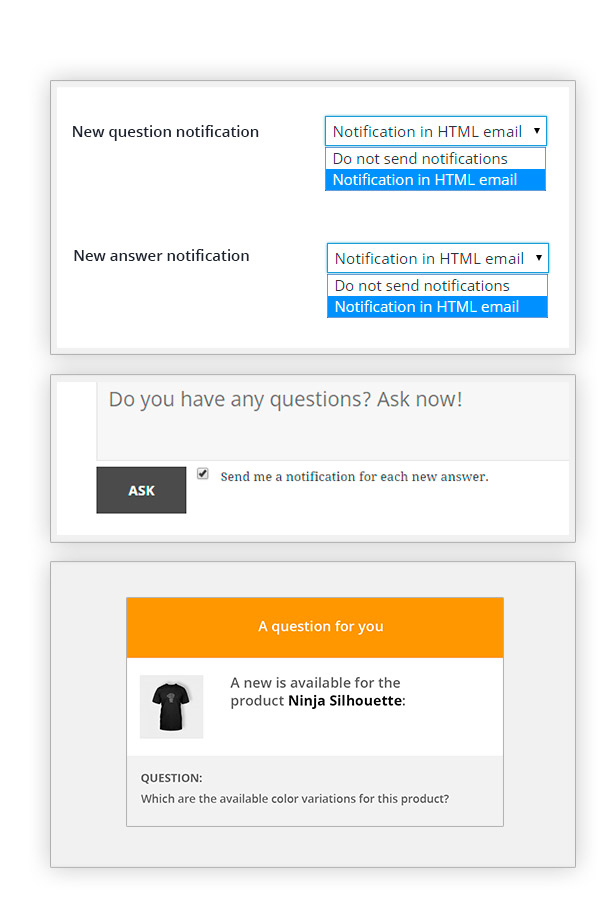 And this goes not only for those who posed the question, but also for the admin, who will be notified at any new comment. Then, to keep talking about notifications, you can choose to automatically notify all users who have purchased the product as soon as a question is left on its page. That's great! Customers will be invited to answer to a question on an item they are already using. No better testimonial for quality than happy customers!
And if that's not enough, users can also vote an answer as useful or not, so that when new users scroll through questions, they can jump directly to those questions that have already been useful to other users and save time.
Last thing I want to talk about here about spam. If you fear that such a section, where anyone can write, might become a victim of spambots, do not worry, because the antispam tool developed by Google has been added to this plugin: No CAPTCHA reCAPTCHA will spare you the nuisance of tons of spam messages.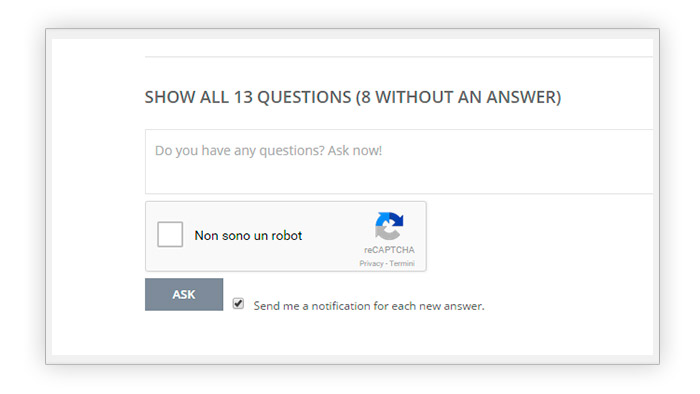 Why waiting more, then? Discover also other features of this plugin, such as incognito mode and question previews, from YIThemes page. Download the free version or purchase the premium version, and enjoy your YITH WooCommerce Questions and Answers. You will not regret it!