Make it easy with YITH WooCommerce Social Login
And now it's time to log into your site with your favourite social network! Don't you think it is one of the best ideas to let your users access easily and with one click?
Let's see better what a social login is. Social login is that process that allows your users to access to your site and benefit from all settings reserved to registered users even without actually having to register. This means they will never have to fill out a form with their information, name, email address and additional data, which most of the times prevents them to register, both because it takes time (and users behind a screen are much more impatient than in real life) and because keeping in mind a different username and password for each site they reach is almost an impossible task.
So a social login lets your customers use their social account to quickly access and without having to register. The social network behaves like an intermediary between them and the shop.
The second main reason for this choice is that if they access to a website they do not want to be bothered by mistargeted offers, advertising and so on: using an account that they keep constantly up to date allows them to profit positively of their information sharing.
But, left aside the reasons behind this common preference in users' behaviour, it is a matter of fact that they by far prefer logging in with their social accounts instead of registering each time. And this takes to a huge increase in sales in online shops. Yet, what tools should I use to do that in my own shop? How can I allow my users to log in using their social accounts and avoiding registering? Is it difficult to do that? The answer is just one and a simple one: YITH WooCommerce Social Login!
A simple but very powerful plugin for your WordPress shop that integrates many social media to your ecommerce! But, let's see together and in detail how it works.
The main option allowed by YITH WooCommerce Social Login is an integration of your shop with most common social networks, Facebook, Twitter and Google Plus in the free version and GitHub, Windows Live, Tumblr, Instagram, PayPal, VKontakte, LinkedIn, Yahoo and Foursquare in the premium version (in addition to the previous ones). What? So many? Yes, so many, and we might say, almost all social networks that a user might be interested in.
Yet, this does not mean that all users of your shop have to see so many login buttons when they try to log into your site. But if you do not want to show them all, you can do that as well: what's more than giving them the opportunity to log in using only the ones they use most frequently? No problem, you can select the ones you want to display and sort them in the order that you prefer.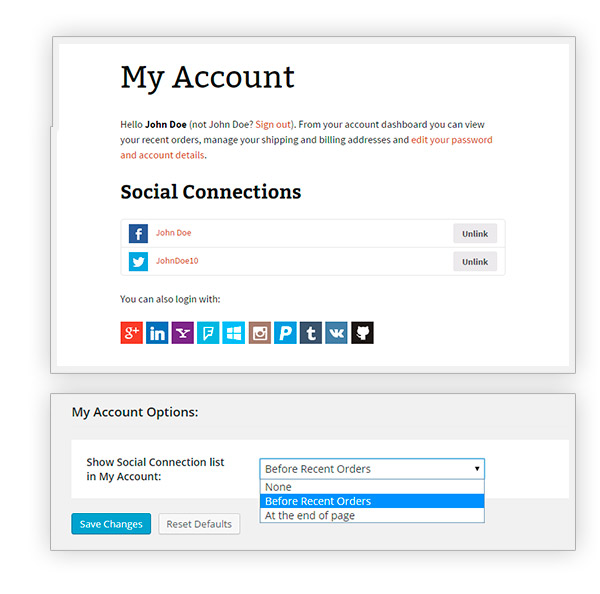 Another very interesting tool offered by YITH WooCommerce Social Login is the possibility to see how many connections come from each single social network in a specific and detailed section of WooCommerce report page. Maybe you thought that the social network "X" wouldn't have attracted so many customers as it actually did, so why not exploiting its attractive power better? You are free to do it in the way you think is the best: position it where you want, show it in every page of your shop, put it before all the other or… whatever comes to your mind! All this is possible with YITH WooCommerce Social Login. Keep your social media connections under control and manage them to make your shop be as fruitful as possible!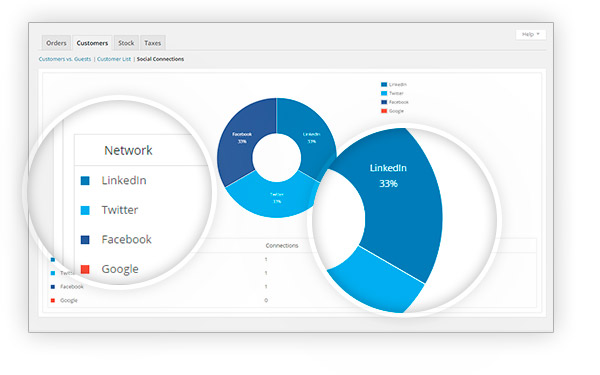 After having logged in, you can let your users come back to the page they had left, or you can choose to redirect them to a specific page that you can set. Decide what showing them at their first login and play your best cards to let them take the best from your shop!
And, of course, you can show your login buttons wherever you want by simply using shortcode and widgets explicitly developed to make your life much easier and not force you to write HTML/CSS code. One click and your social login button appears where you want it!
Another really interesting feature provided by YITH WooCommerce Social Login, instead, is the possibility for your users to login through the social they prefer and then register to your site through the account they have already logged in and some of the information taken from their social account will be imported to WooCommerce.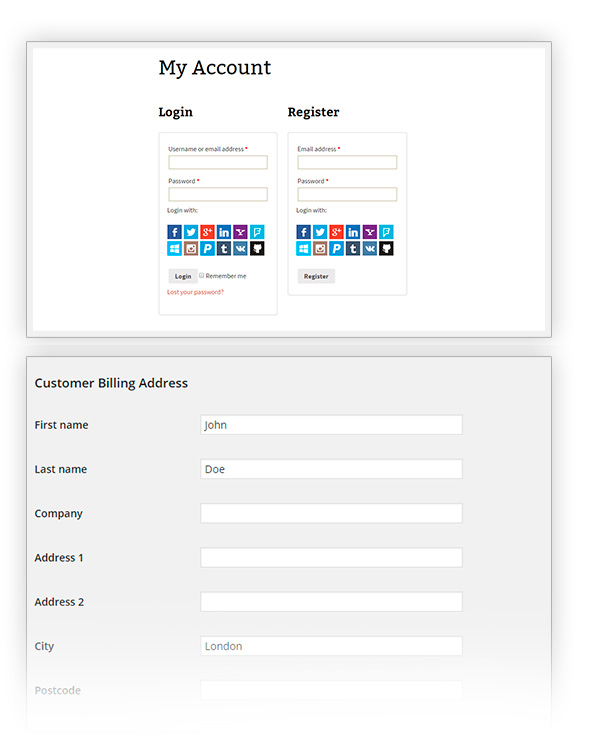 Another important feature of social login appear in reviews. You know how important reviews are to create a good image of your brand. Consider the case that one of your customers wants to leave a positive review on the product purchased and that he/she has hasn't logged in. In order to leave the review, they have first to log in, but looking for login, changing page and having to follow all these steps before reviewing might bore them and postpone (probably to never) writing. Yet, if you enable social login on comments they will see social buttons in the review section and with a simple click they will be enabled to reviewing. You won a good review written by a person which social profile proves to be real. Doesn't this sound good?
But these are just a few notions of how this YITH plugin works, it is a fantastic and amazing tool that you cannot ever do without after having tried it. I suggest you try it to discover how powerful it can be: an article is not enough to explain all that!
Read more in the official plugin documentation, to solve any possible doubt in using the plugin.
To stay on the topic social networks, wouldn't you find it nice if your users could help you promote your products using their social profiles? Discover how to review in exchange for a discount or how to share and get coupons!