Sometimes the only thing standing between us and success is our own perspective: to help you understand what I mean, let me tell you about John.
John owns an online store, he sells e-books, specifically about meditation and personal growth, sometimes narrative
John's sales weren't bad, but he struggled to improve them. His customer base was more or less the same every month, customers would buy one book and would rarely show up a second time to buy another one: most of them were not coming back and were soon replaced by new customers.
John was getting understandably frustrated: he did what he could to invest in the best marketing strategies he could think of and he kept seeing customers slip away after one single purchase. He was starting to feel defeated. The average transaction on his store was around 6€ and his short term objective was to double that amount.
So one day he realised that he underestimated the value of one of the most commonly used promotion system in the world: the deals and offers system.
After all, simply consider that offers will:
encourage inactive customers to make purchases.
help you get rid of specific items such as inventories.
push undecided customers to buy, especially in case of time limited offers.
He decided to offer three items at the price of two: a customer would buy three e-books and the third one would be free of charge.
This way, even if the third item was given away for free, he would push customers who would usually spend 6€ to spend 12€, increasing both the average transaction value on his store and customer satisfaction, who were glad to get something for free.
It seemed like a winning strategy at first, but only a few customers would take advantage of that. Oddly enough, some customers would still buy only two books, giving up the free one: he found out a lot of customers didn't even know about the offer.
So he decided to combine his offer with a few messages targeted to his absent minded customers, in order to inform them of his deals.
The combination of the deal and the promotional messages worked and gave huge results, John was now able to double his income compared to the times his offer went unnoticed.
John's story surely is inspirational, as it shows that the turning point for boosting your business can be right before our eyes, we just need to see it and make it happen.
In this tutorial we are going to find out how to offer one or more deals in our store and let every customer know about them, in order to immediately boost your average transaction.
We are going to use two plugins for that:
Required Plugins
Creating your offer
Starting off, we are going to create our first deal using the Dynamic Pricing plugin. Once the plugin is installed and activated, we will see its first screen: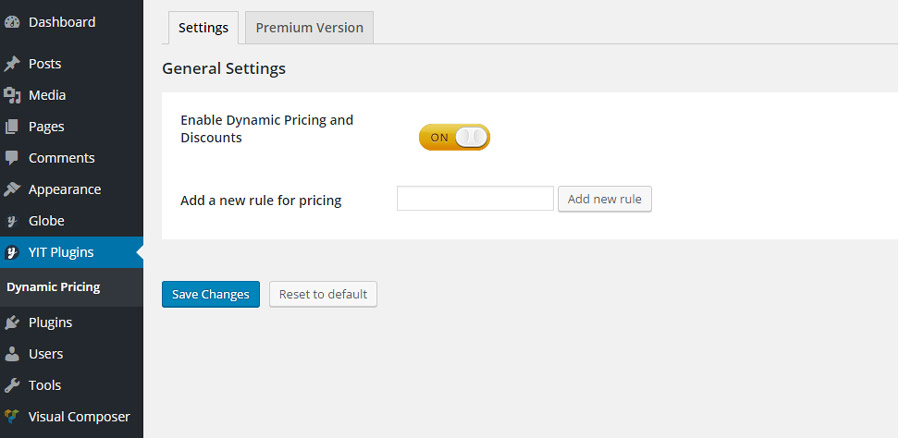 After making sure the plugin is active by clicking on the Enable Dynamic Pricing and Discounts button, let's name our deal – 50% for alla products as in the example below – and proceed to its settings.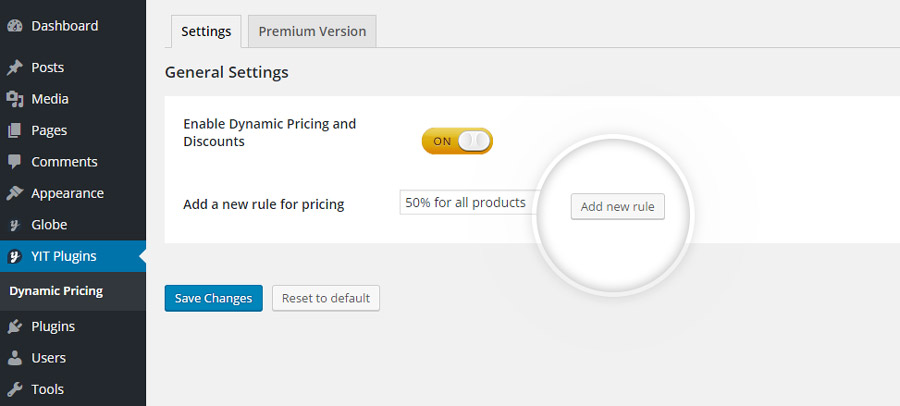 In the main settings screen you find a few subsections:
Apply to: Indicates if the offer is valid for all products in your store or selected categories only.
Minimum quantity: Indicates the minimum amount of items customers need to benefit of your deal.
Discount amount: Indicates the amount of discount provided.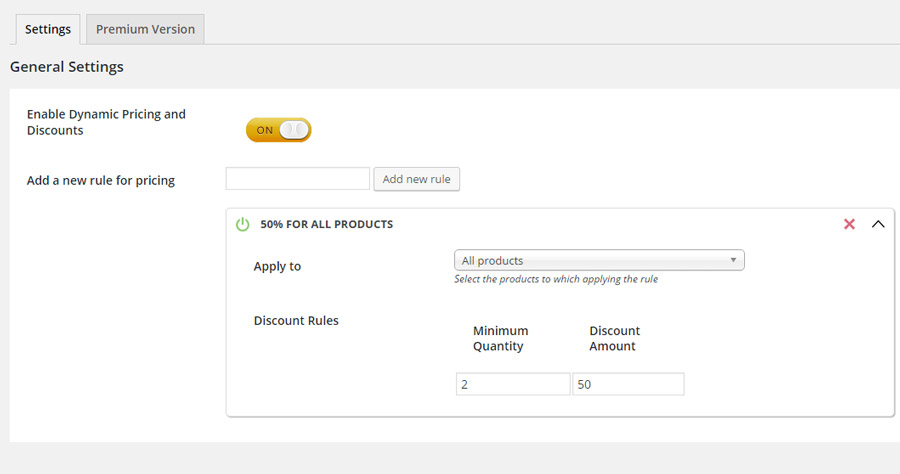 In the example below, we've set a 50% discount on all products in the store, once the customers adds at least 2 items in his cart.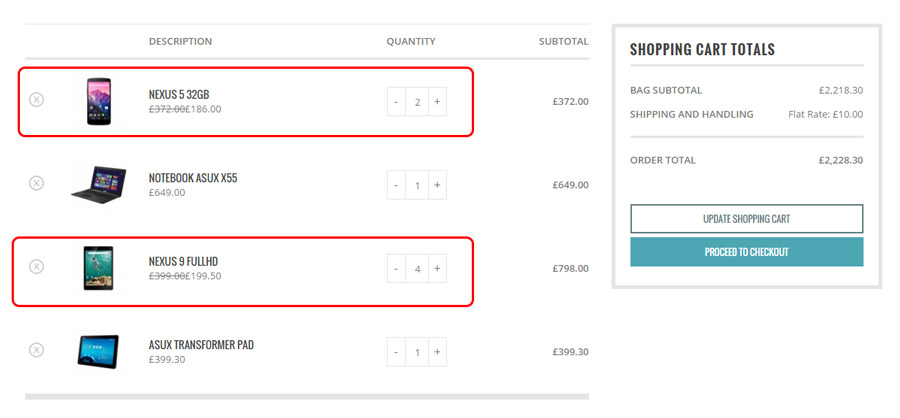 You are obviously free to create as many offers as you want in order to adapt to any need of your customer base.
For example, a clothing store could easily set specific deals related to a specific kind of products in cart.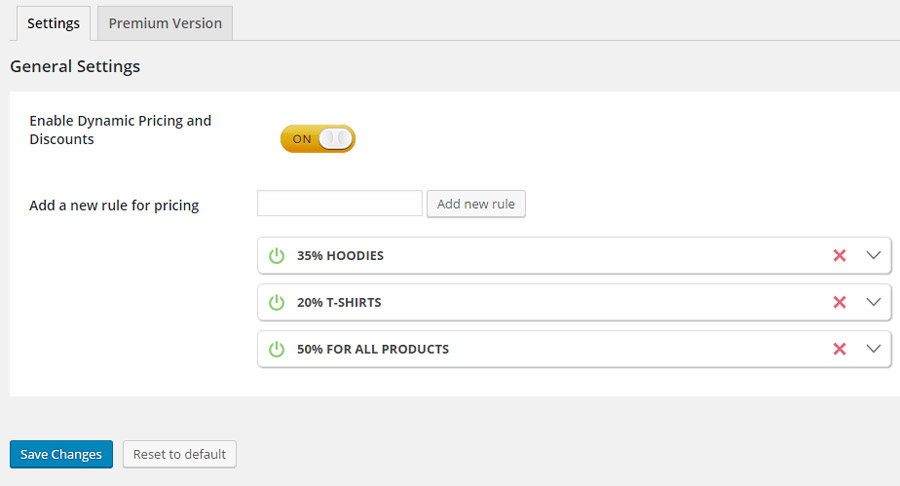 This plugin has several other functions, such as the option to program future deals or offer special deals.
Now that our offer is created, we have to make our customers aware of it, and here's where Cart Messages comes into play.
Hey have you heard about our offers?
Given you can't personally tell each one of your customer about your deals, we'll let our plugin do the dirty work.
Once the plugin is installed and activated, it's fairly easy to understand how it works.
You can use it to set up and customize the promotional messages your customers will see and decide their placement and content.
First off we're going to decide when and where to display your promotional message: in order to do so let's go through the plugin settings and pick one of the following:
Products in cart – Your message will be displayed once the product is added to the cart
Categories in cart – Your message will be displayed once a certain category of products is added to the cart.
Simple message – Your message will be displayed at all times with no restrictions.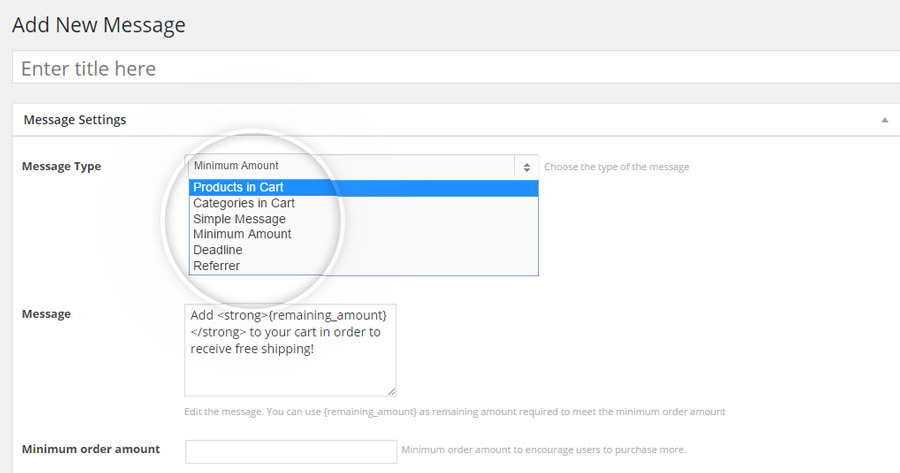 Now you can explore the Message section, that allows you to customize your message according to the deal you intend to offer. In the example below, we offer free shipping, but it could also be a discount or a free item, or anything else you want!
In order to customize your text you need HTML tags that allow you to add details to it, such as the amount of items required to trigger the offer or the required amount of money.
Now it's time to set the Required Quantity , which will show the difference between the amount of items in the customer's cart and the minimum amount of item needed to meet your offer requirements.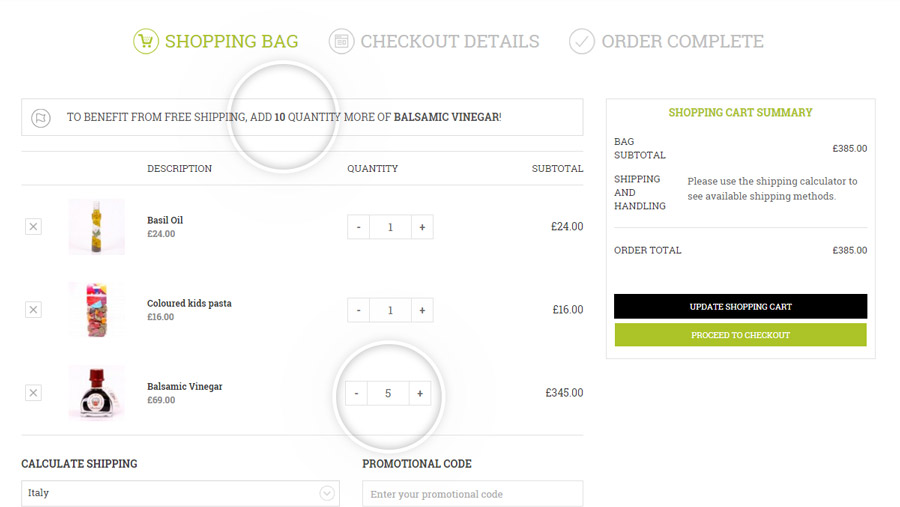 Example: If we set the Required Quantity to 15 items and we have 5 in our cart, the displayed message will inform you that you need 10 more items to meet the free shipping requirement.
In Threshold Amount you can specify the minimum amount of items your customers need to add to their cart before your message is displayed.
This is a relevant section, since your offer can be targeted directly to the customers that are willing to purchase more than one item at the same time.
With Selected Products and Selected Categories you can respectively chose which products or categories of items your message will be displayed for, once they are added to the cart.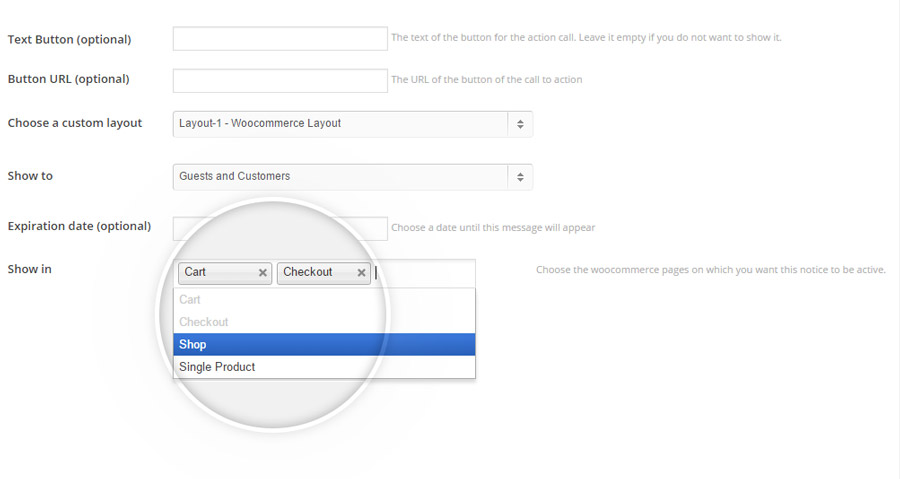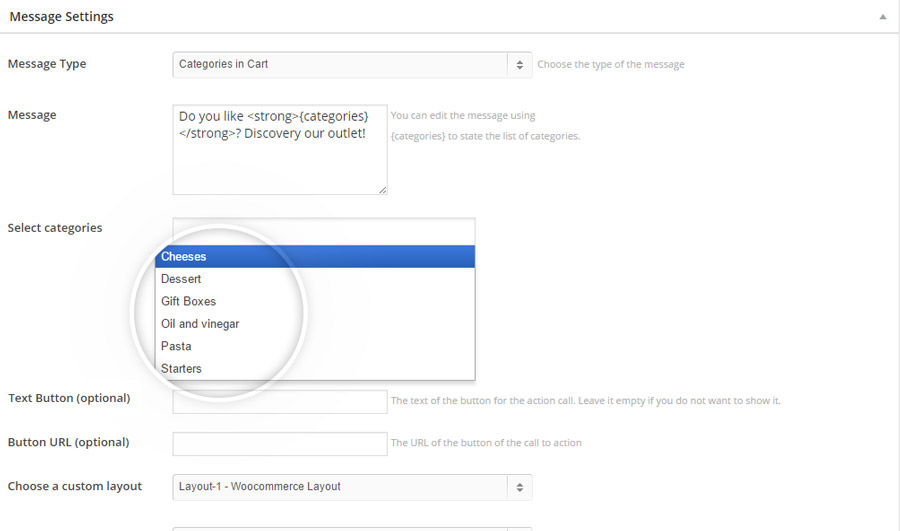 Interactive action is often effective to catch the customer's attention. Now we can add button that will encourage customers to get interested in your deals. In order to do so, proceed to customize the Text Button.
If you want your offer to be time limited, you may also include an expiration date in order to drive the customer towards an immediate purchase. To do so, set a date in the Expiration Date section.
Protip: In this case we recommend you mention the fact that your offer is time limited with your customers , which may encourage those of them who are still in doubt.
Finally, you are free to chose whether your message is going to be displayed in the cart itself and/or during the checkout.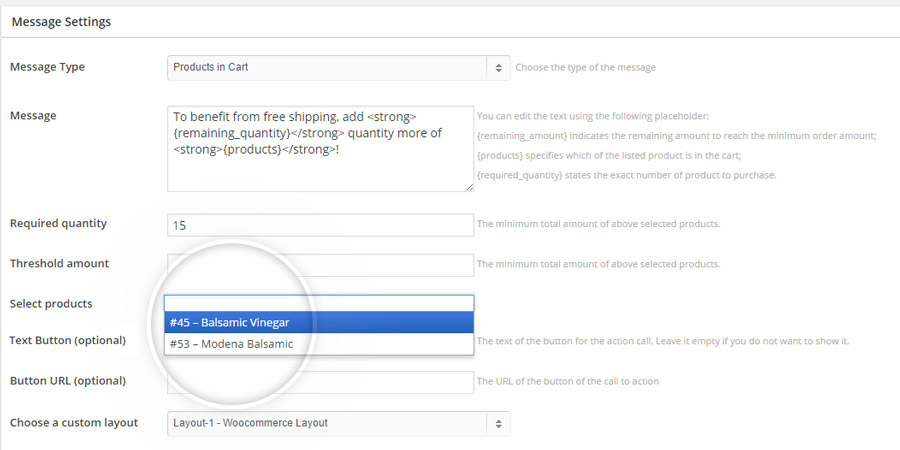 You can customize this plugin to a high degree: you also have the option to customize the message layout, thus making it more visible while the customer is surfing your website, in order to further highlight your offer.
And you're set! Following these easy steps you have now set an unmissable offer on your store and all your customers will soon know about it.