It's a common scenario: imagine you have to buy a new screen for your PC.
You search through the whole Amazon catalog, quickly dismissing those you don't like until you are left with two of them.
The first one is cheaper, but has no reviews whatsoever. The second one, despite the fact it's a little more expensive, has hundreds of reviews, most of which are positive.
Which one would you buy?
If you you thought "the second one", then you too realise the huge persuasive power of reviews, which often represent a decisive moment for buyers to go through in order to chose one item over another.
The potential of reviews
It's clear that positive reviews will help your store, but it's interesting to find out the extent to which they will do so:
A product with reviews will have a conversion rate that's 35% higher compared to the very same product without reviews.
Products with reviews have a look-to-book ratio that's four times lower then those without.
And that's only a good thing! Positive reviews on certain products don't have a negative effect on those without any.
Just take a look at the big names in online sales and you will realise how important reviews are: the world's leading platform Ebay based its whole trade system on reviews, making them a mark of quality and safety.
Not to mention Amazon, where customer created a whole community within the website, based on reviews.
But how will you encourage customers to leave reviews after buying an item from your store?
In this tutorial we are going to uncover a simple tool that will let you increase the amount of reviews in your online store exponentially.
Required Plugin:
How it works
If you are wondering why customers are not coming back to your store to leave a review for a product they bought, don't worry: they don't hate you.
In most cases buyers simply ignore the fact that they are allowed to express their opinion in a review.
The Review Reminder plugin allows you to automatically send a custom email to buyers to remind them they can write a review about a product they bought from your store.
Let's see how.
This plugin allows you to chose between two types of emails: HTML or Plain Text, in case you want to customize your message with HTML tags or send a simple text message.

HTML tags allow you to enrich your email with a lot of details, such as the buyer's name, the online store name, sales ID, order details and more.
You will then be able to send a message such as the one in the image below: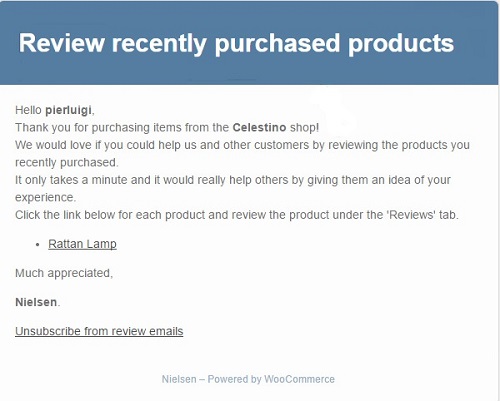 In the Settings tab you may also set the delay time before this email is sent, whether you want the plugin to send it after every single purchase or just selected ones, and much more.

One final tip: in order to encourage customers to leave reviews (since going back to your website, logging in, writing it down, and so on requires time and effort that aren't easy to find these days) you may consider rewarding reviewers with a discount voucher valid for a new purchase on your store.
Here's how it works: You will get a review in exchange for a discount voucher (through a custom email sent by the Review Reminder plugin) and once you receive the review, you will send the customer a second email containing the discount voucher, using the Review For Discount plugin.
It wouldn't hurt to get a review and sell a second product at the same time, right?