Allow your users to use credit cards with Authorize.net
Online purchases have begun a real routine nowadays: whether you buy digital goods, home tools or just a poster for your little cousin, our need to pay freely has to be fulfilled. Actually, it is quite unbearable to find limits of this kind for the online business. Yet, not all the sites are able make you burn your money, especially when you don't want or can't use a payment method like PayPal.
Therefore, what can you do? A question that we often ask ourselves when we analyze the possible payment solutions: maybe you don't have a PayPal account, or you simply want to use you own credit card. So, how can we pay with credit cards on e-commerce sites? YITH WooCommerce Authorize.net Payment Gateway has a resolving answer that can satisfy with its complete and relevant features. Firstly, what Authorize.net is? Just like PayPal, Authorize.net offers you a safe and protected payment service for all those uncommon payment methods that hardly are covered by the other services, just like credit cards. Because of that, using this kind of service thanks to a plugin like YITH WooCommerce Authorize.net Payment Gateway, not only you would increase the number of people able to spend money in your shop, but you would offer also a proven service recognized as one of the most convenient.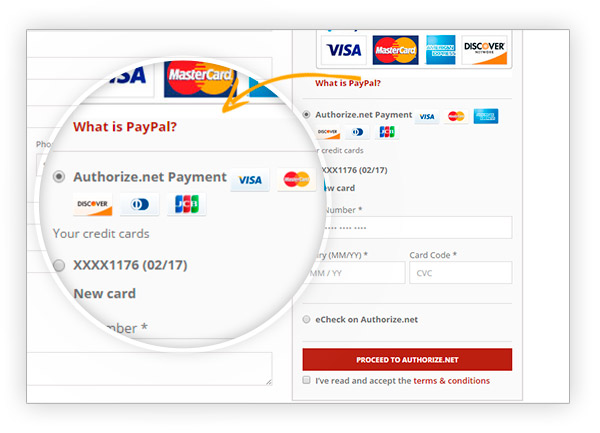 If Authorize.net is not what you are looking for, though, you could find useful information about how to integrate credit cards in your e-commerce in another article. But if this is what you are interested in, just keep reading.
Among its features, the YITH WooCommerce Authorize.net Payment Gateway plugin offers different customizing options to make the payment process more comfortable and rapider. In the beginning, the payment process becomes intuitive thanks to the clear and dedicated labels that can help during the checkout. Furthermore, this operation gets even deeper with the new payment options, among which you can find the freedom to send eChecks. This useful system lets you pay directly from your bank account, without any halfway passage.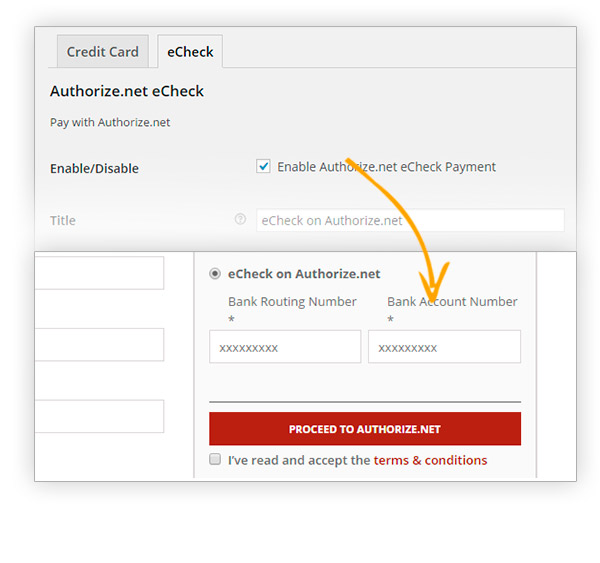 Another interesting feature regards the chance to store all the payment details of the users: in this way, managing the selected methods will be even quicker. Users will not have to look for their credit cards and write the details any more, but they will be free to select the correct card from the list of those previously used for a payment. And there's more: for an appropriate payment process, it will also be possible to set a particular payment option as default, avoiding the need to choose from different options and proceed with the favorite one.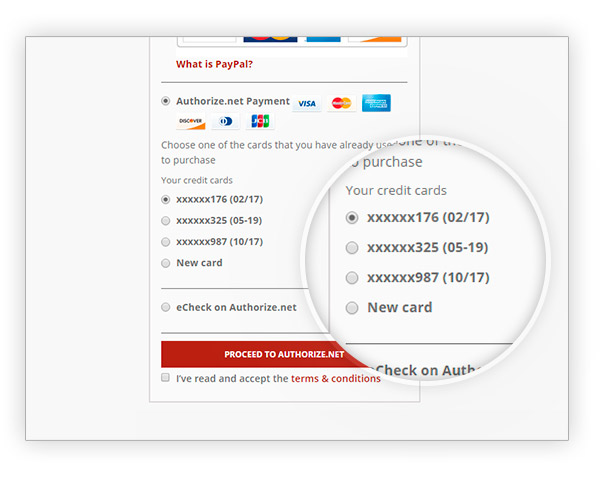 Many useful functionalities able to offer a more complete and definitely unique experience, in addition to the increase of the number of the people that can appreciate and pay in your shop. YITH WooCommerce Authorize.net Payment Gateway: a plugin to consider in undertaking the right path to be one of the best e-commerce site.
You can find detailed information about how to use and configure this plugin correctly in the plugin official documentation.
If you wish to learn more about how to improve user experience in your site using additional services, why don't you consider adding your Terms and Conditions in a modal window showing before purchase? This way, you can ensure they are informed about your Terms and Conditions and do not miss some important information you add in there.
Or also, keeping talking about beaurocracy, if your shop is an active one, you might need a tool to automate PDF invoice and shipping list generation or many other tricks you can find in our blog.