Seeing a tool being used always in the same way might lead us to think that is the only use said tool  has.
Truth is, the role of a tool is directly proportional to our creativity and its possible uses: let's talk about WooCommerce, for instance, thinking it could only be used for online sales is our limit.
As we have seen in previous articles, this platform can be used in several different contexts and for selling different kind of products: we could use it to sell digital products, fundraising, and selling educational products and more.
Furthermore, what it isn't able to accomplish now, it probably will soon: as an open source platform it benefits from the combined work of millions of minds. And you know: two million minds are better than one.
All you need is one single issue and the will to fix it.
In this article, we are going to examine how to receive online requests for estimates of costs, thanks to the WooCommerce plugin functions
Companies that are used to work online often struggle to sell their services because, differently from other kinds of defined products, their prices may vary according to many circumstances.
Web agencies, for instance, offer different prices for SEO indexing of websites, according to the kind of content they provide.
So, if we can't offer a product on a fixed price, what are our alternatives?
Offering a fixed price for everybody, risking to run into some customer discontent among those that would get the same kind of services for a cheaper price elsewhere (leading them to leave your website) and also losing part of the income from those who would require a more complex service.
Offer an estimate of costs for your services.
I clearly recommend the second one, but it may come with some issues we better address before they damage our activity.
First of all, if the estimate gets requested through a contact form, we may run into an endless exchange of emails that might lead customers to leave before buying the product.
Keep in mind that the average customer is lazy: each time they need to read and answer one email they will think "Can I get this service from somewhere else without all of these difficulties?"
Since there are a thousand potential competitors out there in the cold internet world, you better offer a different system.
And this is when the Request a Quote plugin comes in handy
As a manager of your website you can use this plugin to offer services without a fixed price, in order for customers to make detailed request describing their needs.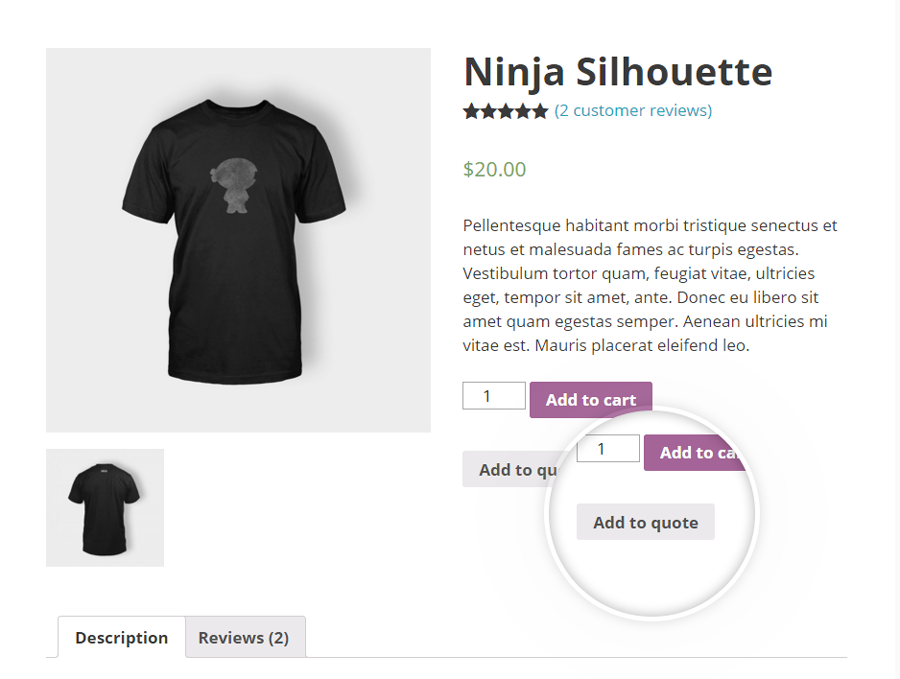 This allows for a clear communication between the seller and the customer, taking place directly on your store and, once a deal is reached, customers only need one click to agree and purchase it.
All the seller needs to do at this point is to fill in the required fields with the agreed price and it's done!
In the very moment customers will send their request, an order will be created in the store. This makes the process quick, clean and easy and it prevents the dropout rate of your store from decreasing.
Also, from the moment customer created the order, sellers can sent them a notification email informing them that their custom offer has been created, winning back those customers that simply forget about it once they left the store (it might seem odd, but I can guarantee that many of them suffer of these cases of "selective amnesia"…).
WooCommerce Request a Quote also allows you to remove the "add to cart" button from any of your products, which is ideal in case you own a website which only sells products that require an estimate of costs beforehand. In case you need to hide the price or the "add to cart" function for selected products or categories, you are going to need to use the Catalog Mode plugin.
Since the success of this kind of activity is based on your level of communication with customers, here is one final tip for you:
In case you haven't already done so, consider implementing a live chat system on your store: customers often need clarification about specific services and in case they don't receive an immediate answer, they tend to leave the store.