Track your orders, make your users feel safer!
"That clock I saw on sale online is gorgeous. I must absolutely buy it! Well, added to cart, name, surname, address, payment data added… 'Buy'"
Your purchase has been successfully completed.
"Well, and now? When will I receive the clock I want so much? And if there were any obstacle in shipping it? Or during transport? And if it were delivered later than scheduled? I want to wear it for my birthday… There's nothing in this website informing me about delivery!"
Stop! Let's go some steps backward.
User YITH has a small and extremely useful tool installed, which shows the status of product shipping, exactly what people who use to ship products need and what users find really cushy. What is it? YITH WooCommerce Order Tracking. YITH plugin helps you with this. Not only does it solve a problem concerning lacking trust in shipping systems, but it is also a very good tool for customers' loyalty, because so customers feel calmed by the fact they can follow their pack in its path, especially if it comes to high value objects.
And what should we say about the soothing effect that this plugin has on people who sell products and need to ship them? They want shipping times and agreements with customers to be respected, in order not to damage their own image, if any problem occurs not depending on them. Well, YITH WooCommerce Order Tracking helps you solve many of these problems and you can have also the free version of it. Why, then, are you still waiting before trying a tool that everyone finds really useful?
To all this you can add also the possibility to choose among many carriers available. International and most common ones have been already configured, but if you needed to add some, it is certainly possible, just contact us. Probably owners of online shops are used to using always the same carriers. Then, just select them in carrier tab and they will be displayed by default in the dropdown menu in the page "Order".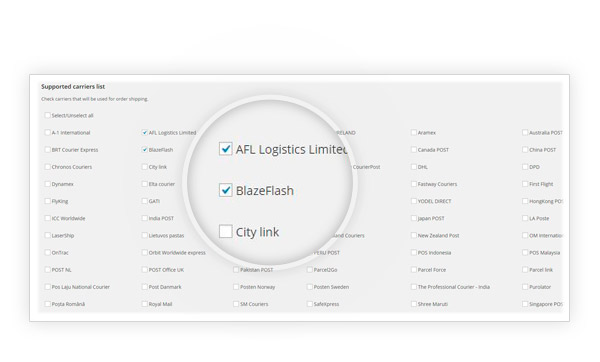 Moreover, within the page "Order" administrators can set the position where to show the text and see the page of each single order, check the status, check if the product has already been picked up. This information is available both for administrator and for customers and it is very useful to understand if, in case of delay, the problem depends on the shop or on shipping systems.
One of the most interesting options offered by YITH WooCommerce Order Tracking concerns not only the possibility to select the carriers you prefer, but also to allow buyers to click on the icon that appears after pickup and be redirected to the carrier's page without lifting a finger. Here data linked to their personal tracking code are automatically displayed without having to enter the tracking code manually. This option is a certainty for users and contributes to increase their trust in your website.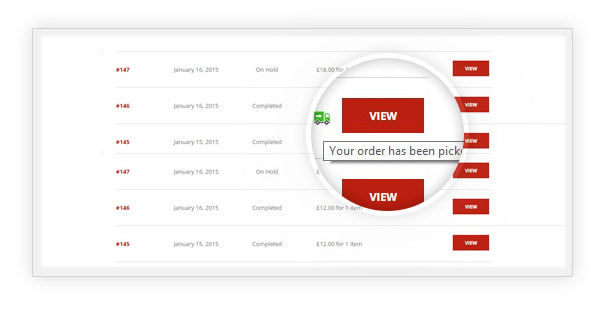 After all, any time an order is completed, users will be sent an automatic email, the text of which is customisable. There you will be able to add details concerning shipping status, such as pickup date, carrier and tracking code. This way, users will be immediately informed about the status of their orders and, if the product has already been picked up, they will be able to refer to the carrier itself for tracking details. This way the administrator will be spared the bother of receiving and answering countless emails from users asking about the position of their own pack.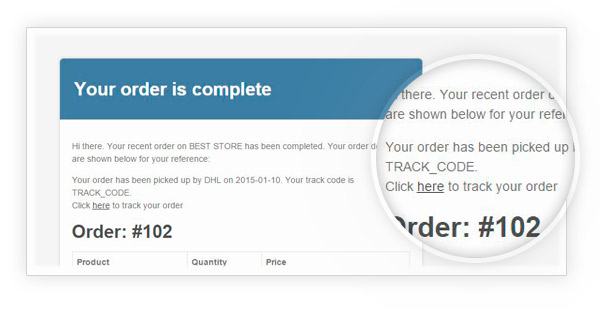 So, what might I tell you more? Do not make your customers wait longer. Order tracking will help you a lot both in management of your website and in making their user experience much simpler and more pleasant. You'll see that they will be satisfied and you will be able to manage your orders with ease without them to become a stressing activity!
Read more how to configure this plugin in the official handbook.
You could also integrate Order tracking plugin with another WooCommerce extension that allows you to create your own order statuses or you might be also interested in learning how to generate PDF invoices in your WooCommerce-based shop. Don't miss them!