The lucky side of creating an online store is that thanks to free and easy tools such as WordPress and WooCommerce, anybody can create a full working store in no time.
This is important since it offers anybody the chance to use this opportunity, but this advantage often ends shortly, leaving us with a store that is hard to manage, especially if we need to handle a big number of products.
Luckily there are many WooCommerce add-ons that allow us to improve its functions, in order to make life easier for all of us sellers who spend most of our time on our e-commerce store.
But which are the best add-ons to handle products and sales? I have selected three of them for this article, based on the most common requests submitted to search engines, such as:
How to quickly edit many products at the same time? How to reduce the price of all of the products in your store at the same time (for promotion periods, probably)?
How to effectively handle orders? how to create alternate status to the usual "Pending" and "Completed", to get a clearer overview of your orders.
How to handle products both in the store and in stock? How to get a clearer and more effective overview of your catalog?
in order to answer these questions, we are going to see thee plugins that are going to allow us to obtain these results in just a handful of clicks.
How to edit all products at the same time using WooCommerce
Imagine a store with hundreds or thousands of products. One day your supplier raises the cost of each product by 50 cents and in order to gain a profit from your sales, you need to add this amount to every single product in your e-commerce store.
You may lose days just to apply this little modification, while price could keep varying in the meantime according to taxes, fuel cost and other variables.
Besides, there are many reasons why one may want to mass edit all of his products at once: think about Christmas time or any other promotion period. In order to boost sales you wish to offer a 10% discount on all of your items, but to do this you would need to edit the "sale price" in each single page… that would take forever!
In order to cope with these needs, you will find the WooCommerce Bluk Product Editing plugin.
This plugin allows you to edit all of the most important fields in your products, from price to description, offering the chance to filter products and only edit a portion of them: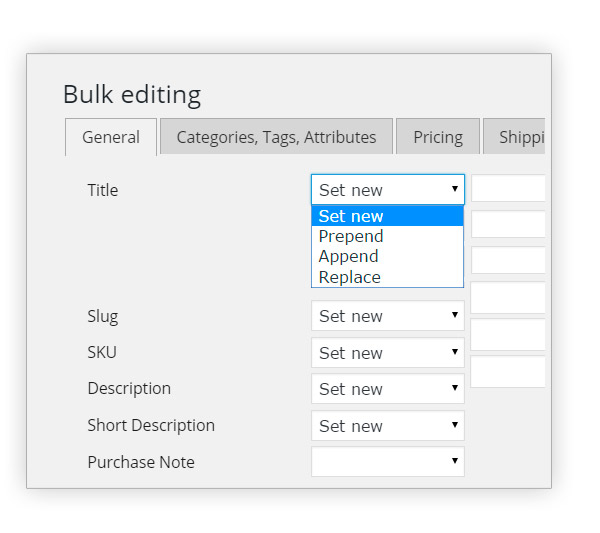 One of the golden rules of any commercial activity is: Don't waste time! Time is too much of an important resource to waste it in activities that can easily be automated and performed in one click.
WooCommerce: How to customize the order status
WooCommerce offers many different statuses for orders performed by customers, in order to label and effectively handle purchases.
But often these pre-set statuses are not enough to cover all of our needs, for instance: payment was performed but we are still waiting for the money to get here (in the case of bank transfer). In this case, it would be best to avoid assigning this order the same label of unpaid or abandoned orders.
There are many cases like this one, and having a clear division of orders allows you to manage your store better, in case you should assign duties to your staff according to the status of your transactions.
Generally, it's always advisable for a store to be as automated as possible, in order to avoid issues and misunderstandings.
Which is why the second plugin I'm going to suggest is  WooCommerce Custom Order Status.
This plugin allows you to add new statuses for orders, customize the icon and its related actions. This is how you will be able to see which orders need which action at a first glance: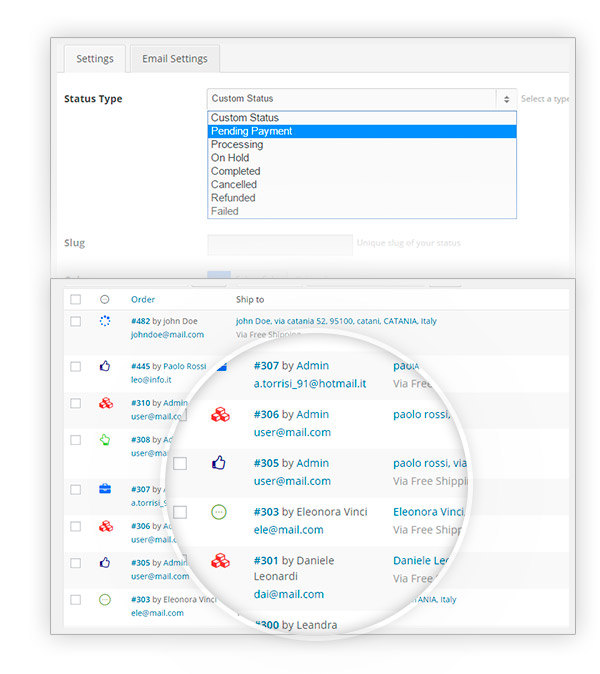 This plugin is also compatible with WooCommerce SMS Notification in order to send custom text messages to customers and notify them about changes in their order status.
Ultimately, let's see a third plugin, one that is essential to handle your inventory.
A barcode for each WooCommerce product
It's often hard to keep all of our products under control, which is why using a universal classification and identification system is always useful.
Other than surely improving the effectiveness of your store and helping you in handling your stock, it's a needed requirement for many products: consider books, many searches performed on search engines include the ISBN code of the book, making it a necessary requirement in stores.
And that's not all: since smartphones are everywhere these days, QR codes that can be read by portable devices are used everywhere: from  business cards to posters, including products.
So how can we link a bar code to each product in your store? Well, you are going to need the right plugin: in this case WooCommerce Barcodes and QR Codes.
This plugin allows you to link a bar code to each product, choosing from many different types and including the chance to apply a code even to the products that are already in your store: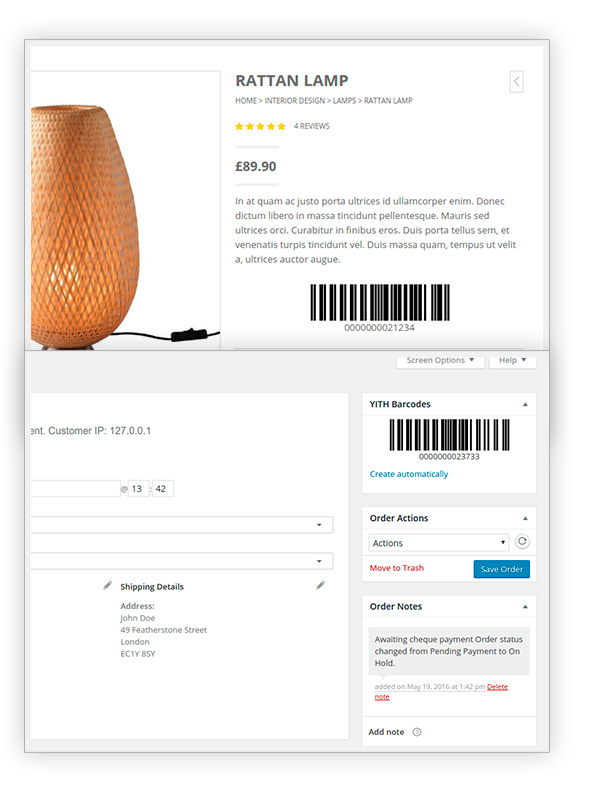 And with this third plugin you are done turning the way you handle your products around: now all you need to do is think for a few seconds about how to improve the efficiency of your e-commerce store using these add-ons!