In the past articles we talked about several alternative ways to establish a good communication with our customers.
We have seen how to set up a live chat system in order to be there for your customers and increase your conversion rate and we have seen hot to setup text messages to inform your customers of the status of their orders.
Both of these methods are surely effective, but we shouldn't underestimate the standard method, the one that's provided by WooCommerce itself: emails.
Before using any plugin, the system allows us to communicate with our customers thanks to automatic emails sent after purchases.
Adding new functions is just as important as improving the ones that already exist, so let's see in detail how to use emails to their best in our store in order to increase our customer's loyalty and increase sales… that's our goal, isn't it?
WooCommerce Improve the looks of WooCommerce emails
WooCommerce's automatic emails are our "business card", they are the most common and continuous kind of interaction with our customers and they tell about our professionality (which is something we can never afford to do without, not before, nor after a sale).
The negative aspect of a default function such as emails is the fact that it's generic, cold and non-customizable
On a visual level, emails should offer immediate feedback that would recall the website they are originated from, you might want to use images or further improve their looks. A customer with increasing trust in us, even after the purchase, is a customer that will be coming back to our store.
Let's talk about the content: we often find ourselves longing for a little more freedom customizing the content, even simply try to improve it a little.
As I said in the WooCommerce configuration guide, this service offers little in terms of customization.
I might want to add a menu that would redirect to pages within the website or improve some aspects such as the footer.
If you want to have more freedom of customization for the emails on your website, I recommend you try out our YITH WooCommerce Email Templates, which allows you to pick from several new templates and use them for a specific type of email: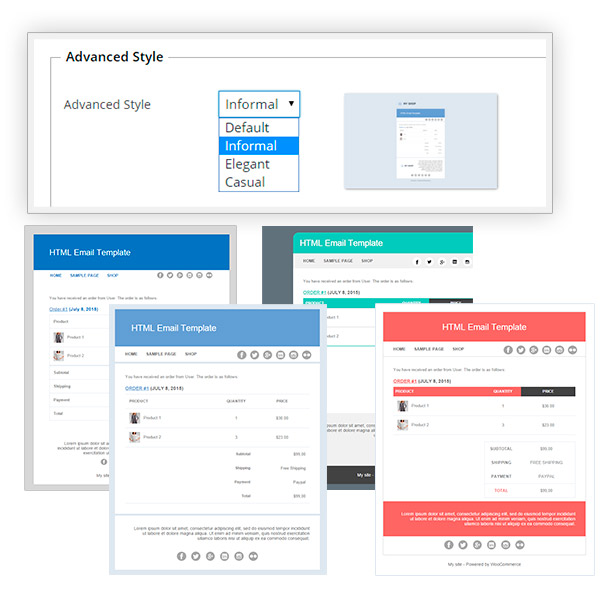 Offer discounts via email
We all know it: discounts work.
They increase sales, keeps customers satisfied etc… So why not linking such an effective mean of communication as emails to this so profitable marketing tool?
How? I'm clearly not suggesting you personally send emails containing discounts to everybody, this might also prove counterproductive, but offering targeted discounts might be the final attack to break through our potential customers defenses.
Let's make a practical example:
say today is my birthday and among many greeting messages I find an email from a shop with a personal discount only for me, as a gift!
Those of you who know the world of sales well wouldn't bee to surprised by this thing, but from a customer perspective, it triggers a sense of gratitude (as mentioned by the principle of reciprocity by Robert Cialdini) that will encourage them to purchase more from your store.
Not every celebrated one is going to actually use it, but they will surely go back to the store to take a look, and that's good for business!
Now repeat this procedure for the birthday of each user, every year. And not just that!
You can also use this marketing system in several different ways: a coupon to celebrate one year since the initial registration? A Holiday? An in-store event? You name it!
You own this tool now and you are free to use it!
If you wish to integrate this function into your store, you can do it by using our YITH WooCommerce Coupon Email System plugin: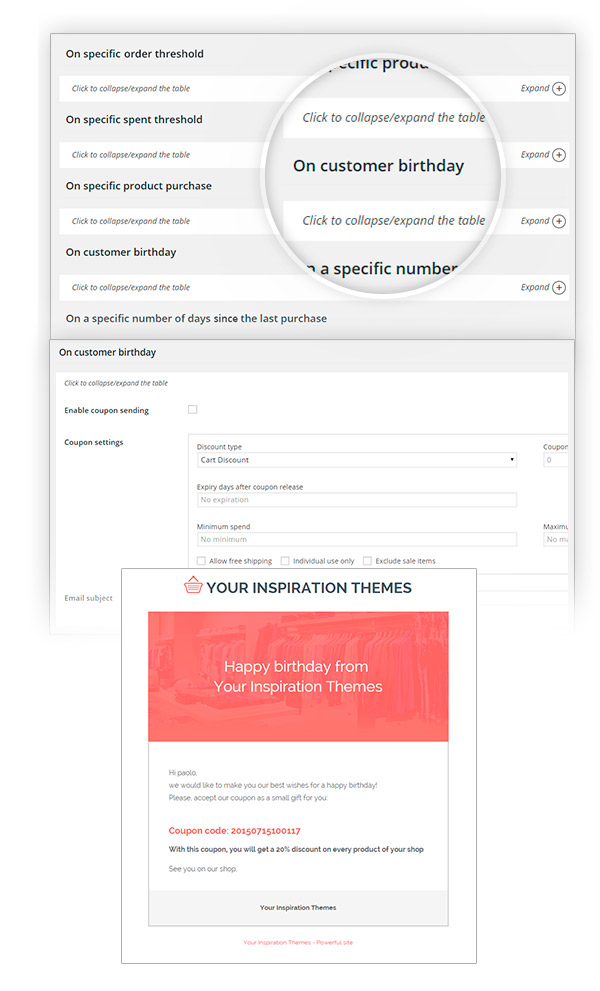 And these where two methods to improve the email system on your website and use it wisely to increase your sales, all in just a few clicks.