Easter is a typical period on the eCommerce calendar whereby the store owner feels the need to do something unique and treat their customers. In this Level up your Store,' we will be exploring five ways to treat your customers to something special. The term Easter Egg can be used physically and the way we like to eat them, but also in a virtual form as a give-away or treat.
The five ways include:
1) Tempt users when they sign up to make a purchase – Easter eggs or Easter discount
2) Give customers a reason to come back – run a promotion especially during Easter
3) Get the customer to spend more and reward them with a free Easter Egg or Gift
4) Create special content for your users and get more engagement this Easter
5) Reward your most loyal customer with a gift card this Easter
And there is always the virtual Easter Egg hunt on your site, by hiding the rewards on specific pages that can only be found using a clue. Great fun or frustration, it all depends, so let's stick to the traditional marketing methods and ideas.
Get more users to sign up.
Starting with the simplest way to create new customers. Offer an Easter Egg when you sign up or register. This Easter egg can be in the form of a discount code triggering a gift or discount. Just by using some topical language in your landing page and email confirmation, this can add a bit of fun and some urgency to 'use' this discount by Easter.
To make the process easy and automated, you can use the Easy Login and Registration popup plugin combined with the YITH WooCommerce Coupon Email System plugin. However, if you have a premium marketing mail provider, the latter is not needed. However, the easy register popup is a vital piece of the checkout process, especially if the user uses mobile-first and a desktop computer to finish the purchase.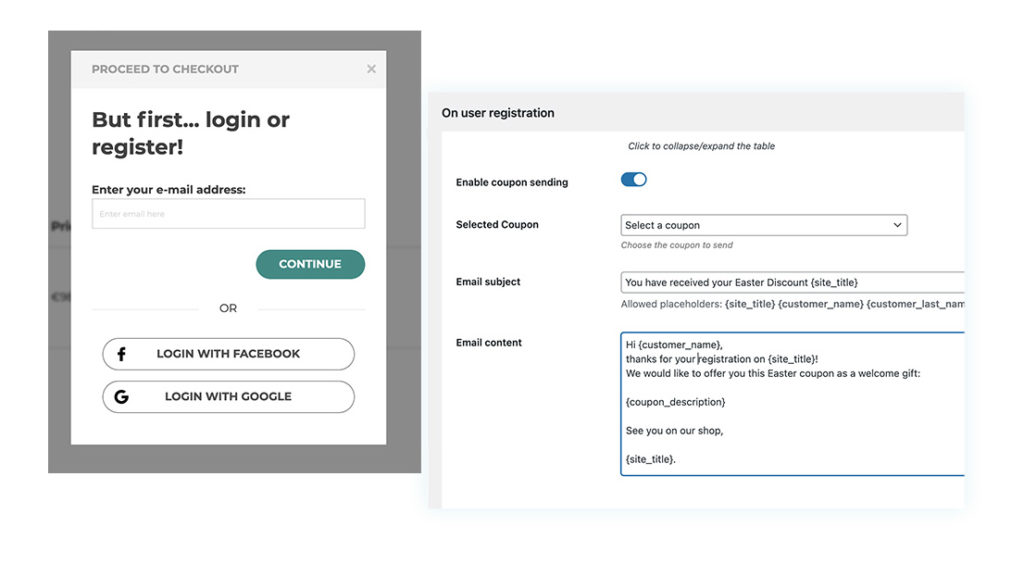 Give your loyal customers a reason to come back.
Do you run a loyalty scheme on your e-commerce store? You might want to consider this as it is a tactic used by many big companies to create a loyal customer base and rewarding them if they purchase more and more often. In the example of Point and Rewards, you assign points to different products or to the basket value. You can be very playful with this setup and encourage a certain type of product, repeat purchase, and increased spending. Who would not want to turn shopping into a game? Why not advertise that customers can get 'double point' this Easter time?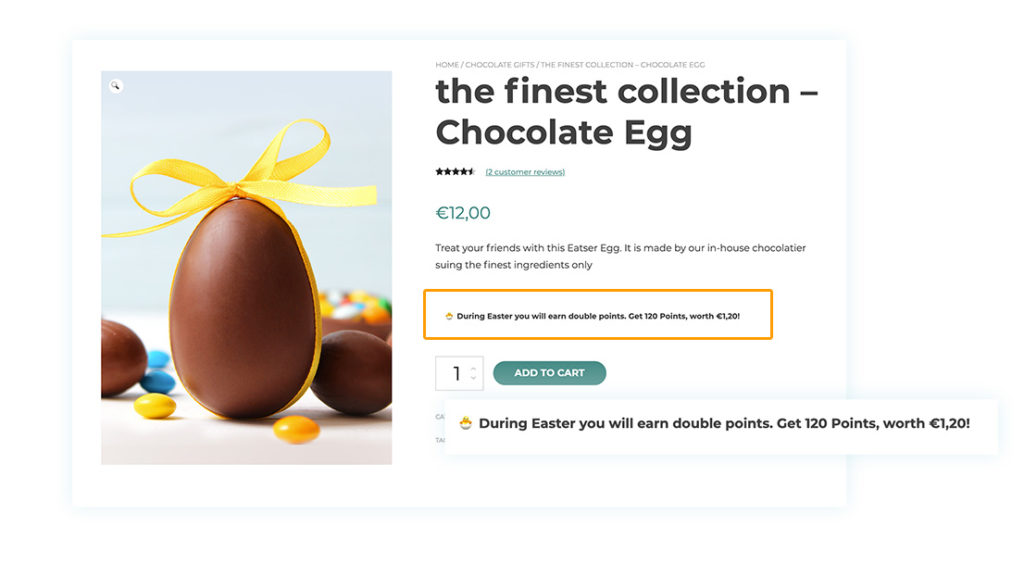 Points and Rewards; give extra points to your loyal customers for a limited period.
Get the customer to spend more to qualify using promotions
When you use Dynamic Pricing for WooCommerce; give away a chocolate egg if you buy more than two items. You can encourage to increase the Average Order Value by giving away a low-value item if the customer increases the purchase of another product. Easter, or another seasonal period, can be perfect to create this type of offer as it is certainly a gift that the customer will remember and enjoy. When you do the calculation of the actual egg and the increase over that period you run the promotion, it is probably marginal very little. And when you consider a repeat purchase in the near future, you know it was a good investment.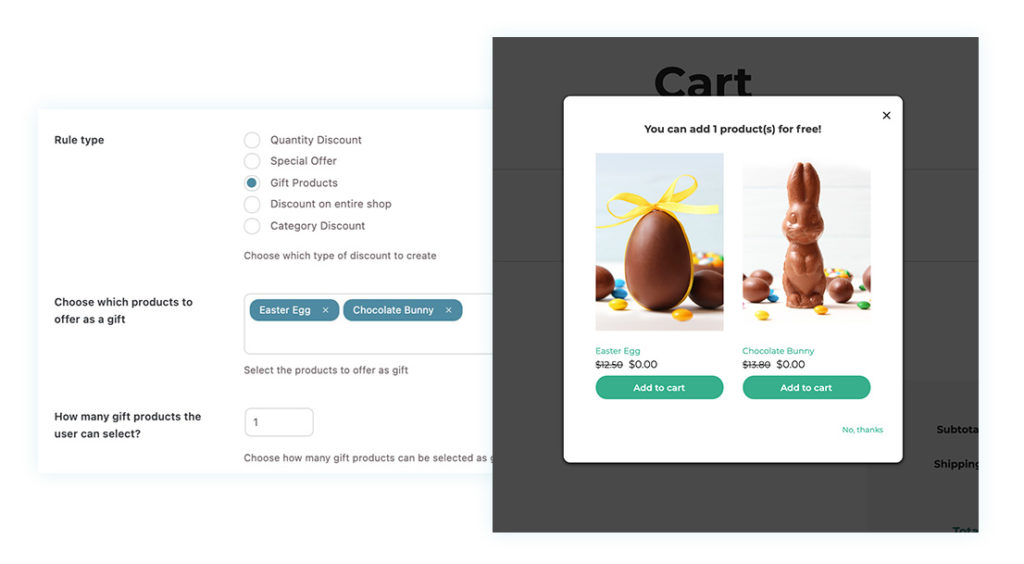 Engage with your members; free bonus content this Easter
Do you sell hobby or craft goods, provide courses, or even just premium content? Why not release a unique additional content on Easter? With YITH Memberships for WooCommerce, you can time the release of content perfectly and send out emails to announce this too. Imagine if you create a 'Seven days of Easter baking' special and release a new video and instruction each day of the week? This type of content will be loved by your users and drive new subscribers to your site as users start talking about this. While they are on the site, they might make an additional purchase too. Potentially a lot more effective than Facebook.
Another example can be to create your activity schedule for families during the Easter break. Whether you make this available for free through sign-up, in exchange for credits, or part of a premium subscription is totally up to you, but one thing is for sure, it will be possible with YITH WooCommerce Memberships.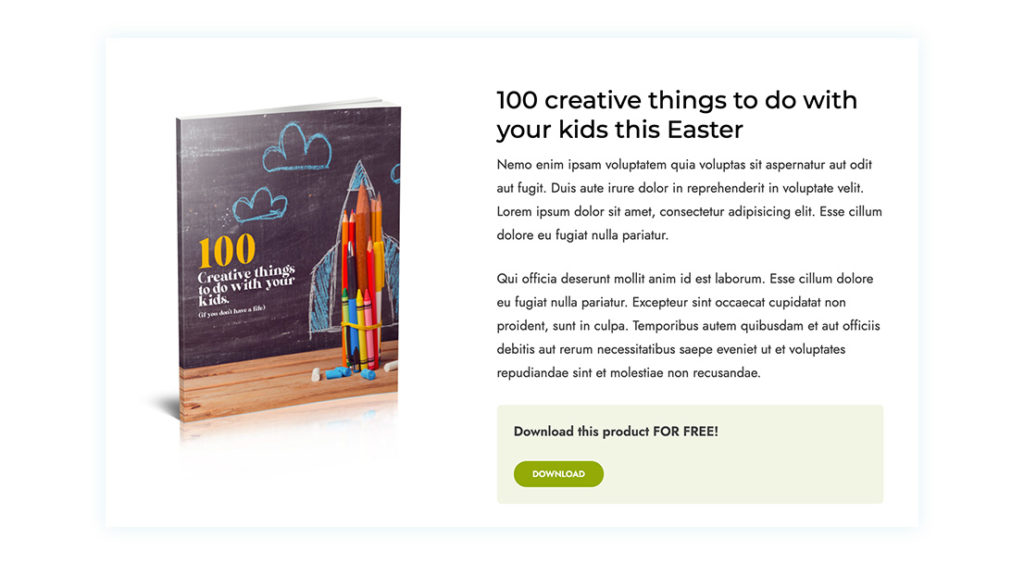 Send a gift card and let the user decide what to spend it on
Be super generous and send your users a gift card. Quite simple, or what about attaching some strings to the deal? You can exclude shipping costs, or if you opt 'Gift this Item,', the recipient can only exchange it for a specific item on a first-come-first-serve model, that you can stock control.
Do you have many loyal customers? Since the latest update, you can bulk create Gift Cards using a CSV file and send out a gift card to a large group. It is a lot more personal to receive a Gift Card instead of a generic email with a discount code.
Another option would be to partner with a business. For example, you send your customers a gift card to spend on a beauty treatment when they book a consultation with you, and vice-versa. As a cross-promotion, you increase brand awareness and customer, whilst feeling generous over Easter.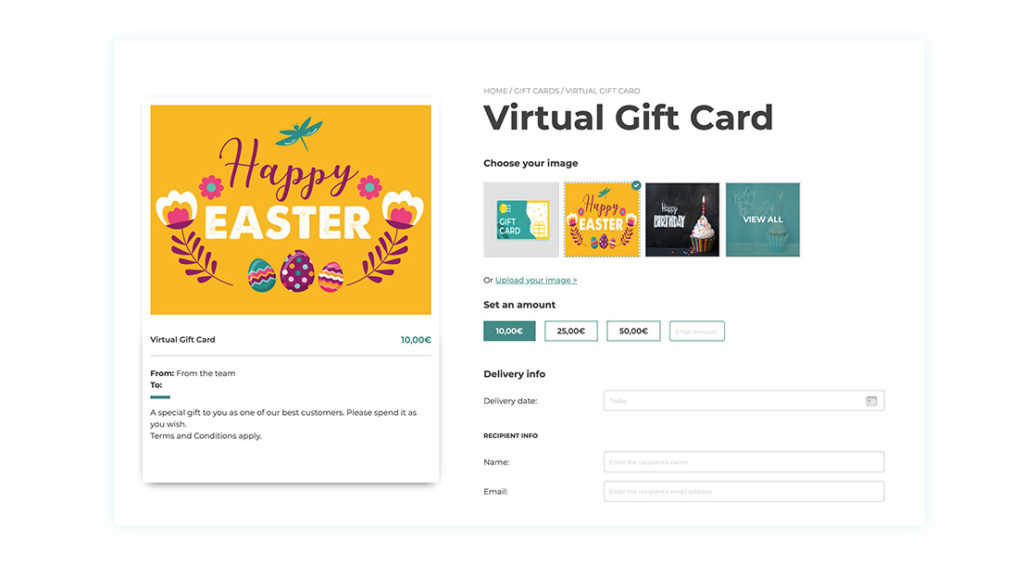 The options are unlimited and the fact that Easter is around the corner helps it be a good example. Once you have implemented one or more of these tactics, you only need to change the festive occasion, and you can give your store an automatic boost during any season.
Below are the series of plugins that you might find helpful. Don't forget that you can try them using a demo Sandbox account. Or, if you want to try two or more simultaneously, take a look at the instructions in this blog post.