There is no doubt that you have a friend or acquaintance who spends all day listening to music. We, at YITH, do too, and that's Alberto Ruggiero. On our internal communication app, we can always see that he is listening to Heavy Metal and Rock. Which is no surprise if you know him, and together with his long hair and the contagious smile he is a crew member, many will not forget after meeting him at a WordCamp.
Alberto, or known by his nickname witcher83, inspired by a series of books by Andrzej Sapkowski, has been a developer of YITH for the last 6 years. From day one, he has been dedicated to development and technical support. As with many of our developers, he has also represented YITH at events such as WordCamps.
Thanks to a friend, he was able to start at YITH, but a quick 'overnight' development course was what brought him home.
A colleague I had previously worked with at another company called me and said they were looking for a developer. Since I was a VB.net developer, and I really needed some PHP skills, I became a PHP developer in one night of study. It is amazing that knowing one language I was able to learn another coding language so quickly.
Alberto has helped many thousands of customers, but he is especially proud of his development of the Catalog Mode plugin. Almost as much as he is proud of his family, it is one of his 'babies.' Alberto is the father of two daughters, Chiara and Marina, and lives happily married to Veronica.
I live in Gravina di Catania, a small town next Catania. I moved there in 2012 after getting married. It's just a quiet little village, my heart will always be tied to Catania… And there would be so many special things to say about it that a library would not be enough to contain them.
His heart will always belong to Catania and his family, but also YITH. A large part of his day is dedicated to helping his customers, as Alberto explains in his typical day.
My day starts at 9 am: after greeting everyone (virtually) I see if there are any tasks assigned to me and then I dedicate myself to solving the various tickets sent by customers. Then, based on the various projects assigned, I spend the rest of the day on developing the new plugin features, or improving existing ones.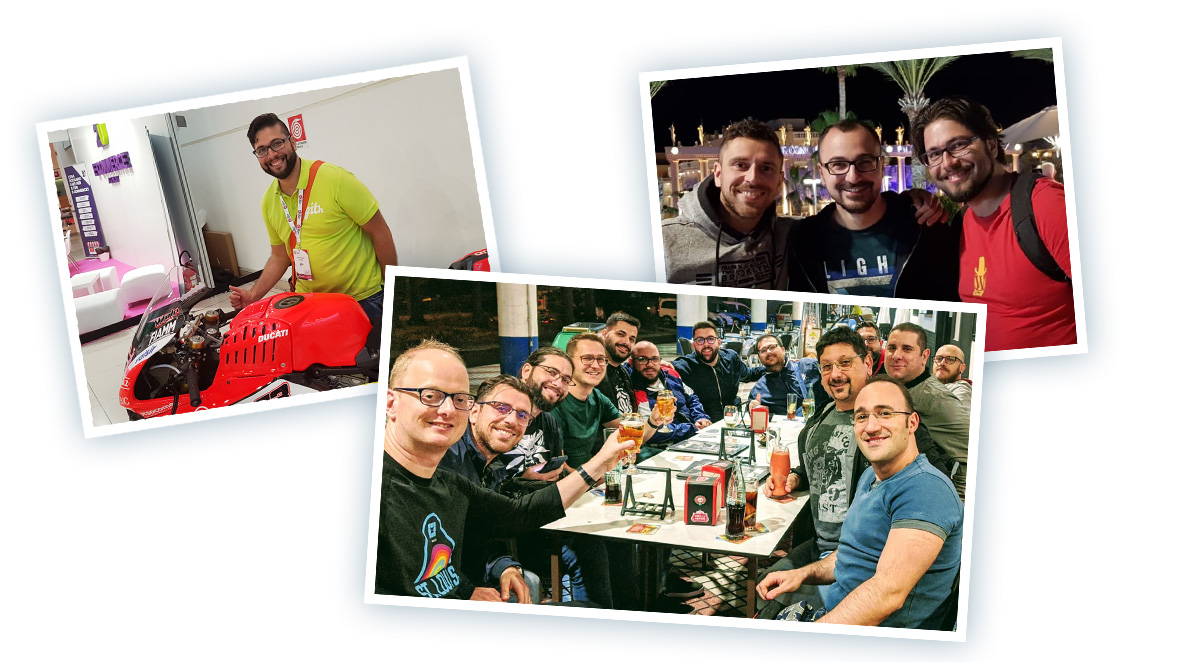 Unlike many developers who like their social coffee breaks or lunchtimes, there is no shortage of 'best moment of the day' for Alberto.
The best time of day is when you see an enthusiastic customer after you have solved a problem that made them despair. It is a great feeling that you've made someone's day and in our case an e-commerce business.
And you might think: working with certain people can sometimes be complicated. What is Alberto's favorite type of client?
I really appreciate those customers who are collaborative and, very importantly, clear in explaining the problem. This makes the job a lot easier.
But for almost a year now, working has been a complicated task. From home, hardly seeing our colleagues, with children running and screaming around the house… Alberto talks about his experience:
Whenever possible, I like to go to the office. Even if I have to drive 10km, it is still a way to separate myself from the distractions that often occur at home (such as my two daughters aged 2 and 6) and also because I like being in the company of colleagues.
Outside of work, Alberto's hobbies are photography, music, and reading fantasy books and manga comics. In fact, we'll let you in on a secret: he has SEVEN guitars at home (plus an electric bass)! Now, do you understand what we were saying about music?
Another thing Alberto enjoys a lot is food. And believe us, he eats everything, even a stone if you give it to him. Choosing something very complicated for him, although he has a weakness for roasted meatballs. Of course, as a good Italian, pizza with pineapple is an offense to his culture.
In many posts, we have talked about the importance of YITH for the team members, the good relationship between colleagues, and each person's support that makes up this company. But Alberto has perfectly defined what YITH is for him:
My second family!
If you like to connect with Alberto Ruggiero, you can do it via Twitter: @the_witcher83.
Find more about Catalog Mode and our team.