In the YITH family, each member is different and brings something to the team that complements it: joy, interest, ideas, creativity… But now it is the turn to talk about a person who is synonymous with tranquility, curiosity, and desire to learn, among other things: Antonio La Rocca.
His friends know him as Zio Tony. On the web, he's known as therock130. Since he was young, he was interested in IT and technology in general. That's why he focused on studying his passion and started working as a web developer at YITH. He is particularly proud of his hometown Catania where he can enjoy both the view and the mountains (yes, especially Etna, the highest active volcano in Europe).
My job constantly offers me new challenges and ways to improve over time. That's what I like the most about it. I follow the development and update of some of our important plugins, like Wishlist or Ajax Product Filter, and I'm humbled by the great community of people that uses them every day. Any new update is a challenge, and it's always a thrill to work together with Sara, our UX/UI expert, to offer a better and better experience to our customers. And then, of course, I'm also part of the small team that manages our site, yithemes.com, which is both a great honor and responsibility and offered me the chance to learn much about WPO and server management.
Yes, you've read correctly: Wishlist and Ajax Product Filter. Tony is one of the people behind these plugins. And although they are two of the best plugins on the market, he encountered different challenges like working with the plugins existing codebase. Fortunately, Tony always has new ideas for improvement.
I think what I've learned from the continued support to this project is that you should never think you're done improving or that something is in the best shape possible: there is always room for improvement, and as a developer, you need to be humble, learn whenever you can, and keep being curious for new technology. I always feel the urge to review my previous work, and I think this is great because it is a sign of learning and -hopefully- improvement.
All these lessons he has had to experience also from home. Because of the pandemic situation, the team has been teleworking for more than a year. And that can have both positive and negative things.
Working from home can be both great and exhausting. I really feel like human contact cannot be replaced with anything else, and that is the biggest problem in working remotely. Also, keeping focus may prove a challenge: with regards to this, I experienced that defining a workspace, where you sit in the morning and that you leave at the end of the day, maybe valuable since it keeps the mind focused on the job, and prevents me from returning to my home routine.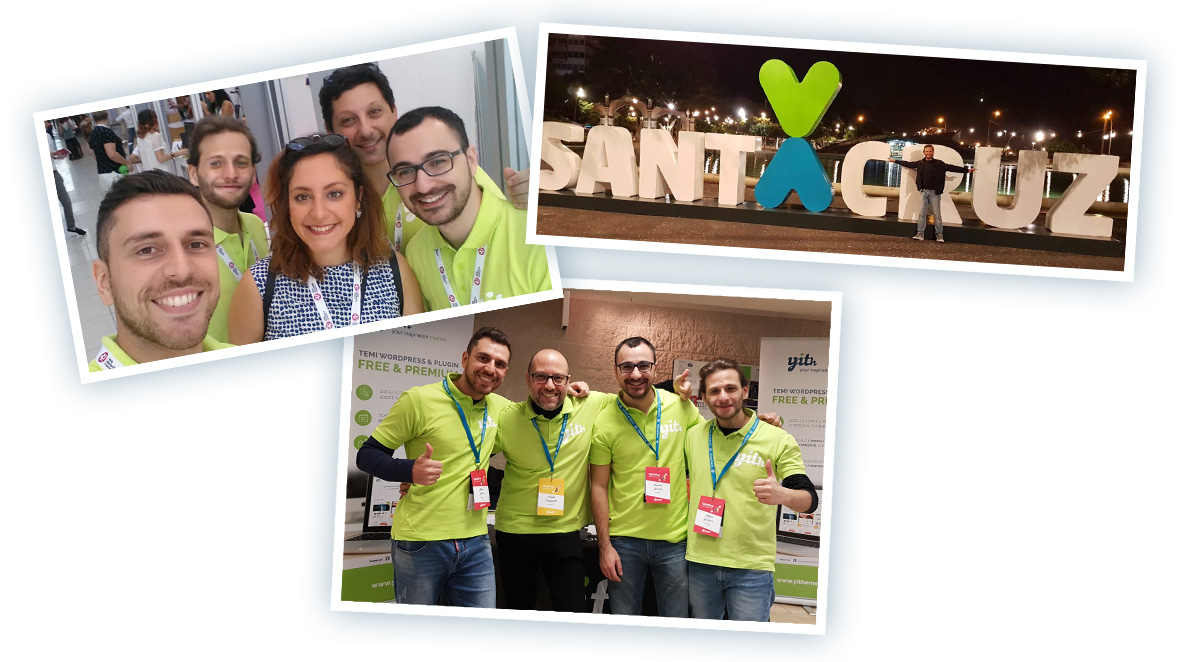 While Tony valued breaks with colleagues in the office (or, as he considers them, real friends) before the pandemic, his routine has also been affected by covid.
I'm not a morning guy, I must admit, so I usually start my working day with an easy task to get the mind running: I read the emails, look at new threads on our internal chat, and check tasks scheduled for the day. Then, after the first coffee of the day, I usually spend some time answering topics on wp.org. Finally, I start with my main task: it may be a plugin update or a new feature for yithemes.com. In any case, I do my best to focus and code the best that I can. Working day follows a precise rhythm, with occasional breaks for coffee and chatting with colleagues. By the evening, I usually like to take some more time to stay at the office, as I reach max concentration by that time, and with some music in the headphones, I feel like I can really speed my tasks up.
Video calls with colleagues have now become a valued part of Tony's day-to-day life. However, another thing that makes him very happy is meeting empathetic customers.
The best customer is the one that understands we do our best to help and respects our job; I speak with many customers over my workday, but I treasure those who really create a connection on a human level.
But not everything in Antonio's life is work. In fact, he has every Sunday reserved for the F1 GPs. And yes, as a true Italian, following Ferrari is his main passion. Probably on par with pasta, video games, music, or a good book. Probably the only thing Antonio is lacking is time, to fit in all these past times.
In the beginning, we emphasized his desire to learn, but he also takes them into account when talking about his ambitions:
I want to keep learning and extend my knowledge in new scopes. I hope always to stay curious and keep an open mind; this is the only way to stay on the cutting edge of technology.
We could not say goodbye to Antonio without asking what YITH means to him and without thanking him for the grain of salt he contributes every day to this family.
I know it sounds sentimental, but YITH is a second family for me. When I started working here, I had great luck entering the job with two of my best friends (actually, I still owe a dinner to the one that pointed out this opportunity). In the years that I worked here, I've made many more good friends, and now I look forward to our team meeting, to enjoy some time all together.
Find more about Wishlist, Ajax Product Filter, and our team.