At times, there are some pretty big challenges at YITH, and we can usually count on Francesco to solve them – apart from one, which is pineapple on pizza – but more on that further in this post.
YITH is full of privileged minds that can quickly put themselves in the customer's shoes and always try to offer the best support and help. This is precisely what Francesco Licandro does – being able to jump a request made by the customer care team to help a customer stuck with an issue.
Amongst friends, he is called Dienadel, a nickname from the book Eye of the Needle by Ken Follet. Another interesting fact is that as one of the best WordPress developers, Francesco did not finish his degree in IT Engineering at Catania University (just three exams short to achieve this goal!) But to get him on his journey, he worked hard doing seasonal jobs to pay for his studies. From stacking groceries to giving private tuition to children, a great example of the lengths Francesco is willing to go to follow his dreams.
Francesco is a developer at YITH, which he considers "a big family" and already since 2014. He develops plugins and takes care of the YITH site, but during a typical working day, he has many more tasks, as he describes:
I'm not a morning guy, and my brain needs a few moments to switch on. I start by checking in Asana for small daily tasks and then start with the main task of the day. I also help the customer service team when someone has problems with the yithemes site.
And by the main task of the day, he means developing some of the plugins you'll find on YITH. He is incredibly proud of the yithemes.com site project. But also some of the plugins he has developed, like YITH Customize My Account Page, or Multi-Vendor. Yes, we know that many are eagerly awaiting the new version of the latter plugin. If you are one of them, you should know that very soon you will be able to enjoy it. It is quite a challenge, but the result will surely be fantastic.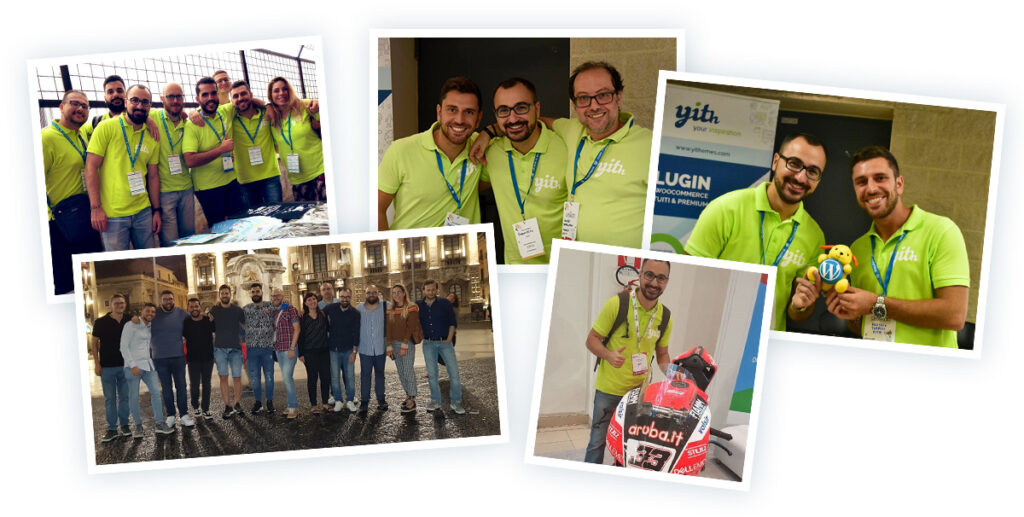 And when we say it's a challenge, it's that with every development, you experience numerous difficulties or face different challenges. For example, the plugin will go through a completely new development with improved code and user experience. Making the functionality backward compatible is for sure a challenge only Francesco takes a lot of pride in solving.
As for YITH's website, the struggles are that every change made, even the simplest one, is a responsibility towards the company and our customers. As for plugins, I don't like to call that struggles because every problem you have to face is an opportunity to improve your skills and become a better programmer […] The important thing is to meet the problems because the solution is there, somewhere.
What has been a challenge for him is working from home, something he honestly doesn't like. Even less is dealing with clients who don't consider the hard work that sits behind every line of code for each plugin or the genuine goodwill of the support team. 
But Francesco's life is not only based on plugins and IT. He used to live in Catania but recently moved to Aci Catena, a pretty hillside town in Sicily. Also, music is his other main passion, especially heavy metal. Megadeth, Metallica, Slayer, Disturbed, to name a few favorites, and just a few years back, he visited an Iron Maiden concert with Antonio, a fellow developer at YITH. 
Francesco loves traveling, and that's one of the first things he will do when the covid restrictions are lifted. Not least, to meet all our new colleagues that joined the team in the last 12 months when we have the next reunion in Tenerife or Sicily. 
And food could not be missing. As a good Italian, he is clear about several things: pizza with pineapple is a crime! …and Italian food cannot be missing in the list of food that motivates him or makes him hungry just thinking about it:
My favorite foods are pasta, pizza, and anything with chocolate.
Find more about Customize My Account Page, Multi-Vendor, and our team.