There are few people like Andrea, luckily at YITH, we have many with similar characteristics… maybe because Andrea is a big influence or he fits right in the YITH family. Andrea just loves life and the little things that are available to enjoy this. From motorbikes, fishing, enjoying a coffee with colleagues to general helping customers and colleagues alike, Andrea is there. He studied computer science at the University of Catania and graduated in 2011. He grew up in Acireale on the Italian island of Sicily with his brother and parents.
"Here we have all you want: the sea and mountains, people are kind (almost always haha) and enjoy a good climate, even during the winter. There are wonderful places to see, if you've never been here you have to take a trip around here, maybe by motorbike… Sicily is the place I call home, having also lived in Catanzaro (Calabria) and for a couple of months in Milan (Lombardia)."
Andrea started working at YITH in 2013… making him one of the longest-serving developers in the company. Before this, it was not a straightforward start to becoming a developer…
"In 2012, after I did several work-experiences coming out of university, I shortly worked in Calabria for a startup which I really enjoyed. Unfortunately, it all ended in January 2013. In the meantime, I accepted position as a substitute at school for a computer-science teacher at the Hotel Institute of Catania. Luckily, my cousin introduced me to Nando, the CEO of YITH. He had just finished the offices in Aci Saint Antonio and was looking for collaborators. After a brief interview, Nando asked me to join the company and I felt right at home from the beginning. This was in 2013 and as you see, this adventure continues today :-)"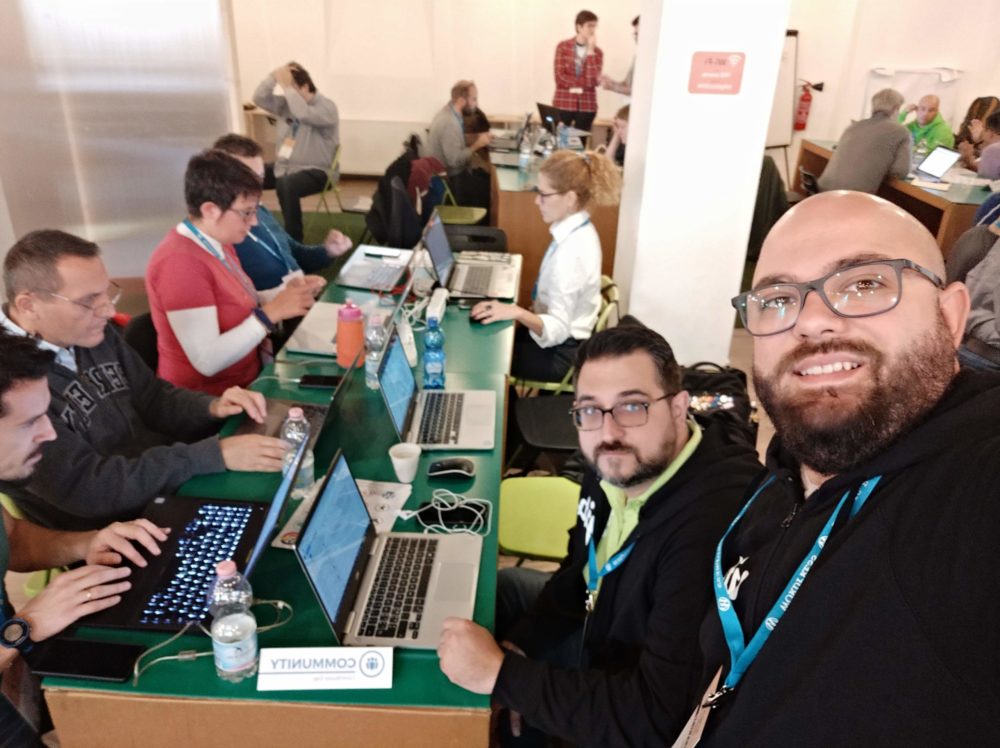 In general, the team likes to stick to set times working together. It gives a sense of teamwork and joined achievement. Also, Andrea can be found working in the Sicilian office on most days. What does a typical workday look like?
"I start work at 9 'o'clock. Before that, I spend 15 minutes checking emails and other little tasks that my colleagues send me. After that, I manage the support requests for the rest of the morning. After lunch, I work on a different project. Plugins update, bug fixing, and improvement, new plugins or projects, ideas that arise during our weekly meetings … there is no shortage of work, you can always find something to do!"
What else is important in your job you do today?
"I like writing code so I like my job but at YITH it is different. I have full control of the project I'm working on, I can study it, find the solution, and implement it according to what I think is the best solution/technology at the moment!"

"Also, the coffee and lunch breaks! It's an important moment in the working day. During this moment you can talk with colleagues and share about life or about something that is not linked to our jobs… it's a good moment! Unfortunately, the Covid-19 emergency has stolen this from us, though we are confident, we will have these moments again soon!"
Customer support is a big part of most developers' daily tasks. This gets the highest priority and getting appreciated is something that most developers find very important. No surprise that Andrea takes great care in making sure the customer is valued and a solution is found quickly and when this gratitude is returned if feels great.
 "We try to be professional but friendly with customers, this is what makes our job special. A great show of gratitude is when a customer opens a support request simply to say "Merry Christmas" or to communicate an achieved success or to know if we are safe during this bad period. I think this is truly special.
In general, we try to create a family atmosphere, both with colleagues but in particular with customers. With colleagues, the relationship is realy very good! With many of them, we also socialize outside of work."
Andrea is the main author of YITH WooCommerce Multi-Vendor or the marketplace plugin for WooCommerce. But this is just one of a big list of projects that Andrea has been involved with. For him, the biggest challenge is to plan for unknown future improvements.
"You must always analyze and plan everything before starting to write code. Think about how the software could evolve in the future because it is impossible to think of adding everything immediately, but you know customers will come up with some amazing and useful features. A plugin is something  that will grow and evolve over time."
One of the regular questions of what food that gets Andrea motivated the most is 'anything cooked on the grill' but suggest a pineapple on pizza and he will tell you 'it's a crime'… we should have known this when asking an Italian. Back to what Andrea loves the most…
"Motorbike! I like to ride a motorbike! I love to travel and discover new places by motorbike, in my opinion, it is something wonderful. I also like fishing, hiking in the mountains, going to the sea. I really love DIY and gardening too! Pretty much everything that involves spending time outdoors, and even better the Sicilian outdoors! "
Check out other crew-members' stories and how they started working at YITH. If you want to connect with Andrea you can do so via twitter @GrilloAndrea