More than one customer has asked us: what's better for my store: Membership or Subscription? Are they the same thing? What's the difference?
Well, Subscription and Membership are two different plugins but are usually associated. The Subscription plugin allows you to sell products with a subscription plan in your e-commerce and create a recurring income. On the other hand, membership will enable you to activate some sections of your e-commerce with restricted access to create memberships for courses, exclusive content, downloads, or special discounts in your store.
Two different plugins, yet, they are one of the most powerful integrations in our product catalog.
Keeping payments manageable versus the one-off
The truth is that any user likes to feel valued and be part of a distinguished group. That's what a membership is all about. But who wants their members to buy all their online courses with one unique payment?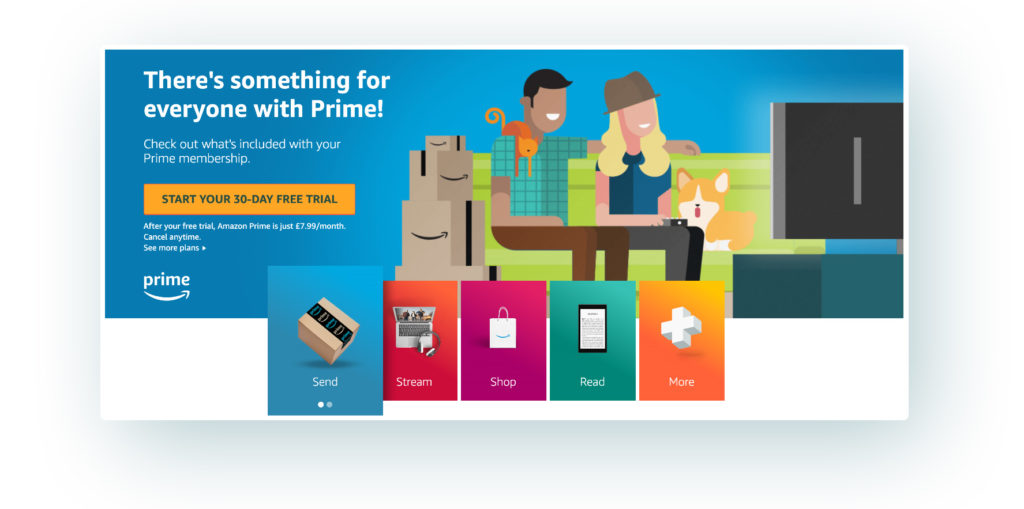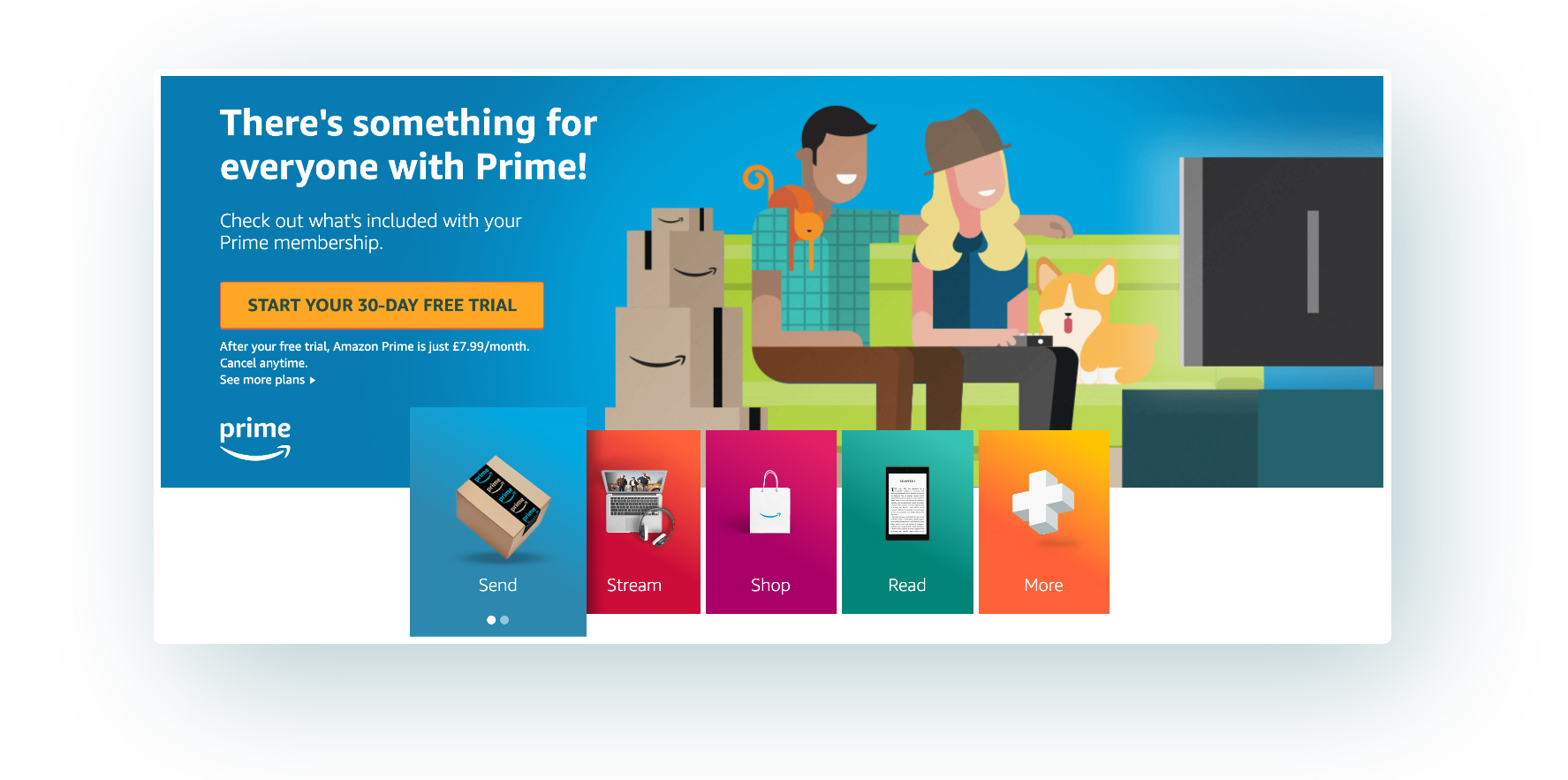 Companies like Amazon Prime, Disney+, or Netflix have something in common, and we don't mean success: they don't use one-time payments for their members. Widespread use is to make their users pay a monthly or annual fee to enjoy their services, not a one-off payment, as it would be in the case of Membership. 
Can you really imagine Netflix charging 2000 euros to a member who can use their products for life? Not many people would buy into this. So splitting it into manageable monthly payments is probably just right for most people while gaining access to videos, courses, and downloads. Here, a Subscription comes into play to integrate a monthly membership plan.
Let's explain this with a practical example. Imagine you run a gym and fitness business for which your customers pay a monthly or annual fee to enjoy access to the sports facilities and classes. The membership part that your customers buy to get access is managed by the membership plugin, whereas the monthly payments are managed by Subscription.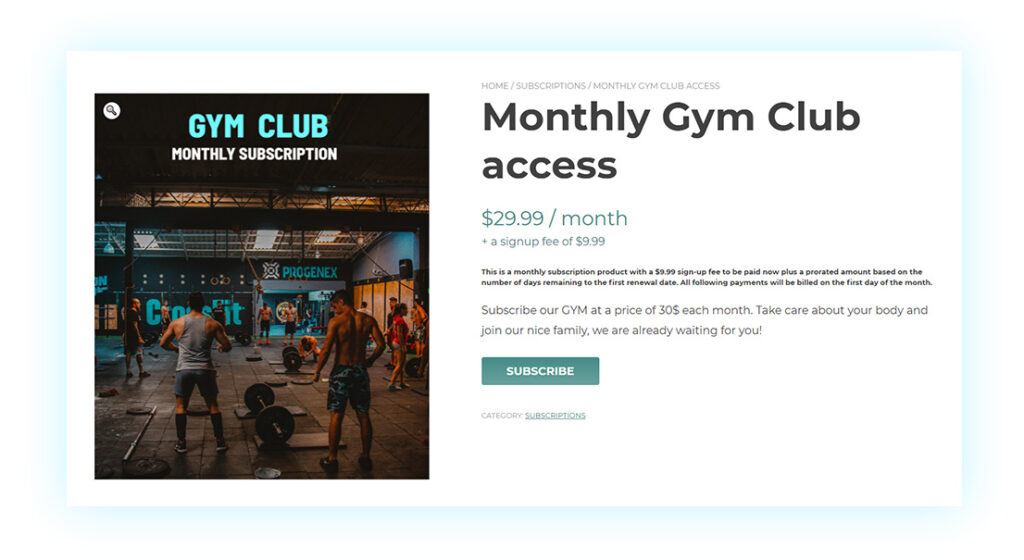 How to set up a membership site for your customers
So now we know YITH WooCommerce Subscription only controls recurring payments, while YITH WooCommerce Membership handles access to specific pages or downloads. Let's put ourselves in the shoes of a gym owner. 
We want to create three different membership levels: 'Beginner,' 'Elite,' and 'Athlete.' All three have a monthly/annual cost that increases with the level, but we add extra benefits in each of the plans. For example, members of the 'Beginner' membership only can access the exercise routines and diets, while 'Athlete' can access all of this plus bodybuilding supplements. That is, members of the latter plan will pay more because they have more benefits. 
How to do it? It's straightforward. The ten basic steps to create a recurring membership are as follows:
1) Create a new membership plan.
In the case of the gym, we create three of them.
2) Select 'allow access to this plan after purchasing a product'
You can create a product later, but when you buy product A, you become a member of plan A.
3) Set up times, restrictions, and content
Associate content for this membership plan, give access to other plans, and set a time- or download limit and many other options.
4) Create my account access
Users can see the status of the membership. A super important feature as users will want to control many parts of the plan.
5) Set up perks for members
You can create discounts, like 15% off for Gold members on the entire shop.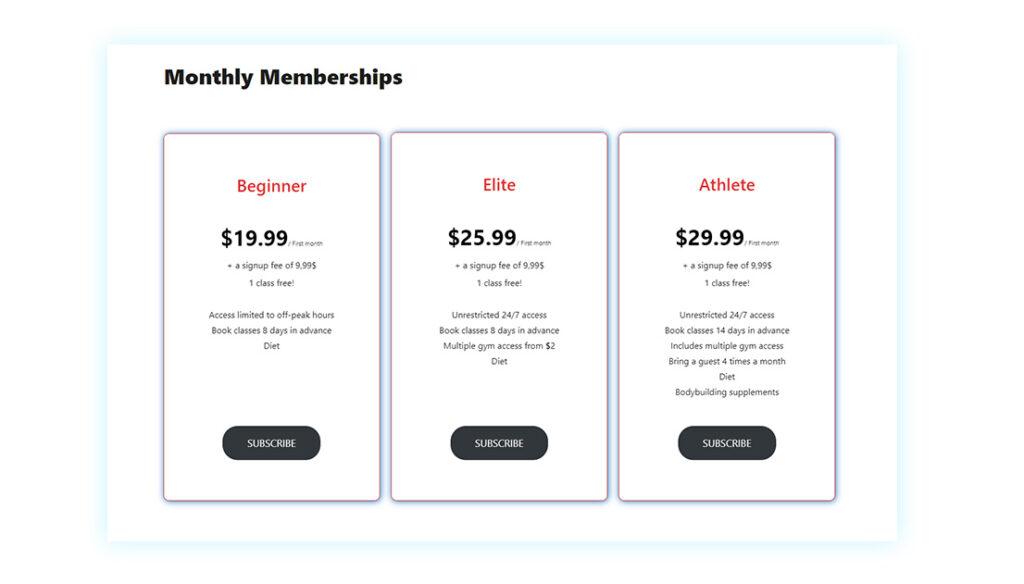 6) Create a subscription product
Thanks to the seamless integration, the subscription plugin has settings to control the membership.
Without going through every subscription setting, which you can find in the documentation, we will create a monthly plan for $ 29.99 and a three-month plan for $ 69,99. Just go to products, create a new one and add a simple subscription product: our gym subscription.
In Variations, we can create attributes, in our case monthly and annual. We'll only have to configure each one of them (price, for example), selecting that it is a subscription product, and then select the frequency with which users pay the subscription, establish trial periods, add registration fee, etc.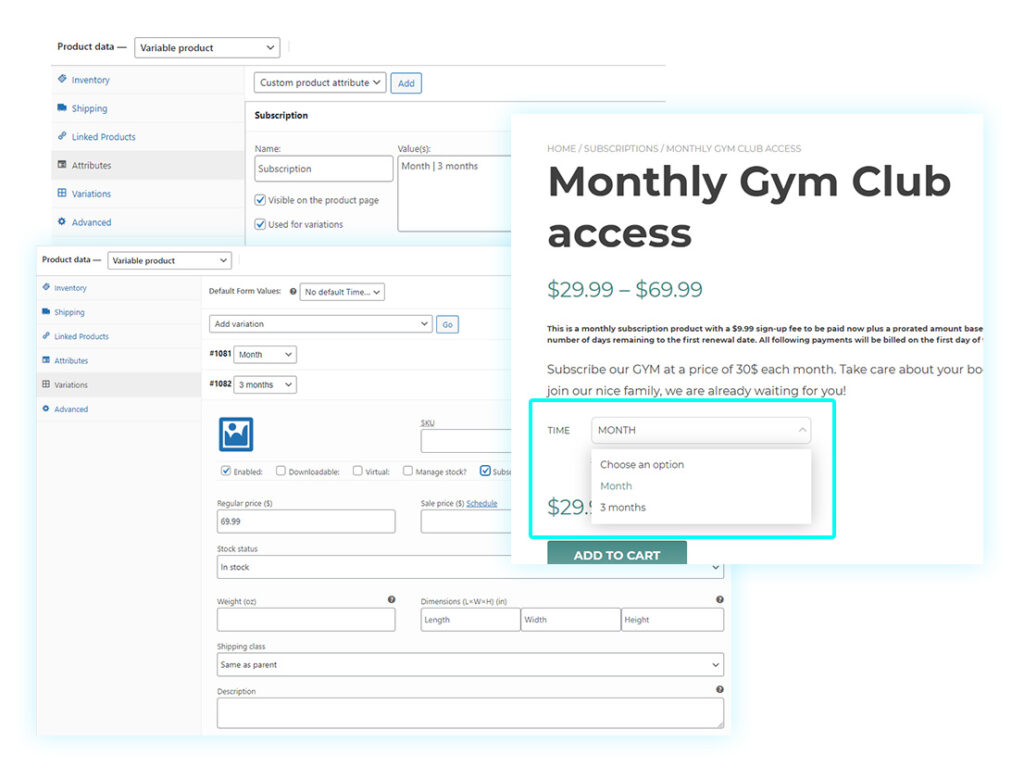 7) Associate the product with the membership
As described in point two, you need to connect the two, so if a user subscribes to plan A, they get immediate access to all parts of membership plan A
8) Adjust settings for subscriptions to up-or downgrade
The subscriptions plugin has many settings, but one of the easiest ways to upgrade your members is to incentivize them with more perks if they upgrade to the next level.
Or what about vacations? Thanks to the advanced settings, your gym members can take time off. Just two ways to help build up a better customer relationship with your members.
9) Adjust the Membership settings
Once we have our membership plans created, we can decide in the plugin settings the default alternative content for non-members. What would happen if a non-member tries to access our content or if a 'Beginner' member tries to access 'Athlete' content. This is where the fun begins, and you start to create valuable content and communications for your members.
10) Manage your members and subscriptions
The YITH membership and the subscription plugins have beautifully laid out dashboards to analyze every part, export reports, and more importantly, measure your success.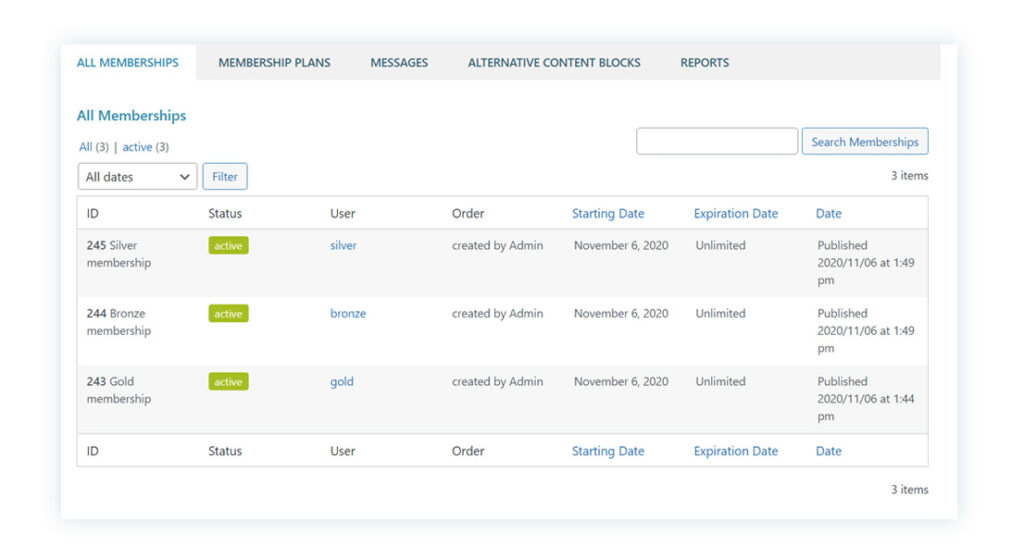 There are many more features. You can get an excellent overview of them in the extensive documentation or set up a demo.
Adding membership benefits to your customers
Let's explore some of the tricks to convert more customers with promotions, deals, and benefits.
Create a free trial period and let people know about it
When we create our subscription-based membership product, it's imperative to attract new customers or members and make our product known. Sometimes it can be a complicated task, but if we have a good product, great plugins like these, and a lot of desire, we can achieve excellent results.
A great idea to enroll new users to subscribe to our products is to offer free trials for a week or month. It's an excellent way for members to get to know you and start getting involved in your membership. The aim is to make sure users feel happy with the service and realize they can not do without it. Just as we become addicted to binge-watching Netflix, your users will want more and more each month. Whether this is joining exercise classes, learn more in the next course module, or ultimately achieve a new qualification.
A free trial period is not about losing money; it's about gaining users. Users who want to join the gym are not interested in a store that doesn't bring them, and neither are we interested in unhappy customers. That's why you should look at this as a long-term gain.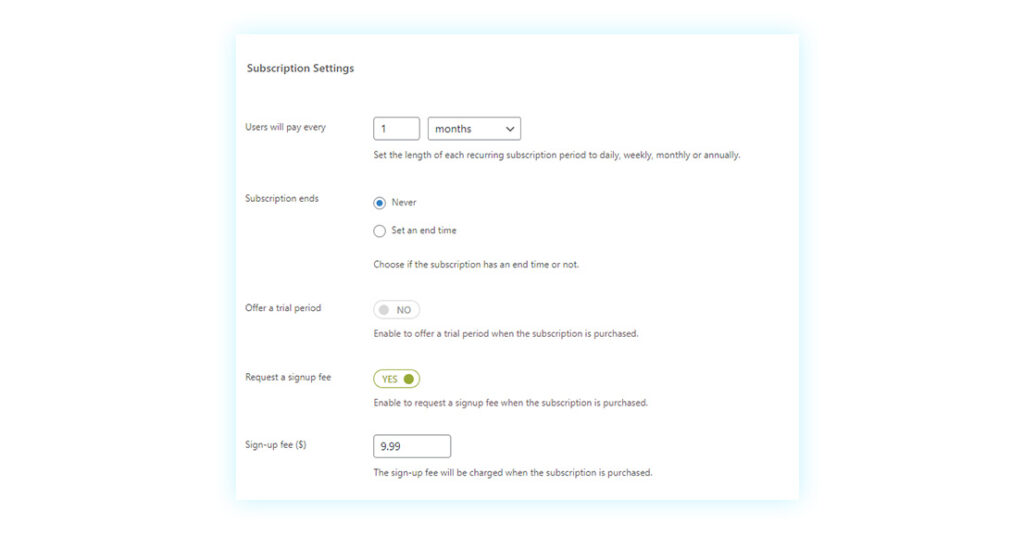 If you've ever been to a gym, you know that most of them offer one or two free classes. As owners, we can manage this in several ways: 
Offer a signup 100% discount using WooCommerce's native discount and coupon code. Imagine you offer two online classes a week for $8, but you want people to learn about your system and become a member. You can create a starter training and offer a 100% discount code for this course; people will flock to your site to sign up.
A better method is using the subscription free-trial functionality. At signup, the user will have shared the payment details; therefore, the user will enroll automatically in the plan unless they cancel it within a set time.
You can manage all about the trial period in the Product data of the product. It will be very intuitive to you as the business owner to what works best, but knowing that every promotion is possible is crucial when building the platform.
Offer discounts to attract users
We continue in the case of the gym. We can create specific offers to get new users to register. Something prevalent in any type of subscription is the first month you only pay $1, it's free (related to the free trial), or it has a percentage discount.  Imagine that we propose the first three months of new members, the price of any of the memberships has a half-price cost. Who could say no to a gym fee that the first three months doesn't cost $50, but $25?
The native WooCommerce discount coupon codes work well with the subscription plugin. You can create recurring discounts, one-off discounts, or even a sign-up fee.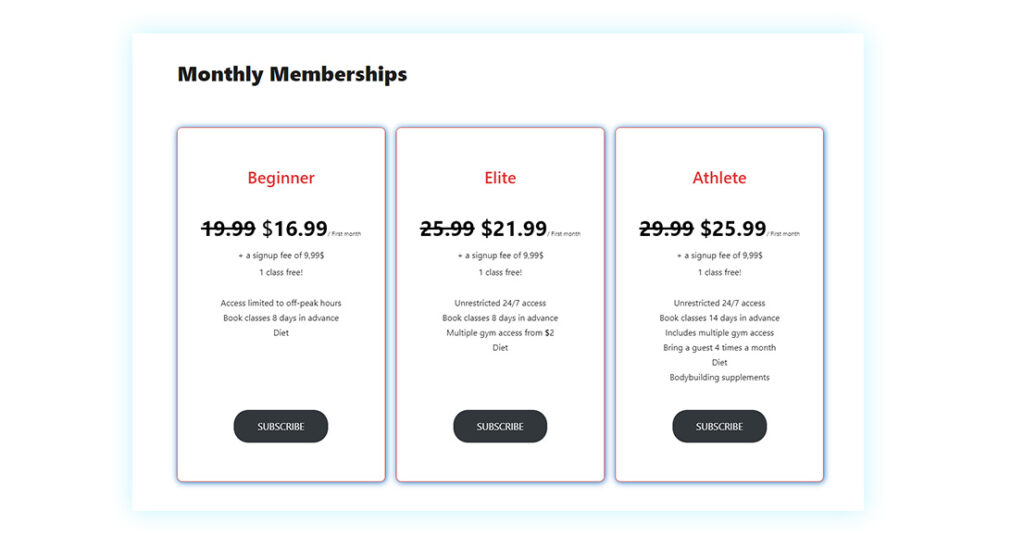 Offer incentives to your members
Imagine that we already have a community of members. But do you think they will be loyal to you without anything in return? Or at least a reminder of how much you value their membership?
Creating offers or incentives for users is part of a future-proof strategy. If you spend years offering the same thing without renewing yourself, many of your customers will look for something new or better.
Amazon Prime offers advantages to its members, such as free shipping, as we can explain in this article. For example, we can gain access to new workouts with videos for a practical technique every two weeks for those who belong to the' Elite' membership. 
While the 'Athlete' group will have access every week to new workouts with videos to improve their technique. This is an incentive for people who get tired of doing the same exercise every week to change their plan or stick to the second one.
We can also offer economic incentives. Thanks to the integration with YITH WooCommerce Dynamic Pricing and Discounts, you can set up new rules. For example, give 10% discount to all 'Elite' members and 20% to 'Athlete' members on gym clothes, tools (weights, kettlebells, etc.) or nutritious food we sell in the gym. Could anyone resist this?
What does it cost to share a post on social networks? Nothing, but how much can we earn by doing so? A lot. Here we gain loyalty but also promotion of our users. And we can make use of the advantages that new technologies give us: "free access to diets for one month to the first 50 people who share this post on their social networks".
The benefits of using subscription-based memberships
But don't think that only physical businesses or great platforms like Netflix can use it. If you are planning to sell online courses, this can also be the integration you were looking for. Imagine setting up as a yoga instructor, art classes, or learning to code.
Any business where you want to create a community of members and have them pay for products with recurring payments should target these plugins as an upcoming purchase. You just need to decide on an annual or monthly fee that is fair. Then consider whether you want to have an initiation fee or not, create a list of all the benefits you offer to members, calculate how many people can be on your membership at the same time, and find ways to promote your new business.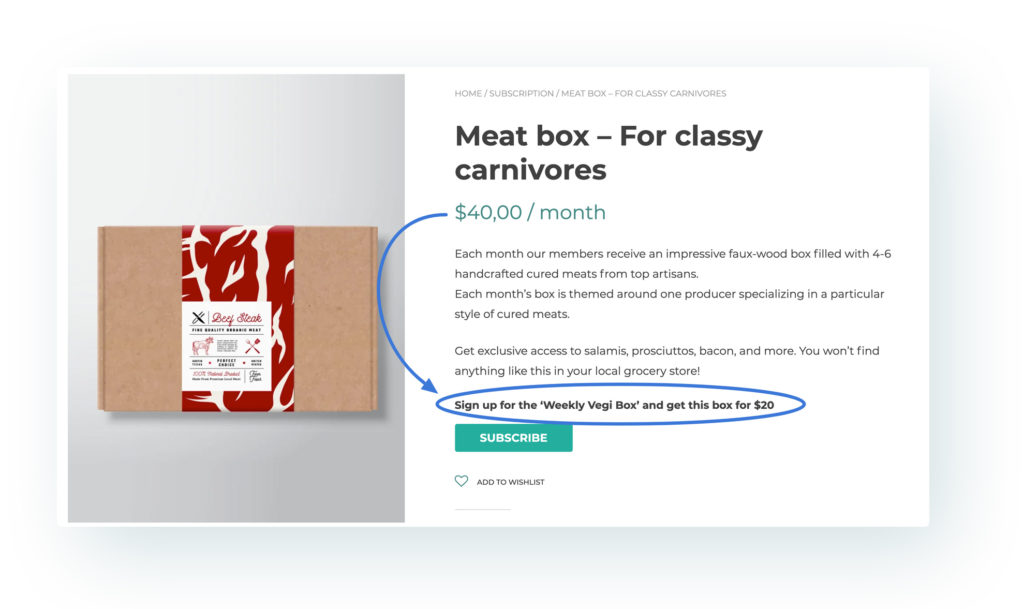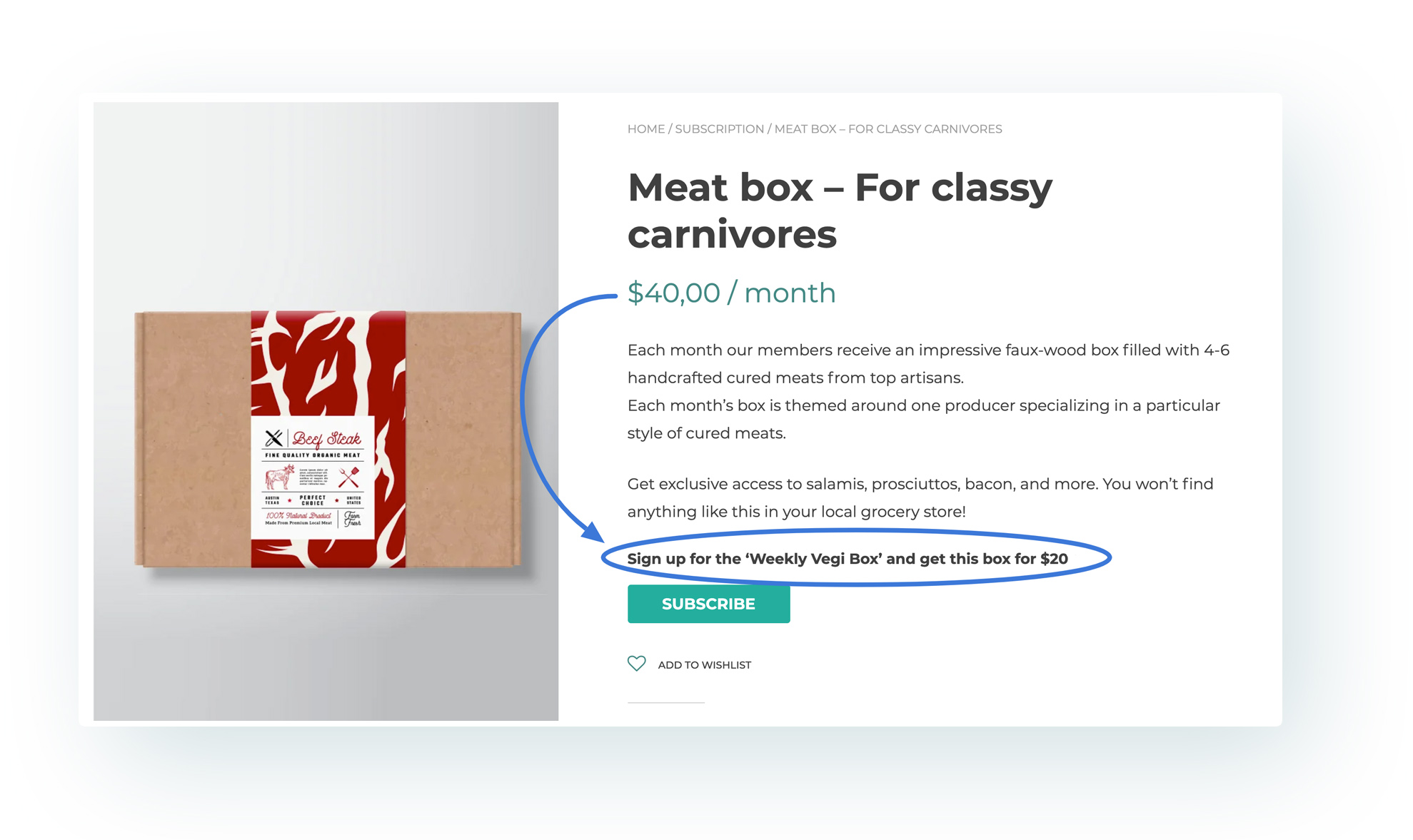 Once you know your costs and potential profit, the investment in a good set of tools or plugins becomes a minor cost. It drives your business and automates a whole bunch of handlings that users can now manage themselves. No more need to answer phone calls, reply to emails, send out promotions, and so on. It is all handled by a few plugins.
The benefit of integrating both is self-explanatory: you can create a community of loyal members and secure a series of revenues thanks to recurring payments derived from subscriptions. Keep in mind that customers will become regulars as long as they feel privileged to be members and perceive that they get an advantage, that is, that you bring value to them. A good example is Amazon Prime's free shipping.
Conclusions and further learning
As you can see, the union between Membership and Subscription is one of the most powerful in our catalog product. You often encounter this integration (when you listen to music, watch a series or buy a product), but you don't always realize it. 
Sure it is a good solution for your store, but we understand your doubt. Maybe you already have a Membership, and you want to know how it works with Subscription without buying the plugin, or you want to know if these two plugins are a good solution for your business. By using our sandbox site, you can enable two or more plugins at once. In this tutorial, we explain how to set it up. 
You can find videos in Spanish and Italian on our Youtube channels about other great examples of creating content restricted to those who pay a subscription, sell digital products, and allow downloads to subscribers or create a members-only video course. Test our plugins YITH WooCommerce Membership and YITH WooCommerce Subscription and then discover an increasingly common form of business in the market.