Nowadays, having a WordPress site with WooCommerce is an ideal and popular choice to selling services or products online. WooCommerce, is an open source plugin that provides the ability to customize online stores with the help of dedicated plugins.
Whether you sell services online or offer physical or digital products, in this article we'll be looking into how to sell services online and make your work easier by reducing customer's quotations and automating the sales process.
To do this, we'll recommend certain plugins that fit your needs, as well as give some examples of services sold online.
Before we begin, let's take a step back and recognize how selling services differs from selling regular products online.
How to sell services with WooCommerce
One of the major distinctions between selling products and selling services is the timing: typically, a product is offered for sale once it has been manufactured, whereas a service is provided after the customer has purchased it. This allows customers to tailor the service to their individual needs.
In fact, customers' needs are essential to design online services, and it's for that reason that the default WooCommerce sales page is not enough to meet these specific requirements. For any shop that doesn't have an online form available, you face the limitations of having to deal with quote requests and cost calculations.
Therefore, a convenient solution would be adding a feature directly to the service pages, allowing customers to place the details of their needs and instantly see an updated price that they can evaluate and proceed with the purchase.
To make this happen, you should consider installing one or more plugins that add extra functions to the default WooCommerce page.

Advantages of using an eCommerce site to start selling services
It's no surprise that an increasing number of professionals are looking to capitalize on the advantages of an eCommerce platform to sell services online. In comparison to the conventional system, the automated sales capabilities eCommerce websites provide can be beneficial for many.
These are some of the advantages:
More sales – It's clear that most shoppers would rather customize service products and buy them on the website straight away rather than go through a series of emails with the vendor. This is especially true if your target market is younger people, who are used to the fast results the internet provides.
Lower financial losses – To make things easier, lots of vendors agree to sell services without any scope for alteration. This leads to an inaccurate cost that may have a negative effect on the professional. An automated and effective system allows you to charge each customer a fair price.
Expanding your network – Many experts have yet to take advantage of a WordPress website as selling their services online can be challenging. Fortunately, with the proper plugins, it is possible to embrace the power of the Internet and broaden the targeted customers.
There are many other advantages, but if you are reading this article you probably have an idea of why you should use WooCommerce as many other companies already do with their service business. So let's see how.
Examples of products or services you can sell in your online shop
Selling services with WooCommerce is easy enough to understand and apply its features, and, even though not everything can be purchased directly online, you will find out (as you read on) that it is a viable possibility for your WordPress website.

Online teachers and professors
Distance learning is nothing revolutionary, but there is always room to improve the way content is provided. In the past, it was necessary to buy a single item to access the course materials, usually in the form of a VHS tape or DVD.
Yet, this plan was not ideal as it usually impacted on the service price (one-time payment is a difficult choice for some people). Moreover, made it unfeasible to revise and exposed it to the risk of being illegally distributed, which could have long-term negative effects.
While it's true that there are numerous websites available for creating and selling online courses, using such a platform has also its downsides: from regulations that must be adhered to, to the commissions the site keeps from each transaction.
If the goal is to create an online store that offers customers the ability to sign up and gain access to exclusive and confidential material, then WooCommerce can help you achieve a service-based business with only two plugins.

Copywriters, graphic designers, programmers and illustrators
Artists can be a great addition to any WooCommerce store. With this type of work, there is often a multitude of related services options that can alter the total cost. Moreover, the customer has to provide specific details as well.
For instance, let's say a copywriter wants to offer writing services online with WooCommerce. When it comes to technical writing, there are a few factors that need to be taken into consideration, such as:
Delivery date
Number of words
Keyword usage
Proofreading
Image inclusion
Research
Consequently, relying on the conventional sales page isn't enough to meet all these additional services. Using a plugin to personalize service options and afford the customer direct control over all these sections, however, is enough to do the trick.
This additionally applies to illustrators and graphic designers (who need to consider ink, color, image quality, and watermark) and programmers.

Offline services: hairdressers, psychologists, hotels, restaurants
Although some professional services cannot be practiced online, this does not mean that they are not capable of taking advantage of selling services with WooCommerce. For example, using a booking platform, you can reserve a house or hotel room without the need to attend in person or make a phone call.
By building an appointment and reservation system, you can allow customers to book a professional service on a certain date. This is especially advantageous for those companies that have time slots, like hairdressers, psychologists (many of whom are already offering virtual services such as Better Help) or businesses that have limited capacity, like hotels and restaurants.
Developing a website with an automated booking system can cut down on the amount of time spent on customer service and, at the same time, boost final sales. We'll go through the steps to do so in the following section.

How to configure WooCommerce to sell services online
It might seem that having an online store for services is more complicated than traditional retail, but that's not the case. WordPress (and WooCommerce) is all about simplifying the process of selling anything, including intangible items.
Finding the correct plugin to meet your needs is the key, and we are here to help you in this regard.
Which plugins to choose to sell services online?
Through the sample cases we went through, we pinpointed some necessary features for online stores created with WooCommerce. Consequently, four separate plugins were chosen, each of which is the perfect fit for a certain kind of selling.
The chosen ones are Membership, Subscription, Product Add-ons & Extra Options and Booking and Appointment.
In the following paragraphs, we will see exactly which one to use and under what circumstances.
Selling subscription services with recurring payment with WooCommerce
Earlier in this article, we discussed service-based business such as professors and online courses, highlighting how these services need to be made available through a recurring revenue.
There are two main functions, useful in this kind of service offerings, that can be integrated using two plugins: Membership, allowing customers to access exclusive material after a purchase, and Subscription that enables you to set up recurring payments (daily, weekly, monthly, yearly, etc.) depending on the subscription package you're providing.
To get started, we should first take a closer look at the process of building exclusive content for subscribers. This may take the form of website pages, blog posts, or members-only product areas in the store, among other possibilities.
After you have finished creating your course materials, you will need to set up the product your customers will purchase to access it. To get started, install Membership and enable the plugin. You can then proceed to the YITH > Membership side menu to locate all the settings: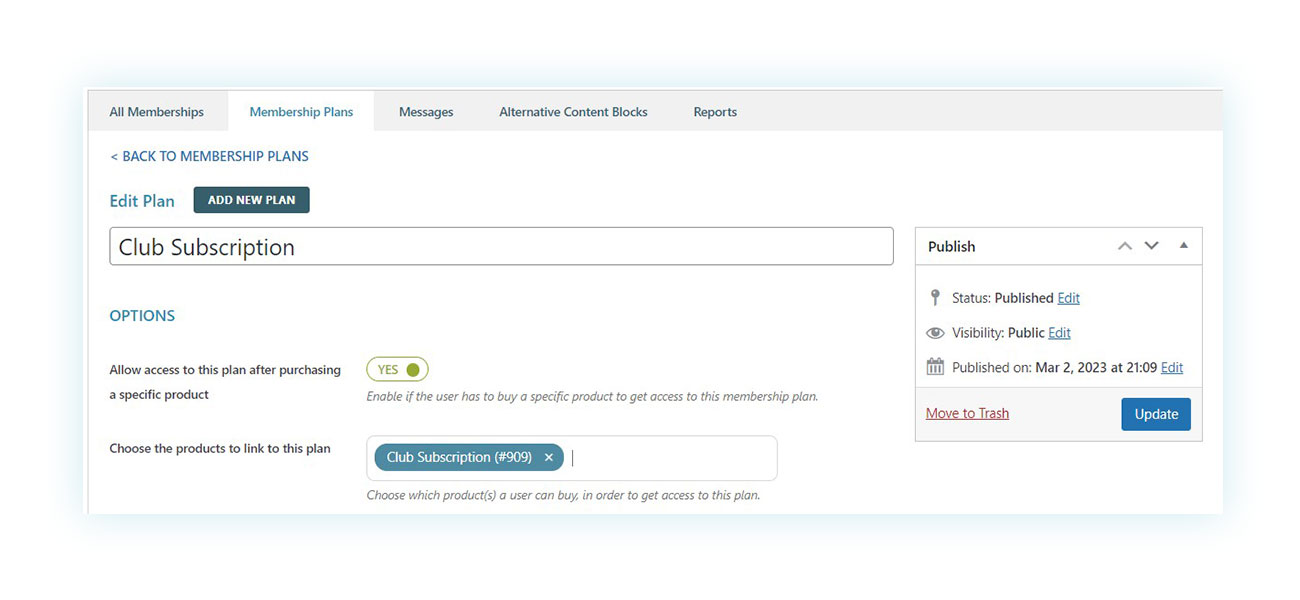 When you have picked the course you desire, take a look at the different configurations. At the end, you can see the sections of the website that the buyer will be able to access upon purchasing the course.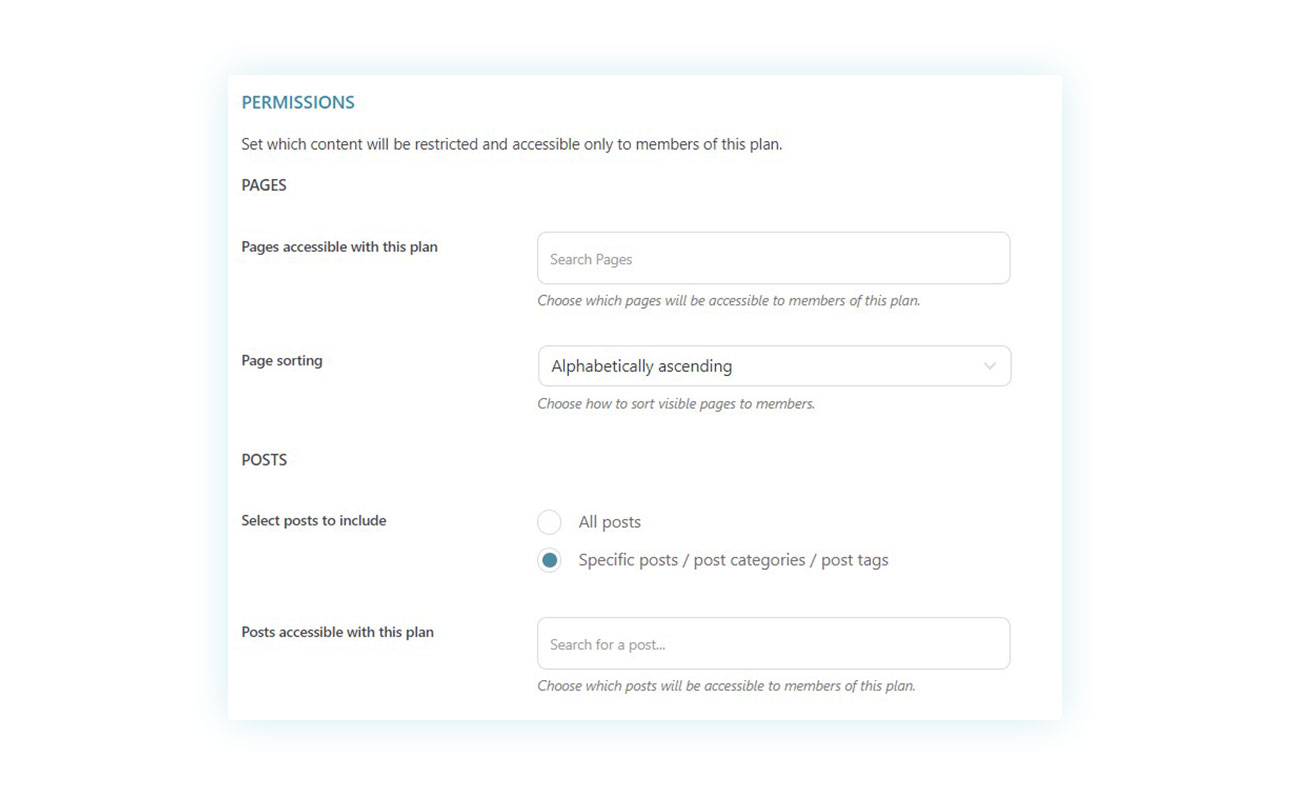 At this stage, you will have something to offer that, upon purchase, will enable the customer to join a type of "club." However, the product will have an established cost and will be structured like this: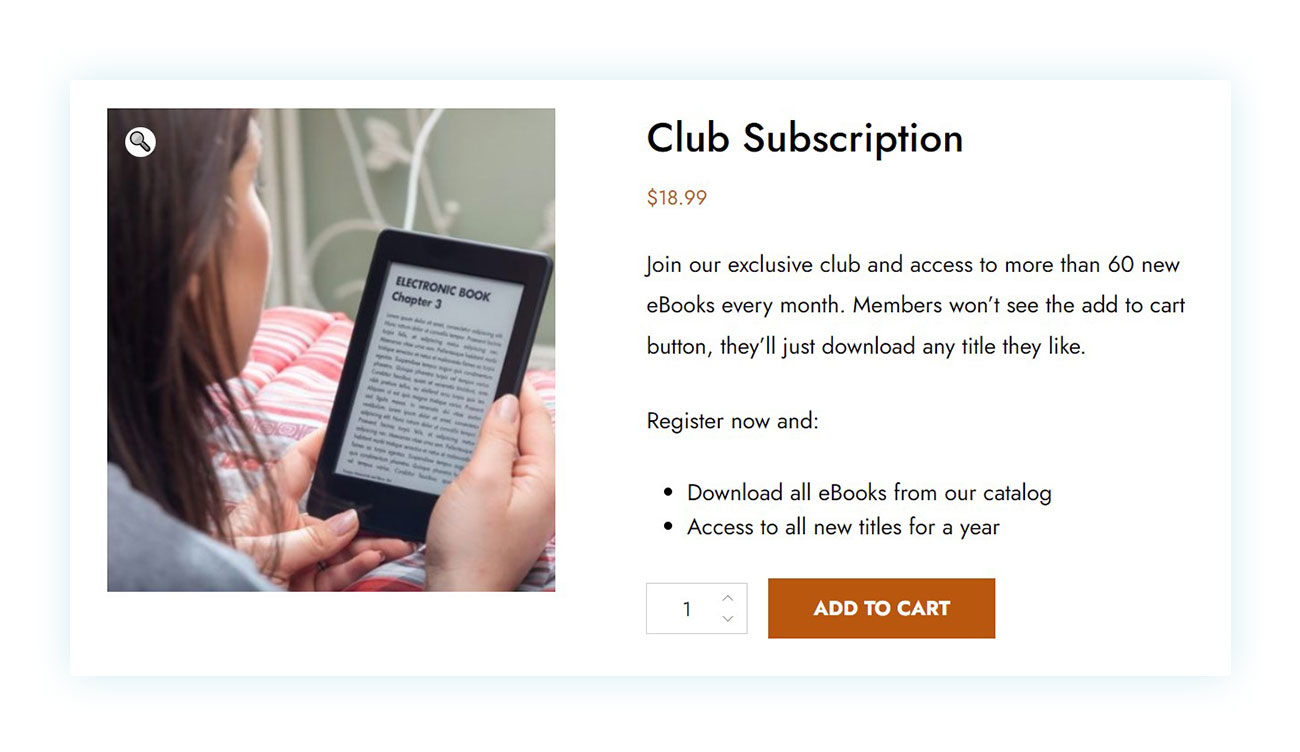 If you are offering a valuable course and want to charge a recurring fee that is lower than the original price, you can use the Subscription plugin. This plugin is straightforward and easy to use. Once installed and activated, you will find the feature in the "Product Data" section.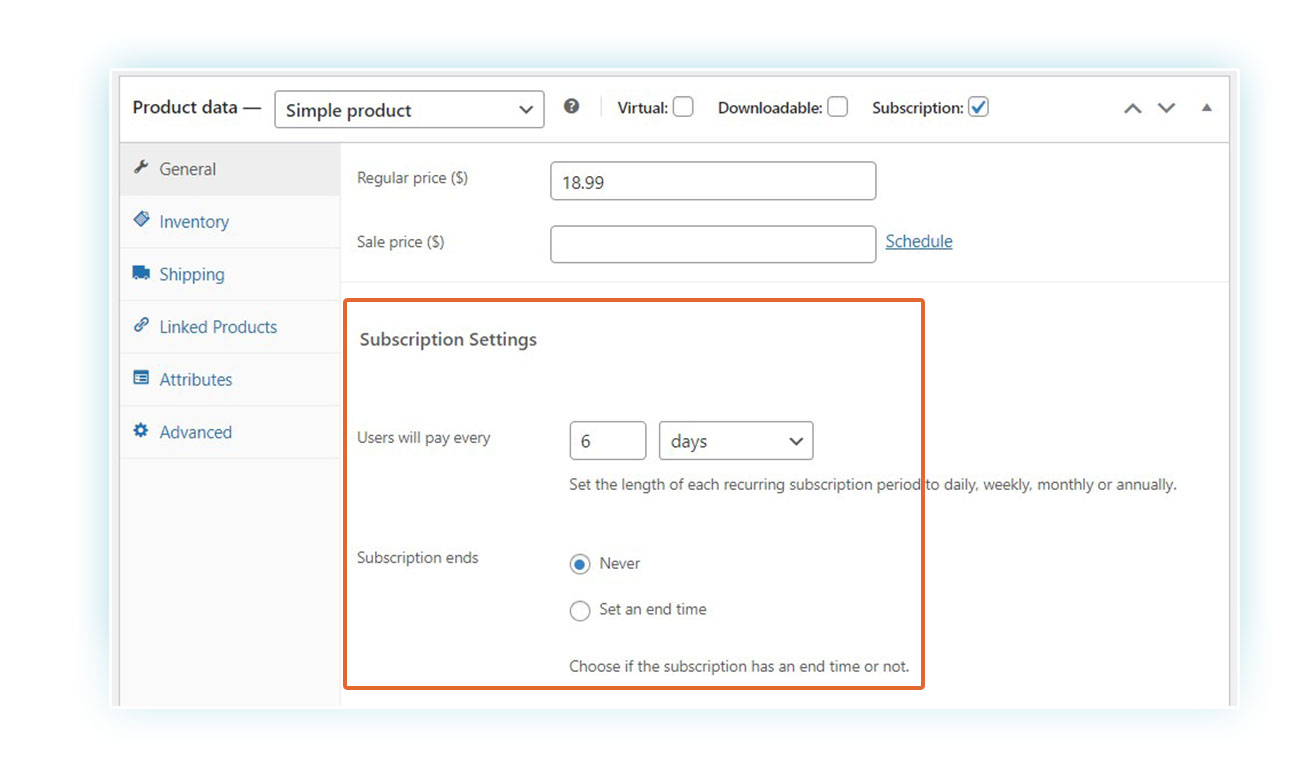 If desired, you can switch the total cost to a recurring subscription. It's important to note that customers have the ability to cancel the payment agreement if they don't wish to keep using the service. Additionally, you can give the choice of buying the whole course with a single payment, taking advantage of the different product features.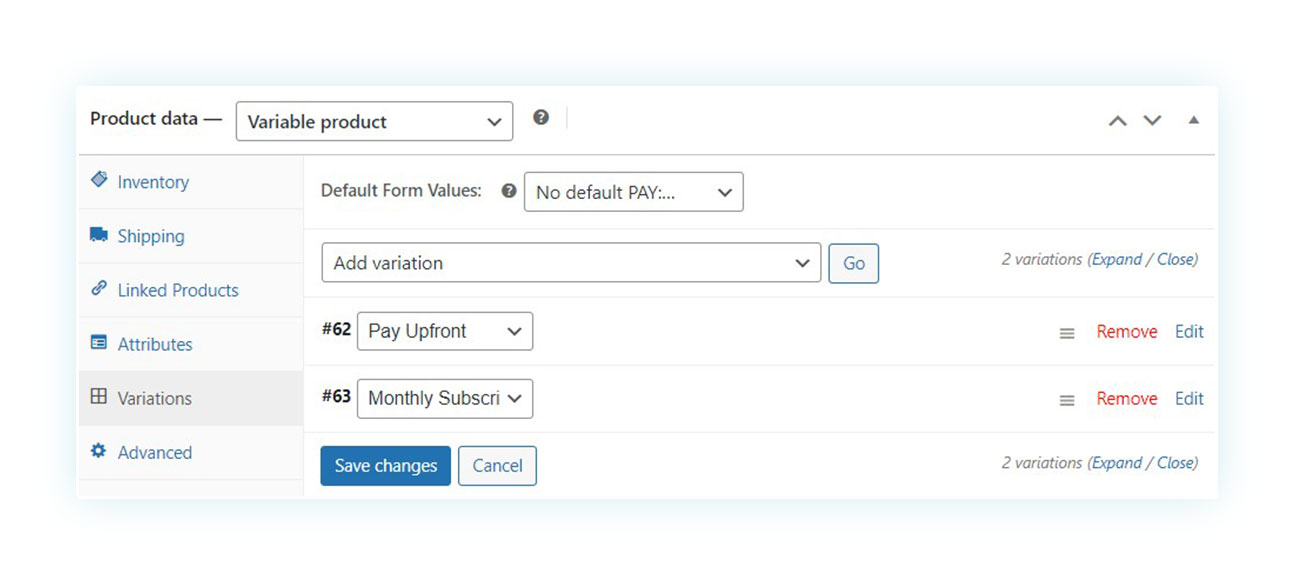 After it has been set up, the product will allow the user to see what kind of plan they are opting for (including any free trials that may have been established).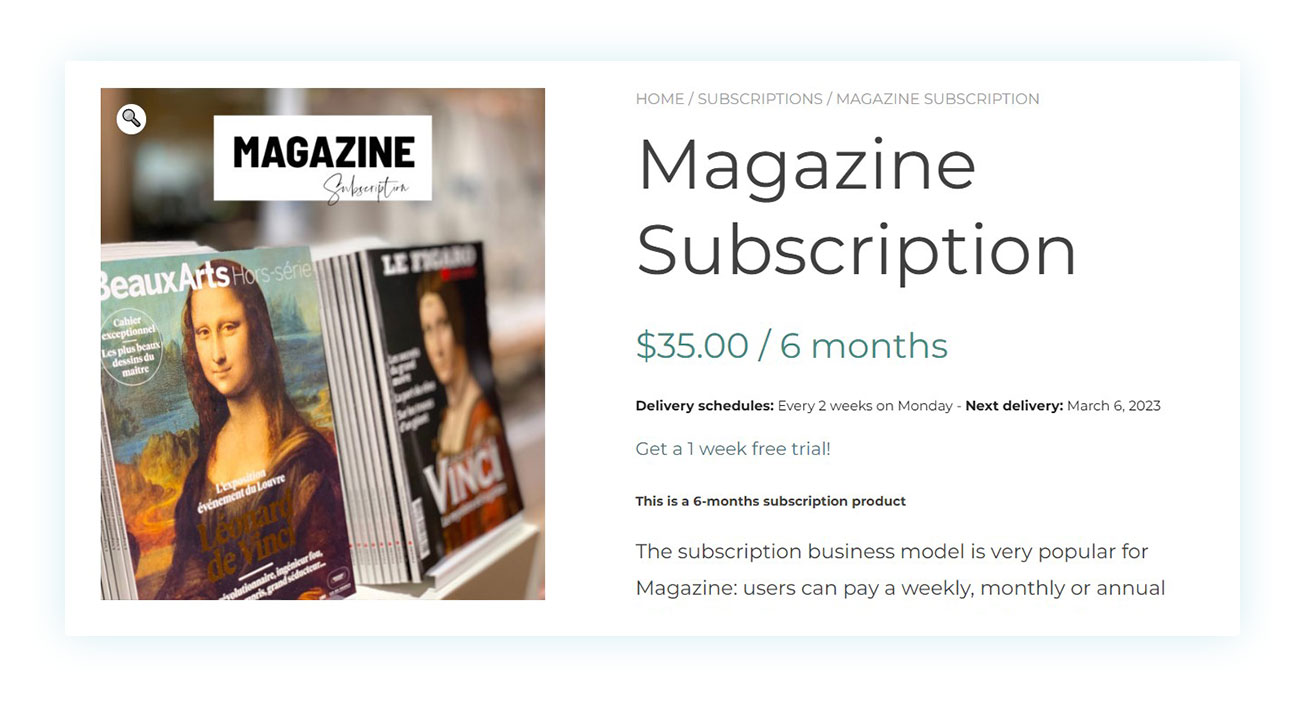 Astonishingly, with just two plugins, you can make your course available for purchase with a recurring subscription in a very short amount of time.
Use Product Addons to add options to your services
When in need to sell your services online, Product Add-ons & Extra Options is the most powerful plugin to display services. This beneficial tool offers flexibility when creating your eCommerce sales page; no matter what type of product or service you are offering.
It's easy to get started – once you've installed and activated the plugin, you'll find an area on the YITH > Product Add-ons & Extra Options page where you can build a section to include any additional options you'd like to offer on your product page.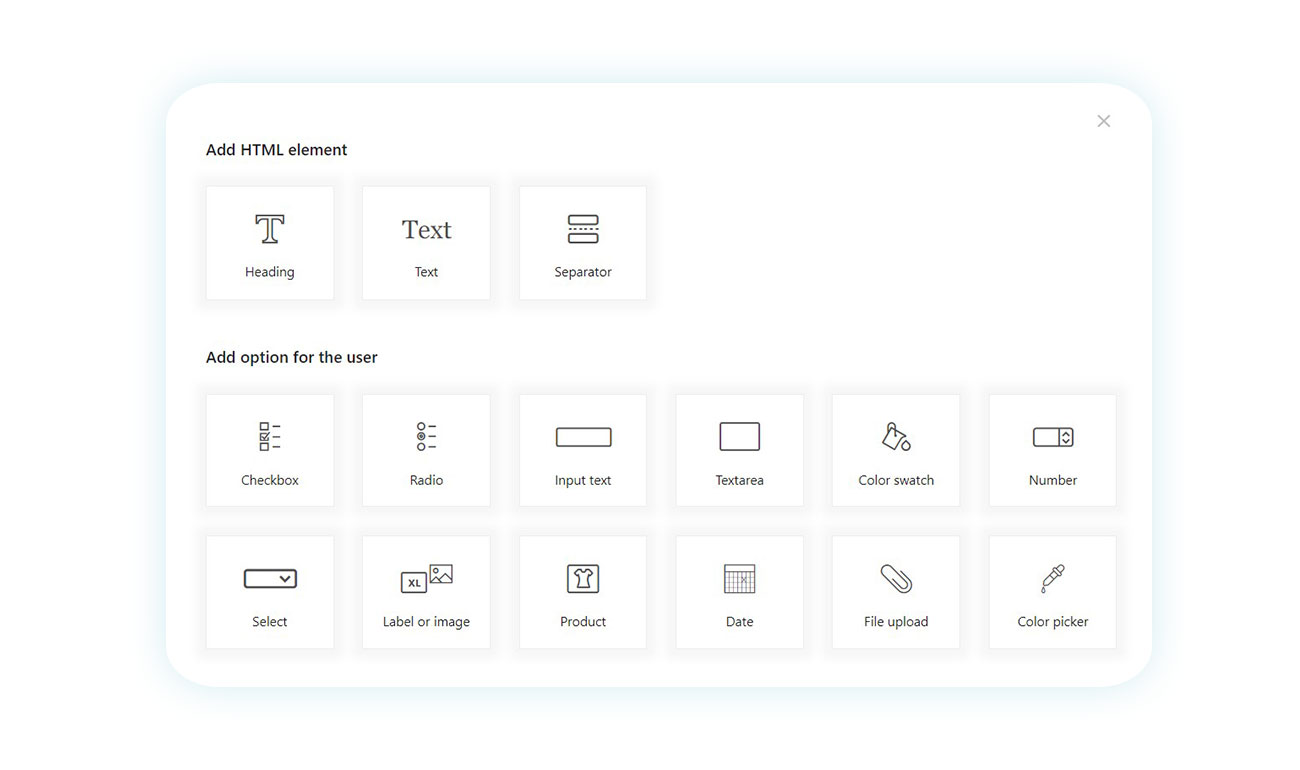 Among the examples mentioned above, we listed the work of a copywriter. To offer such a service, therefore, all you have to do is add specific service options when creating the product:
Writing style – Offered via a select field in which the customer can choose.
Article length – Same, with different lengths to choose from.
Tailoring the article to SEO – A checkbox is perfect for enabling the choice.
Delivery Date – A calendar field to allow the customer to choose what they prefer.
Once configured, the product will appear like this: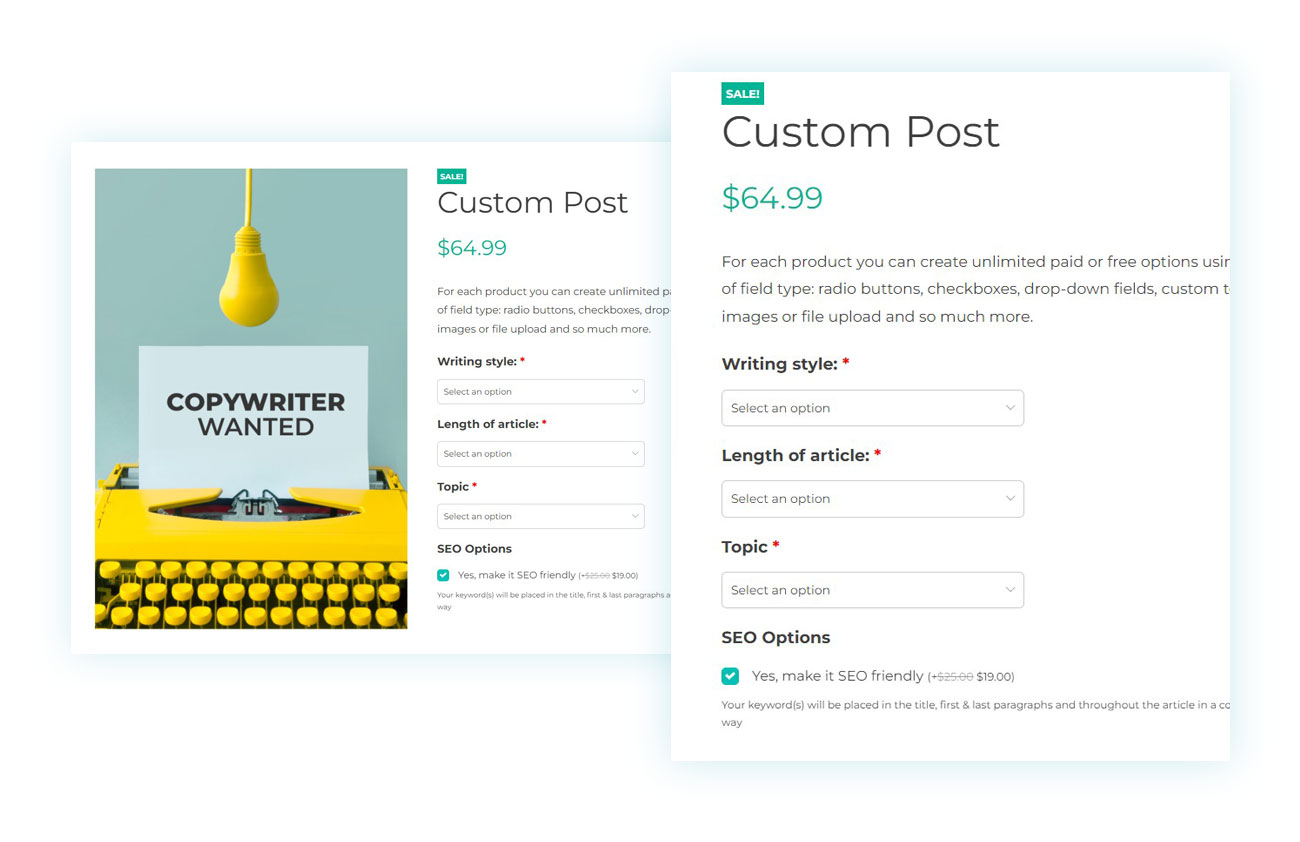 This is just one example of the many possibilities you have when building the block; you have an almost infinite range of options for customizing the service.
Selling bookable services with WooCommerce
To address our third inquiry, let's discuss bookable services. For this situation, the Booking & Appointment plugin is the ideal solution. This plugin is extraordinarily simple to use.
Once the plugin is set up and running, you will see an additional type of product in the Product Data menu – the "Bookable Product". This option will give you access to all the relevant features and settings: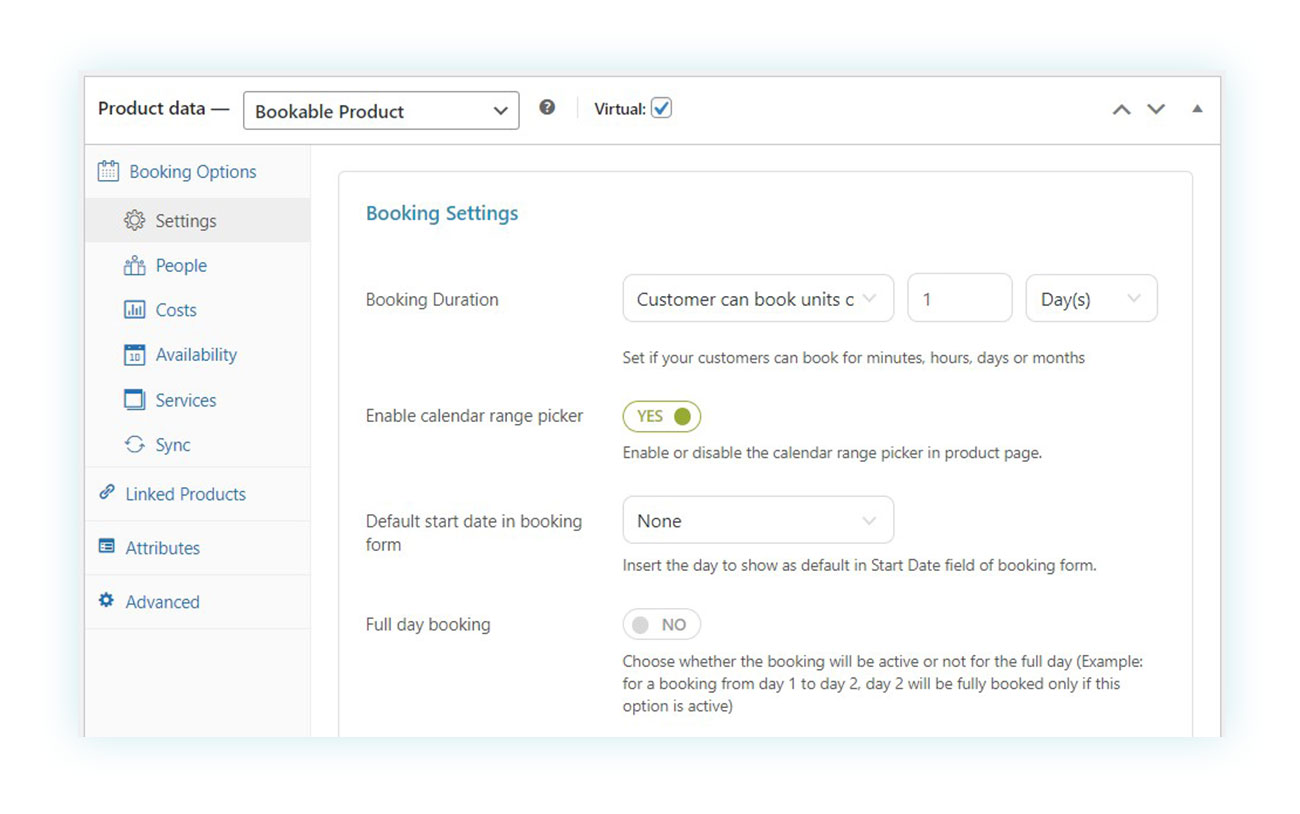 With this plugin, you can easily determine which days are available for booking, enabling you to create a seamless, automated system that is tailored toward the customer's needs: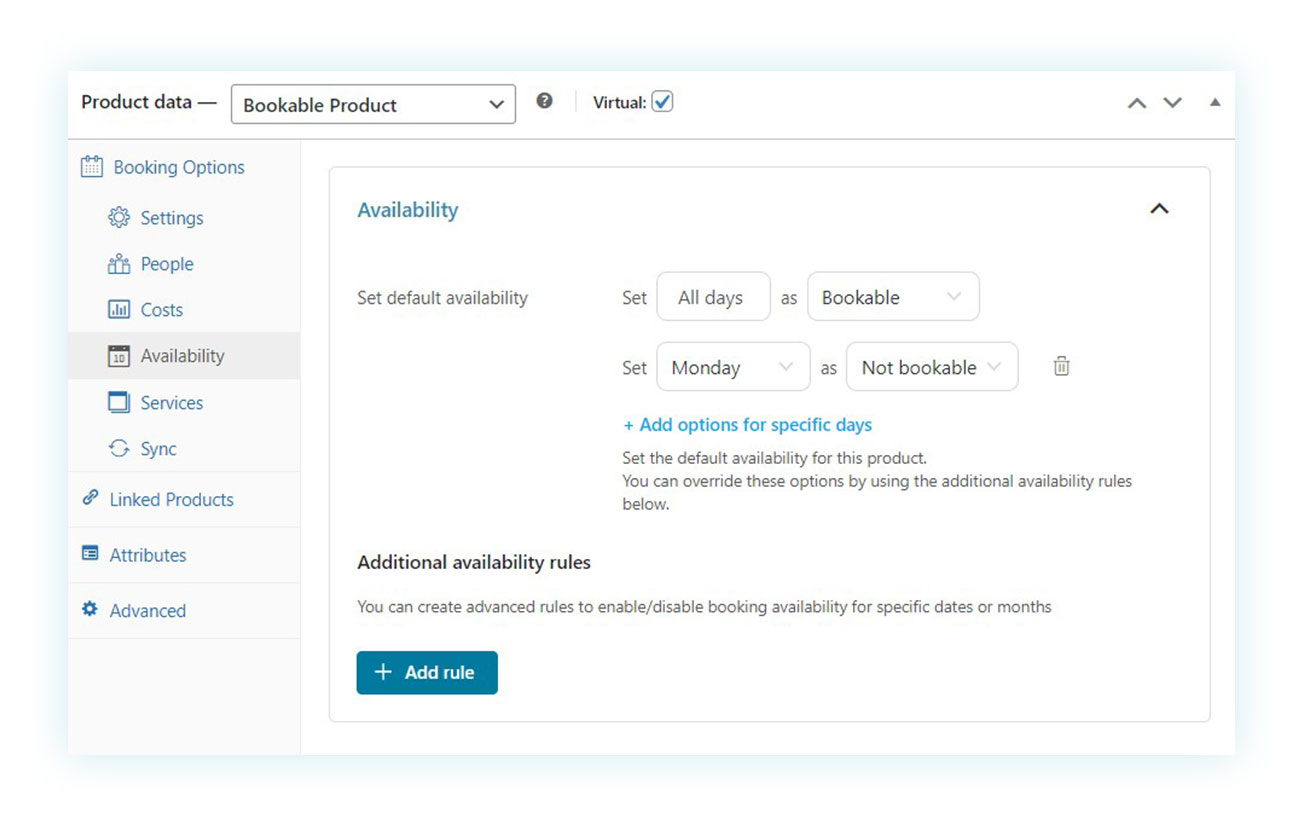 With the help of WooCommerce, you can create a system that's similar to what big businesses use and that customers prefer. This will give your brand a more professional and customer-friendly appeal.
Use WooCommerce product variations to provide more service choices
If you're looking to customize a service for online use, it makes sense to explore the product variations available on WooCommerce as they could potentially provide the desired outcome.
Making a decision becomes simple when there is only one option to choose from. However, if a business needs significant customization to meet customer needs, relying solely on the basic functions of WooCommerce might not be helpful and could hinder our advancement.
FAQ
How do I manage payments for WooCommerce services?
When it comes to accepting payments, depending on the kind of services you are aiming to provide, you can use the built-in payment gateways of WooCommerce. This will let you accept credit card and PayPal payments, and you can even add an extra payment gateway like PayPal Braintree.
How do I create a service detail page on WooCommerce?
Like any other commodity, a service can be made available for sale by setting up a product and personalizing the page for sales.
How can I offer customized options for my services on WooCommerce?
In order to provide personalized options, you need to include the Product Add-ons & Extra Options plugin with WooCommerce. This gives customers the ability to select extra fields with related fees.
How can I create service packages on WooCommerce?
You have the possibility to provide package deals with the help of the Product Bundles plugin, or by constructing a complex service through Composite Products.
How can I create coupons and discounts for my services on WooCommerce?
Just like any other product, discounts in the form of coupons generated by WooCommerce can be used on all services. However, it requires manual input from the seller, so you could consider adding a plugin that automates the process of discount codes, such as the Coupon Email System.
How can I create a form for booking services?
The Product Add-ons & Extra Options plugin allows you to create all kinds of forms on the sales page, including a calendar.
Conclusion
When it comes to selling services online, it may feel like a daunting task. However, having a WooCommerce store will allow to easily find a plugin that suits your service based business and its specific requirements. To make the most of your online store and to provide a high-quality service, it's crucial to identify the key features that are important for your business model and then select the appropriate plugin to integrate them seamlessly. Rest assured, with the right tools and a digital marketing strategy, you can successfully promote your services and expand your online business to potential customers.