Black Friday is, without a doubt, the biggest online sale event of the year. Each year it is breaking new records of mind-boggling transactions that take place every second. We will share some of the recent statistics further down this post. But first of all, when is it, and what can you do to prepare yourself for this mega event?
Navigate straight to the Black Friday Checklist
Black Friday 2021 itself will fall on November 26th, the day after Thanksgiving.
Black Friday has a very long history originating in the US and was named thanks to a gold market crash. This was a phenomenon in the 19th century, and not till the fifties did the term get associated with sales and shoppers post-thanksgiving. It has grown to be the biggest shopping day of the year in the US, and with the rise of online sales, the borders did not stop the spread of this trend. It is without a doubt now also a global period of online shopping with huge discounts. Interestingly, in Saudi Arabia, they call it 'White Friday.'
This is followed by Cyber Monday on November 29, but effectively the promotional BFCM dates run from 26th till 29th of November 2021.  Most retailers combine this period into one major sales event. In the UK, for example, it has completely changed the way Christmas shopping is done traditionally. Whereas discounts were given from Boxing Day onwards, this is now moved to well-before the actual festive season, which gives retailers a much-needed boost. Something the retail industry cannot afford to lose out on.
The key question is: are you ready to make Black Friday and Cyber Monday a success this year?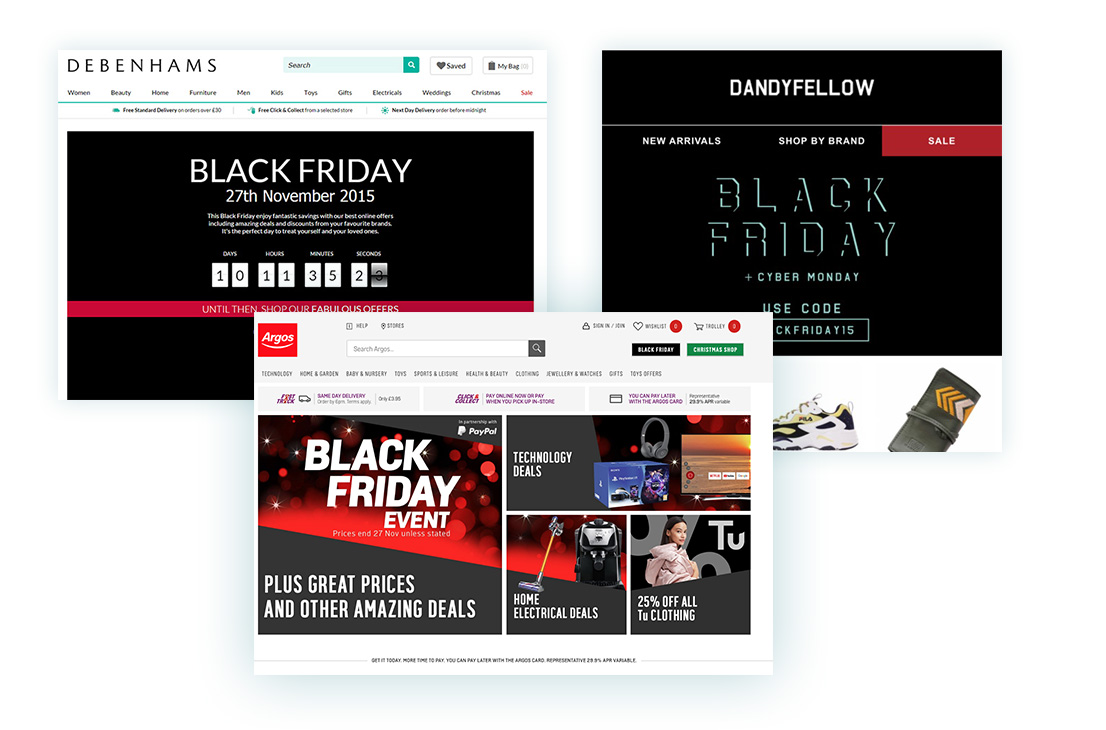 Audit your store to judge your preparedness.
Set up a staging site; like with any changes to your site, make and test first on a staging site, so you will know that it works.
Check your history; did you promote sales in previous years, what did you sell, what did people search for, and a ton of other analytical questions.
Anticipate your competition; what will they offer? Which channels will they use to promote themselves? And many more questions to ask yourself.
Once you know what you are going to sell and for how much, it is your turn to analyze your website.
How to prepare your store for Black Friday
How will you manage the discounted items? Do you offer a sitewide discount, or just on specific items? Will it be 50% off on all, or two for one? Will you offer free shipping, or do you have other incentives for regular customers or high spenders?
Once customers arrive at your online store during Black Friday, what will they experience? This is a crucial part of success as the attention span is very short in general, but during such a frenzy, it is even shorter. If you don't offer the sale they are hoping for, the customer will quickly move to another store, and you will lose them for another year.
The key is to guide the customer and send out key 'signals.' These can be notifications of your offer, level of discount, bundles, and more. These signals are often taken in subconsciously, but all help towards giving the customer the impression that they have arrived at the right store, and this is where the next deal can be found.
From here on, the customer will start to click on different products or filter your large catalog to find something within the price range, size, or preferred color. You can bet that if you have an option to only show products that are on sale, this will be selected.
As you surely get the impression, there is a whole lot more to running successful Black Friday sales on your WooCommerce store. So, where to start?
Making the complicated simple with plugins
We have established that we need to make the customer aware of the offer within seconds of landing. They need to get the impression that this is the best place to continue with their search for the right product. Take a look at Argos under Black Friday Electricals' – the category page has many signals of 'deals' and value. You are unlikely to click away without exploring it further. Seeing '30% off' or 'save £70' are messages not many of us can resist.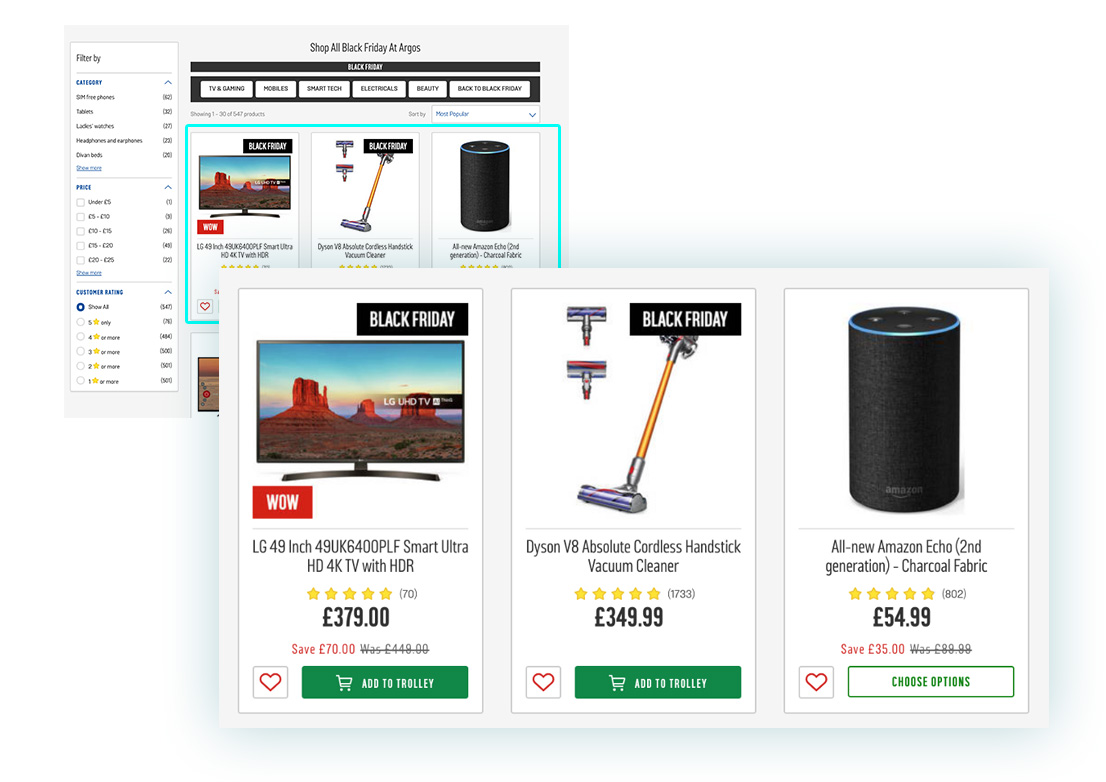 Let's introduce you to three plugins that will help you make this process a smooth experience.
1 – Manage and schedule a discount in the whole shop with Dynamic Pricing & Discounts
The mother of all promotion plugins, YITH WooCommerce Dynamic Pricing and Discounts can handle it all. This is probably the first part we need to create for stress-free Black Friday management. Using WooCommerce native discounts, bulk editing or coupons is a perfect and easy way to discount your stock, but certain types of discounts are simply not possible without the help of a plugin. For example: buy one get one free (BOGOF), 3 for 2, 50% discount on the second item, or simply a site-wide 40% off for Black Friday and Cyber Monday.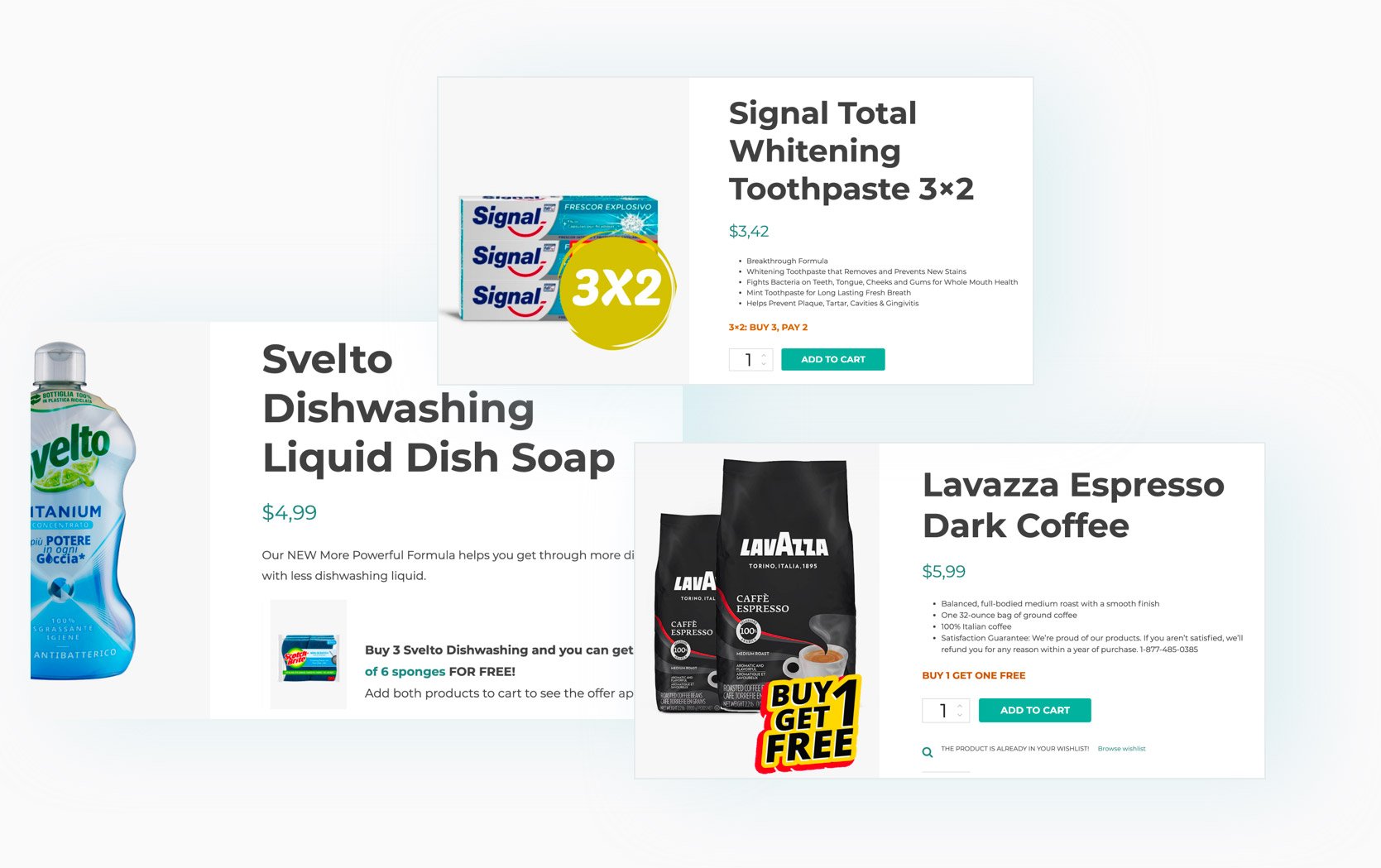 Again it is easier to discount the whole catalog, but this could eat into your profits a lot, so coming up with more cunning discount strategies to make sure average spending is much higher will give you much more in return. Read this blog if you want to learn more about increasing the Average Order Value.
Furthermore, you can reward your regular customers with an extra discount or start a day early on Thanksgiving. This is thanks to a feature to assign discounts to special user roles only.
Are you one of those people who queue at the checkout and then read the packaging label of buy 3 for 2 and think, 'why did I not get three and save'?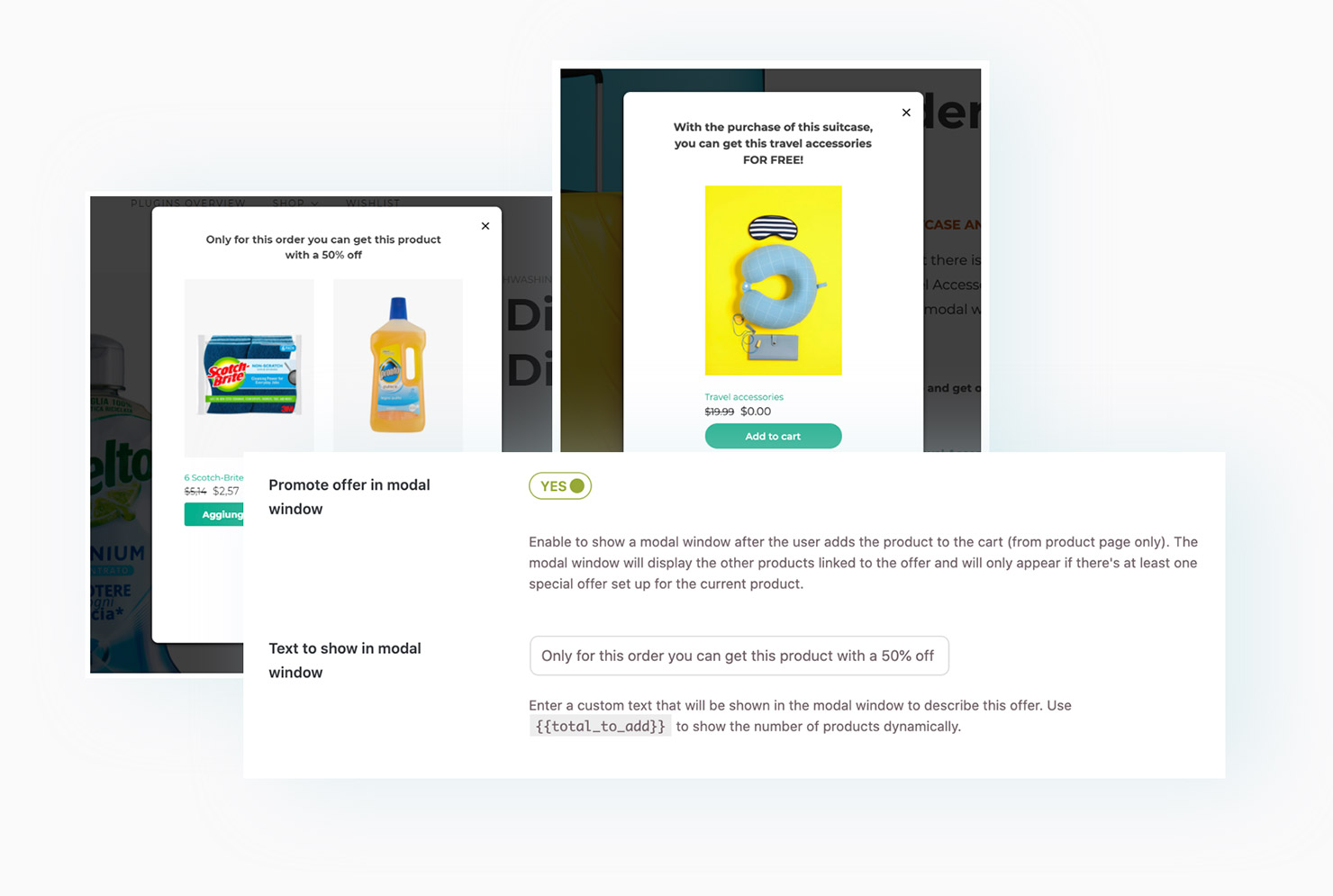 With a simple popup notification, you can suggest adding complementary items to a basket or adding another to qualify for the discount. At this moment of the checkout funnel, the customer is very likely to click 'add to cart.'
2 – Add badges to product images to highlight the offer
Having created the different discount rules in the Dynamic Pricing plugin, you must also find a way to showcase these offers. We have already noticed that on Argos, Black Friday deals have distinctive labels, and also on Zalando, you clearly notice different labels.
Customers only give you a second of their time to judge if the shop is worth exploring and within a fraction of a second, the customer will have benchmarked the prices and calculated if you are more expensive than a competitor. But if you use badges with '20%' off or 'on sale', you will surely get their attention and a click-through to the product.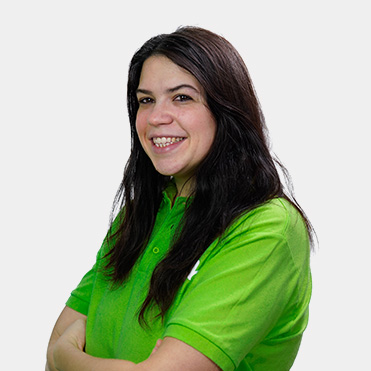 Sara Presenti - UX/UI designer
"The homepage is important but don't forget to apply the bold Black Friday style also on the other shop pages like the main catalog page or the product pages. It's very exciting to find big BF banners on the home page but it can be disappointing if on the other pages there is no reference to the promotion and everything looks boring. It's important that your customers never forget IT'S BLACKFRIDAY! You can achieve this by using banners and images also on the internal pages. And, of course, Black Friday badges on the products"
Thanks to the integration between the badges and the dynamic discounts plugins, you can apply one of the Black Friday badges to the discounted products with just a few clicks. Seamless integration between our plugins will save you a lot of time. In the next product badges update, which is due soon, you will find many pre-designed banners including for Black Friday.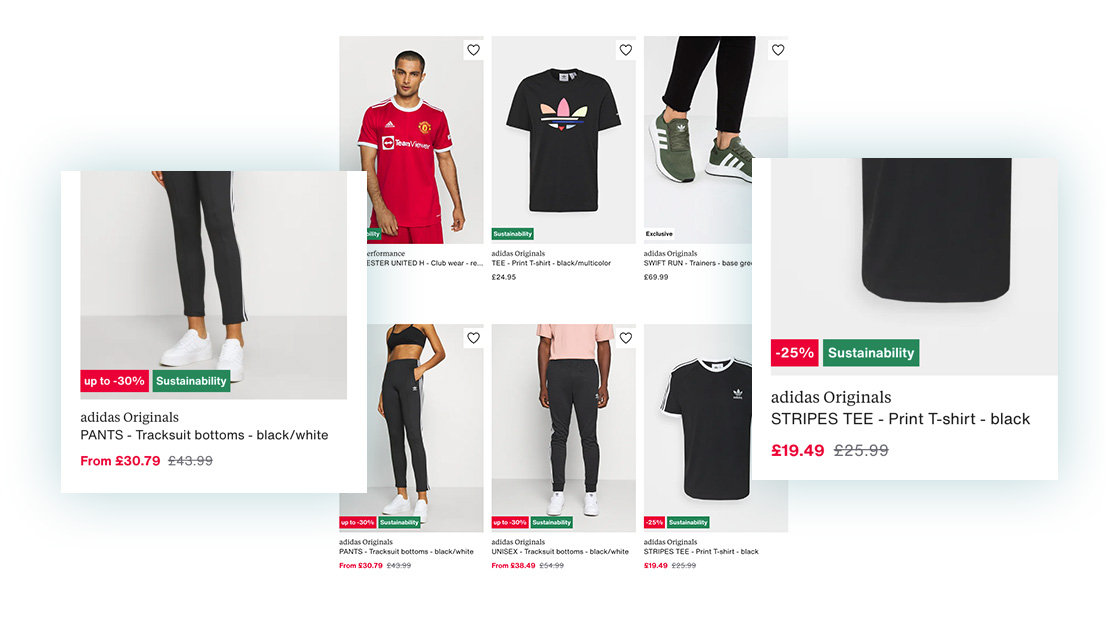 But badges are now used for many other features, from adding brands to sharing if the clothing item is sustainable or maternity wear. Don't let your imagination stop.
3 – Instantly share what is most important with your visitors with live notifications
Use push notifications to promote a discount or a free shipping option for carts over $100, for example.
Imagine someone is comparing prices across several sites with many tabs open. Would you not love to give the potential customer a little nudge? You can do this in a number of ways, but for sure Live Push Notifications is the smartest and most versatile way of doing this.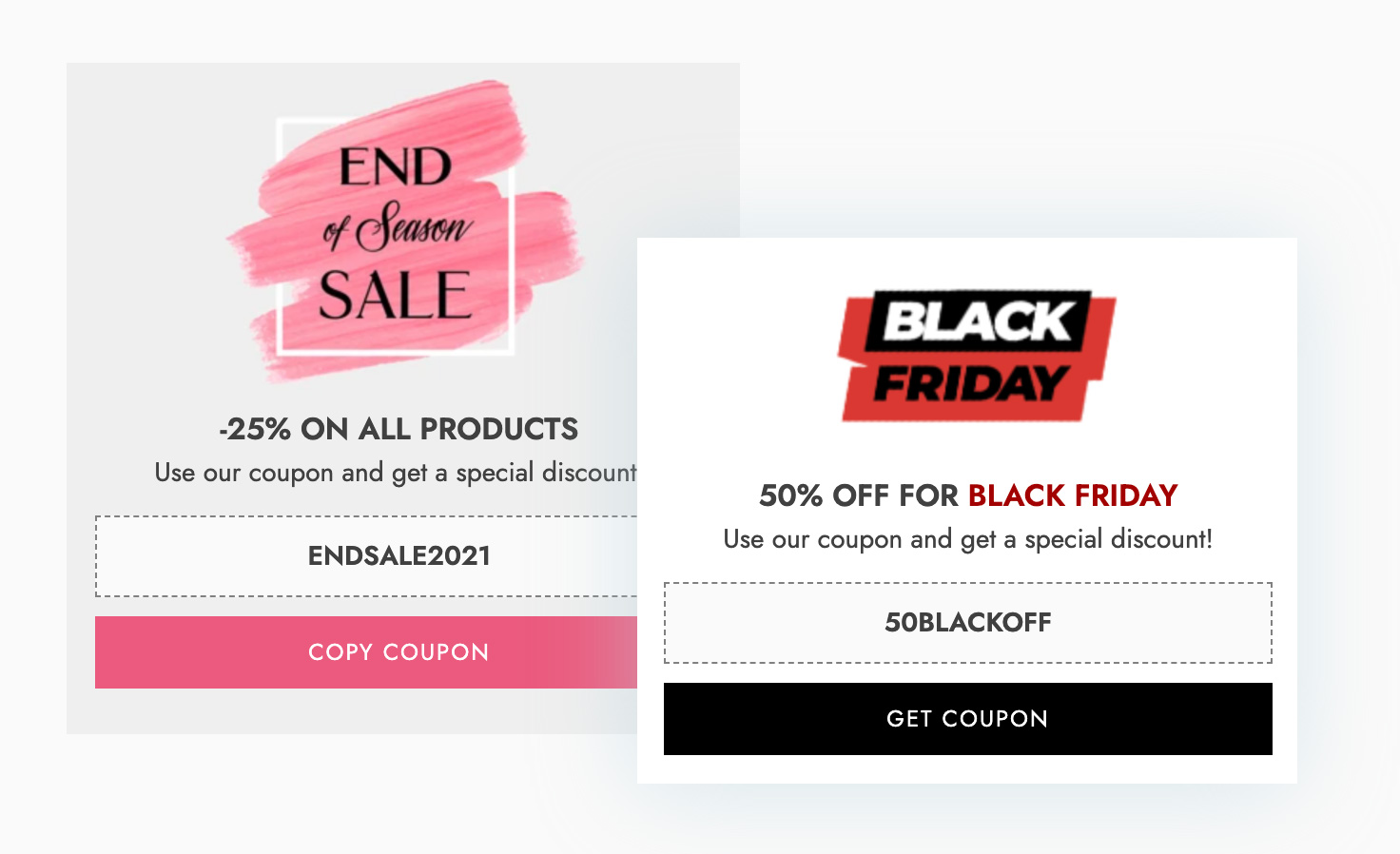 You can notify the user of the discount, free shipping and also share that other customers have bought this item and encourage them to purchase. This is called 'social proof' and consists in encouraging the buyers to take action and play on the fear of missing out if they don't do it right now.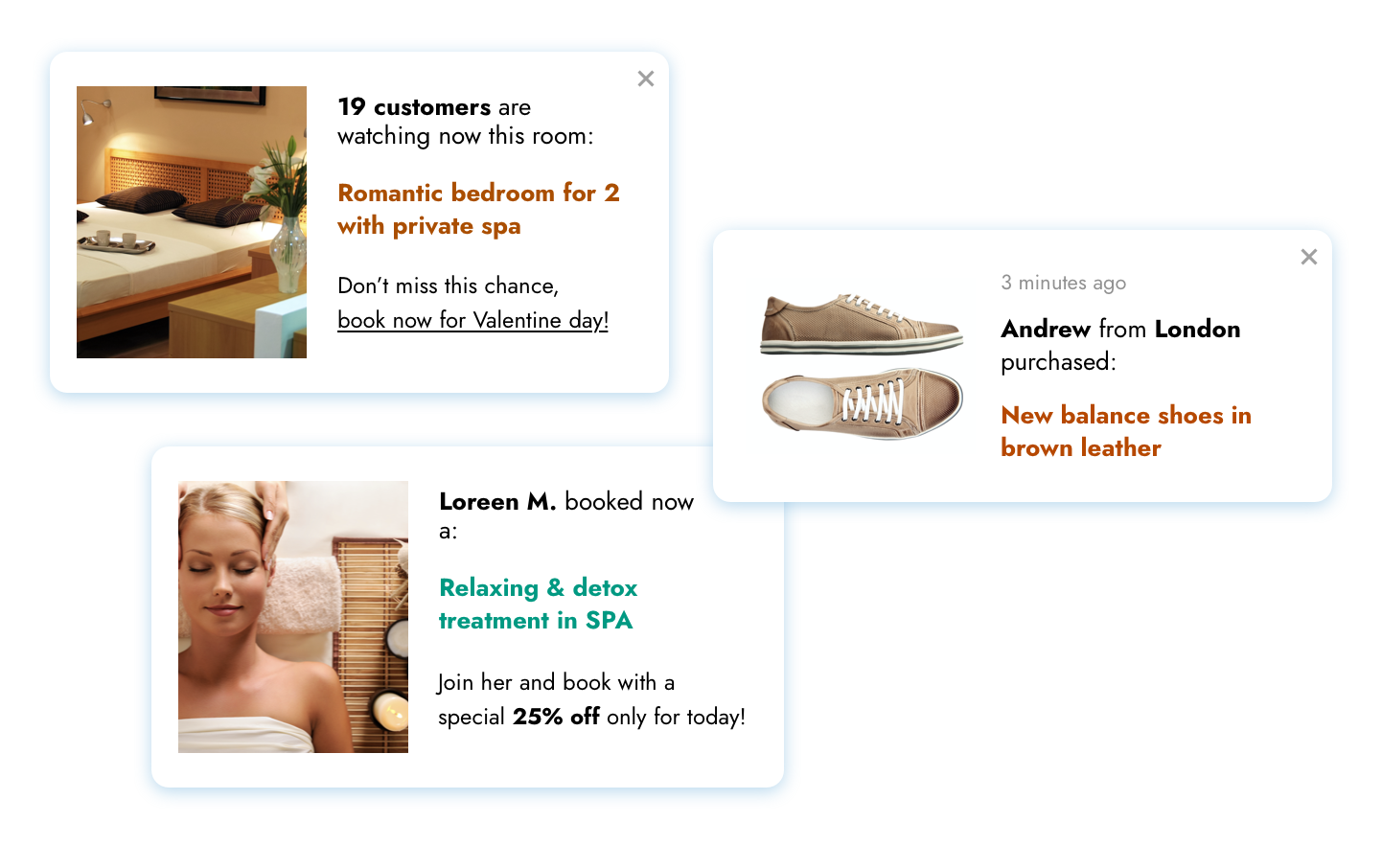 When the competition is tough, retailers cannot shy away from promoting their products. In a world where any website can be a competitor, you do need to level up your game. Thankfully this can be done in a very subtle, personalized, and custom way with Live Push Notifications. The settings allow you to target country-specific, or those that click on a certain page, and if it is annoying to visitors, you can give them the control to hide the notifications for a period of time.
The 51-point Black Friday and Cyber Monday checklist
Hosting and Website; do you have access, or is your webmaster on standby?
Set up a staging site to test any changes you are going to make.
Website loading; does it have enough capacity to handle more traffic?
Notify your host of the expected traffic – they can sometimes increase the capacity to deal with a spike.
Research and Preparation as suggestions in this blog post to understand your audience and competitions.
What is the competition planning? Try to find out what they will be offering, possibly by checking last year's promotion. You don't want to be second best by just a 5% difference.
Adjust the product range for the season; find out what will be trending, or is covid still a factor for your customers in their buying habits?
Create product bundles; an easy way to increase the order value and also to create more value while unable to compare the same products with the competition.
Up your sales with Frequently Bought Together to suggest products that can complement this.
Apply badges to your product images to highlight the key features.
Do you have special products you want to share but are now not purchasable? Use Catalog Mode to create a dedicated pre-sales area to browse.
Prepare your team; so that they know what offers will be available and from what times. If you sell internationally, make this clear to your audience what timezone you are referring to.
Design banners and artwork; not just banners for the website, also badges for the products, emails, and social campaigns. The list should be pretty vast, so plan this well.
Checkout, Coupons, and Discounts; this is a key part to test well before you start the sales period.
Make a test purchase – the best test is to do it yourself to ensure the discount is correct and that you are not giving away more.
Check discounts reflect in the cart and checkout, not just the product page, all the way through to checkout.
Check coupons are working; same as the automatic discounts, a misspelling can be fatal.
Allow one-click express checkout or use Apple and Google pay.
Optimize the checkout process and allow guest checkout – only require to fill details that are needed to process the order.
Have you optimized the 'thank you page'? Don't underestimate this page as being very powerful to make another sale.
Email design and content; create automation for a series of emails to help promote the Black Friday sales.
Abandoned Cart; adjust your message and possibly the time of when to notify users to be shorter than usual.
Post-purchase emails; the best time to sell another item is straight after buying one. Why? Because shoppers had no doubt an eye on something else, or have taken something out of the basket.
Set expectations of delivery; especially if you have large volumes and expect a delay in fulfillment. People don't mind waiting and after the sales period, it will be more expensive to buy the product.
Not available online, check the stock in stores; thanks to the new Store Locator plugin, you can now check your local store's stock online.
Marketing plan; create a full marketing plan with all the messages and creatives you will be sharing to make sure you are consistent and the staff knows what is being shared.
Pre-Black Friday announcement strategy; will you share the discount or will you keep it a secret? Something to consider very carefully.
Incentivize the best customers; make use of segments. Maybe start the sale one day early for the most regular customers as a special promotion.
Build your mailing list; don't forget to get people to sign up before and during the sales event.
Social media plan; find out what is the best time to send social media messages and schedule these. Prepare your audience and get them to engage well before, so your posts will more likely appear on their timeline.
Schedule social posts, or plan to keep posting throughout the sales period. Every post serves as a signal and reminder. It will be very competitive, so plan to make some 'noise'.
Check social comments; if users are unable to make a purchase or get disappointed, they will vent out on social media. Keep an eye out for bad feedback.
Engage with positive feedback and encourage people to share their purchases on social media.
Affiliates and promotions; do you use affiliates to drive traffic to your site? They might be compiling the best offers months in advance, so make sure to share your intended offer.
Influencers; one influencer can make all the difference, but they also need time to prepare a video or blog post, so communicate with them well in advance.
Paid marketing; Google or Facebook ads will no doubt be more expensive due to the competition, but not doing it could cost even more. Set strict controls on keywords, audience, and budget to get the most out of it.
Activate the discount; on the day you must activate the coupon or sale, or will you schedule this? In any way, it is good to check this once more when it is live.
Monitor the sales; maybe the best part of all is to see the $$ coming in. Soon you will realize that the team will have a huge task ahead processing orders. Making coffees and teas will certainly boost morale.
Live Chat to help customers find their way and answer questions; this is really good customer service and can be a good way to get immediate feedback if something is not right.
Stock management; do this well before the sales start, but keep an eye out. Nothing worse than filtering to a page with all items out of stock.
Offer Gift Cards; maybe with a special offer to encourage customers to come back in January.
Check emails are being sent; you can use something like Mailgun to monitor delivery rates.
Create invoices; you can auto-create invoices to all of your orders in a few clicks. This will speed up the many requests you might get with the latest version of PDF Invoice and Packing Slips.
Remove the discounts once the time has come on Cyber Monday. Disable coupons to prevent accidental discounts.
Record your sales and create reports.
Postage and labels; create and print shipping labels for all your orders as soon they come through. Start processing these and stick these to the boxes to get ahead of yourself.
Add order tracking and notification to update purchase and delivery with your customers. Set expectations and share any updates for good customer service.
Ask for reviews; invite customers to leave a review after a short period they received their goods. A great way to engage and possibly offer a discount for a review in order to repurchase.
Post-purchase Sale; Now that the customer knows of your shop and catalog, it is a good time to bring them back a few weeks after the Black Friday sales to entice them for a repeat purchase.
Record your experience and blueprint, reflect on what you could do better for next year.
Celebrate your success! The best part of all…
This list seems rather a lot to think about, but much of it is really very important to make it a success and stand out. You must remember that your competitor is also doing something to attract customers, so if it is not you, someone else will get your customer.
If that is not enough encouragement, what about these figures?*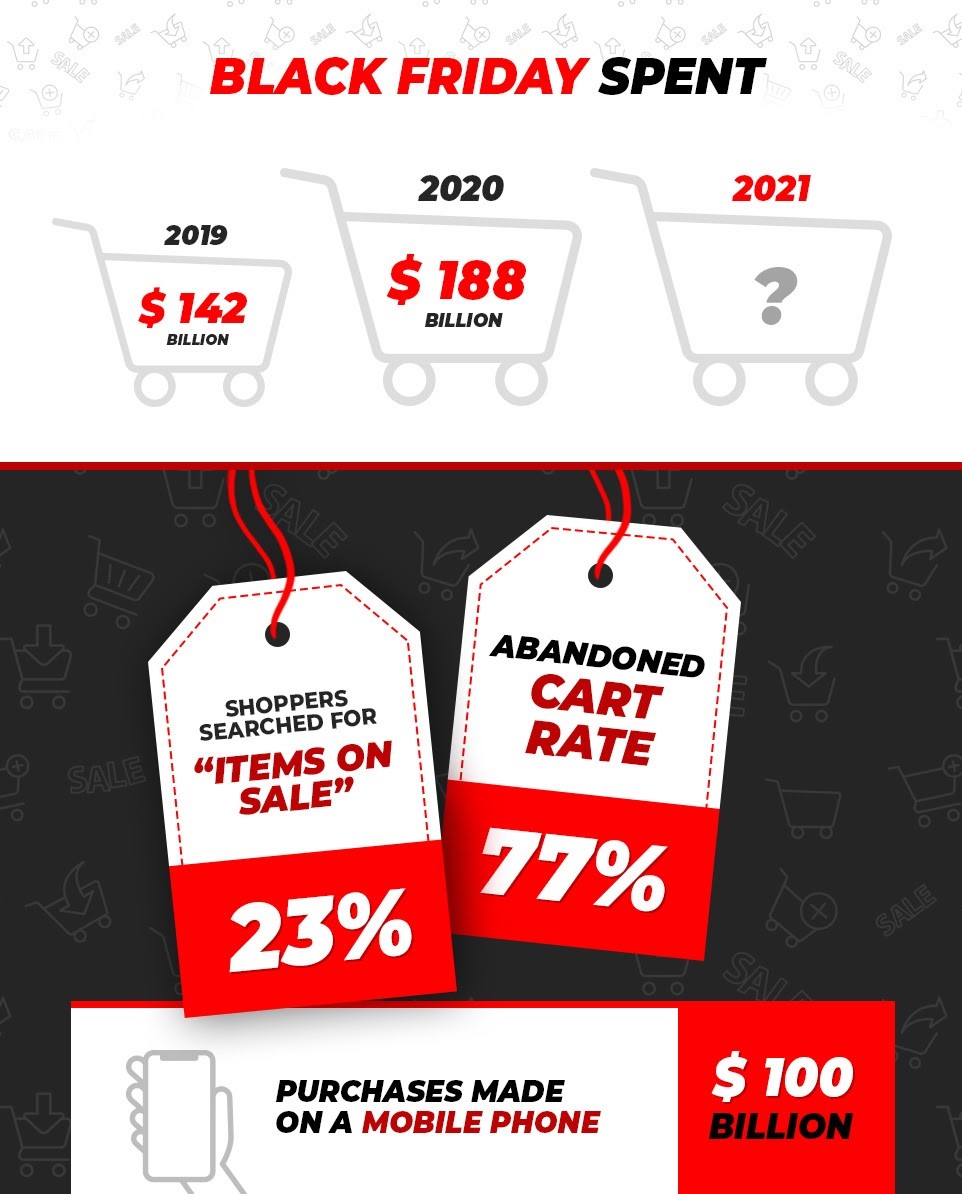 Just take a moment to digest these figures and think about what you can do to take even the smallest share of this expected spending online.
People are actively searching for online products which are on sale during Black Friday. This means that not every store is clear about which products are on sale.
With an average of 77% cart abandonment rate, there are a number of possible causes. Are people shopping around looking for a better deal, is the discount not automatically applied, or is it not clear in the checkout that people are getting a discount?
And finally, the 100 billion dollar mark – just say it out loud! Exactly, check your mobile experience and see if you can improve this.
Good luck and please share any tips you have in the comments.
* Source: https://financesonline.com/black-friday-statistics/