It is one of the easiest ways to receive leads for your products or services to your business. A request a quote plugin can do much more than receive inquiries from your visitors. Or by changing the Add to Cart button to Request a Quote or to a contact form. This tutorial will tell you everything you need to know to turn your WooCommerce site into a super powerful tool for B2B or to receive inquiries, quotes, or simply manual orders over the phone.
Table of content: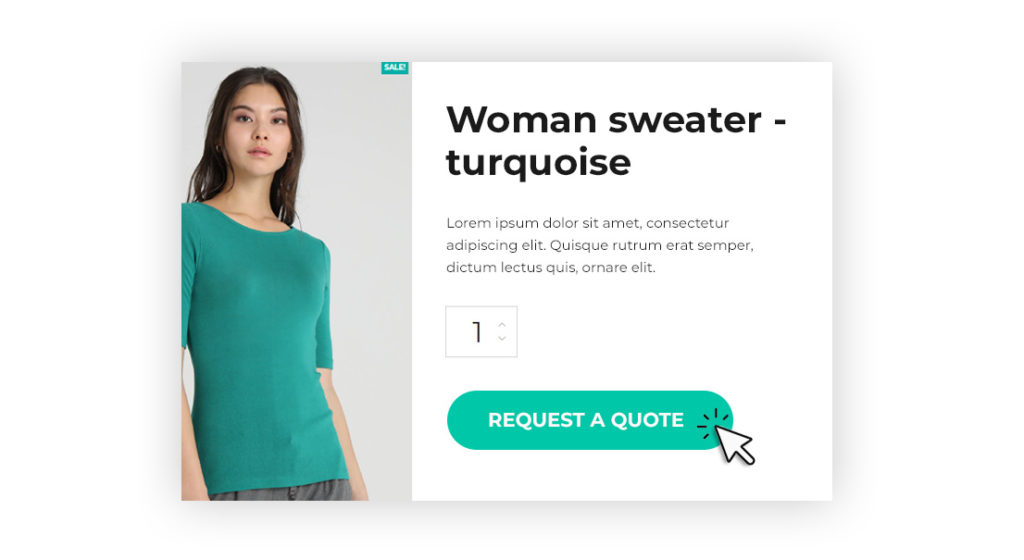 What does 'request a quote' mean?
It is a term used mainly by businesses that need to find out the actual cost before purchasing. To inquire how much the products or services will be is often referred to as a request for a quote. This purchasing step is often used to ask for a better price, like being compared with other businesses. It is, therefore, quite normal to have to send out many quotes, and not every one of them will turn into a sale. And yes, you really want to make this process as easy as possible for the person inquiring and managing this, so you don't waste too much time yourself.
Why do I need WooCommerce and a Request a Quote plugin?
To list products, manage stock and orders, you have no other option but to use WooCommerce. It is the best platform without any added costs to get started. But as you upload the products and the choice is to only 'add to cart,' this can be a problem if you do not want people to check out and pay for goods but to inquire for a quote instead.
When you add a plugin, you can add features or extend the functionality. In the case of Request a Quote, you either add or replace the 'add to cart' button with a 'request a quote' button or text.
As you press 'add to quote,' you will not be guided to the checkout, but instead, you will be able to send the required products or services plus the number of products to a unique quote inquiry form. This form can be customized to contain all the required details to continue with the quoting process. 
Remove add to cart button in WooCommerce 
The 'Add to cart' button can be replaced with the 'Request a quote' button. They can also sit alongside each other, so the customer has the option to either checkout and pay, or wait for a better 'deal' by requesting a quote. The latter can be really encouraging if you have a buyer who wants to buy a large quantity and expects a special discount. 
With the many rules available in the Request a Quote plugin, the options are unlimited. For example, you can only show the button on certain categories, tags, or even only for logged-out users. And finally, you can even set the rules for out-of-stock items.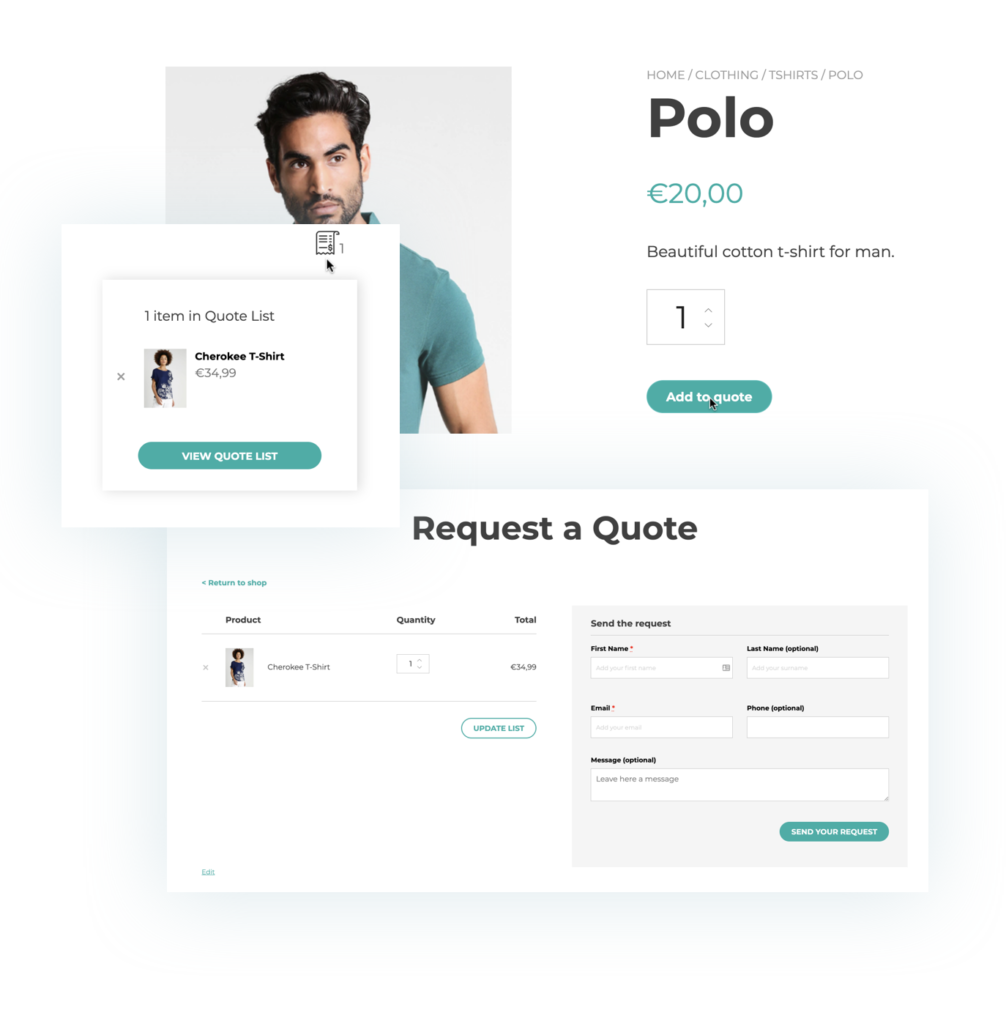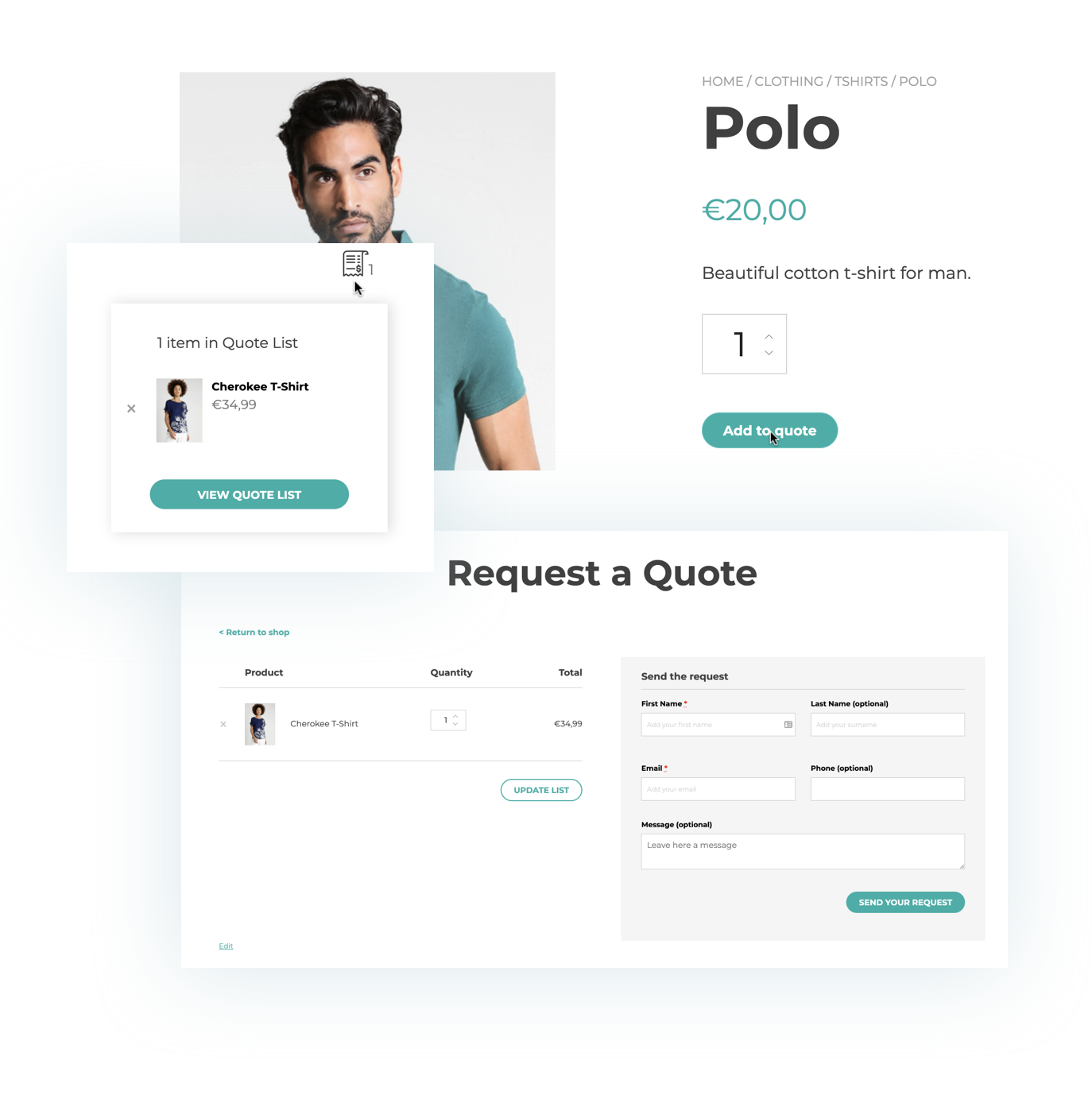 Add a quote button for all out-of-stock products.
We all know what happens when you click on a product and you see it out of stock. Yes, you click away and go to another site. This is a totally lost sale and potentially a customer for life. Adding a request for a quote plugin to your e-commerce site allows you to turn this around completely.

Imagine going to a shop and seeing an empty shelf. Would you not be inclined to ask the shop assistant if they have any stock 'in the back'? The shop assistant will either check or confirm when it is due again. You might not need it, so you are prepared to wait a day, or you thank the assistant kindly and will buy it somewhere else. One thing is for sure, you will happily come back as a customer following either scenario. So why not copy this onto your e-commerce website and automate the behavior of the shop assistant?
Simply creating the rule to show 'request a quote' when an item is out of stock is the first step in the settings. But to make it even more friendly and to the point, you could change the button text to something like: 'inquire about this product'. 
What are the main features of a good quoting plugin for WooCommerce?
Here is a list of the main features, but not all of them might be useful to you, or at least not yet as you never know when you get the call to create a custom quote.
Choose where to show the 'Add to Quote' button. Only for out-of-stock products, on product pages, or also on category pages. If you use custom product pages or builders, it should allow you to change the quote button's position. The options and combinations should give you all the flexibility.
Choose who will see the quoting options and the product prices. You can make the button only visible to logged-out users, and the same counts for the price being only visible to logged-in users. This is a great way to manage new clients, and not reveal your prices to all visitors or for your competitor to see.
Customizing the button; not just colors and size to match your website and brand style, but also the text and call-to-action icons.
Pages and widgets;

offering clear and easy monitoring of the quote requests, from their creation to the final step, is vital. Using a widget in your shop sidebar, for example, allows having constant control on the products or services and the quantity added to the quote list through the 'add to quote' button. With just one click, your users will be then able to edit the list before sending it. And after sending it? Taking advantage of the 'my account' page could be helpful; a 'quote' section, automatically created, will offer your customer a view of all the requests they have sent, the quote details, the current status, and, why not, also the possibility to pay for the accepted quotes

.
Admin tools; one of the key parts that are easy to use for store managers or owners. Being able to see what is outstanding, who accepted or declined the quote, and much more. Downloading the quotes via CSV allows you to import and export them with ease.
Automation; why not automate the process and set up quotes and emails to be sent automatically? This is great for those who do not want to showcase their prices or not share them until they receive the customer details. This could be a compelling way to build up a sales funnel. Automation can also be applied to follow-up emails and reminders when a quote might expire.
Create manual quotes; this feature might well be underrated as you can create manual orders in WooCommerce. But once you have experimented with creating quotes when taking a phone order, you realize it is totally different. You create a different 'order status,' add text fields, and you can send the quote with a few details. There is no need to fill in the customer's address fields. Just a name and email address, check the quote and send it for them to pay.
Integration with other plugins; not just other WooCommerce plugins, but also form builders. As you request a quote, it might be crucial to supply additional information, so setting up a custom form with your favorite form plugin should be no problem.

The same is for adding functionality by combining other plugins like appointments and bookings, composite products, catalog mode, or even creating a marketplace whereby vendors can generate quotes. Take into account all the main options to plan out your project or any potential future direction of your business.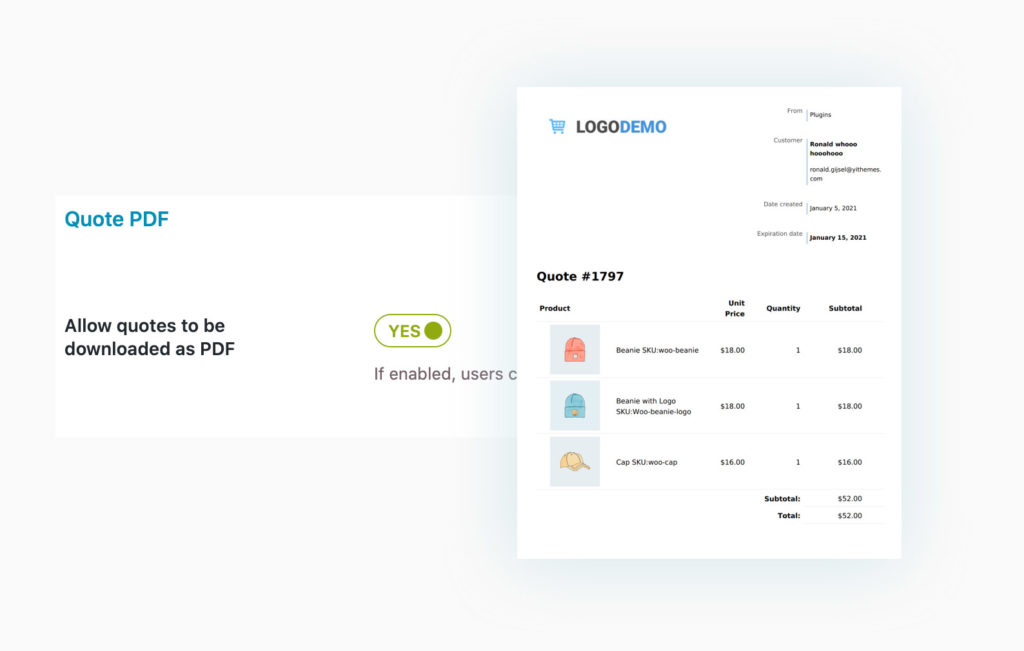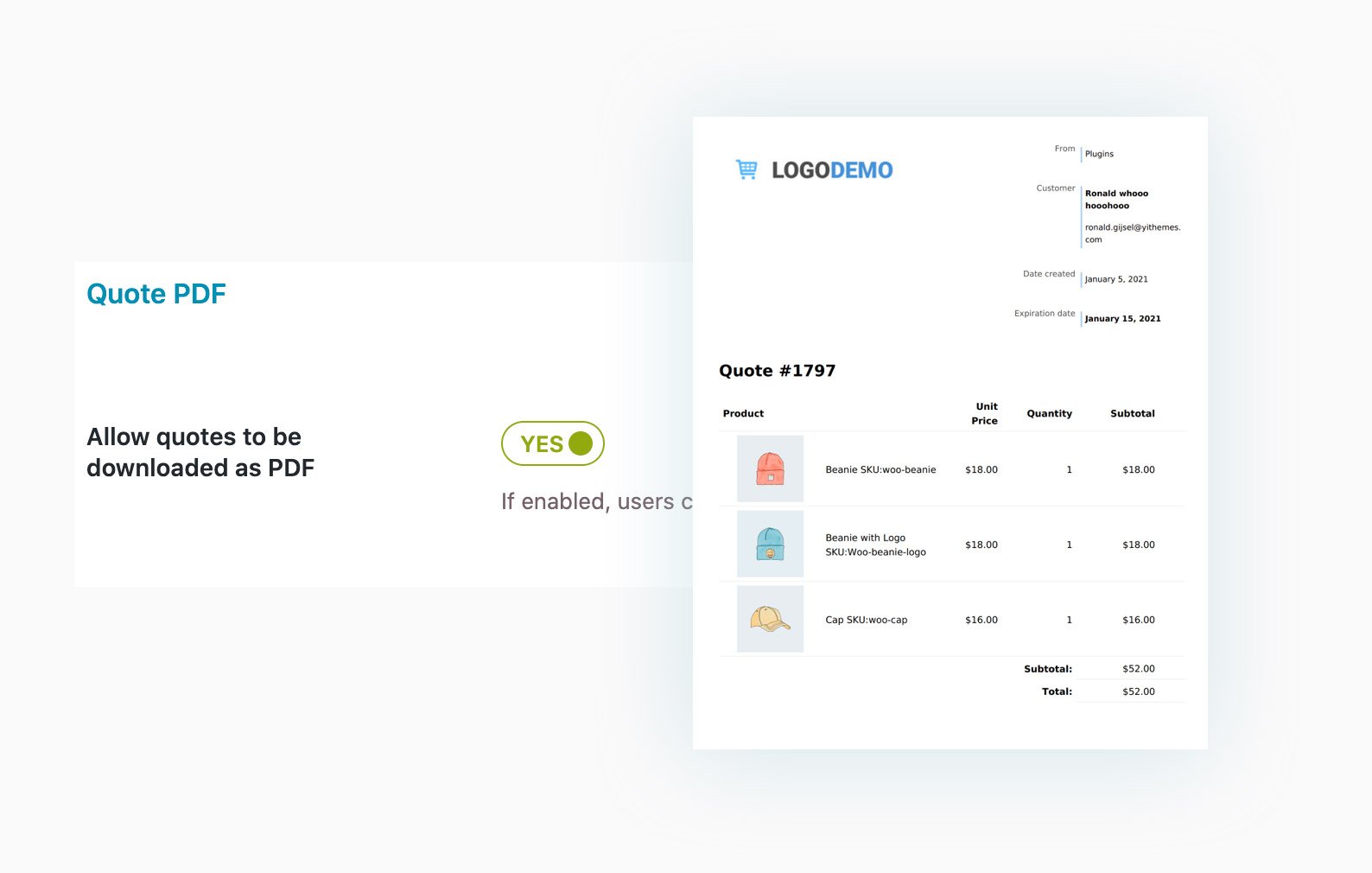 A basic setup guide to get started with quotes
First of all, you need to set up WordPress with WooCommerce and install a good-looking theme to list and nicely present your products. Read this guide to install WooCommerce or this documentation to use Proteo theme to improve your e-commerce site. Now, let's see how to set up the Request a Quote plugin and accept quotes for your products. 
The first step is to download the plugin and upload it to the plugin folder 
Activate your license key to receive updates and support from the team in case you experience any issues.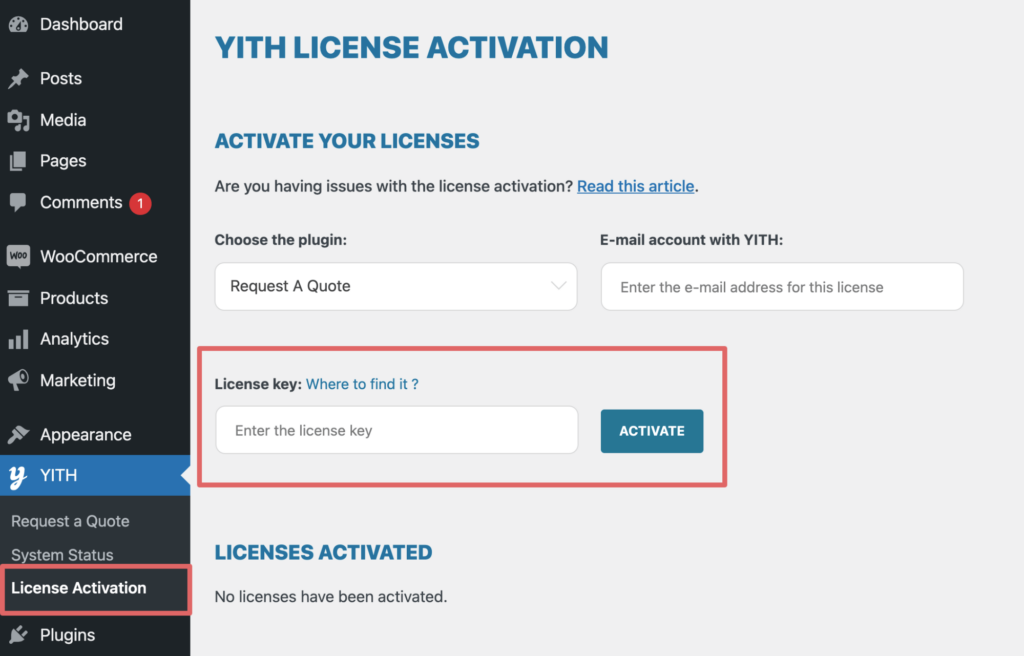 Set 'Who' will see the quote option. – we will assume all users, and we will also hide the prices. 
On the same page as the settings shown in the screenshot, you can set 'When' the quote button will show or whether to hide prices. We won't run through every setting here as the options are endless.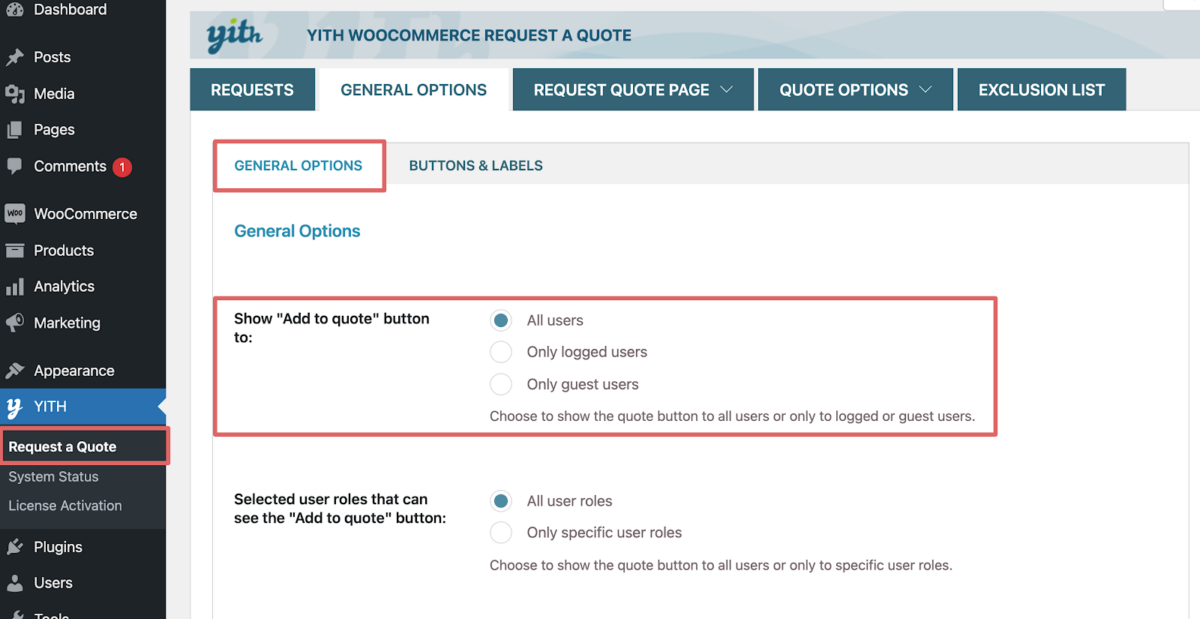 The settings to determine 'Where' to show the quote button are plenty. It is only on a product page, underneath or inline, in blocks, or even on the checkout page. For this example, we will show it everywhere.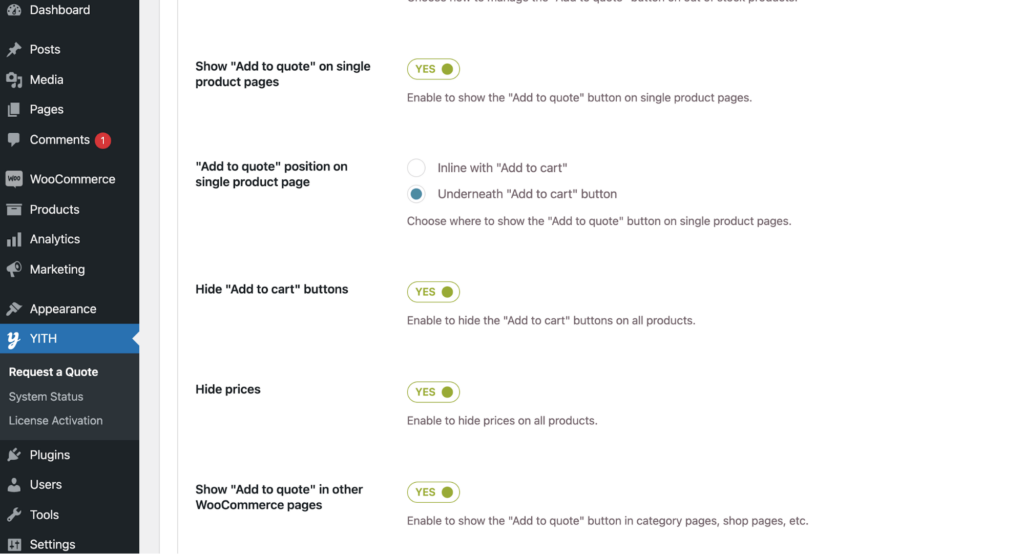 If you don't want it to show in all pages you can create an exclusion list.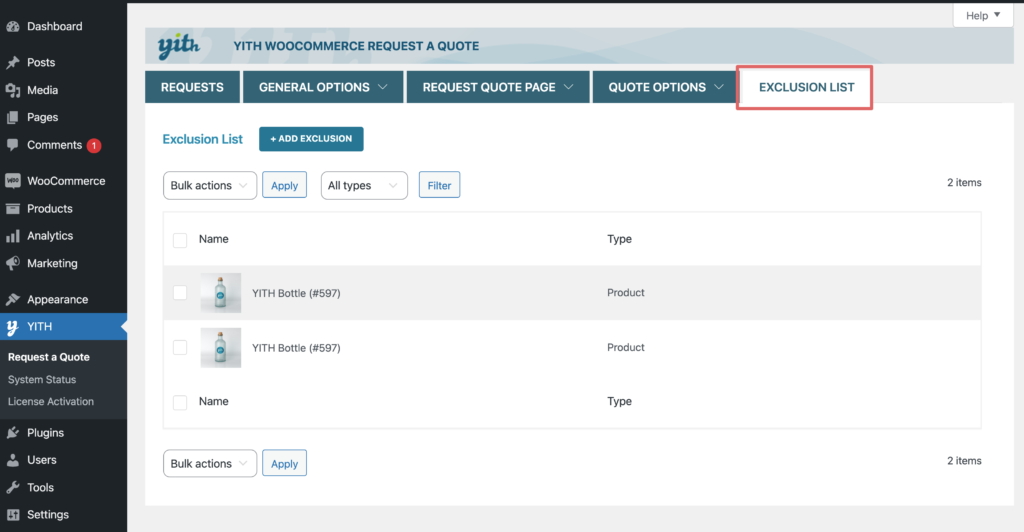 Within the settings, you can customize the button and also the Quote emails. We will skip this part and go straight to the form to receive all the right details from the quote requester or customer.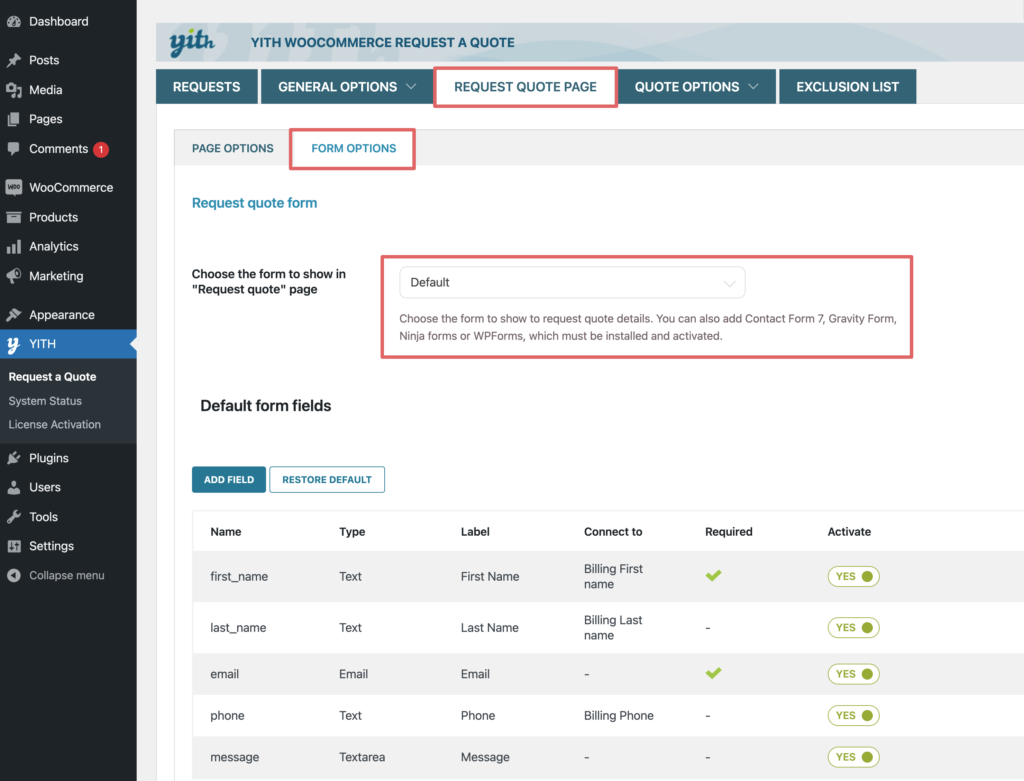 You can use the default form settings or use any of the popular form builder plugins. Some quote requests, especially for service businesses, really help to know much more about the business, so creating more complex forms is great to recruit the right type of business relations. On the other hand, keeping it simple also helps in a higher conversion rate as it is easier to send a quote by just populating a name and email address.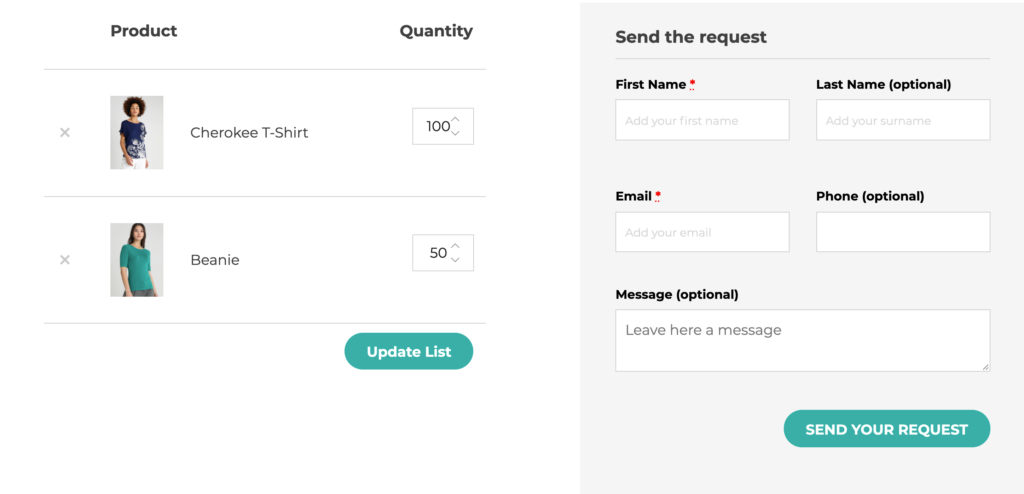 Which WordPress form plugins can I use and what are the advantages?
In the example on how to set up the quote requests using different forms, it shows you the default form, which is built in the Request a Quote plugin. You have the option to make this form part of the registration process so that the user creates an account in your store. This can be particularly helpful when you invite them to click a link in the quote email to pay for their order.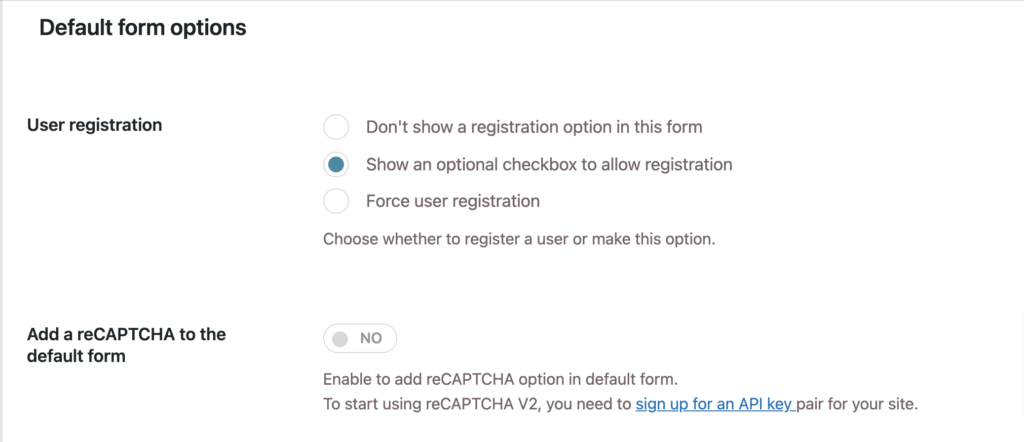 Added to that is a level of security to prevent Spam requests by enabling the reCAPTCHA. 
Other forms that have been enabled to integrate with the Request a Quote plugin are; 
Gravity Forms; is one of the most popular premium and most versatile forms on the market. If you want to extend the functionality of request a quote, Gravity Forms will not limit your ideas.
Ninja Forms; a premium contact form plugin with the ability to drag and drop fields to make up the more complex forms. It has a beautiful and user-friendly interface to build up various types of fields and forms.
WPForms; a more recent form plugin on the WordPress scene, has been one of the most popular plugins for some time in terms of the number of installs. It has an easy-to-use drag and drop builder to set up contact forms. It is often included in hosting packages and themes, so if you have this installed, there is no need to search for another one, and YITH WooCommerce Request a Quote will integrate very nicely. 
Contact Form 7; a very commonly used WordPress form plugin that comes in a free version. Reliable and robust, it provides placeholders for the fields. It only requires some HTML knowledge if you want, for example, to set up two columns.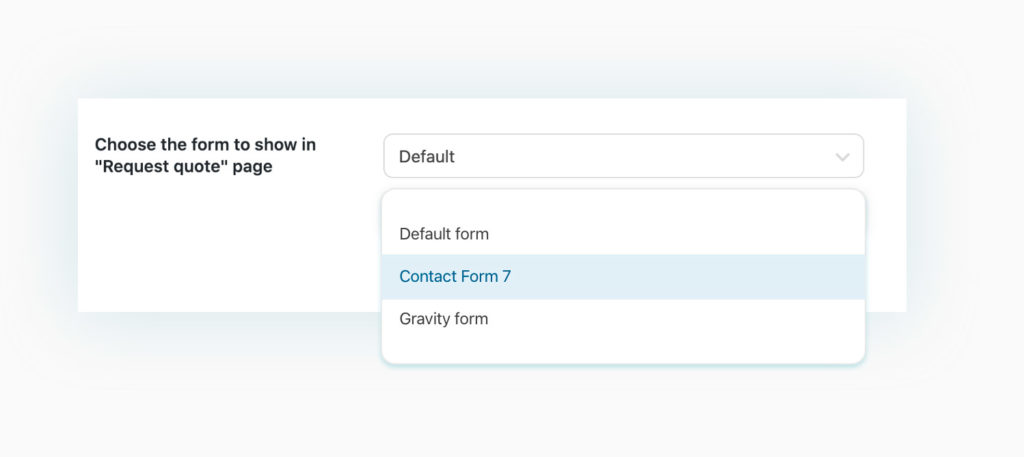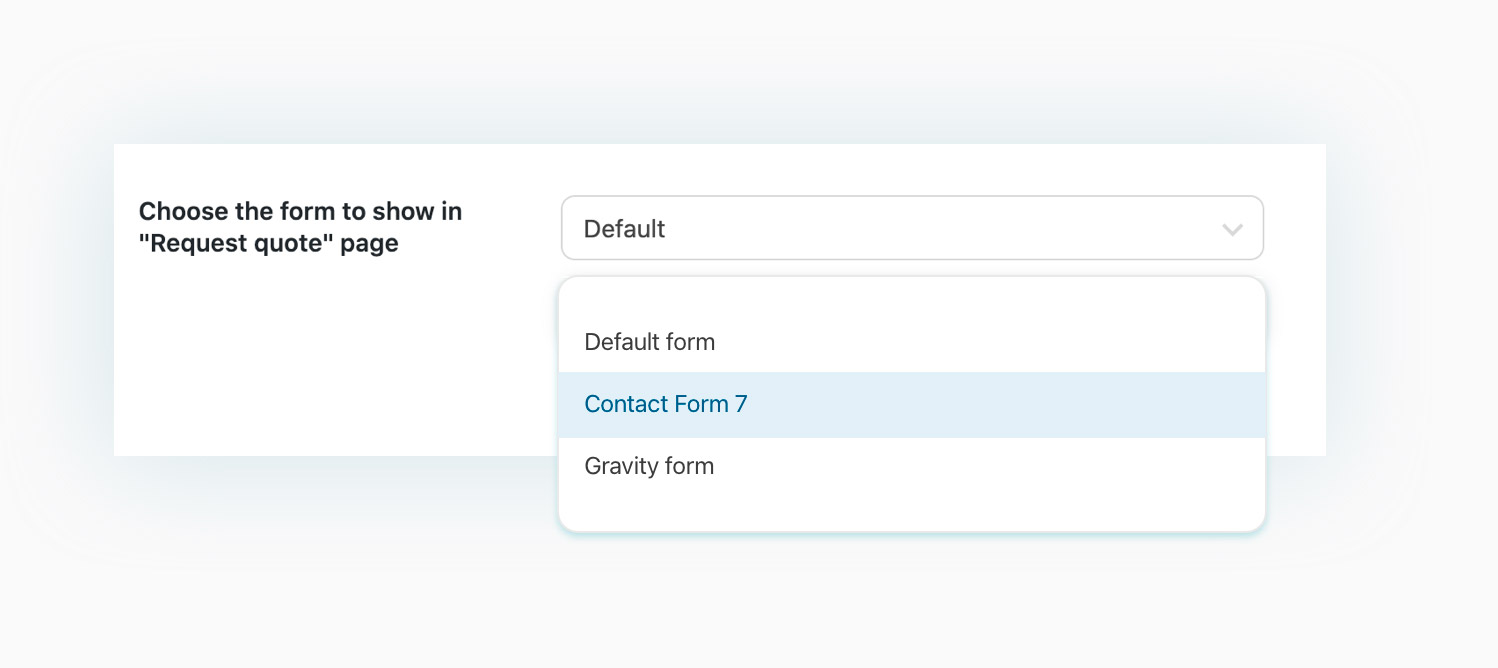 Advanced features to run your website into a B2B platform.
B2B or Business to Business is a commonly used term to refer to dealings between businesses versus a business selling to consumers. The process is often different with quotes being requested, as sometimes the goods or services are delivered first before payment is made.
As quotes are an important part of a business-to-business relationship and commercial agreement, YITH WooCommerce Request a Quote can be the perfect solution to manage this. And here is why.
If a potential customer requires to buy your products or services you don't want to sell them too cheap in order to protect your profit. So many businesses often hide their prices so the competition can't see them and copy or undercut them. When someone requests a price, are you willing to give them a discount if they buy one hundred items, or even ten thousand? I am sure you will, but you don't know who will ask and how much. So creating a system with a Request a Quote functionality can not be simpler.
List your products or services on WooCommerce. You can create bundles or composite products using additional plugins. 
Enable the YITH WooCommerce Request a Quote plugin as described in the previous sections. Ensure the prices are hidden, or if you want more flexibility on hiding prices, use the YITH WooCommerce Catalog Mode plugin, whereby you select when prices are hidden or which user roles they are visible to. This can be useful if you create a 'wholesale' user role for your store. Adding Dynamic pricing to determine a discount rule might be essential to really utilize this functionality.
Quote requests are sent through a form that you can put to use to ask for any details to your customers, such as a specific need, preferences, or any other useful information to create a custom quote and build a relationship with them that will likely be very productive also in the long term. 
The quote you create will be sent to the inquirer who will have the option to accept or reject it. You can also add an expiration to the quote, which can be useful if your prices or costs fluctuate. 
Depending on the ongoing relationship and user level, you can create an account whereby they view their prices when logged in. 
As you can see the possibilities are endless. Request a Quote is key to start a relationship with your new customer with a very low threshold to encourage a price request. At the bottom of this article, you will find recommended plugins that will work well to create the ultimate B2B platform
How to manage manual quotes using a Request a Quote plugin?
Creating manual orders is perfectly fine to manage this in WooCommerce, but the order status is either pending or on hold till you have received payment. And how do you ask for payment? Do you send a link to create an account or do you ask the customer for payment over the phone? Unless you have a simple Point of Sale set up, this is really quite difficult to manage and requires a lot of instructions and custom emails to the customer.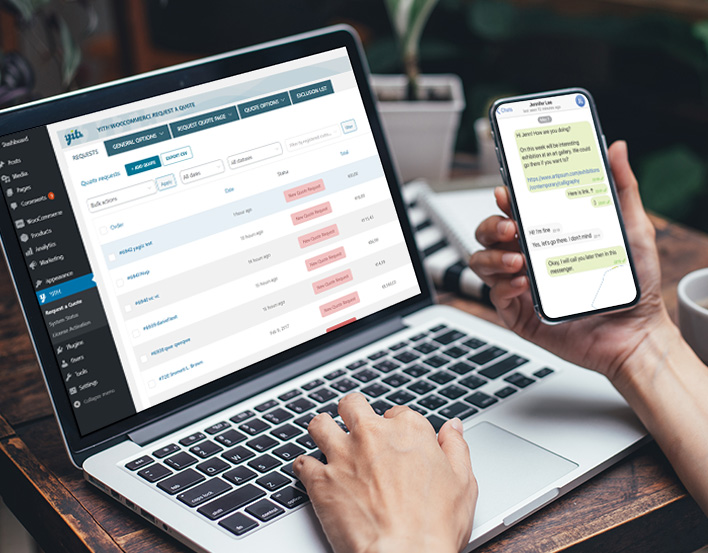 With Request a Quote this process is very different and much more user-friendly.
Here is how to manage taking manual orders for WooCommerce using the YITH WooCommerce Request a Quote plugin:
Click on "+ add quote"

It will take you to a new order, but with the status of 'New Quote Request' so that it will appear in the quote list.
Add a product and type in a few characters of the product that is requested. Select the quantity and add more products. 
When you hover over the item, you can edit it to change the price.



In the 'Quote Options' underneath the product selection, you only need to fill in a name and email address, and you are ready to send out the quote to the customer. Optionally you can add other instructions or a personal message. 
The customer will receive the quote by email with a link to pay and all you need to do is to fulfill the order. The customer will have to register themselves if they don't have an account yet. You have the option to send a test email or view a PDF preview.

The customer can either accept or reject the quote. When accepting the quote, the customer will be redirected to the checkout page in order to pay for the goods. 



As you can see the experience is easy for the store manager, as well as, for the customer. This type of order can either happen over the phone, in person, or through a chat online. All you need to ask for is their email address and they will see their custom quote appear in their email account within no time.
How to extend the Request a Quote plugin and functionality?
There are many ways to extend the functionality of YITH WooCommerce Request a Quote but here are the top three.
Request a Quote and Catalog Mode
Catalog mode allows you to be more flexible with hiding prices for certain users, or only for specific categories/tags. When you combine the functionality with Request a Quote you'll be in total control of who will see your prices and can only request a price based on their user role.
Request a Quote and Booking and Appointments
This combination can work well if you want more information before confirming an appointment or booking a consultation and agree on a price beforehand. 
Request a Quote and Composite Products
Sometimes products and services are made up of several components and by using the Composite Products plugin, you can make the selections really easy by showing them on one product page.
Imagine you want to sell custom bicycles to wholesalers, the example a with price would not really be suitable to be displayed on the web. The example with the Request Quote button is just perfect for a trade account to create their own custom product and select one hundred bikes.
If you want to experiment with different plugins and how they behave or complement each other, you can do so by accessing the Sandbox site on each plugin and activating the Request a Quote plugin. Read about testing more than one plugin on the blog. 
Is a Request a quote right for your website?
The answer is most likely to be an absolute 'yes' as there are so many scenarios whereby you would need this functionality to manage a quote, phone order, or to set up a trade section for the wholesale customers. See it as a vital tool to open up new revenue avenues and encourage people to contact you. In a time where contact is still a sensitive issue and people might be using a mobile phone to access your site, making it easier for them to contact you, request a quote for certain products is probably one of the best investments you can make.