A step by step tutorial to getting started with WooCommerce and the e-commerce optimised YITH Proteo Theme. 
This tutorial will help you get started selling online within a day with minimal effort and frustration. Not only will you make your first sale, but the store will also look good, no matter what your product or service is that you are planning to sell. We are assuming you are a complete beginner and have not used WordPress nor WooCommerce before or in a limited capacity. You can easily skip the different steps.
Step 1- Hosting your store on the internet
Step 2 – Installing the WooCommerce plugin
Step 3 – The WooCommerce installation process
Step 4 – WordPress and WooCommerce general settings
This is the first guide of the WooCommerce Essential Guides series. You can easily create additional functionality to your WooCommerce store by following the other Tutorials and 'Level-up with YITH' guides.
Where can people find my store?
It usually starts with a domain name or web address. Once you have bought this you need to host your WordPress / WooCommerce site.  
Step 1 – Hosting your store on the Internet
Your store needs to be online and hosted on servers that can be accessed by people around the world. These servers are 'virtual' buildings in which your store resides. Remember that the more visitors you expect, the more 'space' you need and the more it will cost to rent this' store' space. This is important to understand as you can get hosting for 5 dollars per month but a store like H&M will not manage the number of visitors with that service.
You need to do your research too but if you are unsure go with hosting companies that offer managed WordPress Hosting with a WooCommerce installation. This usually includes an SSL certificate which is vital when taking online payments. If you are unsure about this, make sure you inquire beforehand with your preferred hosting company.  
Once your WordPress Site has been installed, which is usually an automatic process, your site will look similar to this.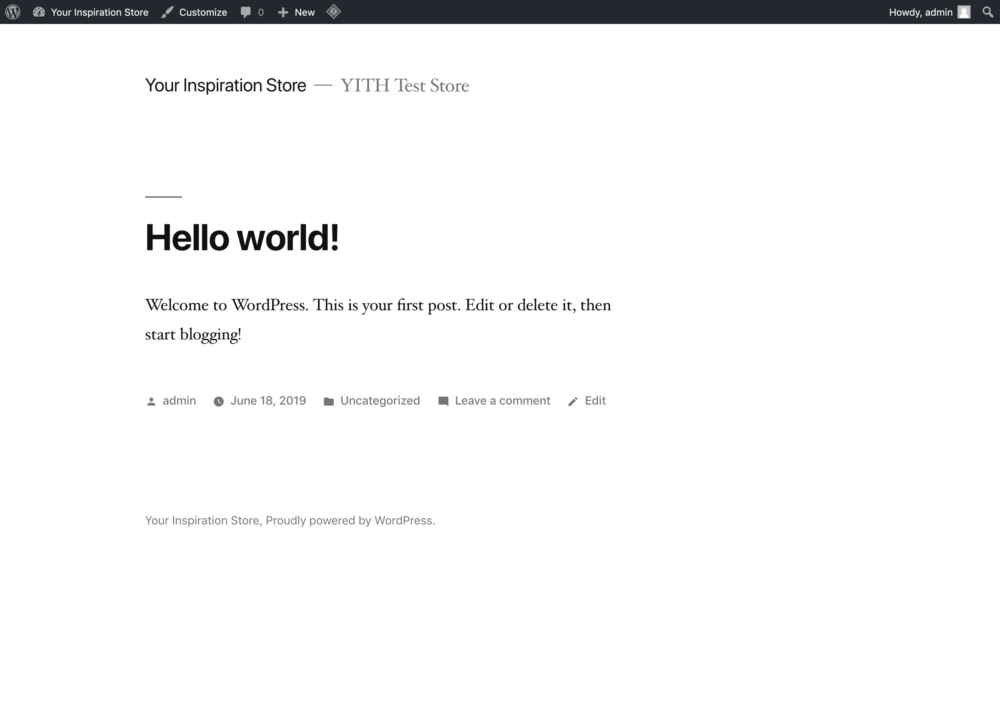 Front end (what the customer would see) of the website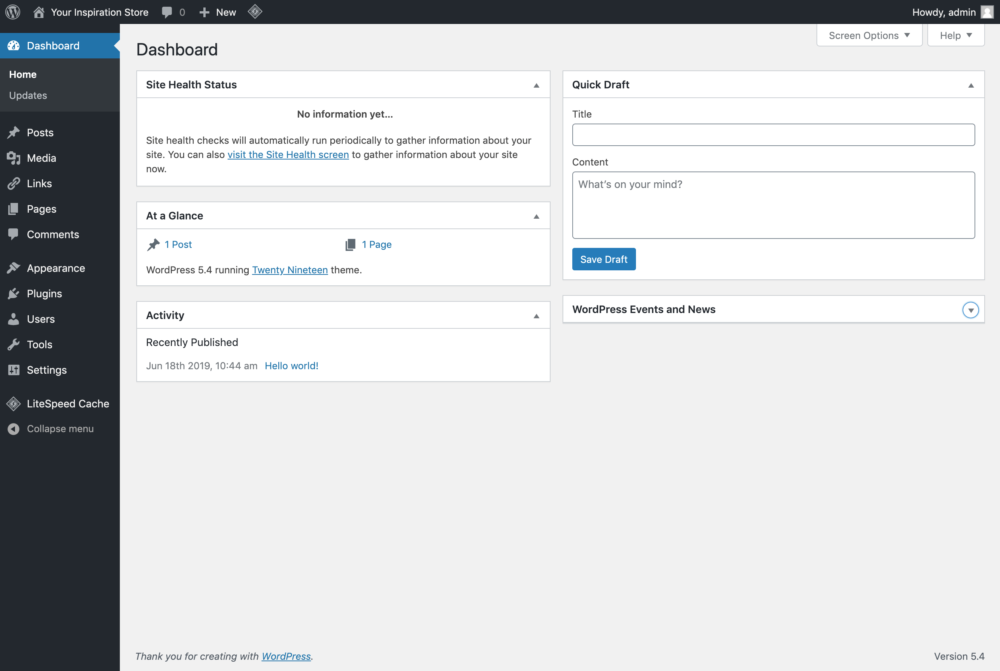 The Back end or admin area of your website that only logged in users can see.
This is your bare-bone installation with some variation of plugins installed that comes with your hosting package. 
Step 2 – Installing the WooCommerce plugin
Starting from the admin dashboard, we will install WooCommerce first. This is the e-commerce plugin that will manage products, checkout and payment and is essential to install in order to sell anything.
Go to plugins > Add New > type 'woocommerce' in the search bar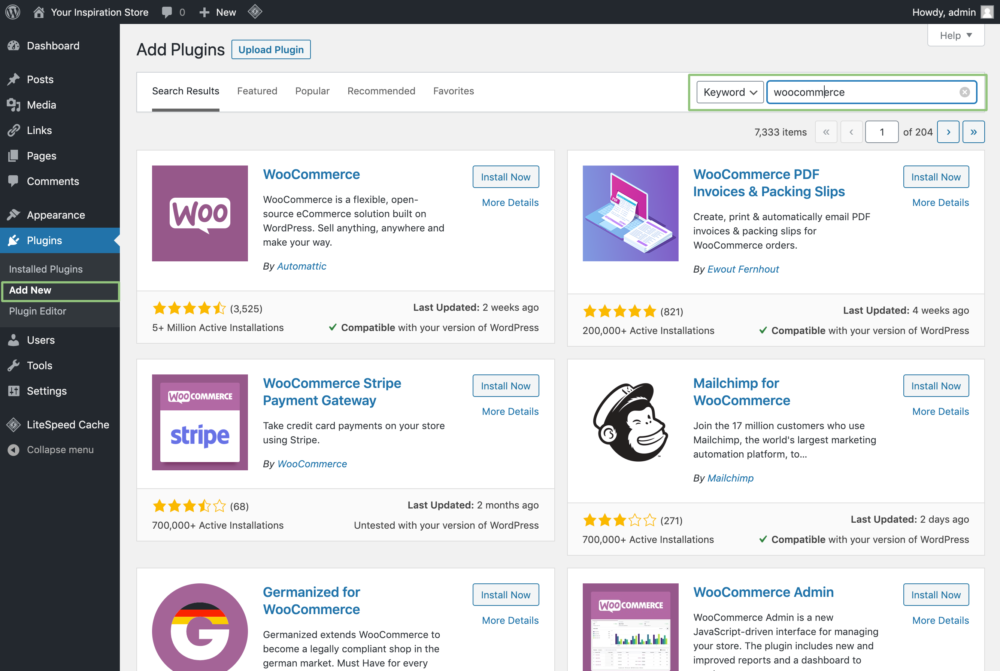 On the 'WooCommerce' plugin click 'Install Now' followed by 'Activate'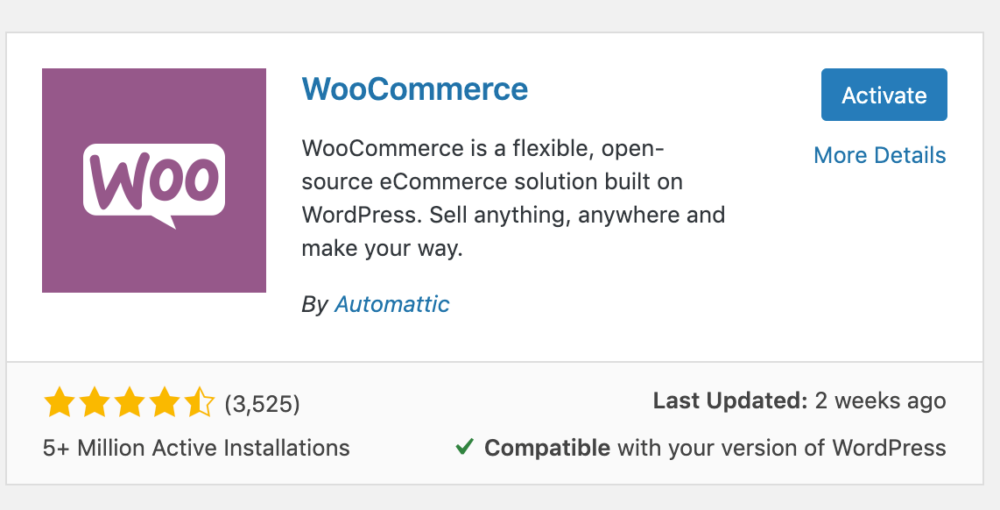 It will load and take you to the auto-installation screen.
Step 3 – The WooCommerce installation process
You will be prompted to 'Get Started' and install various other plugins. This is purely optional as most are not necessary at this stage and could overwhelm the process or there are alternatives. So below the 'Get Started' button is the link to Proceed without installing these extra services and plugins.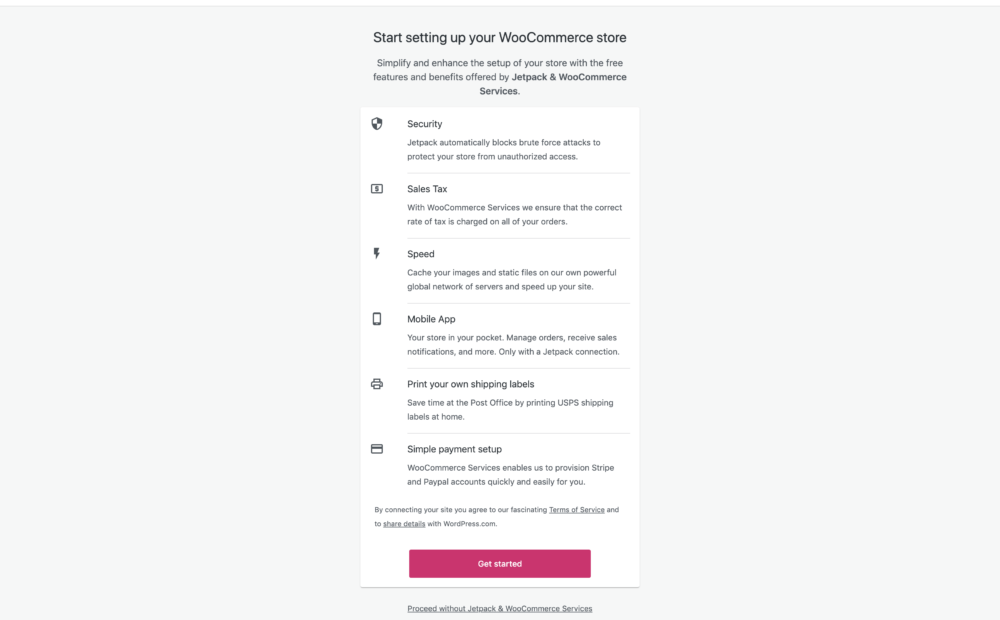 If you press 'Get Started' it will take you through a series of steps. This is to determine the type of extra services you might need and the set up of your store. For example, if you have a UK address and sell goods, it will add the UK taxes settings to your store and the same would be for every other country.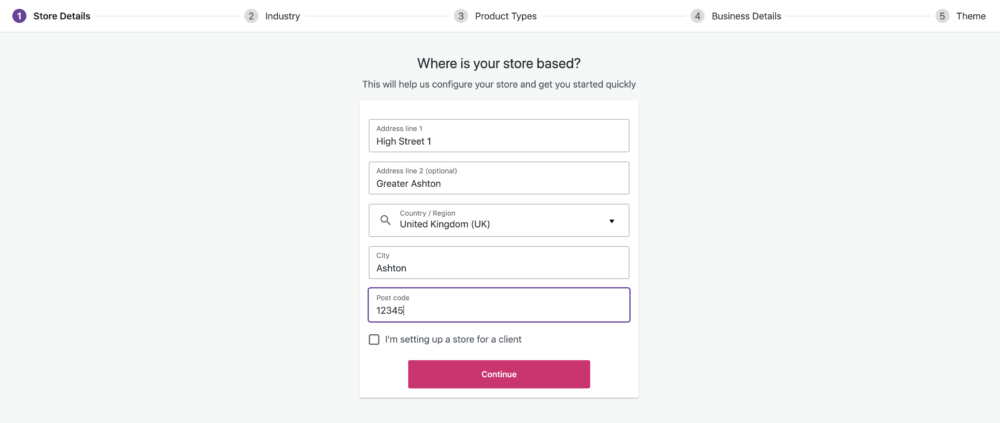 The type of industry will potentially add other settings and give you different suggestions. Please don't forget you can always add these at a later stage if you are not ready.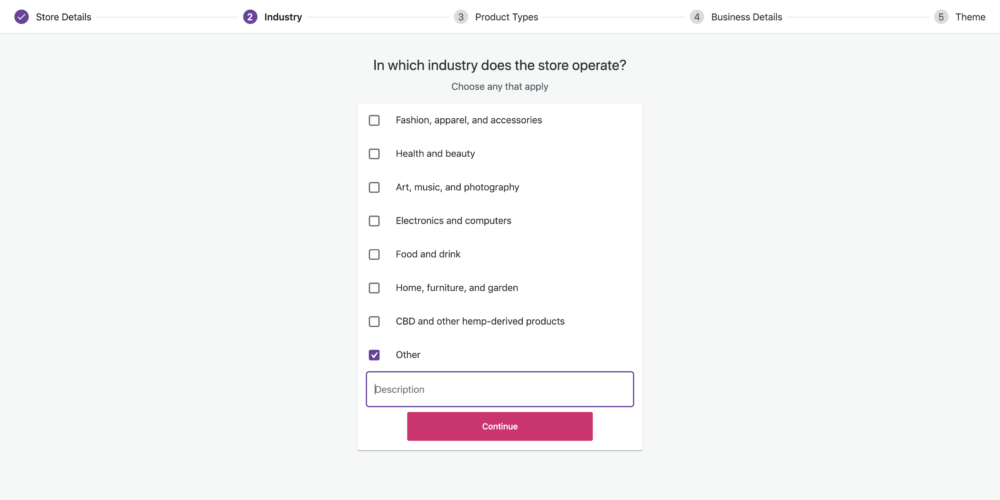 For some type of industries, it is more common to use different settings for the store set up. But nothing that can be changed or added at a later stage and our WooCommerc Essential Guide will help you understand all settings.
So in the next step, you get suggested additional premium plugins to extend your functionality. No need to add these now as we will guide you through this process, depending on what yu want to sell.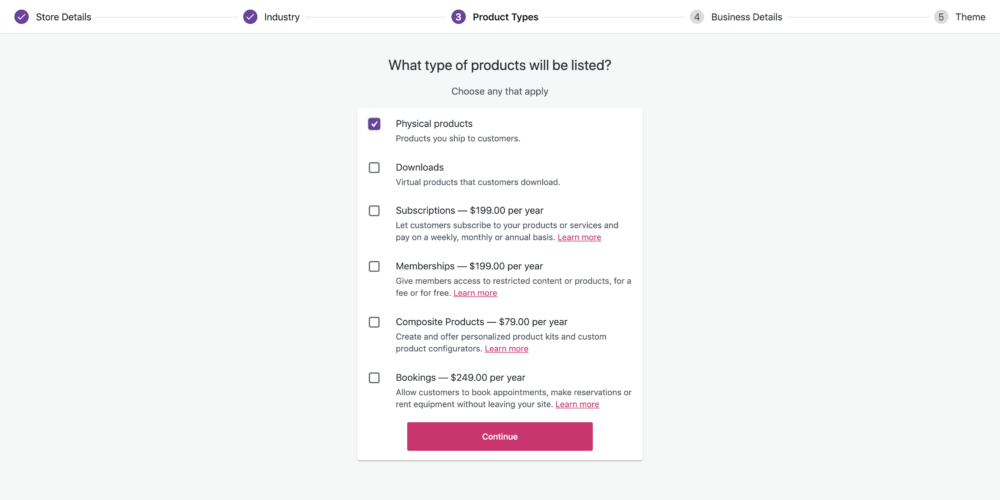 Toggle the marketing to off to prevent extra plugins to be installed that you do not need to keep your site clean and clutter-free.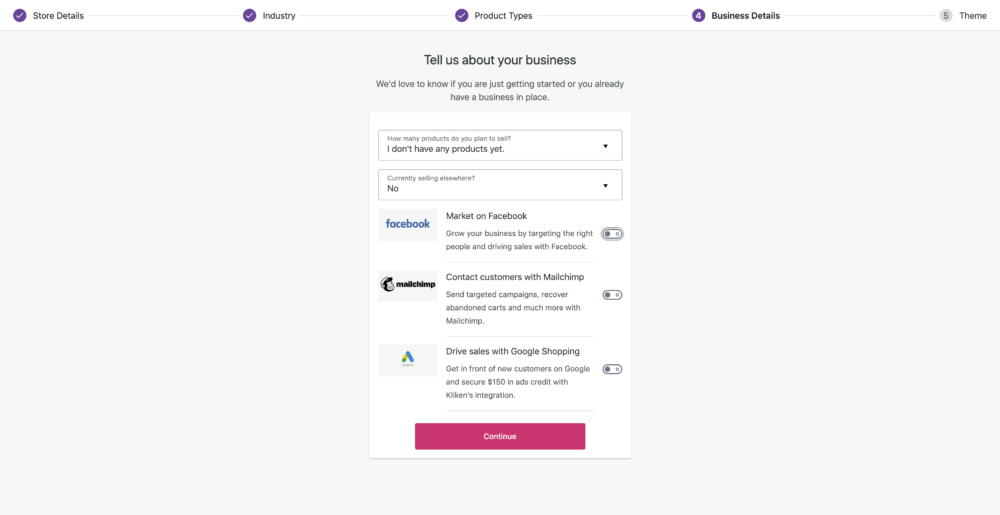 The final step of the onboarding process will suggest a theme. This is the look and feel of your store. 
Click on the red button to stay with the current theme – the next step will be to install YITH Proteo.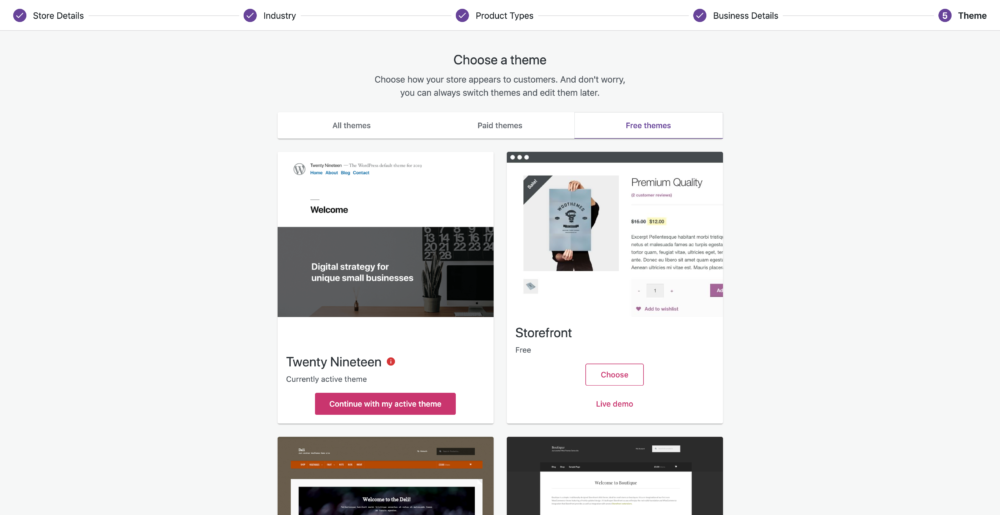 Click to continue. You can continue with the setup to set up products, shipping and tax, or you can ignore these and carry on with this tutorial as we will take care of these in the following steps.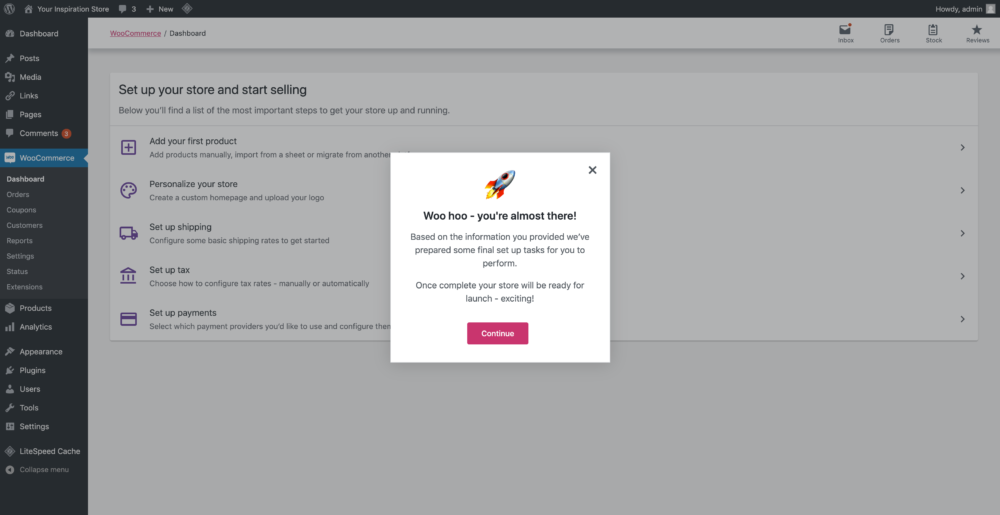 The main reason for this is that we will take you through a few extra settings to make your WordPress installation work better for your main purpose of selling. These are some very useful tips, you ought to do from the start.
Step 4 – WordPress and WooCommerce general settings
A bit of housekeeping is necessary to make sure your WordPress installation gives you the best start. If you have followed the installation setup, many pages and settings will have been created and the next section can serve as a checklist. It will certainly help you understand the bigger structure of WordPress.
From the Settings Tab > General.
Adjust the admin email address, site language and timezone.
The latter setting to get right is vital if you run sales and set products to come on sale at a certain time.

Ignore the  'writing' tab unless you need to change something specific in the rules.
Go to Settings > Reading
In the reading menu option, you can set the home page to a static page or to the autogenerated shop page.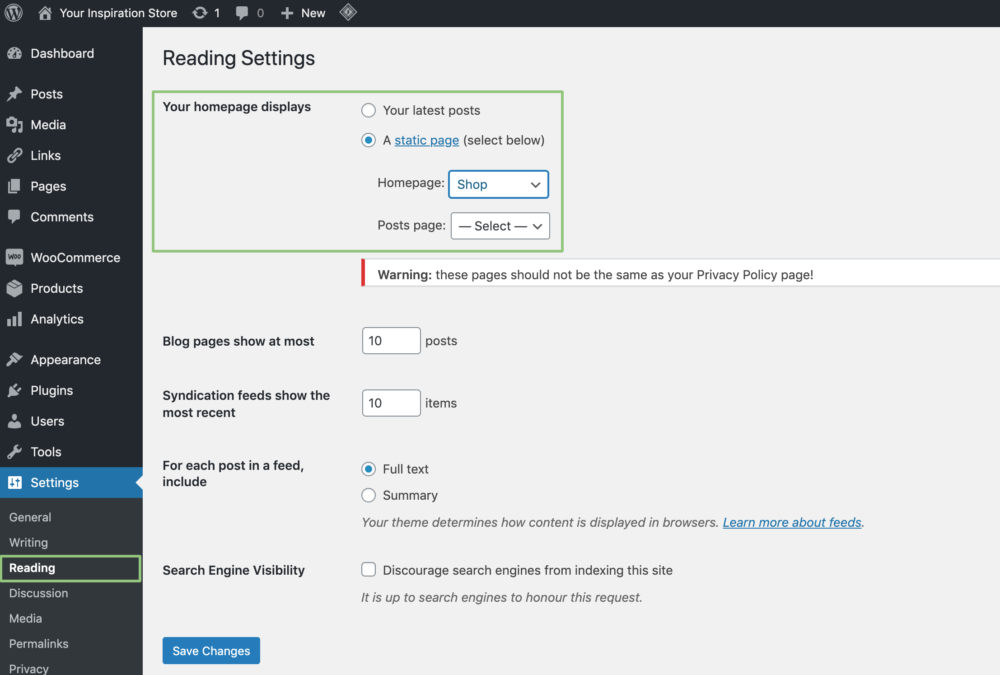 If no pages are available from the dropdown menu, go to the next section first
>Adding additional and the necessary pages
In the 'reading' settings, you are able to select which page serves as your Homepage. By making it the 'shop' it will show the categories and products on your front page. You also need to set other pages like Terms and Conditions, Privacy Policy and Contact page.
Add the following pages as a start and check the shops' pages. (the ones in brackets are vital to WooCommerce or you will find that checkout might not work)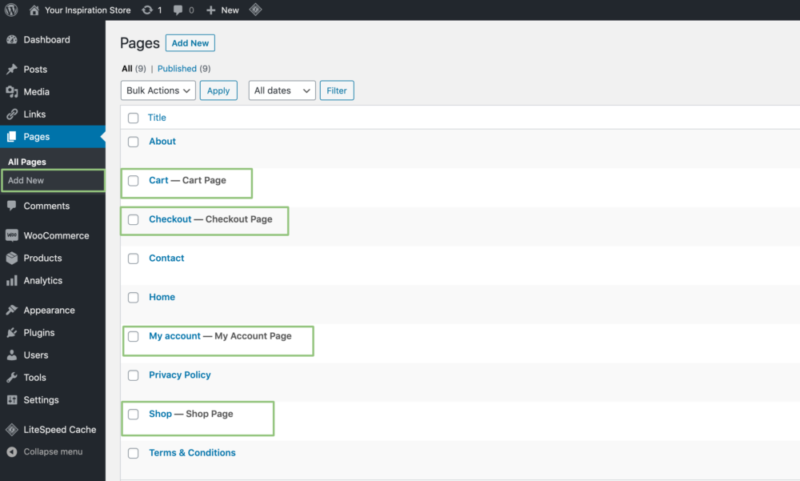 If the WooCommerce pages are not set correctly. You can create the pages as normal and paste the relevant shortcode with brackets in a 'Shortcode' block.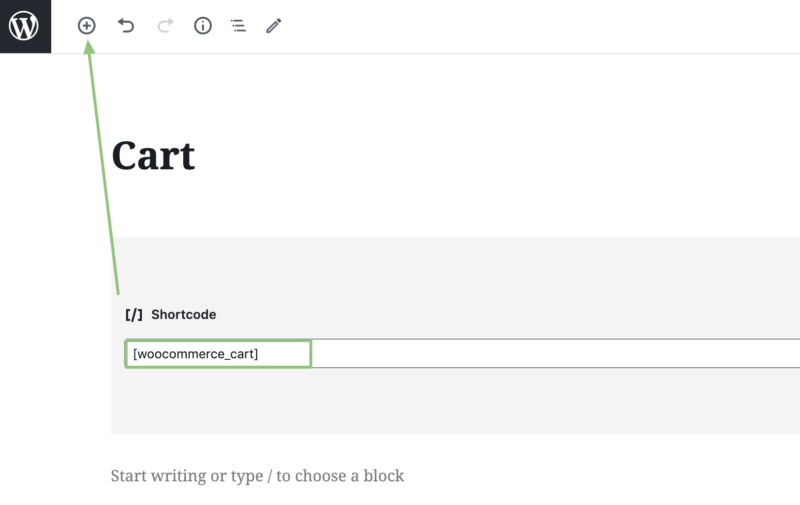 For the WooCommerce cart page use woocommerce_cart
The Checkout Page needs this shortcode woocommerce_checkout
My account, for the customer to change details and see past orders, use woocommerce_my_account
Don't forget to wrap them in square brackets
To make sure WooCommerce recognises these pages and they are set correctly go to WooCommerce > Settings > Advanced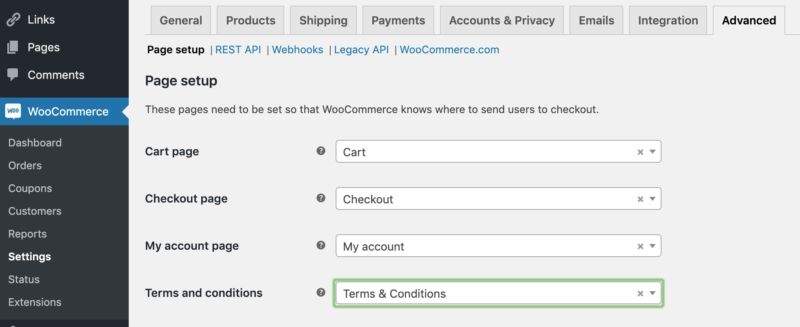 Now that you've creates a 'Terms and Conditions' page, you can set this here too, even though it is most likely empty at this stage.
Go back to Settings > discussions
Discussions menu tab
This is quite important to prevent spam comments clogging up your site, so for now, make sure only registered-users can comment. If you allow customer ratings and feedback, this will protect you from rogue comments too.
For individual posts and products you can override these settings, but for now, use the recommended as shown in the screenshot.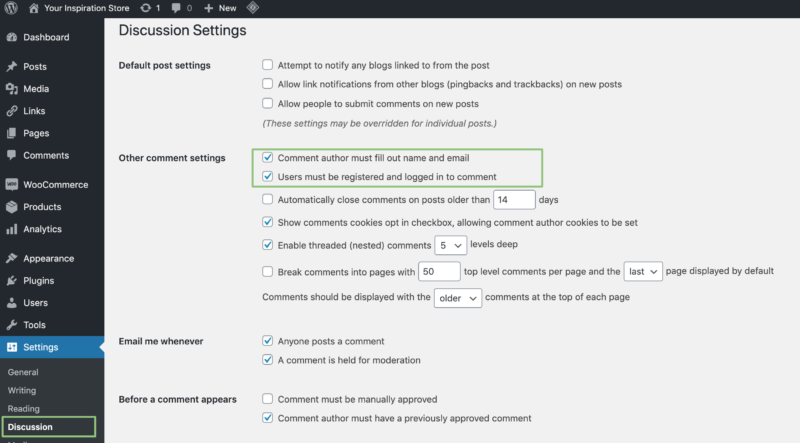 The permalinks Tab
Go to Settings > Permalinks
Permalinks are the structure of links that follow your domain name. To create readable and possibly memorable links, it is important to set these correctly from the start of your project.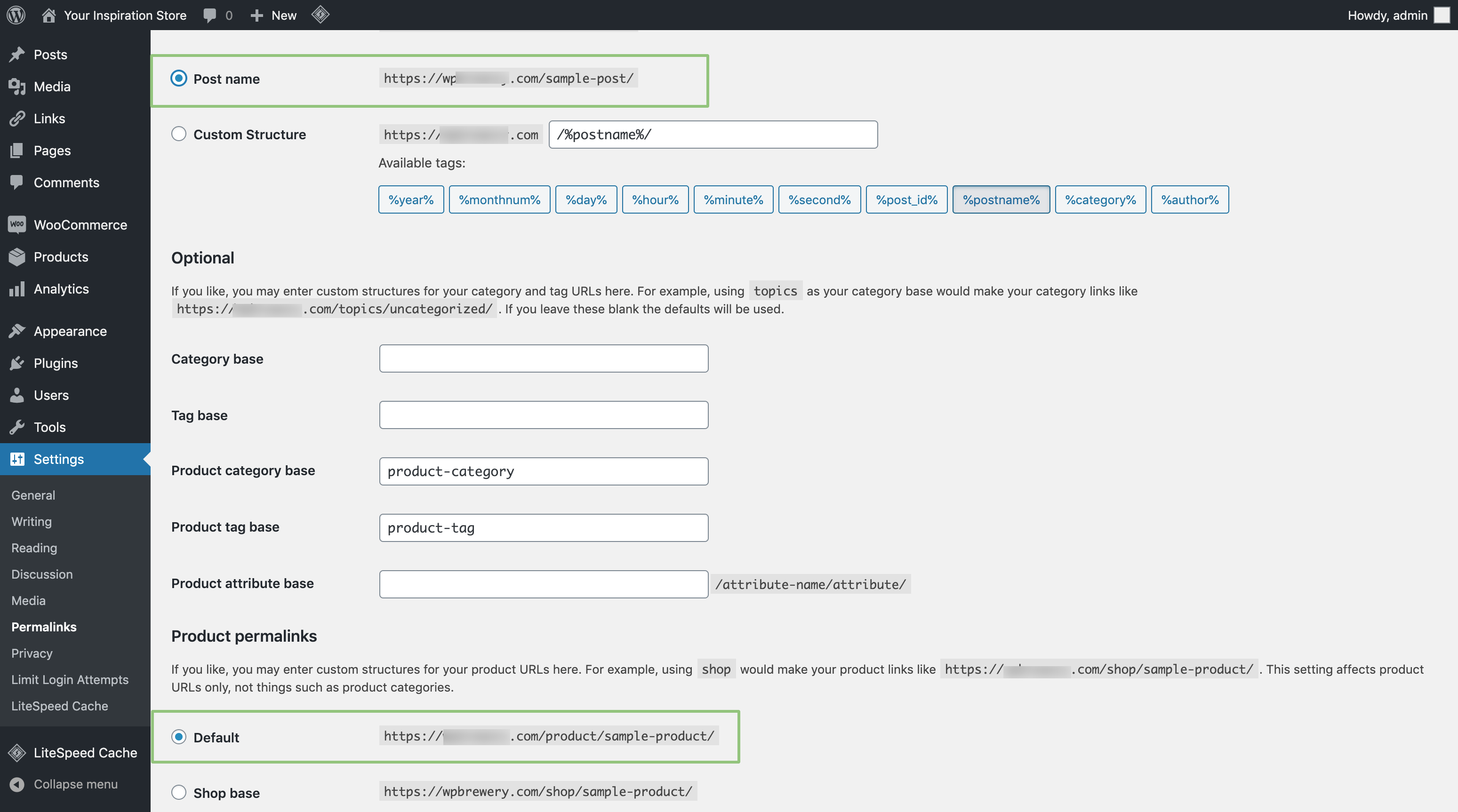 Privacy Policy page
Set a privacy policy page for your website. The same counts for the Terms and Conditions page, that you should not forget adding the policies to these pages as they remain blank.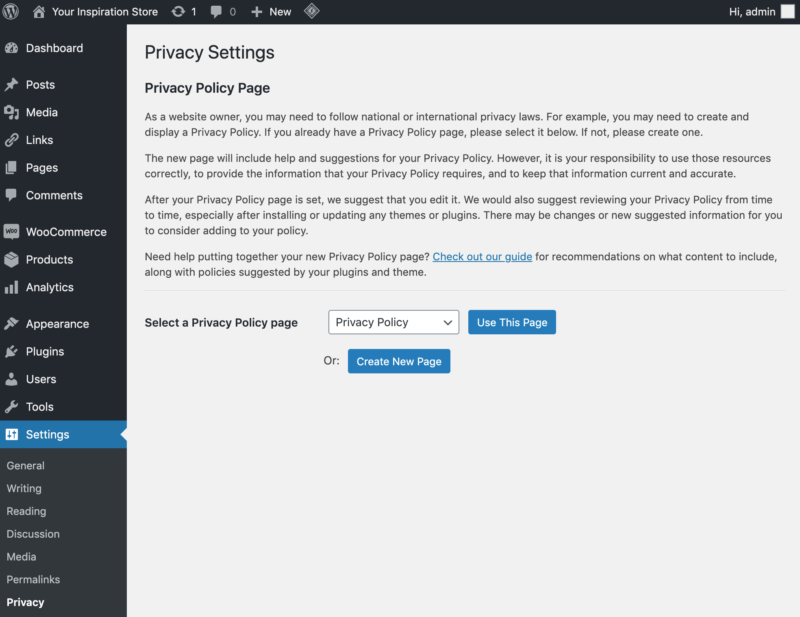 Don't feel overwhelmed with all the different settings, you will soon feel at home with all the different tabs and menu settings. Make sure you bookmark this page as a reference.
Next is about styling your store, so open the next WooCommerce Essential Guide