After seeing what happened in 2020 with the pandemic, we had a number of goals in mind: to get back together, to keep growing, and to be safe and happy. The first one we have not been able to fulfill (wish postponed to 2022), but the second and third goals have been fulfilled with growth: we have grown exponentially and YITH has given us happiness.
In order to comply with the safety measures, we distanced ourselves from our colleagues, from the WordCamps, from talks… from everything. This merited a revival for ourselves and, of course, for YITH. Little by little we were able to return to "(kind of) normal". Although the WordCamps were online, the end of 2021 surprised us with the first face-to-face WordCamp in Sevilla (Spain).
Despite the many difficulties encountered, 2021 for YITH has been, fortunately, synonymous with progress and growth. The family has grown in members and we reached 50 people divided between Italy, Spain, Netherlands, Greece, Argentina, Colombia, and Venezuela. This multicultural family has grown to improve the service for more than 2.3 million users that benefit from YITH software worldwide.
The e-commerce trends continue growing
The pandemic was undoubtedly a drive for online retailers and for conventional and physical stores that launched their e-shops. But the upward tendency of online sellings has continued over time. In fact, in the United States alone, e-commerce sales grew 17.9% in year-on-year terms according to a study by eMarketer.
And this trend is not expected to stall or slow globally. According to Statista, more than 2.14 billion people are estimated to have bought goods and services online in 2021. In addition, online retail sales worldwide are projected to grow to $5.4 trillion by 2022 according to the same source.

Events such as Black Friday or Cyber Monday will continue to be key to the increase in Internet purchases. In fact, the latter was the best sales day for YITH (up 17% compared to 2020).
To give you an idea of the impact WooCommerce can have on this trend, it is used by 13.4% of all websites whose content management system we know of. That's 8.8% of all websites!
And it has also been a great year for WordPress, the platform we use for all our products, as has been the norm for years. This platform is currently used by 43.2% of all websites according to W3techs, with a market share of 65.2%. It is followed by Shopify with a 6.6% market share (yes, such a huge difference!).
Year of growth and happiness at YITH
Fortunately, 2.3 million users chose YITH software for their online stores, having as top markets the United States, Italy, and United Kingdom. Visitors from 230 countries were interested in our products. A real pride for us considering the competition in this complex time.
The growth of members in the company was a cause for celebration, but there was something else that made us really happy. And although we had been working on it for a long time, our growth gave impulse to two projects that have been really special. In July 2021 we celebrated the launch of our Spanish site, and just three months later we celebrated the availability of our Italian site as well. In addition to this, the grand opening of our new office in Santa Cruz de Tenerife (Spain).
Busy minds to update and improve
But all these events did not divert us from our goal: to keep working to improve our plugins and update our Proteo theme, with continuous improvements and integrations that allow us to have some of the best products on the market. We released 2080 plugin updates, while we updated and redesigned a total of nine plugins: YITH WooCommerce Ajax Product Filter, YITH WooCommerce Product Add-ons, YITH Store Locator for WordPress and WooCommerce, YITH WooCommerce PDF Invoice and Packing Slips, YITH Booking and Appointment for WooCommerce, YITH WooCommerce Points and Rewards, YITH WooCommerce Badge Management, YITH WooCommerce Dynamic Pricing and Discounts, and YITH Auctions for WooCommerce.
And not only that. We welcomed three new plugins to our catalog: YITH Multi Currency Switcher for WooCommerce, YITH Easy Order Page for WooCommerce, and YITH Live Push Notifications for WooCommerce. The first one allows you to enable a multi-currency system in your store and lets you pay your users for products in their own local currency. The second makes the purchase process in your shop more straightforward and faster by giving you the possibility to create custom lists of products for specific customers or resellers. And the last one allows you to display custom notifications to highlight promotions, discounts, products, and reviews, among others. If you want to take advantage of the buyer validation and social proof principles in your shop, you need that plugin.

Customers from 230 different countries were able to enjoy all these new features. In fact, we reached over 900,000 active installs with a single plugin, Wishlist, while our developers didn't stop for a minute to reach thousands of commits in a single year.
And, speaking about plugins, what has been the top of the year? On one hand, the top 3 of our free plugins are YITH WooCommerce Wishlist, YITH WooCommerce Compare, and YITH WooCommerce Quick View. On the other hand, on the premium plugin podium, we find YITH WooCommerce Request a Quote, YITH WooCommerce Ajax Product Filter, and YITH WooCommerce Customize My Account Page, the last being the most used premium plugin.

Our customer care and support team as the YITH pride
Our website, yithemes.com, received a total of 1,8MM visits in 2021. Where they chose to try the live demos of each of our plugins, as 280k users did last year, and search for information on the plugin and documentation pages, with 30.911 support emails answered. All this in one year where CyberMonday was our best sales day (+17% compared to 2020).
In addition to this, we are proud to know that, following the slogan of not offering one-time but caring for our customers' day-by-day, our customer satisfaction was positioned at 98%. This success could not have been achieved without our customer service and support team. They have resolved 27.458 tickets, with an average first response time of 3,71 hours, and completed more than 24.500 online chats.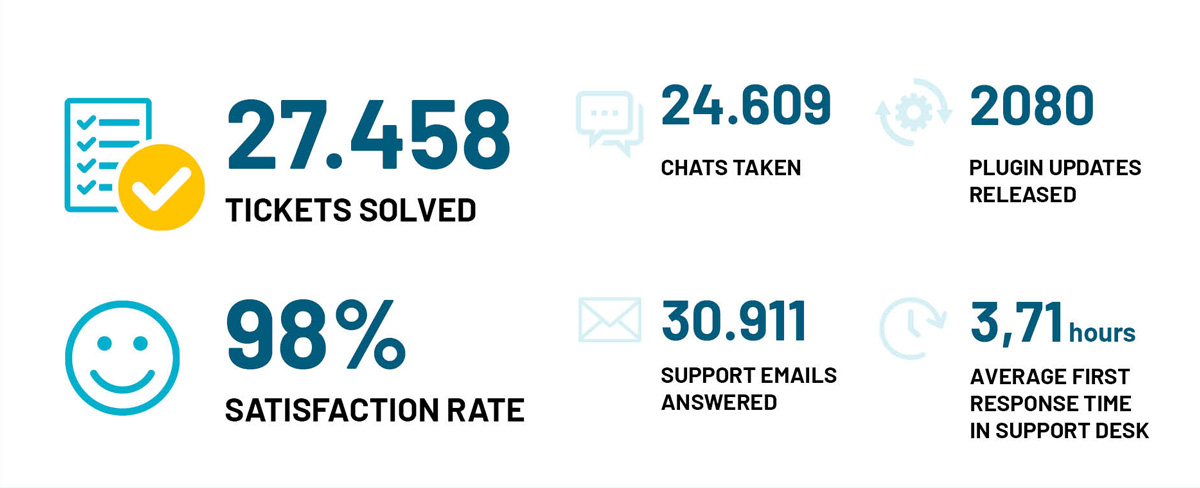 We are also glad to announce that we had more than 900 translator collaborators in the second year of the launch of translate.yithemes.com, a project that allows the translation of YITH plugins in any language. ¡Thanks to all!
YouTube project: help for our customers and support
Something that has really been an honor is our YouTube project. On this platform, you will find videos explaining how to use and get the best of our different plugins such as YITH WooCommerce Ajax Product Filter, YITH WooCommerce Product Add-ons, YITH WooCommerce Subscription, YITH WooCommerce Membership, or YITH WooCommerce Request a Quote, among others.
There are three different channels divided into three languages: English (YITH), Spanish (YITH ESPAÑA), and Italian (YITH ITALIA). We have uploaded more than 250 videos and our community has exceeded the 1500 subscribers, as well as our views with more than 100k. In them, we have been able to solve doubts, help our customers, give information to future customers, and help our support team with video information easily understandable by users.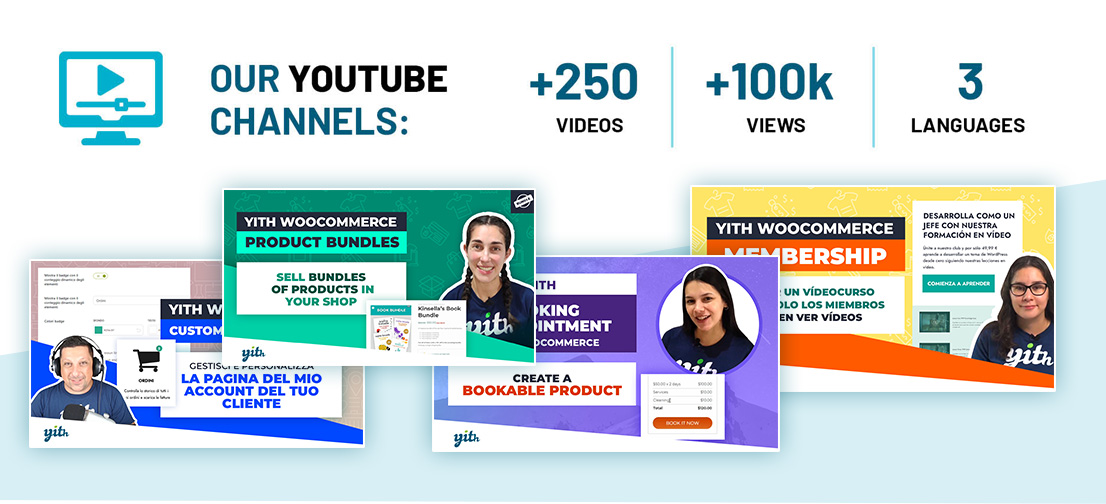 And, as every year, we could not miss the fun facts. For example, customers prefer to open a ticket on Tuesdays at 16:00. Why? We don't know, but we are grateful that it is not a Monday at 8:00 that we are still settling in after the weekend. But not only that: in 2021 someone made a purchase from Instagram or Google is our best acquisition channel. Ladies and gentlemen, SEO is not dead!
But Nando's, our CEO, is one of the most curious and spectacular facts: has read 24 books, lost 16kg, switched to a vegan diet, started running an average daily walking/running distance of 6.5 km. As you can see, a year full of changes. Although for changes and newness this wonderful news: while we were writing this great article, Fabio was born, another of YITH's children (congratulations Carlos R. and Idaira).

We were also fortunate to sponsor 6 WordCamps during 2021. We are always proud to support WordPress parties and another of our wishes for 2022 is to meet again these great and fantastic events.
The YITH Family wishes you a very happy and prosperous 2022 and sends you a virtual hug!